A holiday meal to remember! Your guests will go crazy for this prime rib roast smothered in herbed bacon butter! It's truly the perfect prime rib recipe!

Happy Monday, friends! Can you believe we're full steam ahead into New Years already?! I can't believe it!
I hope you all had a wonderful Christmas, if you celebrate it. We did in spite of having this mystery coughing sickness that has taken over our household. The whole day was super low key spent with a few friends, way too much delicious food, and a whole lot of wine. 😉 I spent pretty much all of Christmas Day in my jammies, changed briefly- only to put them back on for the rest of the night! Ha- you gotta love friends that won't judge you for that. 😉
When it comes to Christmas traditions, one that my family looks forward to is the Christmas Day roast. I grew up having ham on Christmas, but my husband was never a fan so shortly after we got married we changed our menu to prime rib and have never looked back! 🙂 It's definitely an expensive treat, but it's a once a year splurge that makes our holiday complete.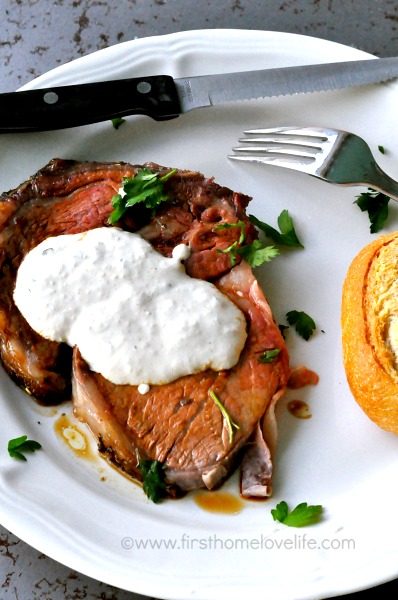 So today I'm going to share with you just how easy it is to make this delicious holiday meal! It may seem intimidating but it could not be simpler, and I'm going to share with you my tips, tricks and techniques so you can get it just right! Just pretend I'm right there with ya holding your hand…You've got this! 🙂
Here's what you'll need for the rib roast….Serves about 8-10 people
5-6 beef rib roast (partially boned and tied by butcher)
1 tablespoon room temp. unsalted butter
1 tablespoon coagulated bacon grease*
1 1/2 teaspoons Kosher salt
1 1/2 tablespoons dried Herbs de Provence
1 teaspoon fresh ground pepper
1 tablespoon minced fresh garlic
1 teaspoon fresh chopped rosemary
1 tablespoon fresh chopped italian flat leaf parsley
* I always make bacon on Christmas morning and save the grease for the rib roast. If you don't have it on hand then just use another tablespoon of butter in its place.
The very first thing you want to do and this is SUPER important is to let your meat come to room temp before doing anything else! Depending on the size and environmental temperature outside this can take anywhere from 30 minutes up to an hour if it's chilly in your house. You can also go ahead and pre-heat your oven to 400 now.
Notice the string? That string is actually holding the bone rack to my roast. I have the butcher only half way remove it so I still get the delicious moistness and flavor that the bones provide, but it will be easier to cut the roast away from the bones and slice to serve later on.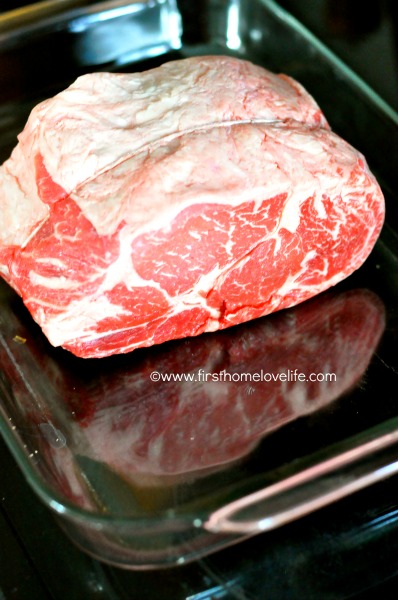 Just like when I'm making my perfect turkey, the next step is to take a wad of paper towels and pat dry the beef. On the turkey that ensures a nice crispy skin, but on the beef it's helping our herbed bacon butter stick and create a delicious crumbly crust for that melt in your mouth beef.
Next up is to make our aromatic herbed bacon butter. So get out a small bowl, add everything in it, and give it a good smoosh together with a fork.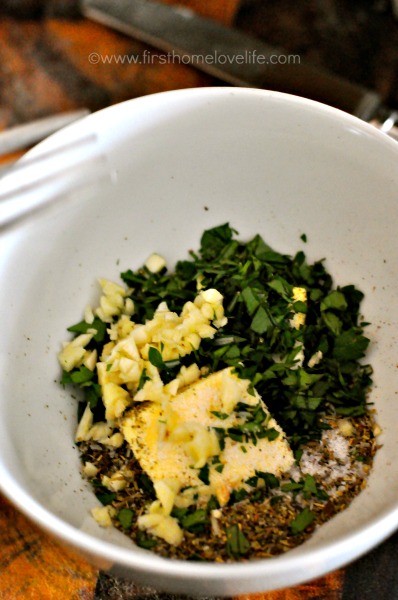 Then using your best kitchen tools-your clean hands, rub that buttery goodness all over your beef.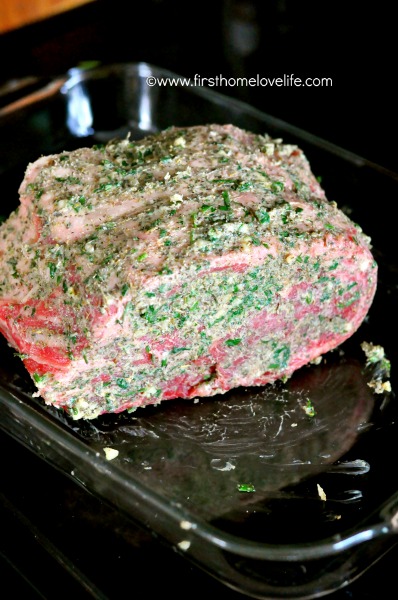 Okay…so you may have noticed I'm not using an actual roasting pan. You don't need a roasting pan for a roast, ironic hmm? 😉 Just a shallow baking dish will do, but you will still want to elevate it off the bottom. I do this by rolling up two pieces of tinfoil and sliding them underneath my roast.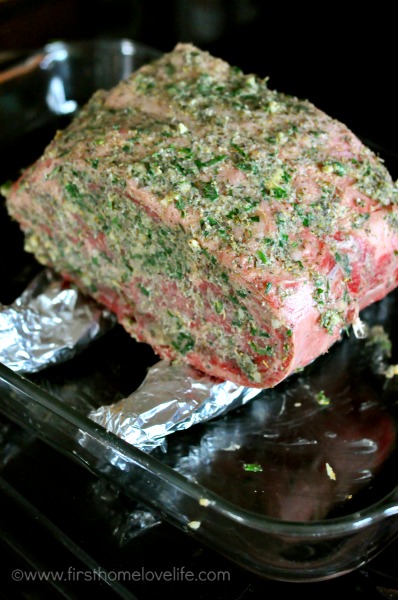 We're almost at the homestretch! Still with me?! Okay… 🙂
Now, we're going to prep for our Prime Rib Au Jus. You'll need…
2 1/2 cups beef broth (low sodium preferably)
2-3 whole peeled garlic cloves
a few sprigs fresh rosemary
1/2 cup red wine
2 teaspoons Worcheshire sauce
Before placing the beef in the oven add about 1 1/2 cups of broth to the bottom of the baking dish, and add in a few whole garlic cloves and rosemary twigs. This is going to be our base for our Au Jus later on.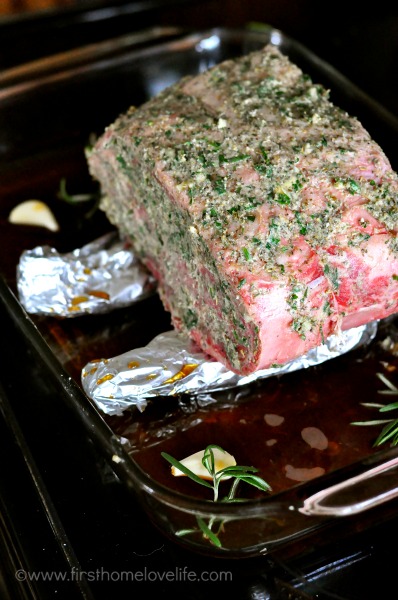 Put your prime rib roast into the oven.
400 degrees for 15 minutes, then lower the temp to 325 and cook for an additional 2 1/2 hours.
If you don't have a meat thermometer, now is the time to invest in one. I personally use and love THIS ONE
(affiliate link).
145F is medium rare and 170F is well done, so you'll want the reading to be somewhere in that area when inserting the thermometer into the thickest part of the roast. I personally remove the roast from the oven right around 137F since it will continue to cook while resting, this way I'm right on the money at 145 each time. We like ours on the rarer side of the spectrum. 🙂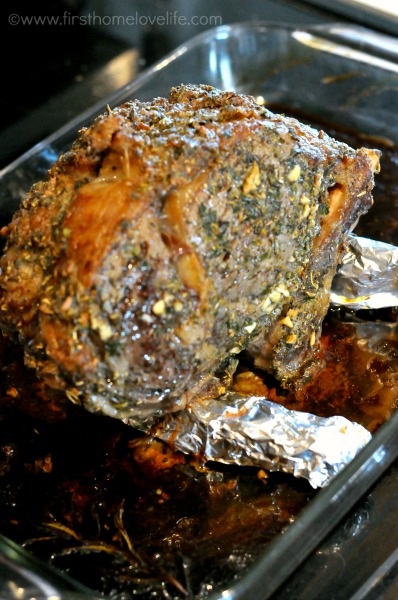 Remove the roast from the dish and put it on a large cutting board to rest for 20-30 minutes. Tent it with tinfoil to keep it hot.
Make your Au Jus while the meat is resting.
Put your baking dish over your stovetop burners and set them to medium low.
Carefully remove the rosemary and garlic cloves
Wisk in the Worcestershire and wine, scraping up all the bits from the bottom of the pan.
Add in the remaining 1 cup of broth, reduce your heat slightly to a simmer for 3-5 minutes. Serve hot.
You can also make a super tasty horseradish cream sauce to go along with your beef. Here's how I make mine…
You'll need…
16 oz. sour cream
3-4 tablespoons Worcestershire sauce
1 minced garlic clove
1/4 prepared horseradish
salt and pepper to taste
Combine all ingredients into mixing bowl, and mix well. Taste and adjust if needed.
Keep chilled until ready to serve with prime rib.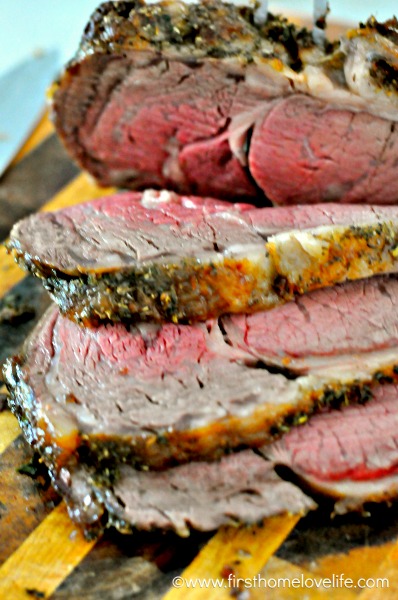 After the meat has rested, cut and remove the string and cut the bones away from the meat. You can now slice the roast easily and effortlessly for your guests.
I encourage you to try this recipe any time of year! New Years, Valentines Day, a birthday, Easter….Prime rib is the perfect meal for any special occasion and now that you know how to prepare it easily, it can be the next shining star on your holiday table. Just don't forget to PIN IT! So you can come back to it later 😉
Need a side dish to pair this with? Then try these awesome smashed potatoes!
Yum!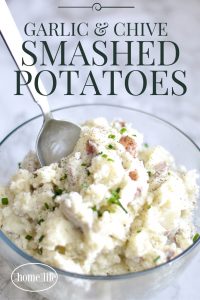 Garlic Chive Smashed Potatoes
For more holiday ideas…Check out my Christmas page too while you're here 🙂

I hope you loved this super special, yet still easy, and crazy delicious recipe!
Talk to you soon friends, take care!
XO
Comments
comments