Isn't it funny how certain holidays or occasions make you begin to salivate over certain types of foods that you normally wouldn't prepare any other time of year. That's what happens to me at least when it comes to heavenly holiday hash browns…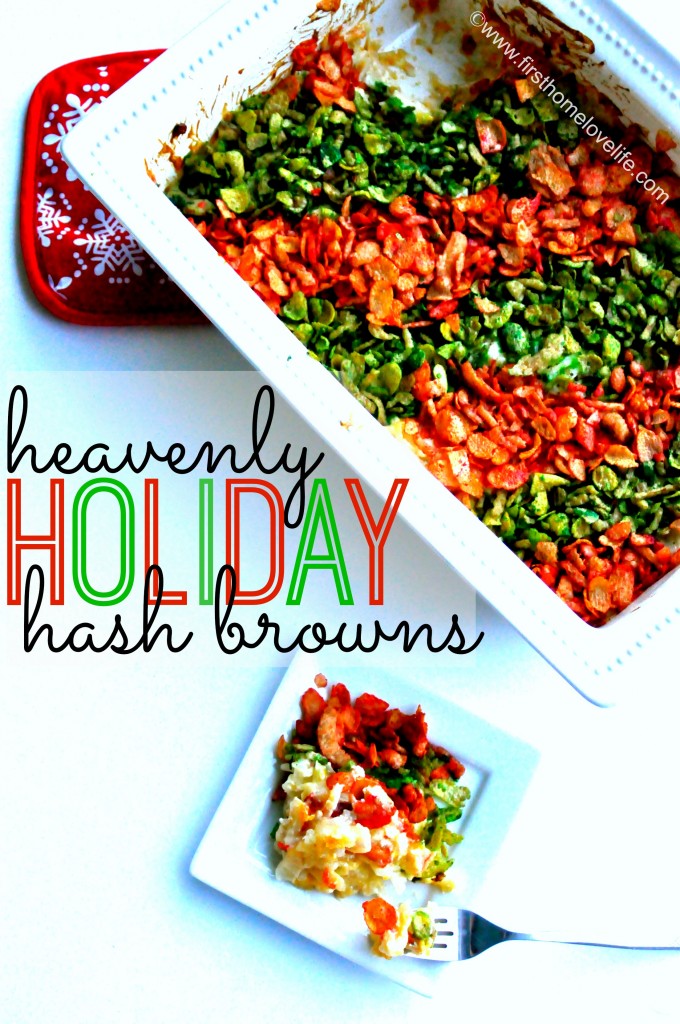 Depending on what part of the country you live in, you might only know them as funeral potatoes. It's so weird because I never heard that name up until about a year ago, and I was like "WHAAAAAAAAAAT?! But they're so festive, cheerful and happy looking! How could you serve these at a wake or after a funeral?!"
…and then I Googled it.
Oh, so you're not supposed to make them look like something out of a Dr.Seuss book…Well whether you only serve them up after a funeral or for holiday brunches like we do, they're delicious! Here's how I make our version…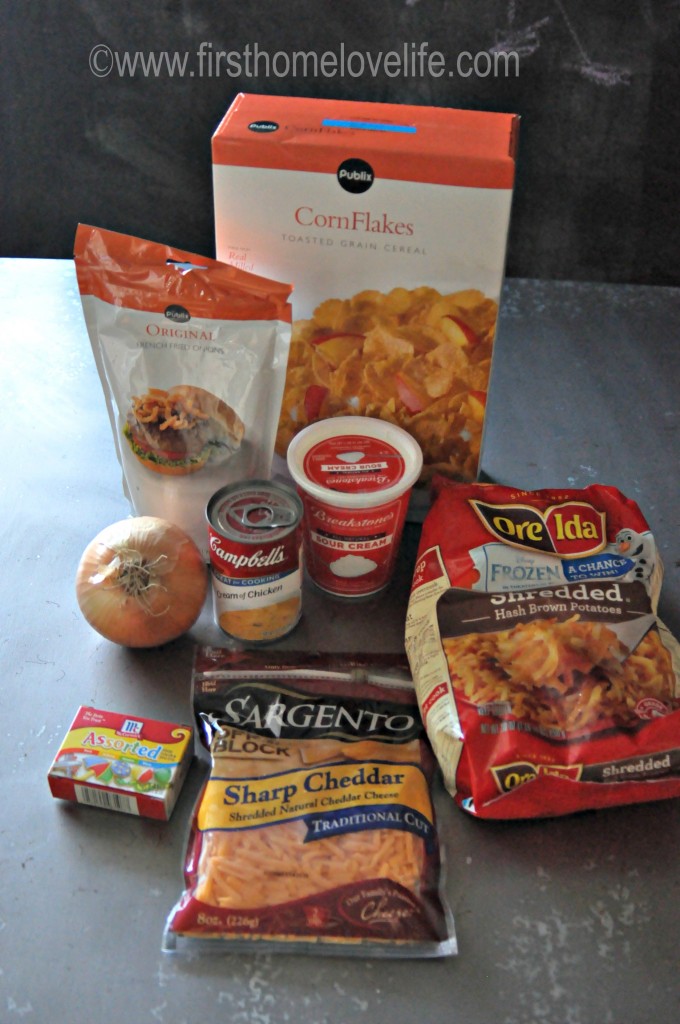 Ingredients for potatoes:
Bag of frozen hash browns (thawed)
1/2 bag of shredded sharp cheddar cheese
3/4 container of sour cream or approximately 2 cups
1 can cream of chicken soup
1 large yellow onion (diced)
2 tablespoons butter
salt and pepper
garlic powder
Ingredients for the topping:
2 cups corn flakes
1 cup fried onions
2 quart sized zippered baggies
red and green food coloring
Start off by getting out your sauté pan and adding 2 tablespoons of butter to it. Turn the stove on to about medium high. Dice your onions and add them into the pan with the melted butter. Sprinkle with salt and pepper.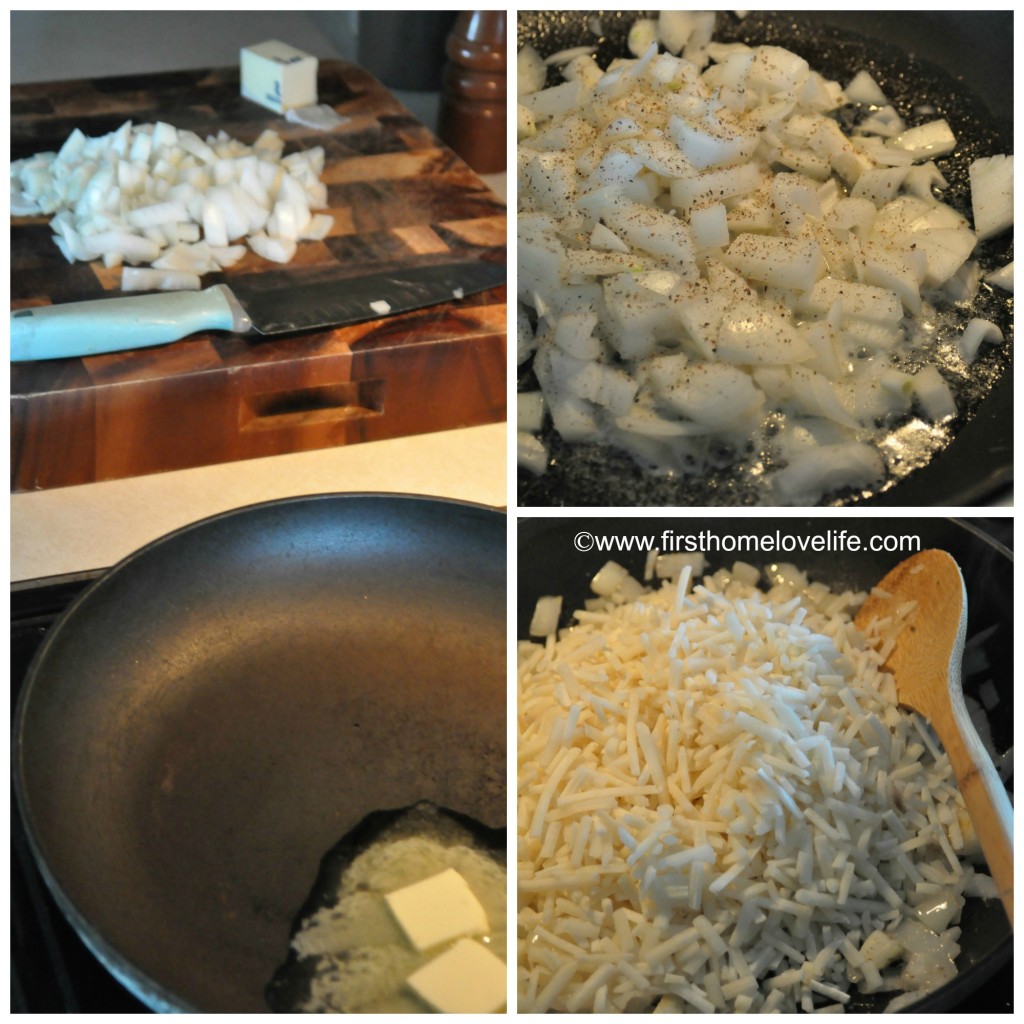 Once the onions begin to soften, add your bag of frozen (thawed out) hash browns to the pan, mix it with the onions a bit, sprinkle with some more salt and pepper, and about a tablespoon of garlic powder. Mix again and cover for about 5 minutes.
While the potatoes are cooking, get out your baggies and evenly distribute your corn flakes and crispy onions into each bag. Then add drops of red to one bag and drops of green food coloring to the other. Zip it up and shake what ya momma gave ya! 😉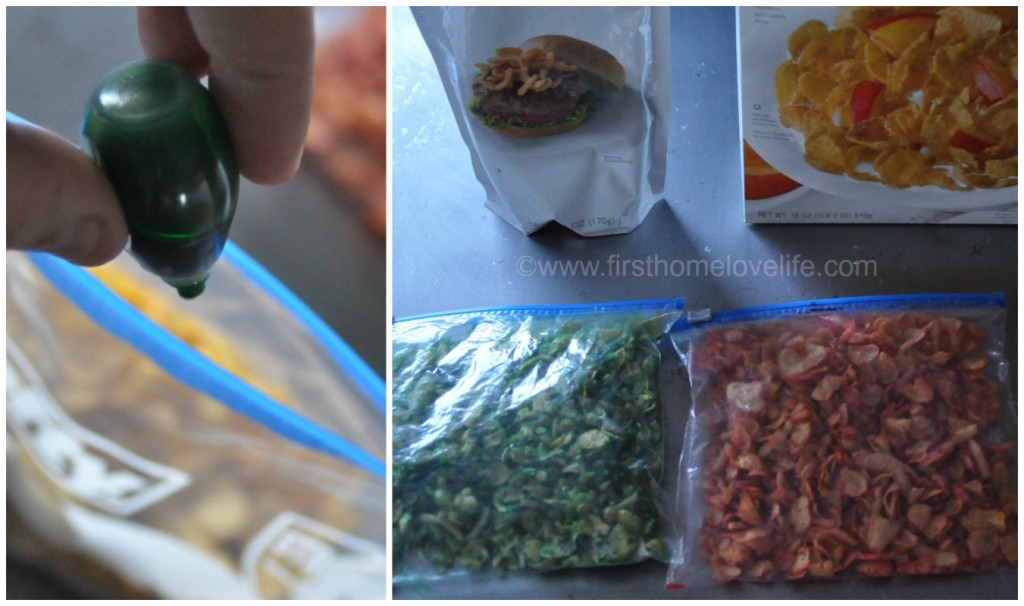 Set aside the bags, and turn your attention back to the potatoes. Turn off the heat, and get out a 9×13 baking dish. Lightly butter the dish by just running your stick of butter around the bottom and sides. Now pour in your onion and potato mixture to the pan.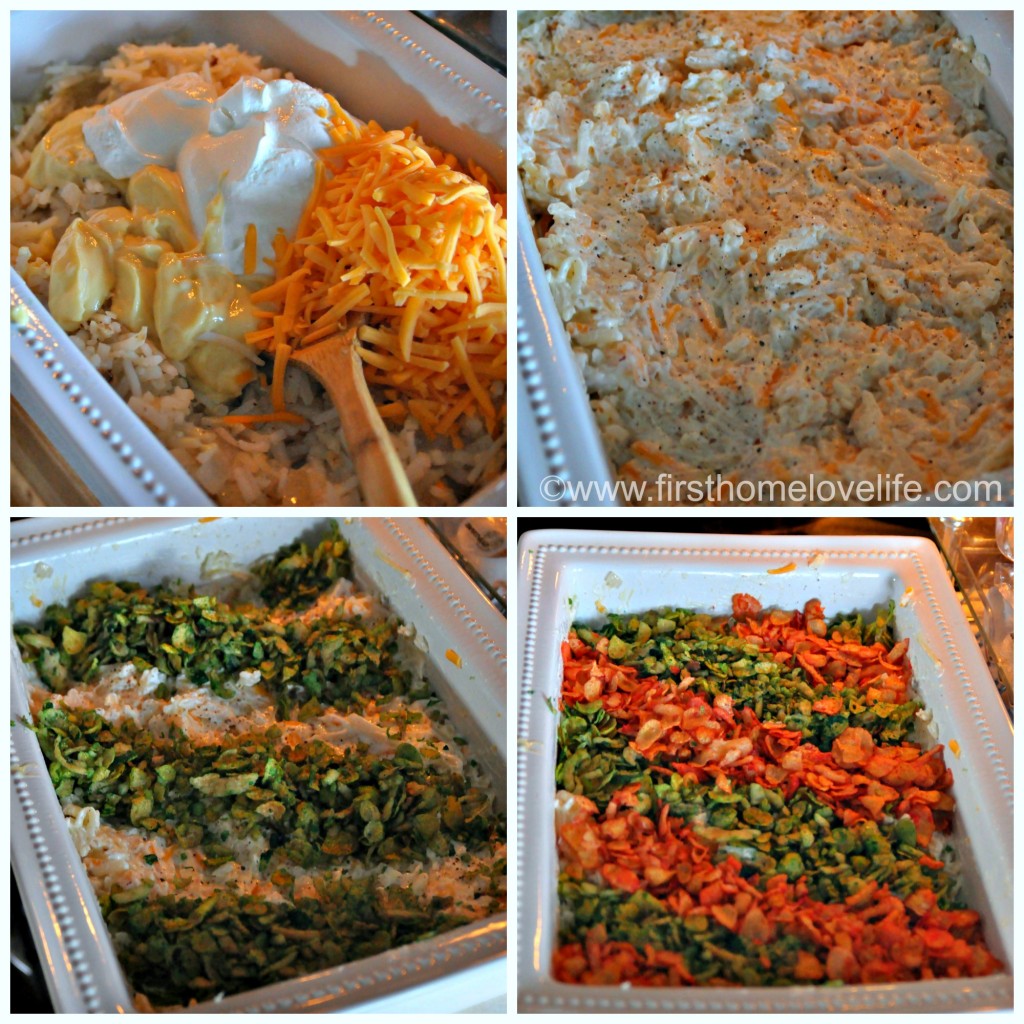 Pour in your cream of chicken soup, sour cream, and shredder cheese, and add a bit more salt and pepper. Give everything a good mix and flatten it out into the pan. Now open up your red and green topping and make the top all pretty. 🙂
Cover it with tinfoil and pop it into a 350 degree oven for about 40 minutes, then remove the tinfoil and let it cook for an additional 5-10 minutes to crisp everything up.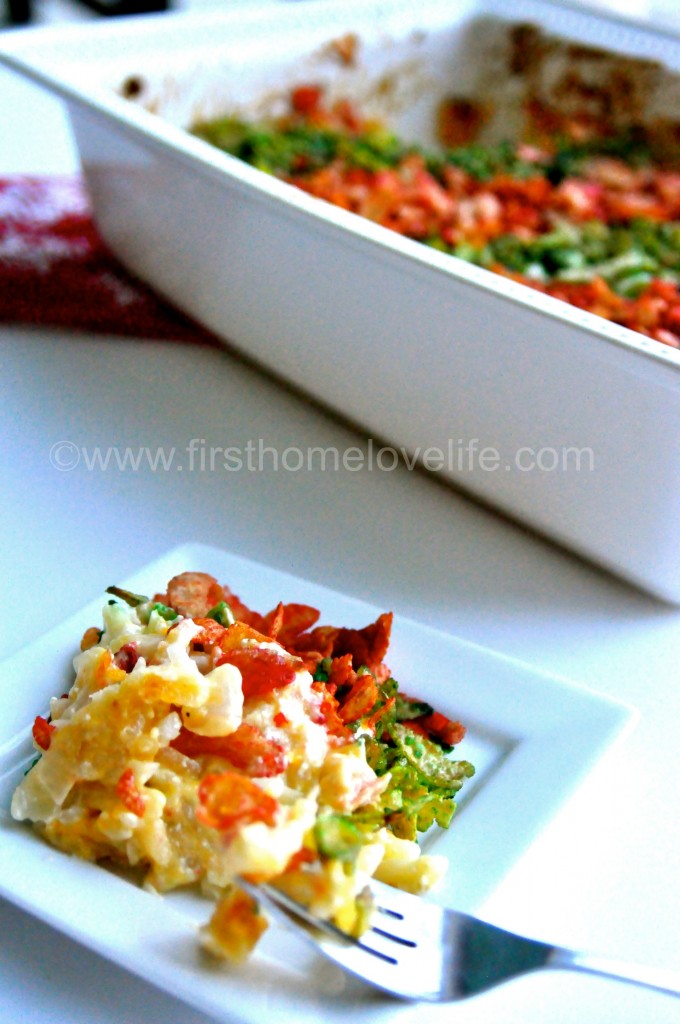 It's always the first thing to go at our holiday brunches, and I know why! It's such a fun and bright dish that will have everyone ooohing and ahhhing. Did I mention how AMAZING this goes with eggs and ham? It's da bomb dot com, guys!
I hope you enjoyed this fun and festive side dish or brunch idea for your holiday table! Don't forget to check out all the other recipes I've posted, and for more holiday inspiration check out my Christmas tab before you go!
Speaking of going…I hope you don't! I'd sure love it if you stuck around, so follow me on Facebook. I love making new friends!
Talk to you soon guys, take care!
XO
Comments
comments