Merry Christmas and Happy Holidays my friends! I hope you're having a wonderful day, I know I am! (Well I think I am at least…I'm kind of typing this up for the future 😉 )
Rainbow Loom's. Have you heard of them? If not, it's time to come out from under the rock you're living under because these are the IT things, my friends! Well, at least according to my 6 year old they are!
I went ahead and purchased one for her as one of her advent gifts this year…but little did I know what I was getting myself into…The Rainbow Loom consists of three main components. The loom, the hook, and the rubber bands…oh those pesky rubber bands… Within hours of opening the box and serious bracelet making commenced these little bands WERE EVERYWHERE!
I swear they multiply while everyone is sleeping. Like rabbits, guys. I've found rubber bands in places you just don't even want to know about!
I knew I needed to contain them since spay and neutering wasn't an option, so I came up with this…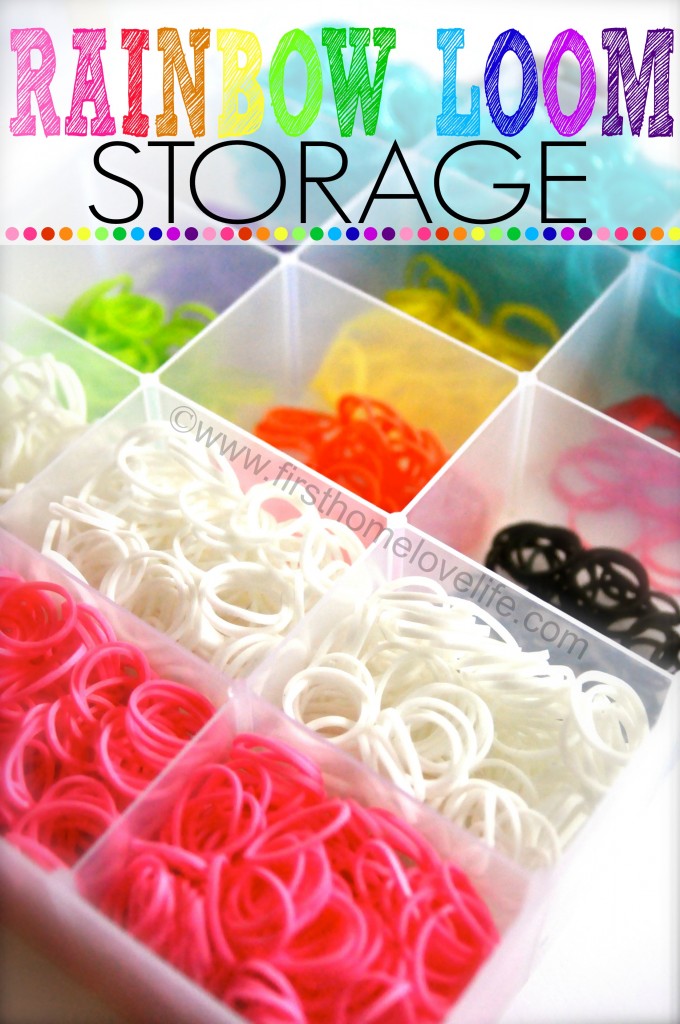 A quick trip to my local Walmart to search for the perfect loom box was on. Unfortunately the tackle type boxes they had were either too big or too small for what I needed. I really wanted to be able to contain the loose rubber bands along with the loom, hook, and whatever unopened packages of bands we would be buying in the future.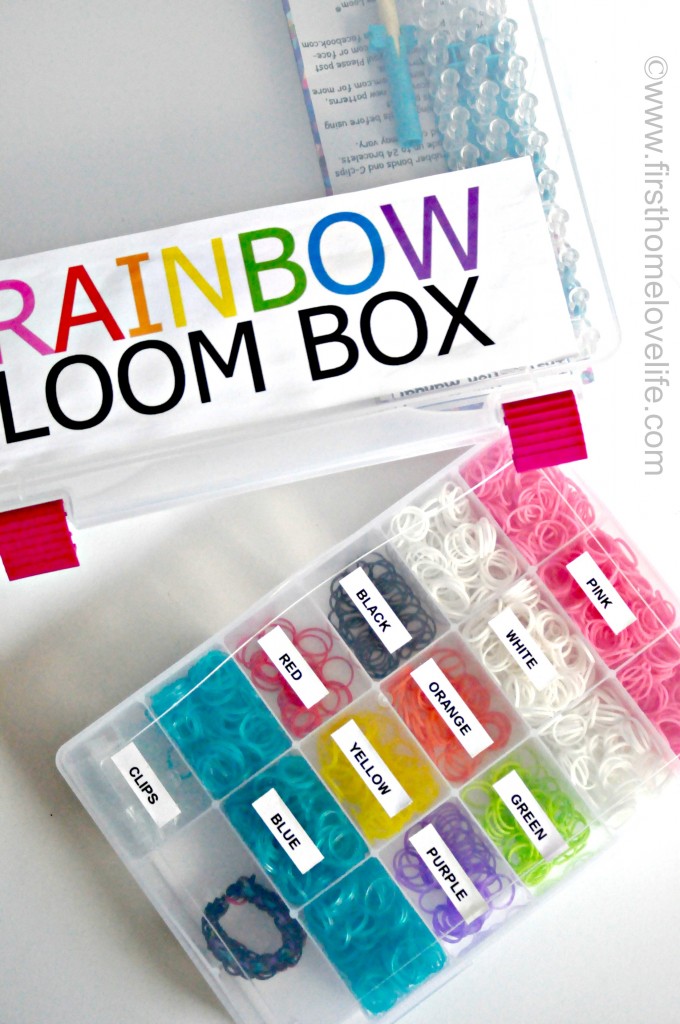 Doing a box within a box seemed like the next best solution to the tackle box idea. I picked up this smaller sectioned off beading box that was perfect for separating and storing the multi colored rubber bands. Using my label maker I labeled each compartment with the different colors so my daughter would know how to keep them neat. So far it's working, and she loves not having to dig for the specific colors she wants to use!
The bigger box was also found in the craft section. It's about the size of a square board game so it doesn't take up much room when being stored in my daughters closet.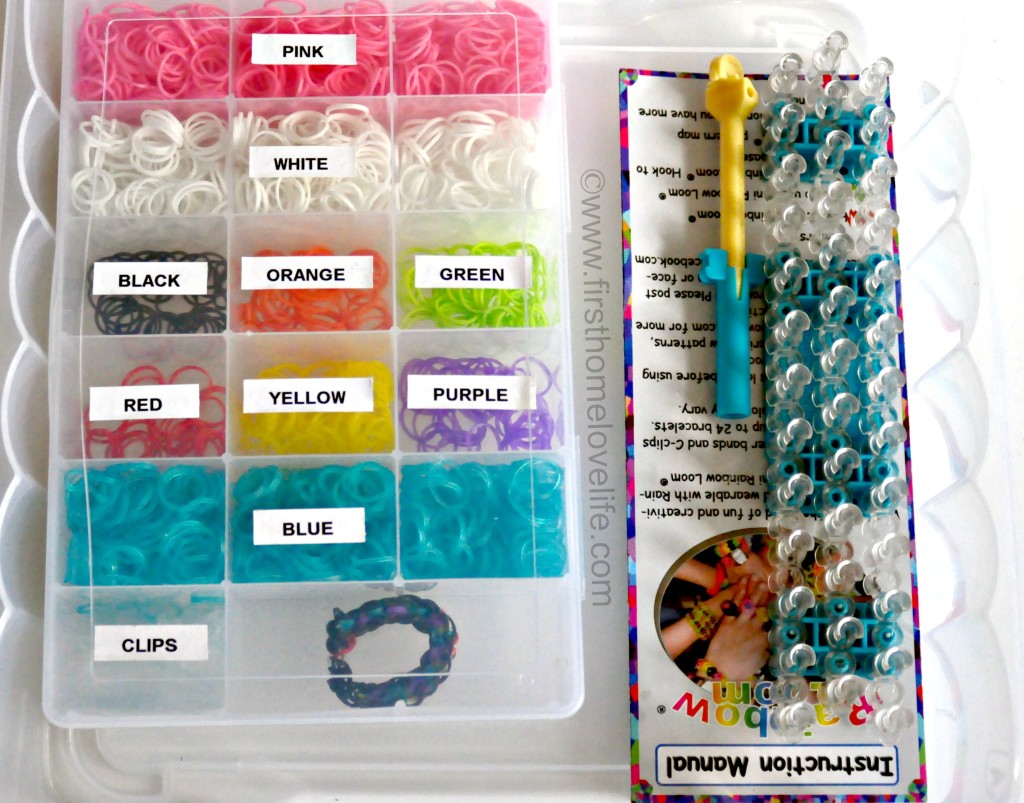 It was plenty of room for the hook tool, and the loom, and I even popped the instruction book in there. Plus, there's room to grow…which I have no doubt her collection will because she is quickly becoming obsessed with it! There's plenty of room for unopened rubber band bags, finished creations, and even an additional loom and hook if she needs another for multiple bracelet making madness! 😉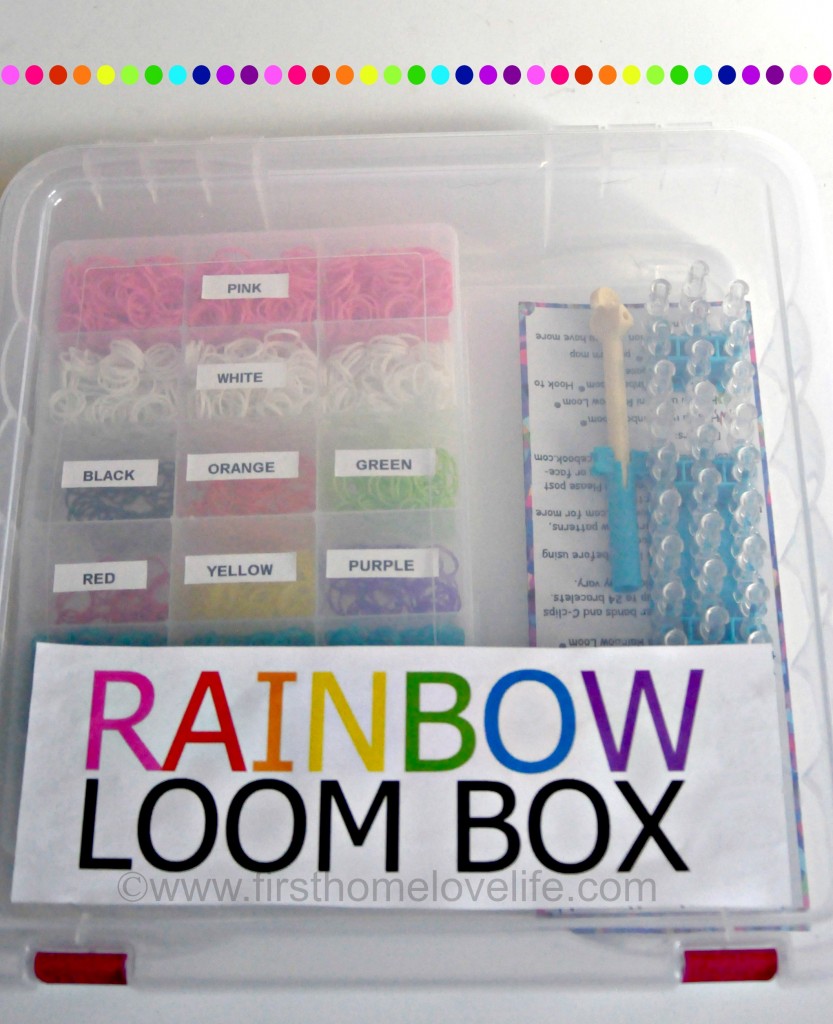 It may not be big in size, but getting the Rainbow Loom rubber band mayhem under control was a BIG DEAL! Not only will it save me money by not having to replenish rubber bands pre-maturely due to them being scattered all over the house, but it's teaching my daughter a valuable lesson in keeping this little box organized…now if she could just carry that lesson over into her playroom it would be a miracle!
But it's always best to start small, especially if you don't know where to start! I couldn't be prouder of her and thankful for this storage solution to something that was sure to drive me insane! My floors are dirty daily enough with pet hair, dirt and dust, so adding teeny rubber bands to the mix would surely push me over the edge! 😉
Did your kids receive "the toy of the year" this holiday season? How are you handling and organizing the faster than breeding rabbit rubber band chaos? I'd love to hear what you've done by either leaving a comment below or on my Facebook page!
Talk to you soon friends, take care, and…HAPPY HOLIDAYS!!
XO
Linking up to: Tatertots and Jello
Comments
comments