Probably my most favorite thing (besides you) about blogging is getting a chance to take a look back at old posts. Blogging for me, started out as an online journal. A way for me to share with my family and close friends what we're doing or planning to do. Never in a million-billion-trillion years did I think this would turn into a business, because how can you call something a job when you love it THIS MUCH?! I feel incredibly blessed and grateful. Thankful that you're here and find what I have to share interesting. I'm blessed that I've made real life friends from this super special online community, and completely in awe of the opportunities that blogging has given to me this past year and hopefully will continue to bring.
So let's take a trip down memory lane and see how we did on our 2013 home goals, shall we?
GOAL #1: THE DINING ROOM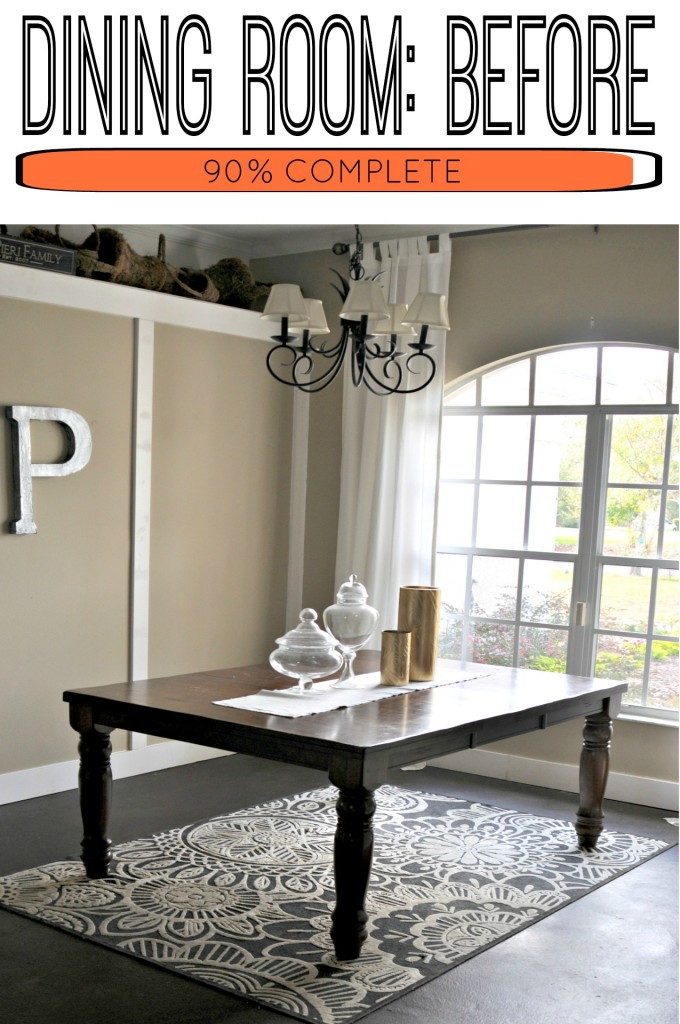 The dining room has definitely transformed this year, so I'm calling it 90% done. The only thing left to do is buy dining room chairs…which I finally have made a decision on! Lucky for us we don't use this room often, but when we do we just pull our kitchen chairs over and they look just fine. Here's what I wrote for my 2013 goals for this room last year…
"Goals- Finish the accent wall, buy dining room chairs, possibly refinish the table (depending on chairs), replace light fixture."
Not bad…not bad at all actually and quite a dramatic transformation thanks to the navy wall!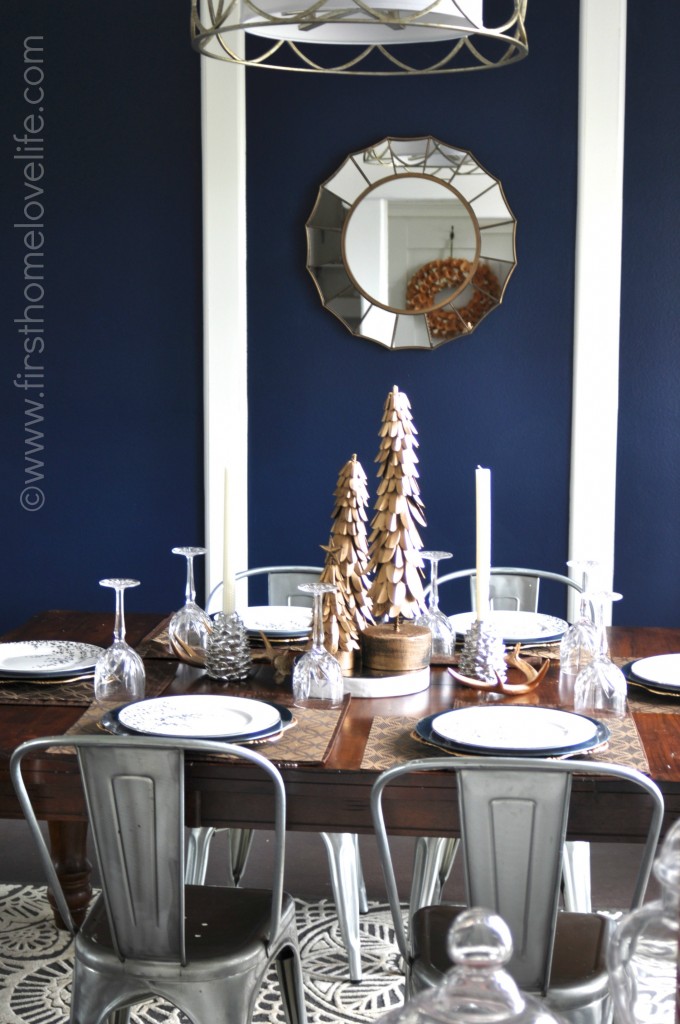 Goal #2: THE HALLWAY
Whomp Whomp… The hallway wasn't even on our radar this year except for the couple of boxes of frames we bought to do a gallery wall. Actually hanging them up was another story, haha! 😉 I'm calling this 10% complete though because we did change out all of our door knobs which made a HUGE difference…so for now that's as good as it gets and I don't foresee it being a priority in 2014 either, but we'll just have to wait and see…
GOAL #3: GUEST BATHROOM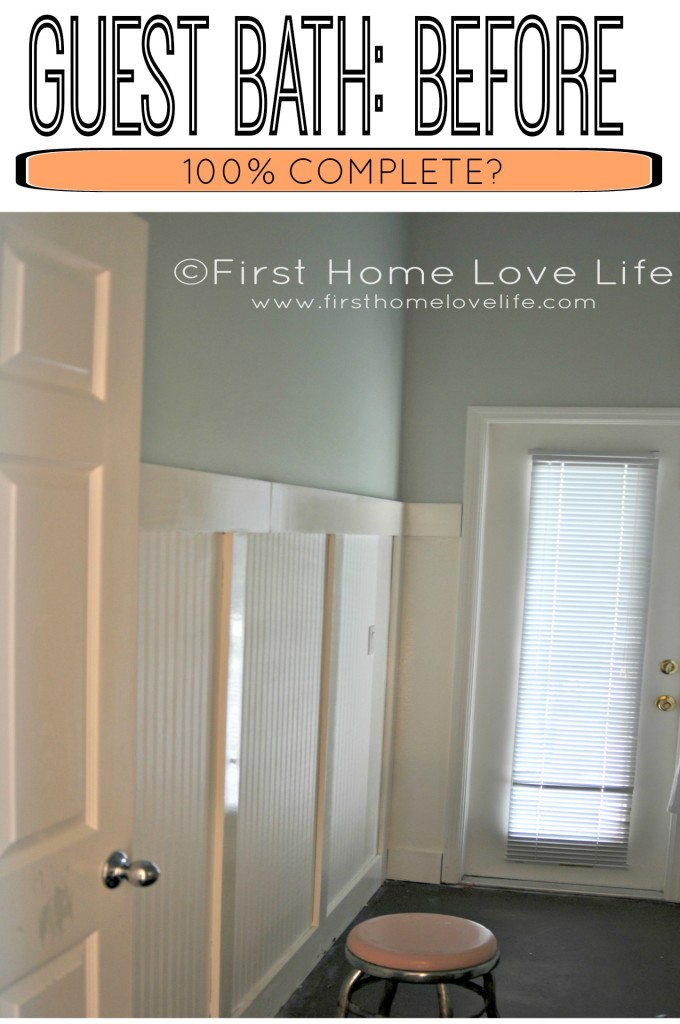 Whaaaaa? It feels like just yesterday we were tackling this space! Hard to believe we wrapped it up back in April, but I never did a "full reveal." Whoops! I promise to get that up for you sometime in the new year (it will most likely be post dated), but if you'd like to check out all the mini projects along the way you can find them here. For now I'm calling it 100% complete…although I definitely would love to lay down tile on the floor. The concrete has become really dull from the constant cleanings and dampness of a bathroom, and waxing makes it super slippery. I'm ready for a change. Here's a glimpse at it now for comparison…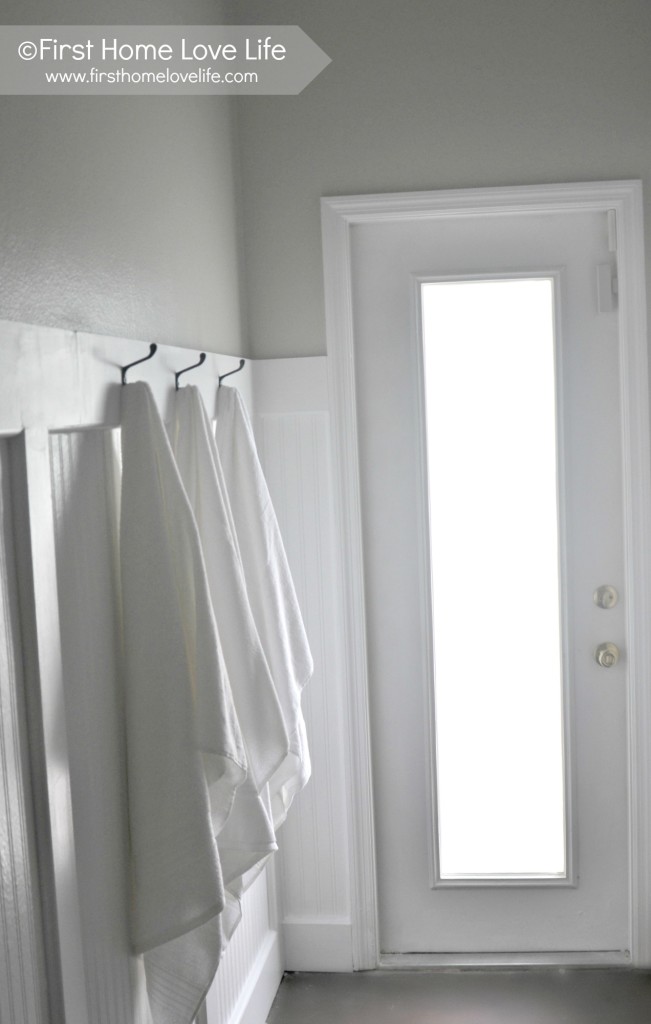 GOAL #4: THE OFFICE
Also known as the bane of my existence, the office is like the black hole for our junk! Every time I would start to get it together, somehow it got put on hold and paper clutter, and craft supplies would begin to pile up. Originally it looked like this…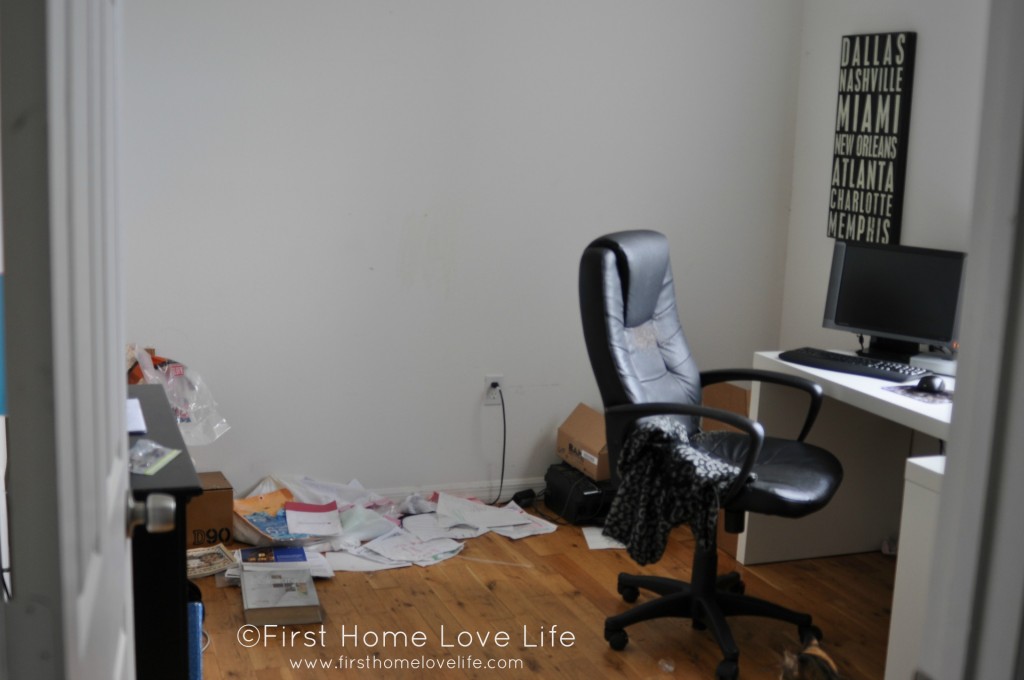 But then fate stepped in and I scored a few awesome pieces at an auction…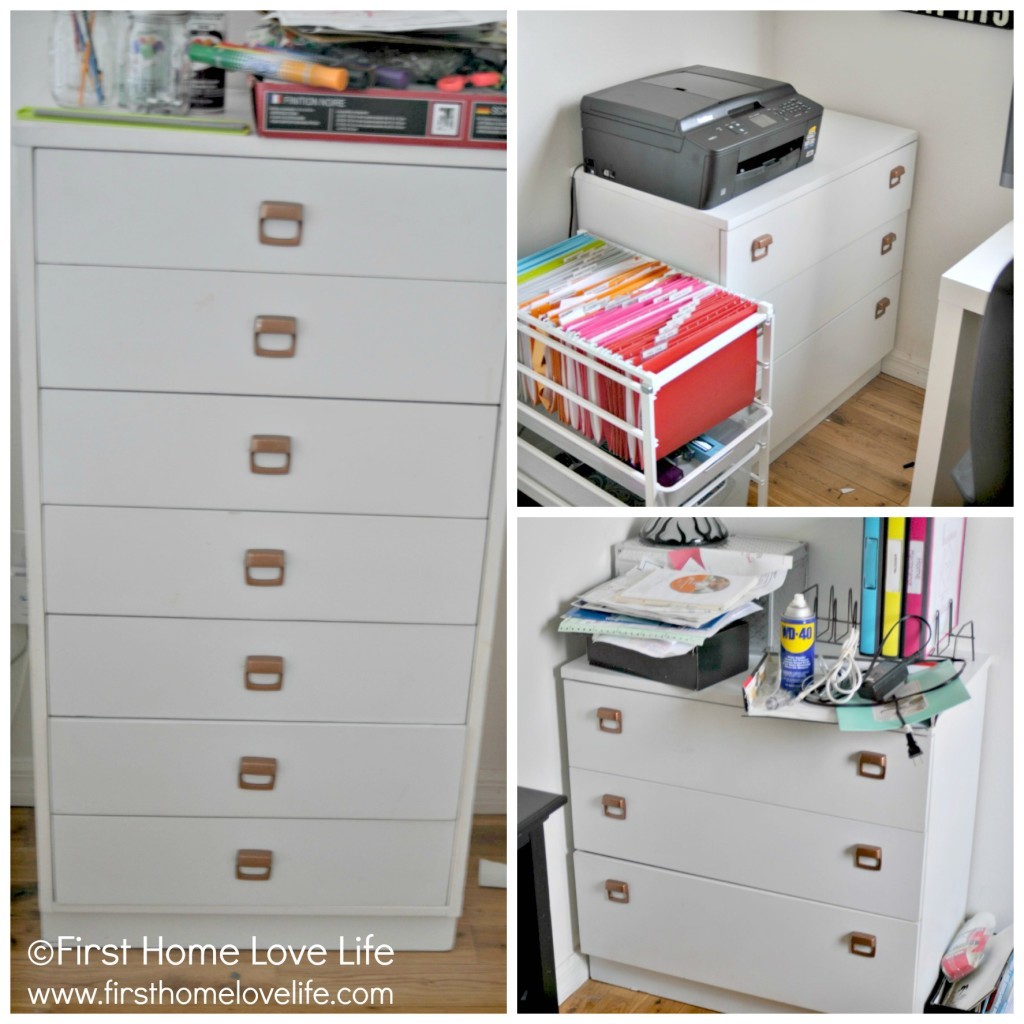 And now my vision for this space is coming to fruition, because we've begun to really get the ball rolling on creating a MUCH needed organized and functional space! So here's a little Instagram teaser for you until the blog posts come pouring in 🙂
It's happening!!! And every color coded, organization overloaded step of the way is making me redonkulously happy! I can NOT wait to share it all with you!
And last but not least…
GOAL #5: OUR DAUGHTER'S ROOM
Zoe's room definitely wins the award for the most drastically changed! We went from dainty pink to in-yo-face teal trellis stencil…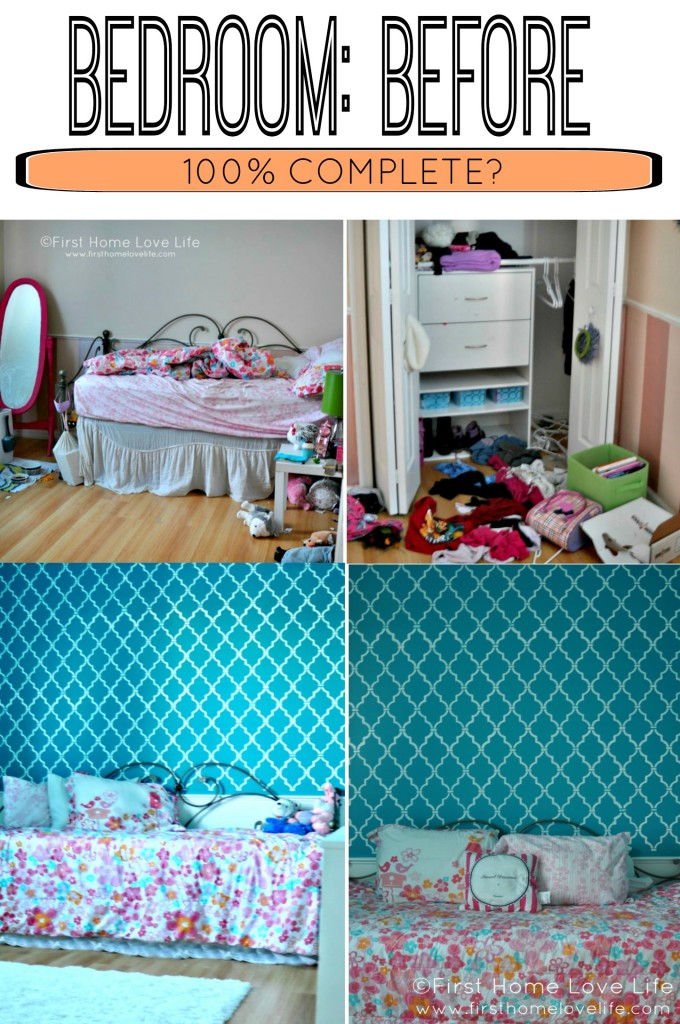 …and I'm over it. I know my daughter loves it but it's just too much, and I did a huge no-no by painting first and then trying to find coordinating bedding and accessories after the fact. Needless to say…her room will most likely be getting tweaked again. Whether it's in 2014 though is hard to say at this point since I want to tackle a few other projects before going back into her room. The one and only thing that is working in her room for me is her bedroom organization. It's been nine months and we're still going strong, so that makes me one happy mommy!
All in all, I'm giving 2013 a B+. We definitely improved upon some things and finished up loose ends that we left off in 2012, but I'm ready for 2014 and all it has to offer!
Tomorrow I'll be sharing what my 2014 home goals are and they are nothing short of ambitious! As always, I hope you'll stick around so follow me on Facebook so you stay up to date with whats happening around here! 🙂
Talk to you soon friends, take care!
XO
Comments
comments