Greek Grilled Shrimp and Farro- A light and refreshing summer dinner that's low on calories but BIG on flavor!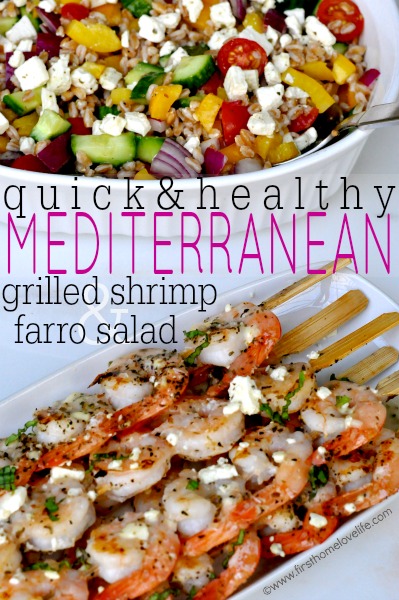 I always have a hard time figuring out what to name my recipes that I post on here.
I mean, I make a lot of different things and remembering exact measurements is hard enough from the girl who literally throws it all in a bowl and somehow it always comes out good. I've told you about my cooking in a trance like state before, so I won't bore you with that again, but…
I really feel like when I'm in the kitchen my brain and body go onto cruise control.:)
Lucky for you and me that this recipe seriously could not be any simpler. You could easily substitute the shrimp for chicken or pork and it would be just as tasty too. We eat like this a lot, even though you wouldn't guess it from my pasta heavy posts lately, but this meal is an easy go-to, light, healthy, and delicious!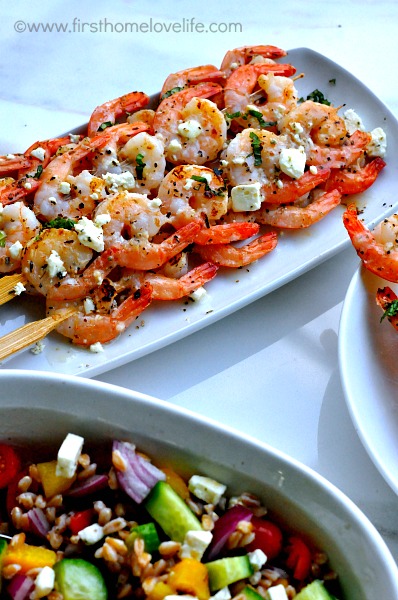 You'll need…Serves 4
about 1 1/2 lb. of medium shrimp
1 lemon
fresh basil
dried thyme
dried italian herbs
olive oil
3-4 cloves chopped garlic
2 cups Farro
6 cups water
1 seedless cucumber
1/2 red onion
1 yellow bell pepper
1/2 pint cherry tomatoes
greek vinaigrette (click here to see how I make mine)
feta cheese
salt and pepper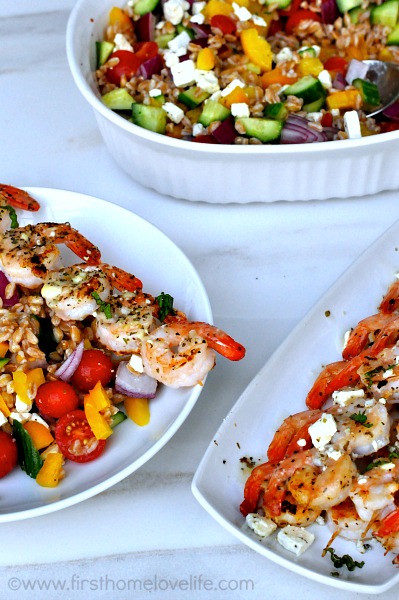 In a bowl or plastic bag…add in your shrimp, chopped garlic, dried thyme and italian herbs (about a tablespoon each) with the zest of 1/2 a lemon and about 1/4 cup olive oil. Let them sit in the fridge for 20 minutes to marinate.
In a pot sauce pot, add 2 cups farro with 6 cups water, bring to a boil them lower heat to simmer covered for about 15 minutes. Drain farro, and set on the side in a bowl to bring to room temp.
Chop cucumber, bell pepper, onion, and tomatoes and add it into the Farro, mix well. Add vinaigrette and Feta and mix, season with salt and pepper to taste.
Skewer shrimp, and grill them until cooked through, put them on a plate and squeeze fresh lemon juice on top, sprinkle with fresh basil, and feta cheese.
Easy, right?!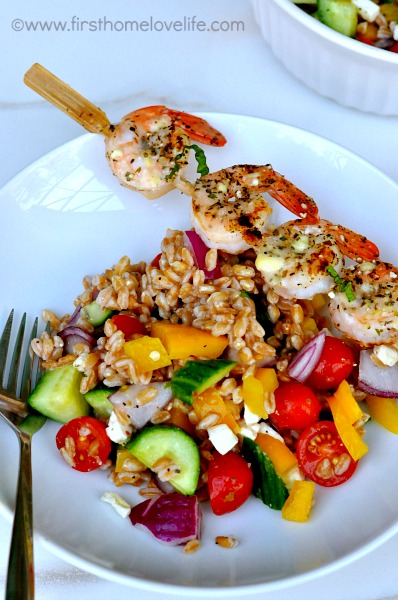 If you've never had Farro before, definitely grab it next time you're at the store. It's usually  somewhere around the organic specialty rices/grains. It's delicious, just like brown rice but it's a grain, and a bit nuttier and more chew to it than rice.
And like I said, feel free to substitute the shrimp for pork of chicken. They don't even have to be skewered, just marinate and throw on the grill. 🙂
I hope you love this super easy and light recipe!
Talk to you soon friends, take care!
XO
Comments
comments