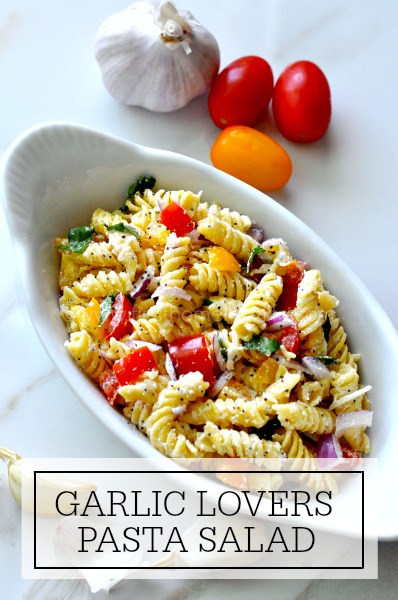 There is something about a good pasta salad that makes people remember you, am I right? Over the years, with every party/potluck/get together I've been to, there's always been that one person that made that amazing-can't put my fork down-going back for thirds pasta salad!
To this day I can still put faces to certain pasta salads I've had. Like that lady Sue who made the green goddess dressed bowl of elbows at that Mary Kay party, or Vivian who will be forever known to me as that freakin' awesome macaroni salad in the big blue bowl lady -Christmas Around The World Party circa 1993…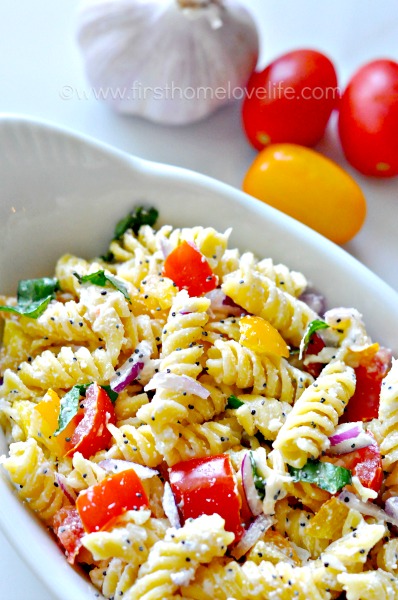 We eat a lot of pasta salads in our house, just because they're so easy to whip together and they're a great way to use up a bunch of random ingredients leftover in the fridge before we do our weekly shopping. I especially like this one though. It doesn't feel so picnic-y like these dishes tend to, probably because there's no mayo in it. Nope, no mayo…instead it's mixed with velvety Ricotta and a bit of sour cream…oh and LOADS of fresh garlic…yummmmm…
Here's what you'll need…
1 lb. of pasta (corkscrews, rigatoni, elbows, whatever you like…)
1 cup ricotta (use skim or low fat for a healthier version)
1/4 cup sour cream (use low fat for a healthier version)
4+ fresh garlic cloves…use as many as you like 🙂
1 tablespoon lemon zest
1/2 cup grated parmesan
assortment of fresh chopped vegetables (I'm using tomatoes, red onion, fresh basil here)
salt and pepper
*OPTIONAL: poppy seeds for garnish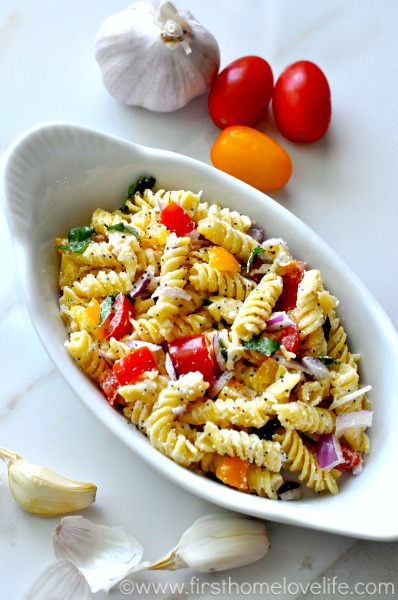 The beautiful thing about this pasta salad is you can eat it cold or warm. It tastes good both ways, but I prefer it kind of on the cooler side. 🙂
Here's how to make it…
Cook your pasta according to package directions in salted water, drain and set aside to cool in large bowl
Chop all of the vegetables into bite size pieces and toss them into the bowl
In a small mixing bowl, add you ricotta cheese, sour cream, parmesan, as much garlic as you like…I use between 4-6 medium cloves, and lemon zest
mix together and pour over pasta
Toss together (if mixture is too thick add a drizzle of olive oil) sprinkle with a good amount of salt and pepper and poppy seeds, toss together and serve.
Easy, right? We love it as is or served with some grilled chicken for a hearty meal. It's one of those dishes that taste even better as leftovers too!
I love a great pasta salad, especially this time of year. I'm not sure if I'll be remembered for this one, but it's still a great recipe to try and I hope you will 🙂
Talk to you soon friends, take care!
XO
Comments
comments