This post brought to you by Fresh From Florida. All opinions are 100% mine.
There are many reasons I love living in Florida, and out of those reasons the variety of fresh seasonal produce and seafood is one of them. If you're lucky enough to live here, or are planning a trip between mid-October to mid-May then you might just get to try one of my most favorite things ever, which happen to be stone crab claws–Florida's version of lobster–served cool on a bed of ice with a mustard dipping sauce…Oh my yummmmm…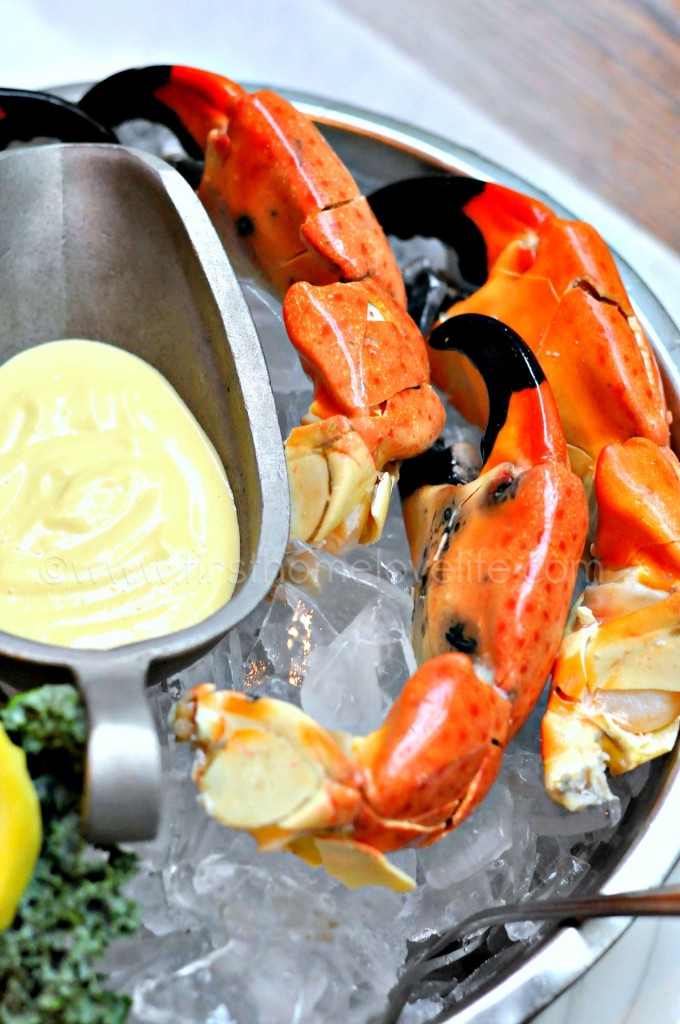 The other day, I took my husband and daughter out to Charley's Steakhouse, in Celebration, FL for a late birthday dinner. We're big steak lovers in this house, and Charley's is an experience like no other! If you've never been to a real deal steakhouse than I have to urge you to put it down on your bucket list! It's something everyone should experience at least once in their lifetime!
We started with an amuse bouche — a bite sized hors d'oeuvre that is hand selected and offered up by the chef to prepare you and give you a glimpse of what kind mastery is to be expected. In our case it was a creamy, yet light as air lobster bisque.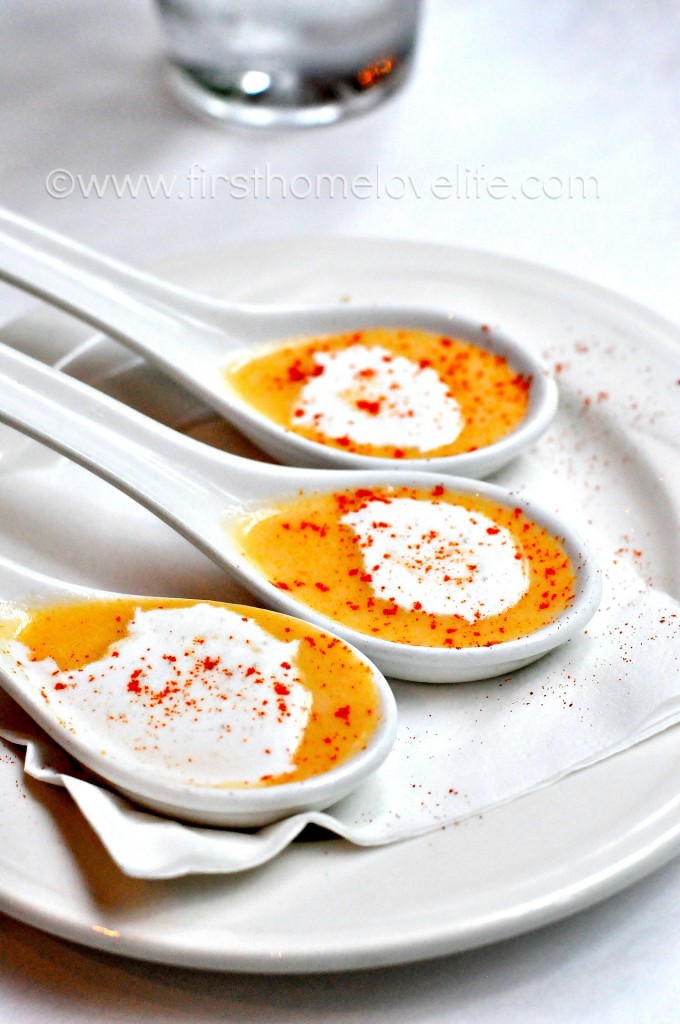 We had already ordered appetizers at that point…The Fresh From Florida Stone Crab Claws and Calamari. You will always know which items on the menu are indeed "Fresh From Florida" because they will clearly state it on the menu which included stone crabs, and if you're feeling adventurous… Florida gator, marinated in citrus and fried is served with a sweet and tangy horseradish aioli!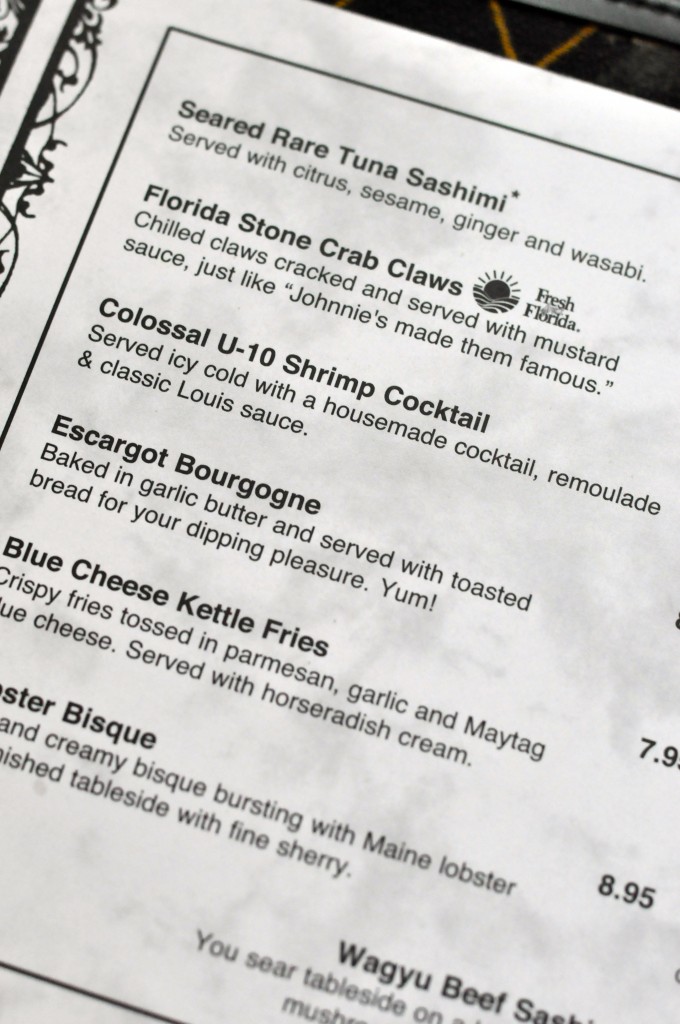 We, played it safe though 😉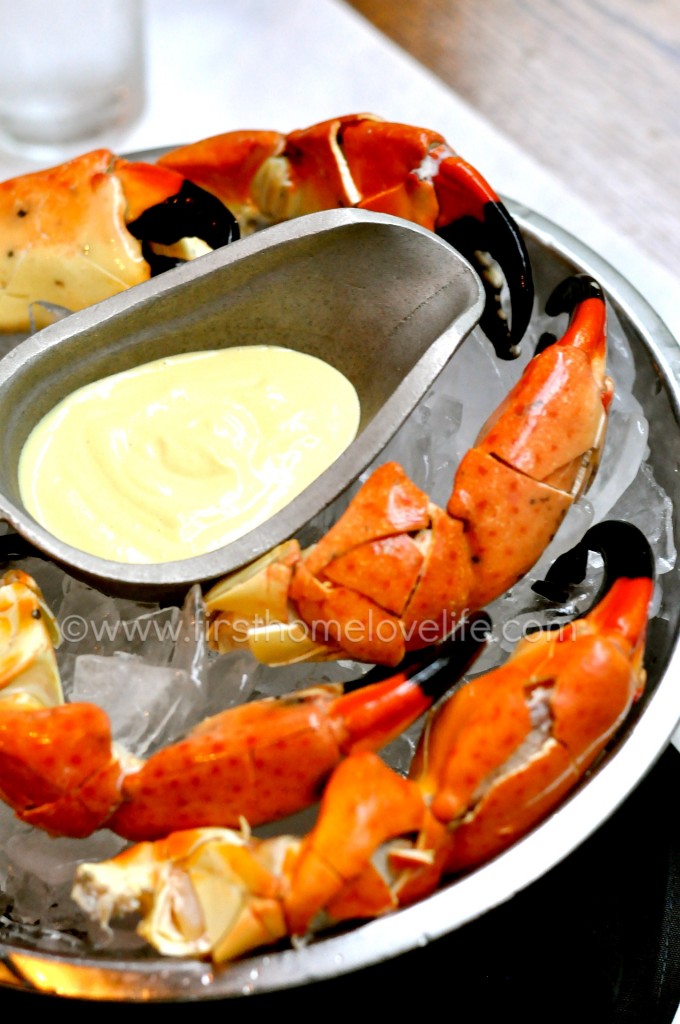 I have absolutely no regrets, either 😉
After appetizers, you're served a salad and delicious freshly baked bread, and a super knowledgeable waiter/waitress will appear with a tray of the prettiest cuts of beef you've ever seen. These are not your standard steakhouse chain restaurant steaks! My husband almost hit the floor when he was face to face with a 32 oz. Porterhouse (his choice for dinner) Me? I wanted something a little lighter, so I ended up getting the Blackened Gulf Grouper (not blackened) seared with cajun spices, and finished with Key Lime butter and pineapple-mango salsa.
You guys…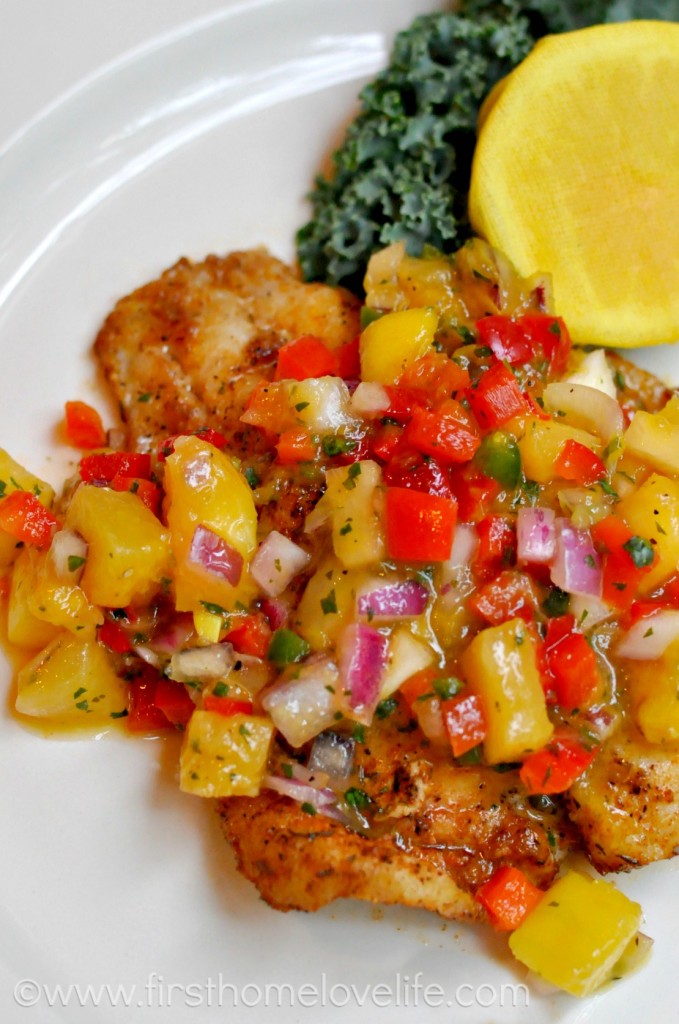 One of thee best fish dishes I've ever had! The Florida grouper was as fresh as it could be and the hint of spicy heat mixed with the sweet and tangy pineapple salsa….I could hear Pharrell Williams singing "Happy" every time I took a bite! I'm going to attempt to duplicate that salsa on my own soon and share the recipe with you all. It was phenomenal! 
We were so full after dinner that we couldn't even look at the desserts, but I'm sure they were magnificent! If you're planning a trip to central Florida than definitely check out Charley's Steakhouse in Celebration, FL for a super special evening! You will NOT be disappointed!
We had a great evening and I was feeling pretty "native" getting to gorge myself on the best that Florida has to offer! I mean…stone crabs…hello! Seriously one of the worlds greatest foods! Have you ever had the chance to eat them, or any fresh Florida seafood for that matter? I'd love to know what your favorite thing is!
And to learn more about Fresh From Florida–follow Fresh From Florida on Twitter and "like" Fresh From Florida on Facebook
Talk to you soon friends, take care!
XO
Comments
comments