In my family Braciole was served as on Sundays after church or for special occasions. It's a classic homestyle Italian dish that is made with lots of love. This is not a quick and easy weeknight dinner, but something to share with you friends and family. A delicious meal they will remember!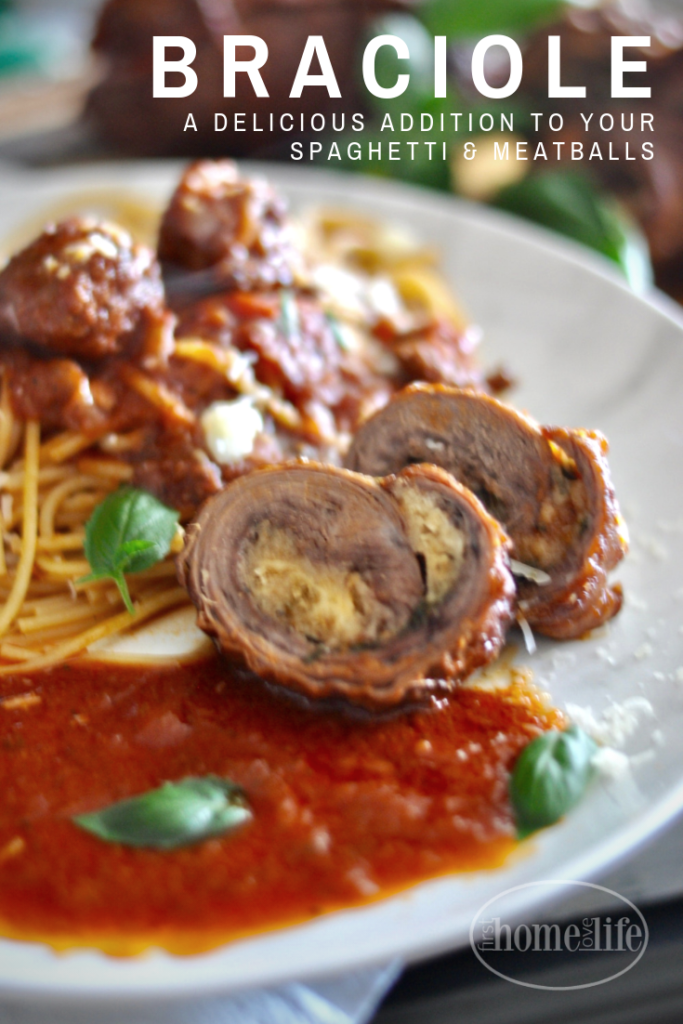 Is Sunday supper still a thing?
I was thinking about this the other day. About how sometimes traditions can be lost. I feel like now it's easier than ever to lose sight of important things in our life because of how busy we get.
I'm so guilty of this.
But I do try to keep traditions that I grew up with as best I can when I can. Things are different now. Much more fast paced, and life never seems to slow down.
I'm not even old…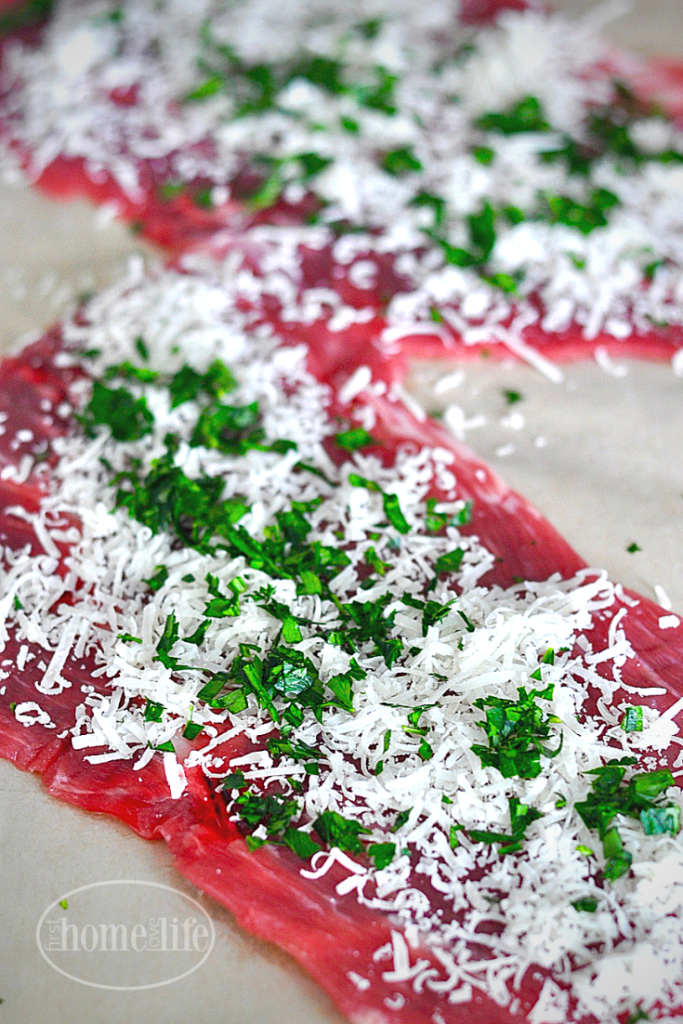 I find it funny that the things my parents probably felt were insignificant, made a bigger impression on me than other more "extravagant" things.
The smaller moments and memories. It's what I cherish most.
My only hope is my daughter some day feels the same way about me.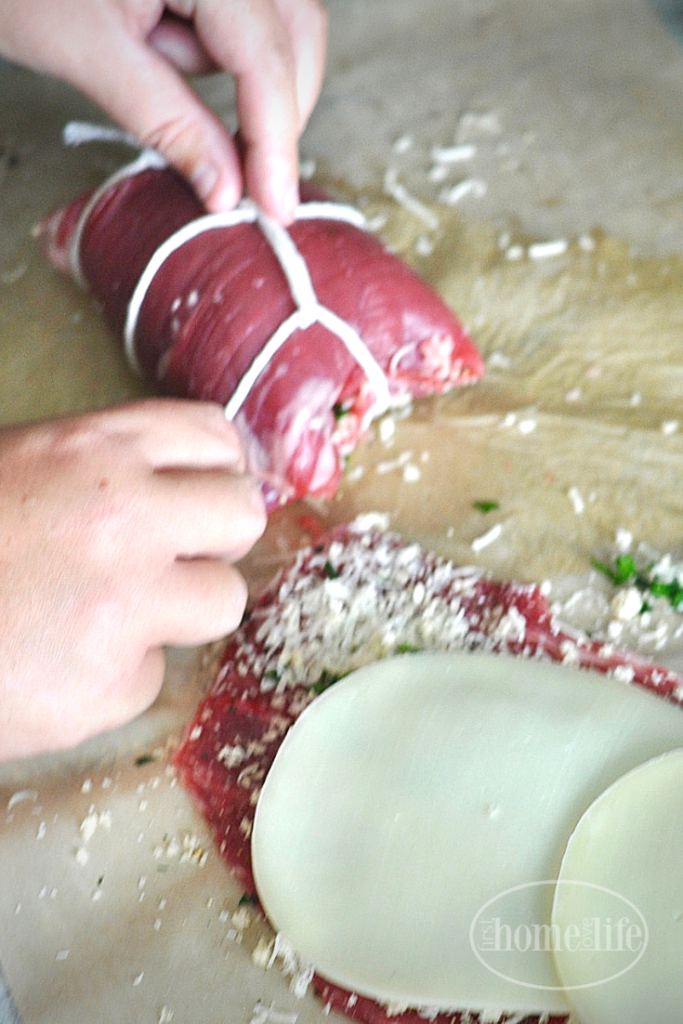 We didn't have a lot of money when I was growing up, but I have fond memories of coming home from church on Sundays and smelling a distinct aroma coming from the kitchen.
Braciole, sausage, meatballs in a big pot of sauce simmering away on the stove.
It was magical.
I wouldn't even be hungry. I already had my fill of doughnuts and the orange sugary juice concoction after church; in the courtyard before climbing the trees with other kids in our Sunday best.
(My mom would get so mad at me for scratching my patent leather shoes 😉 )
But I couldn't wait until supper time as soon as I walked through our back door.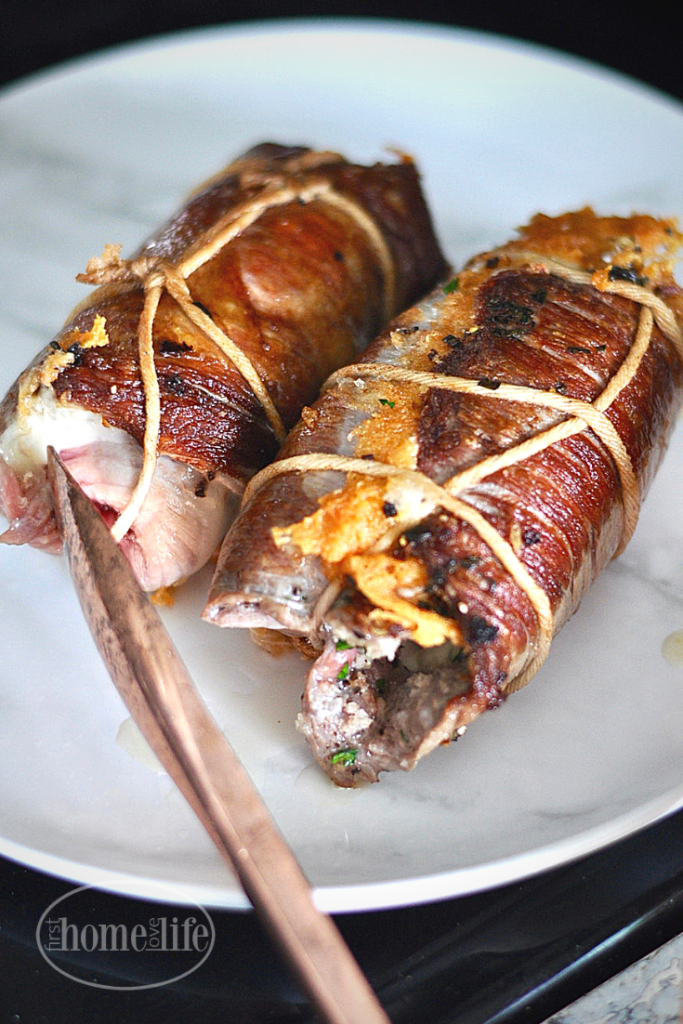 So what's my point in all this? I guess it's me validating to myself how much love I pour into my cooking for my family.
It's not just a meal. It's an expression. Braciole is a recipe that triggers my emotional side. It was a tradition.
And whenever I have it, I feel like I'm time traveling back to the little girl in her poofy white dress, bonnet, and white stockings wearing patent leather shoes with scuff marks all over them.
Here's how to make it….
Print
Braciole Steak (Sunday Supper)
---
Prep Time:

45 minutes

Cook Time:

3 hours 30 minutes

Total Time:

4 hours 15 minutes

Yield:

6

+ people

1

x
beef flank steak (1-1/2 pounds)

4 tablespoons

olive oil

1/2 cup

bread crumbs

1/4 cup

minced fresh parsley

1/4 cup

minced fresh basil

1/2 cup

grated Parmesan cheese

6

garlic cloves, minced

1 teaspoon

dried Italian seasoning
provolone cheese (1-2 slices per steak)
salt and pepper to taste
Sauce-

3

–

4

yellow sweet onions, chopped

5

chopped garlic cloves

1

lb sweet/hot Italian sausage cut into pieces

10

–

12

meatballs (recipe)

1/2 cup

red wine

3

large cans whole peeled tomatoes

1

small can tomato paste

1

small can tomato sauce

1 teaspoon

Italian seasoning

1/2 teaspoon

red pepper flakes
fresh basil
fresh parsley
sugar to taste
salt and pepper to taste
---
Instructions
In a bowl, combine breadcrumbs, oil, garlic, herbs and parmesan cheese and mix well.
Lay out your thin pieces and steak ad spread a layer of the mixture on top.
Top with a slice of provolone and roll up like a burrito, and tie off.
In a big sauce pot, coat the bottom with olive oil and add the tied braciole.
When they're browned remove from the oil and set aside
Add your onions to the oil and cook them low and slow (add salt and pepper)
When onions are softened and have some color, add in your garlic, sausage (In a fry pan on another burner, cook the meatballs so they get browned on all sides)
Pour in red wine to deglaze the bottom of the sauce pot. Use wood spoon to scrape the bits of the bottom.
Add dried Italian seasoning and red pepper flakes.
Add in your large cans of whole tomatoes, squeezing each tomato and crushing it before adding it into the pot. Add in the tomato sauce and paste as well. Stir together.
Add your braciole back into the sauce pot
Place meatballs into sauce pot gently to finish cooking low and slow for about 3-4 hours
Taste your sauce, if it's too acidic you can add sugar to bring out the sweetness. This step is optional and to taste.
Add in about 1/2 cup fresh basil and chopped fresh parsley towards the last 30 minutes of cooking
Remove braciole from pot, cut the string off and slice into thin pin wheels
Serve over cooked spaghetti
Notes
*You can use jarred tomato sauce for a quick substitute.
**Sausage and meatballs are optional. You can just eat braciole over spaghetti on its own.
Adapt recipe to your liking and needs 🙂
Category:

Pasta

Cuisine:

Italian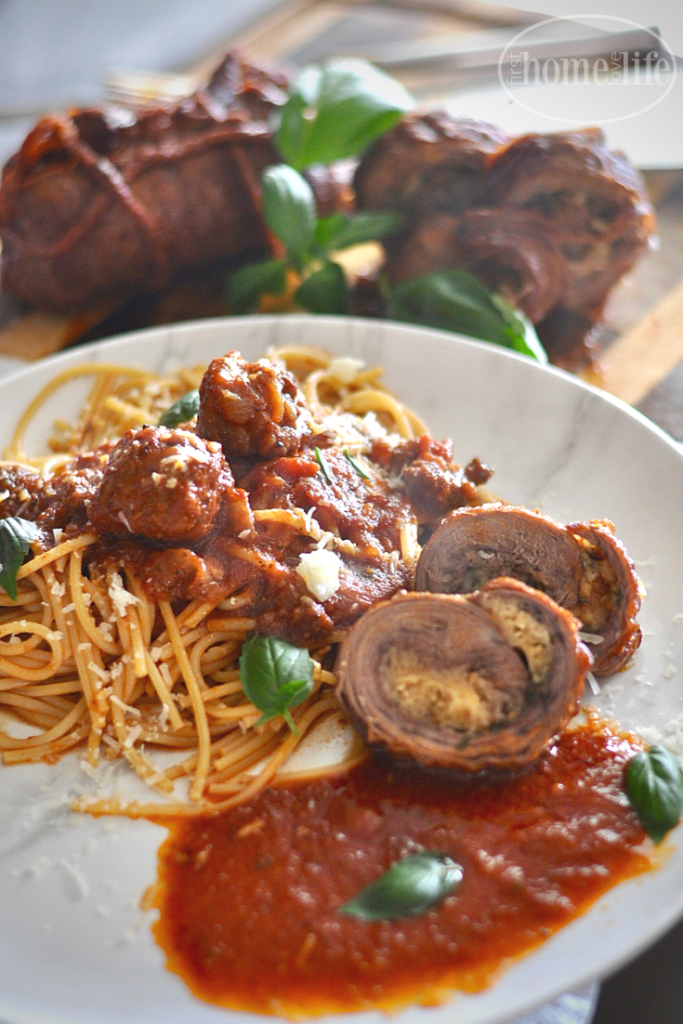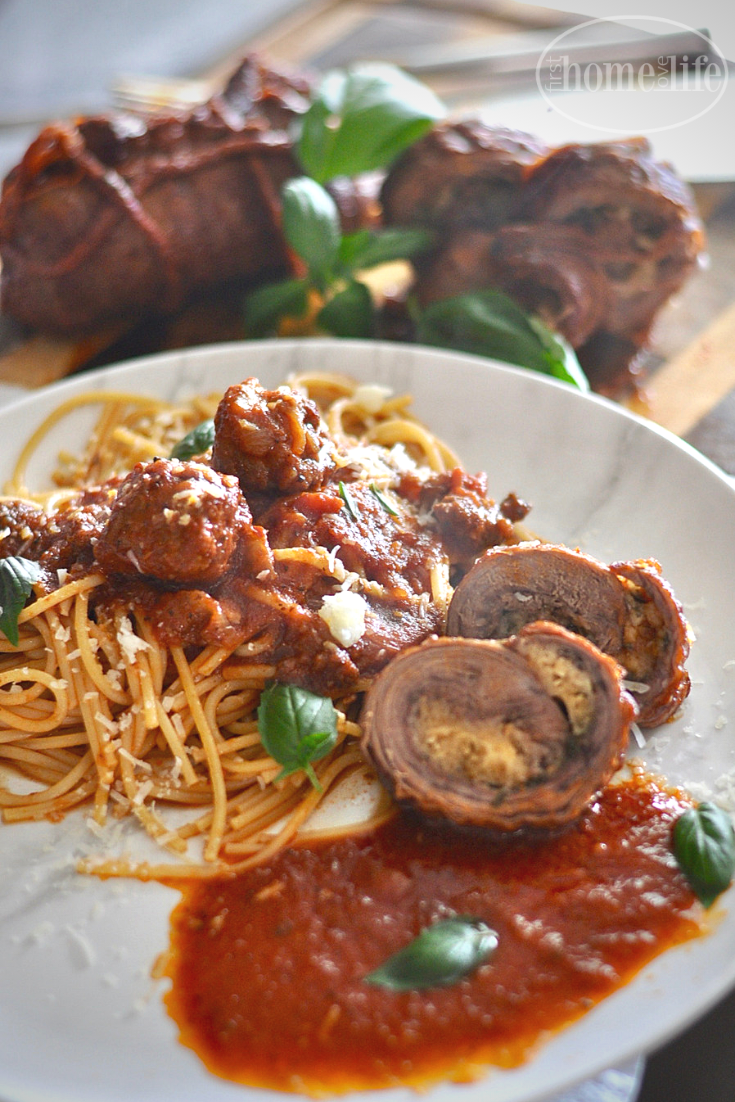 Yum.
I hope you love this recipe for braciole as much as I do.
Talk to you soon friends, take care!
XO
Comments
comments