Can we talk about this salmon for a minute? Because it's seriously the perfect summer dish…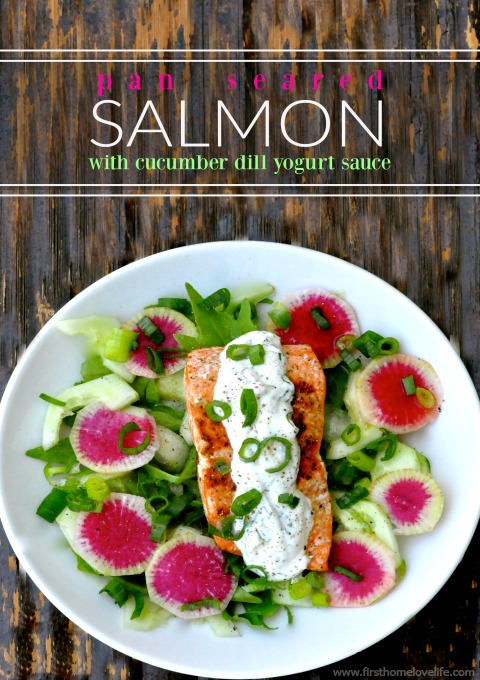 The colors. The flavors. The freshness. The crispness. The everything…
You guys…This salmon with cucumber dill yogurt sauce could not be more perfect. I feel like I can't even write enough yummy descriptive phrases to do it justice. Just make it…end of story. 😀
Seriously though, it all started a couple of weeks ago when I ventured to the farmers market and found these incredibly beautiful watermelon radishes. I didn't know what I was going to use them for but I knew they would most likely end up in a salad of sorts. If you don't think you like radishes, then try watermelon radishes. not only are they gorgeous to look at on your plate but they seem to be one of the more mild radishes and are absolutely delicious.
No joke, I have made this meal for lunch and dinner for 2 days in a row now. I'd totally make it for breakfast too if I could get to Fresh Market that early…I may need an intervention. 😉
Here's how to make it…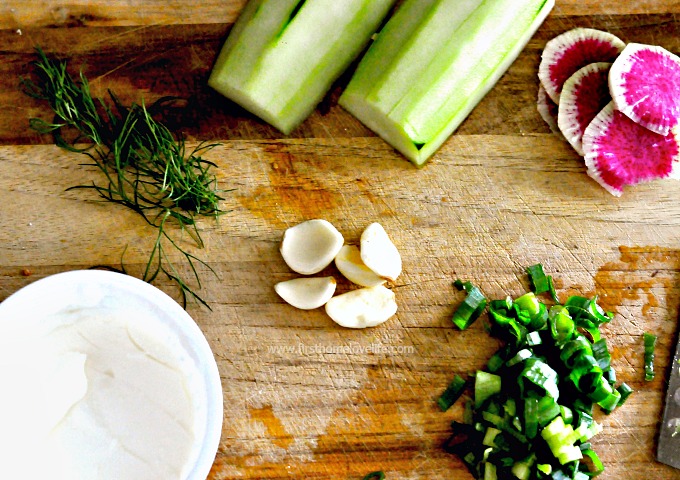 You'll need- (for one serving)
6 oz. piece of salmon (skin still on)
2 cups mixed greens
1/2 cucumber
1-2 watermelon radishes
chopped green onions
1 single serve cup of plain greek yogurt
1 tablespoon fresh chopped garlic
1-2 tablespoons fresh dill
salt and pepper to taste
fresh lemon juice to taste
olive oil
The first thing you want to do is make your creamy cucumber dill yogurt sauce also known as tzatziki. It's super easy to make and is great as a dip or sauce for a variety of meats, veggies, pita chips, crackers, and fish such as this salmon! You can get 2-3 servings out of one single serve container of yogurt so make a few and let them sit in the fridge until you're ready to use them.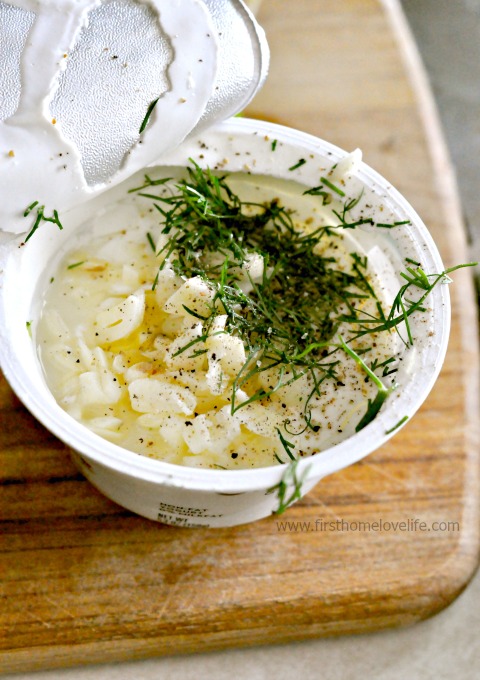 To make the tztatziki in a single serve cup of plain yogurt, shred some cucumber (about 2-3 tablespoons) chop up about a tablespoon of fresh garlic, and fresh dill. Add everything into the yogurt and mix well. Drizzle a little olive oil, and fresh lemon juice on top, sprinkle with salt and pepper to taste, mix again and its ready to serve.
I put mine in the fridge while I heat up the stove to cook my salmon.
To get perfectly cooked salmon, let it sit out of the fridge for about 10 minutes before cooking. Add some olive oil into a saute pan on medium-high heat.
Sprinkle both sides of the salmon with salt and pepper. Add the salmon skin side down into the hot oil and let it cook for about 4 minutes. Flip it over and let it cook for another 2 minutes then turn off the stove and let it sit in the hot pan for a another couple of minutes while you get the salad ready.
A big handful of mixed greens, some thinly sliced cucumber and watermelon radish and a sprinkle of chopped scallions creates the perfect bed to place our deliciously fresh and simply prepared pan seared salmon…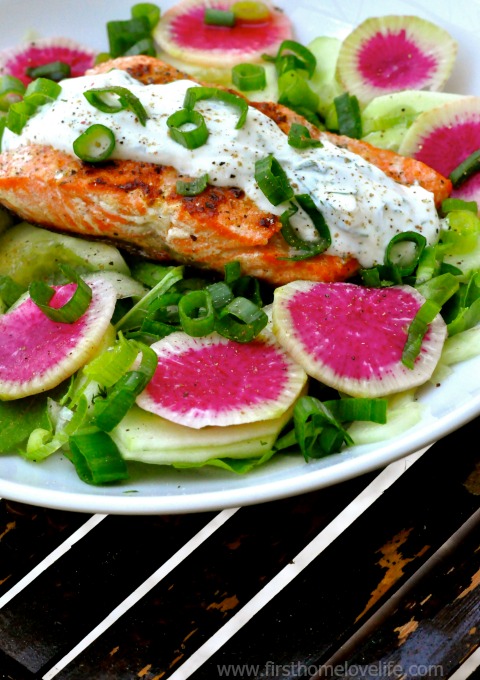 Top it off with a hefty spoonful of the creamy cucumber dill sauce and you have a super light yet satisfying summer meal.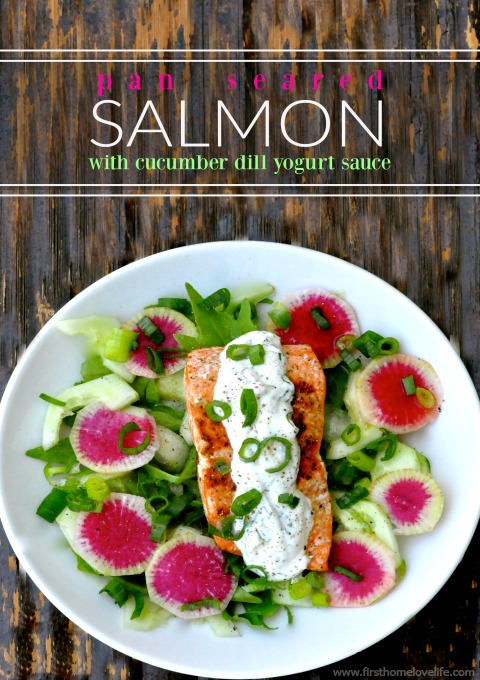 I can't stop eating this, and honestly I don't want to. It's simple but just so damn good!
I hope you love this recipe just as much!
Talk to you soon friends, take care!
XO
Comments
comments