This yummy breakfast or brunch recipe can be made a day ahead so you don't have to worry about being in the kitchen all morning! Fluffy, light, sweet and delicious- this cinnamon pancake cake is the perfect start to any good morning!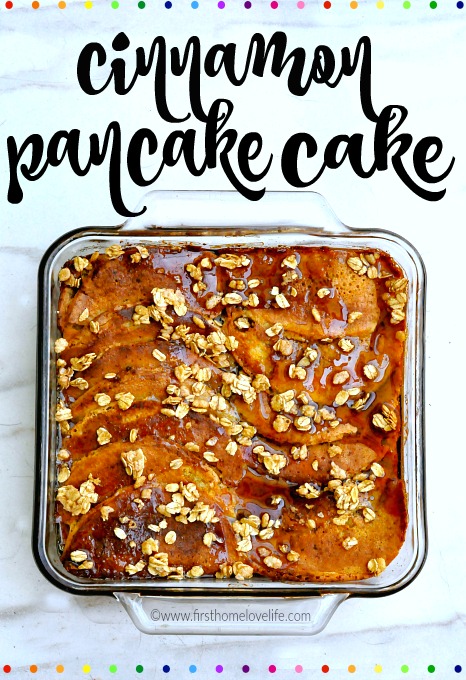 My daughter is at the age where she wants to have a sleepover almost every weekend.  There's lots of pizza eating, nail painting, popcorn popping, movie watching and very late night giggling with very little sleeping going on but it's always so worth it. I love that memories are being made and one of the things her and her friends will remember is mom lets them have cake for breakfast. 😀
I quickly learned after many mornings of sleepovers with very little sleeping going on that the next morning is brutal, and instead of trying to be a short order cook on a few hours of rest, that it was easier just to prepare something the night before and pop it into the oven the next morning. But the beautiful thing about this pancake cake is that not only is it awesome for sleepovers, it's really awesome for any morning! Holidays, birthdays, or just because… This breakfast or brunch recipe is a really easy and delicious go to recipe that I know you will just adore. Here's what you'll need to make it…
CINNAMON PANCAKE CAKE RECIPE- serves 6-8
bag of frozen pancakes (12-15 count)
3 eggs
1 cup of half and half (or half cup cream and half cup milk)
1 tablespoon cinnamon
1/2 teaspoon nutmeg
2 tablespoons brown sugar
1 teaspoon vanilla extract
maple syrup (to taste)
granola (to taste)
cooking spray or butter
baking dish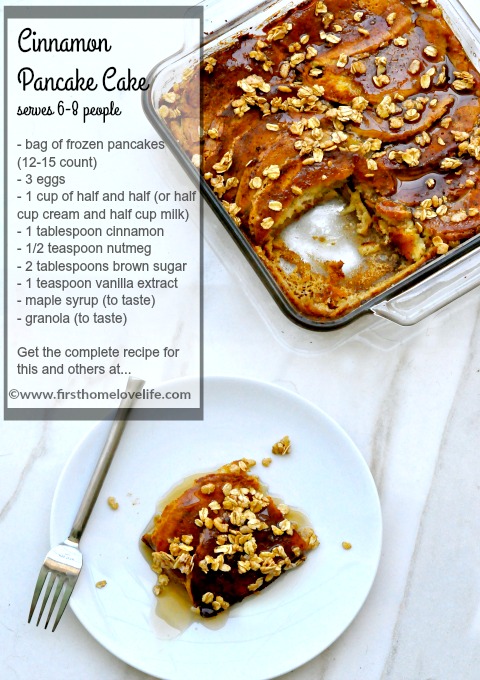 Defrost your pancakes and cut them in half
Spray your baking dish with cooking spray and arrange your half pancakes in a shingle pattern so they're overlapping slightly
In a bowl mix up your eggs, cream, sugar and spices until well blended
Pour the mixture over the pancakes, cover and refrigerate for an hour- up to overnight
When ready to cook, preheat oven to 325 and cook the pancake cake for 30-40 minutes.
Remove the cake from oven, poke holes on top with a fork or toothpick and pour maple syrup on top, and sprinkle with granola
Serve this hot-warm with fresh fruit and it will be the perfect every time.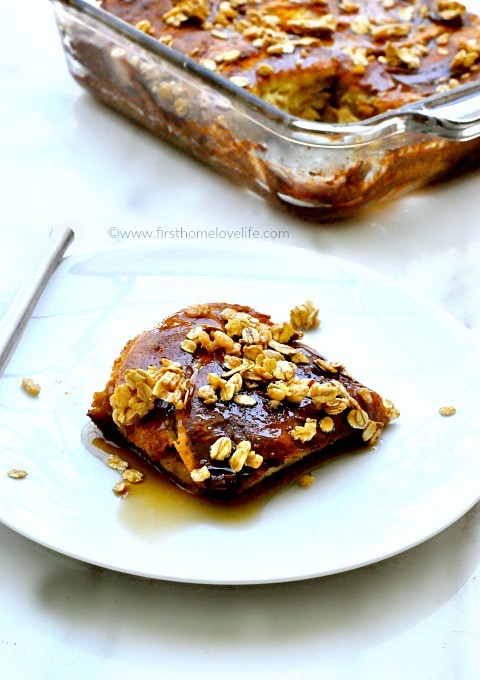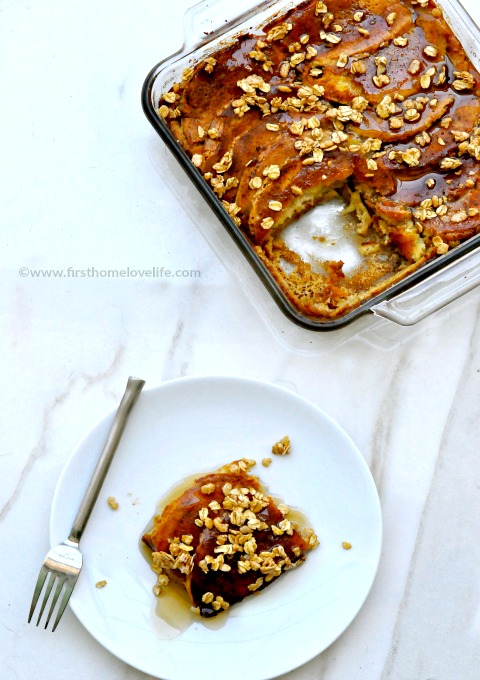 So simple and delicious! The perfect breakfast for any post sleepover morning or any morning for that matter!
I hope you love this recipe as much as I do. What's one of your favorite or go-to brunch/breakfast meals? I'd love to know so I can try it. 🙂 You can find other breakfast/brunch recipes like my Ham, Asparagus, and Gruyere Quiche under the brunch/breakfast tab above.
Talk to you soon friends, take care!
XO
Comments
comments