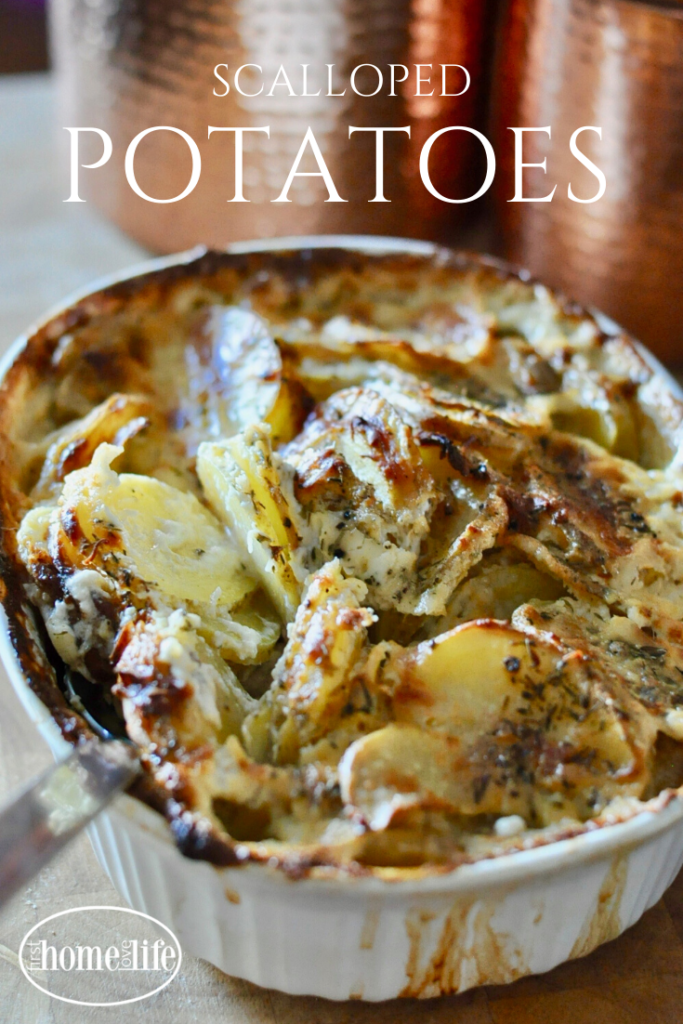 With Thanksgiving right around the corner, I've been playing around in the kitchen with some holiday recipes that I realized I don't make nearly enough!
This scalloped potatoes recipe is the perfect example.
YUM.
Year after year I make a large pot of mashed potatoes to set aside our turkey but this year I'm switching it up and making this cheesy side dish instead!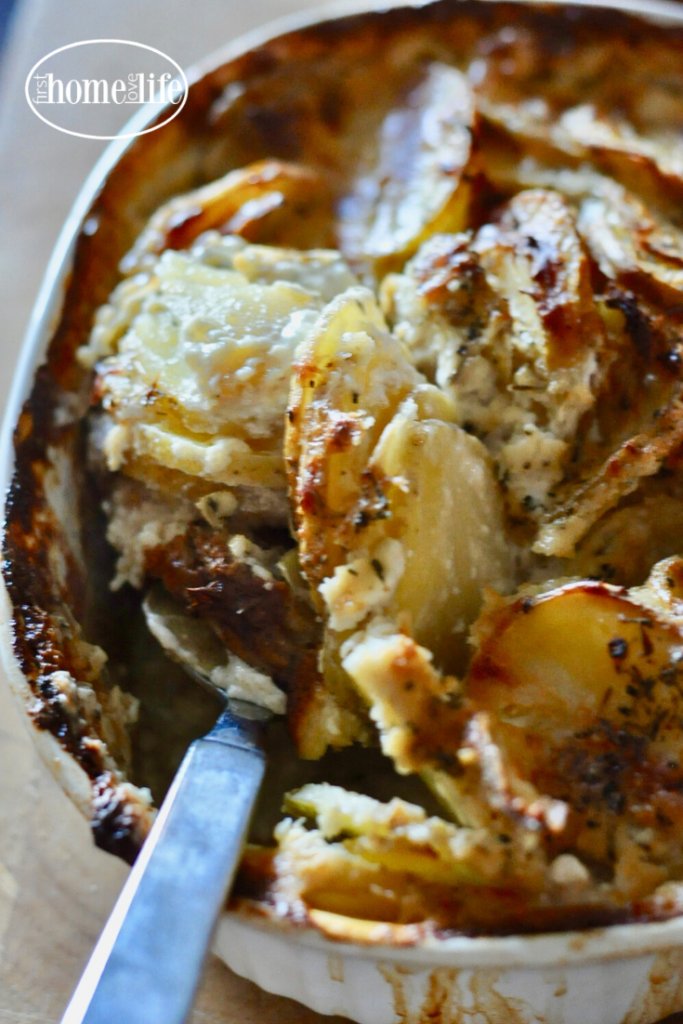 It could not be simpler to make…
here's how…
First off you want to decide whether you want to leave the skins on or off the potatoes. I personally leave them on.
Why? Well, less work. The end. 😉
Then you slice the potatoes thin. A mandolin is helpful for this but not necessary so don't let that stop you! Just use a sharp knife. 🙂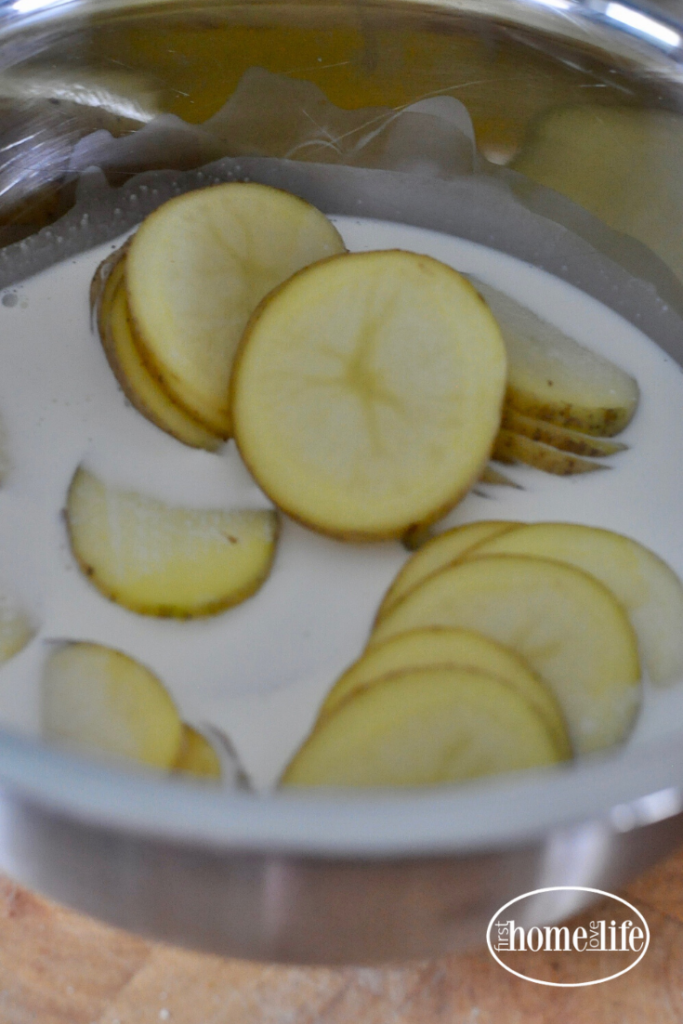 In a large bowl, add one cup each heavy cream and whole milk so after each potato is sliced you can add the slices into the bath.
I mainly do this so the potatoes will start to make the milk mixture starchy and it will thicken up.
How many potatoes do you use?
Well…my rule of thumb is about 2 potatoes per person. I use Yukon gold potatoes so they're on the small-medium size.
If you're making scalloped potatoes as your primary potato side dish for Thanksgiving or Christmas then you may want to bump that number up a bit to allow for second helpings and leftovers.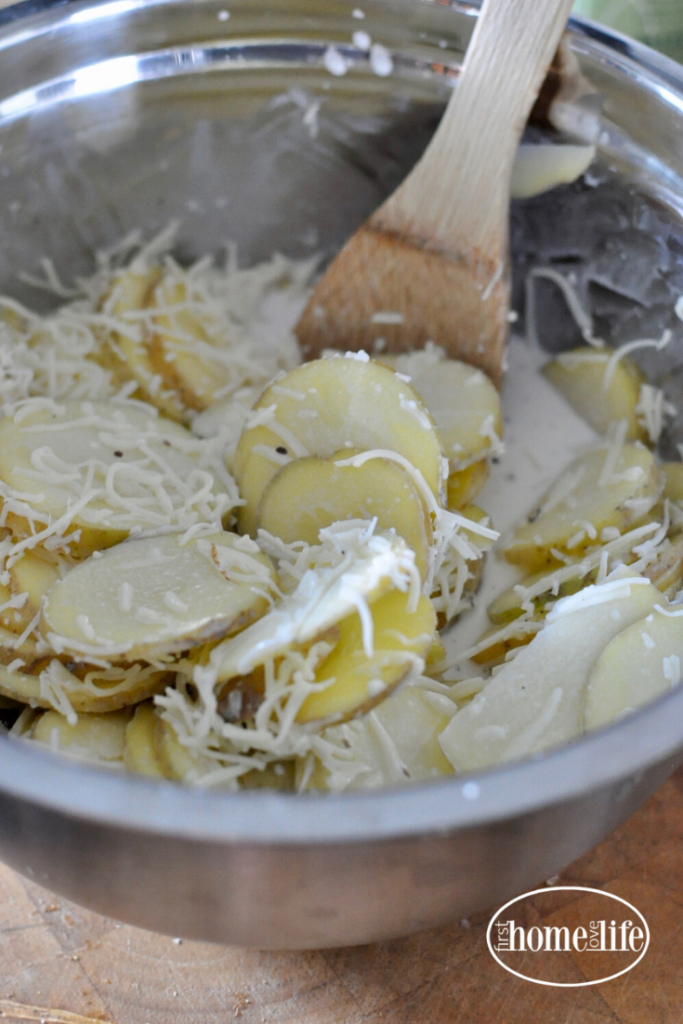 Once all the potatoes are added into the bowl. I season everything with…
2-3 teaspoons salt
ground pepper to taste
4 cloves chopped garlic
1 tablespoon dry thyme
1 tablespoon dry parsley
You'll want to adjust this for a larger batch. I used about 10 potatoes in my recipe. But also, remember that potatoes are bland so you want to flavor them well before they go into the oven.
At this point add in a cup of shredded cheese. I used a mix of gruyere and gouda. Cheddar works well too.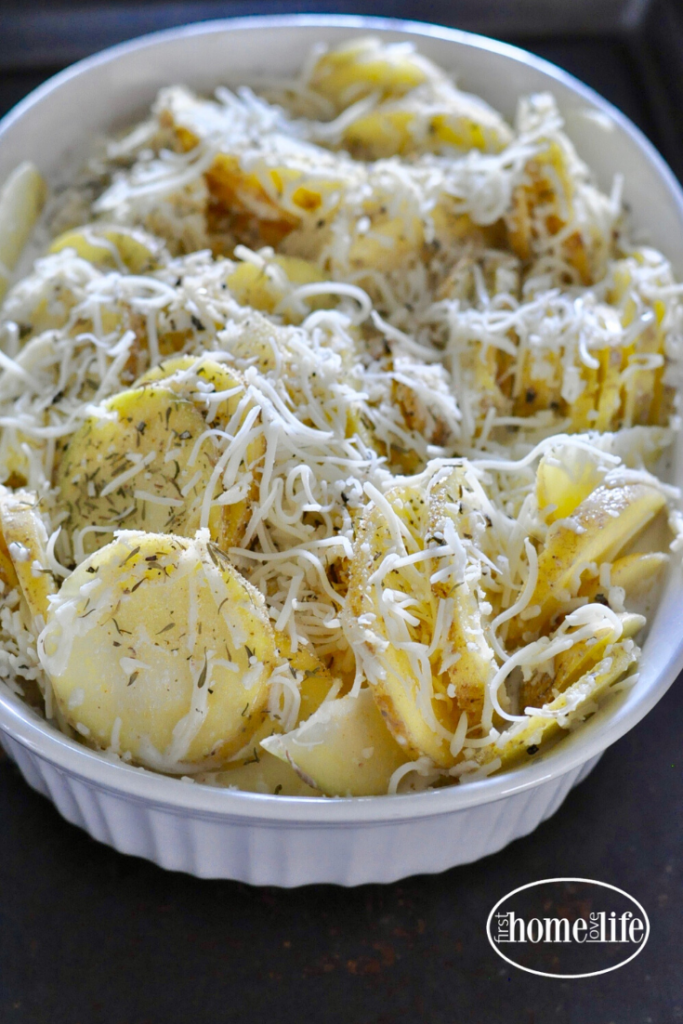 Pour the potatoes into a oven safe shallow dish, and top with a few dollops of softened butter and more cheese.
Put the dish on a cookie sheet and into the oven. 375 degrees for 45 minutes to an hour. Until you have a scrumptious golden brown top.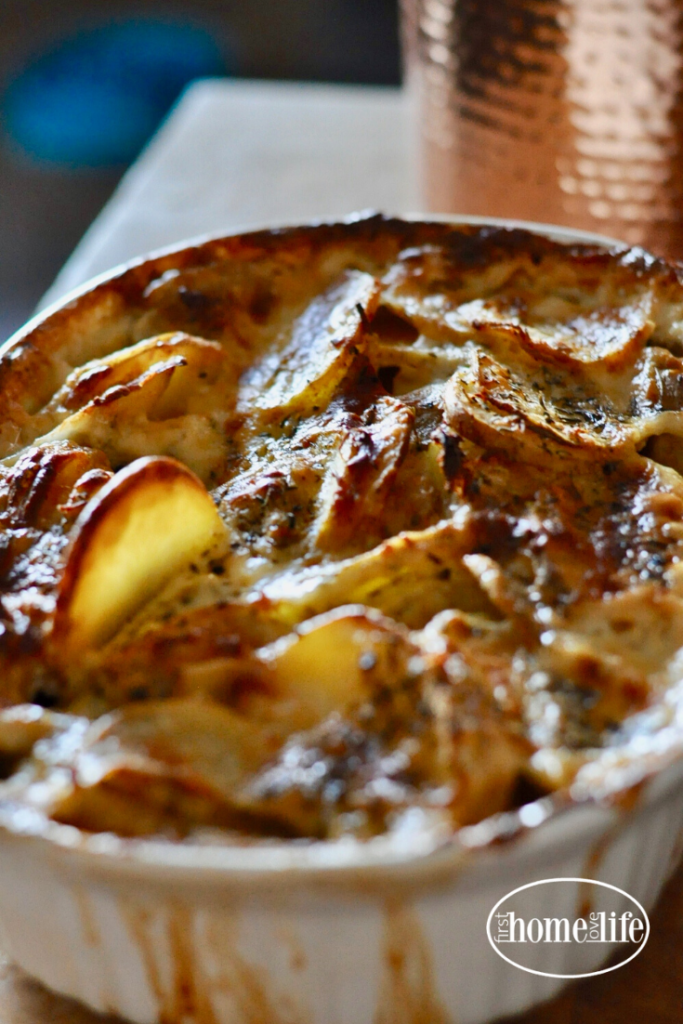 Let it cool for about 10 minutes before serving.
This is why these cheesy scalloped potatoes make a great holiday side dish. They're best warm- room temp.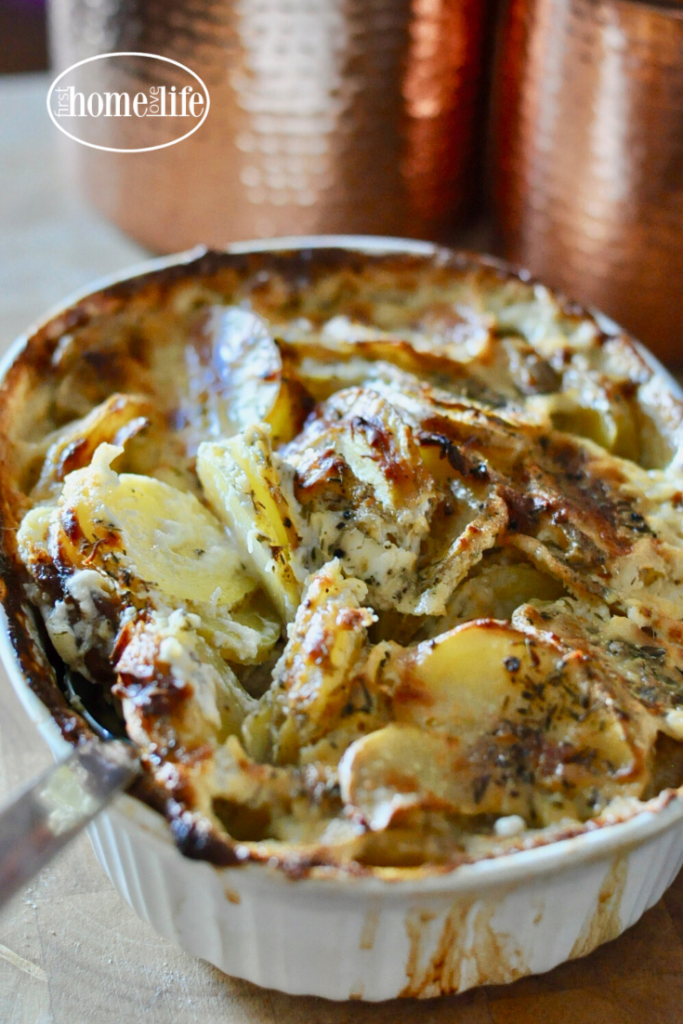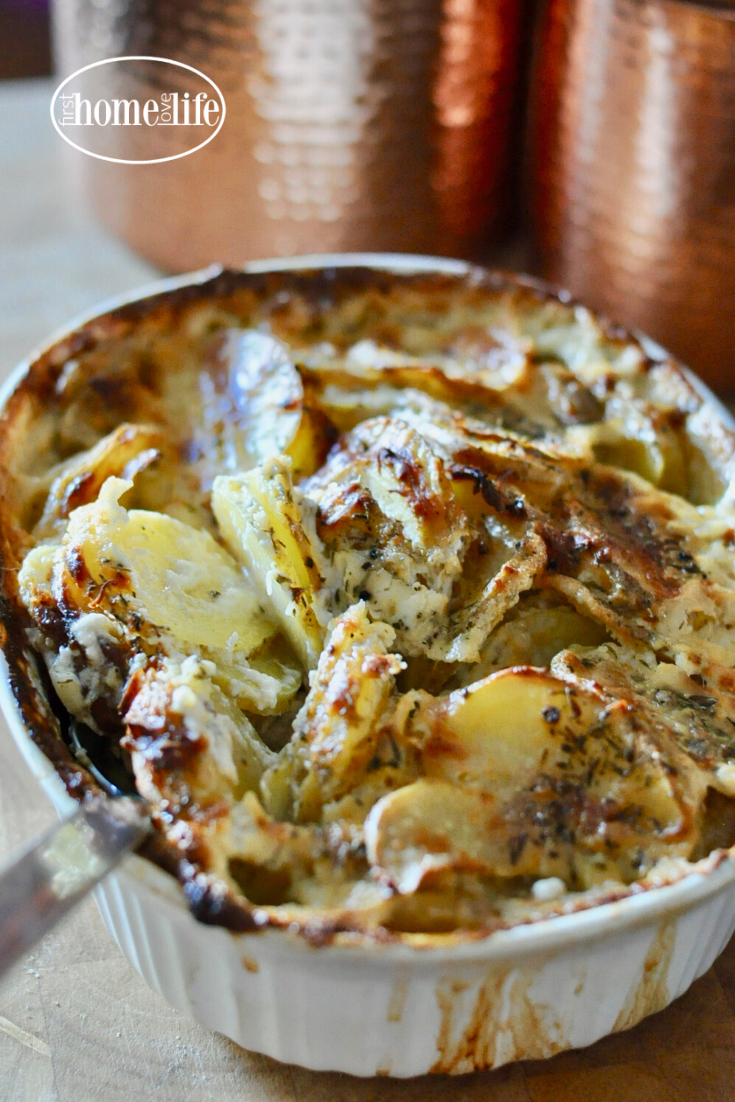 Oh for the love that is all gooey cheesy potatoey goodness.
Come to momma!
I hope you and your family enjoy this recipe. It's definitely a keeper!
Talk to you soon friends, take care. XO
Comments
comments