Are you getting tired of my gobbling on and on about turkey yet? I hope not, because today I'm sharing my tried and true, fool proof methods for getting that coveted, perfect Thanksgiving turkey!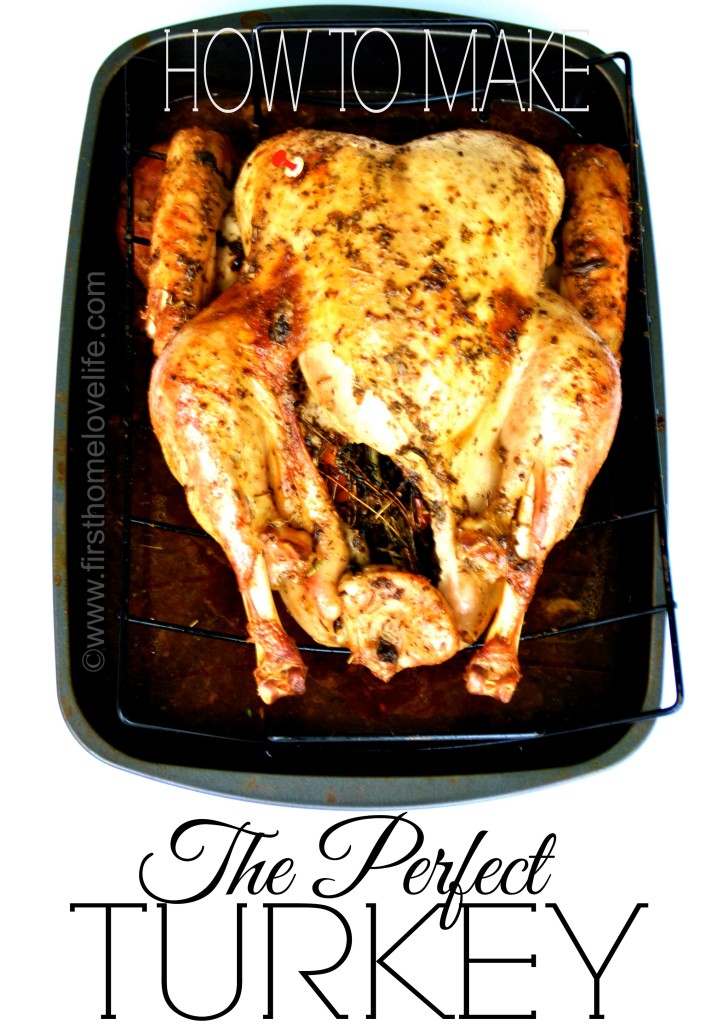 There's no specific flavors or spices that need to be injected into your bird. This isn't so much about which recipe is best, it's more about steps. What needs to happen to get that turkey just right!
I can remember the first time I prepared Thanksgiving completely on my own. I had listened to my aunt complain about it for years. "It's so much work." "The clean-up isn't worth it." "Next year I'm not doing as much." Call me crazy, but I enjoyed it, and wanted to do it every year since. I enjoy every aspect of preparing this ginormous meal and honestly…The turkey, I think, is the EASIEST part!
STEP 1: BRINE, BABY BRINE!
You already know about my love for brining. I talked about it here, and shared my favorite brining recipe. If you've never tried brining your turkey, give it a go this Thanksgiving. You will be amazed at just how juicy and favorable the meat turns out! So once you boil the dry brine (again, find that part here) This is where you now add the cooled brine to the icy water (or in my case juice and wine mixture) that's ready to go in a large bucket with a brining bag lined in it.
**Helpful hint- if you can't find brining bags, try using those oversized Ziploc bags. They work just as well!**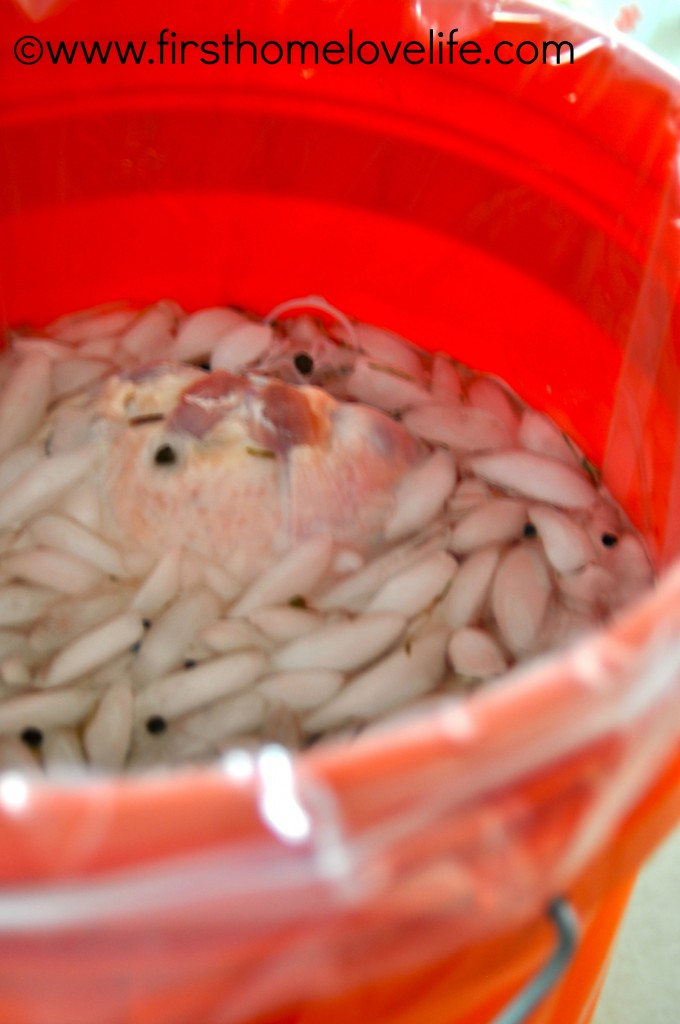 Once the turkey is submerged into the icy bucket-o-brine, I like to add fresh herbs, citrus, onions, garlic and whatever other goodies I can throw in there.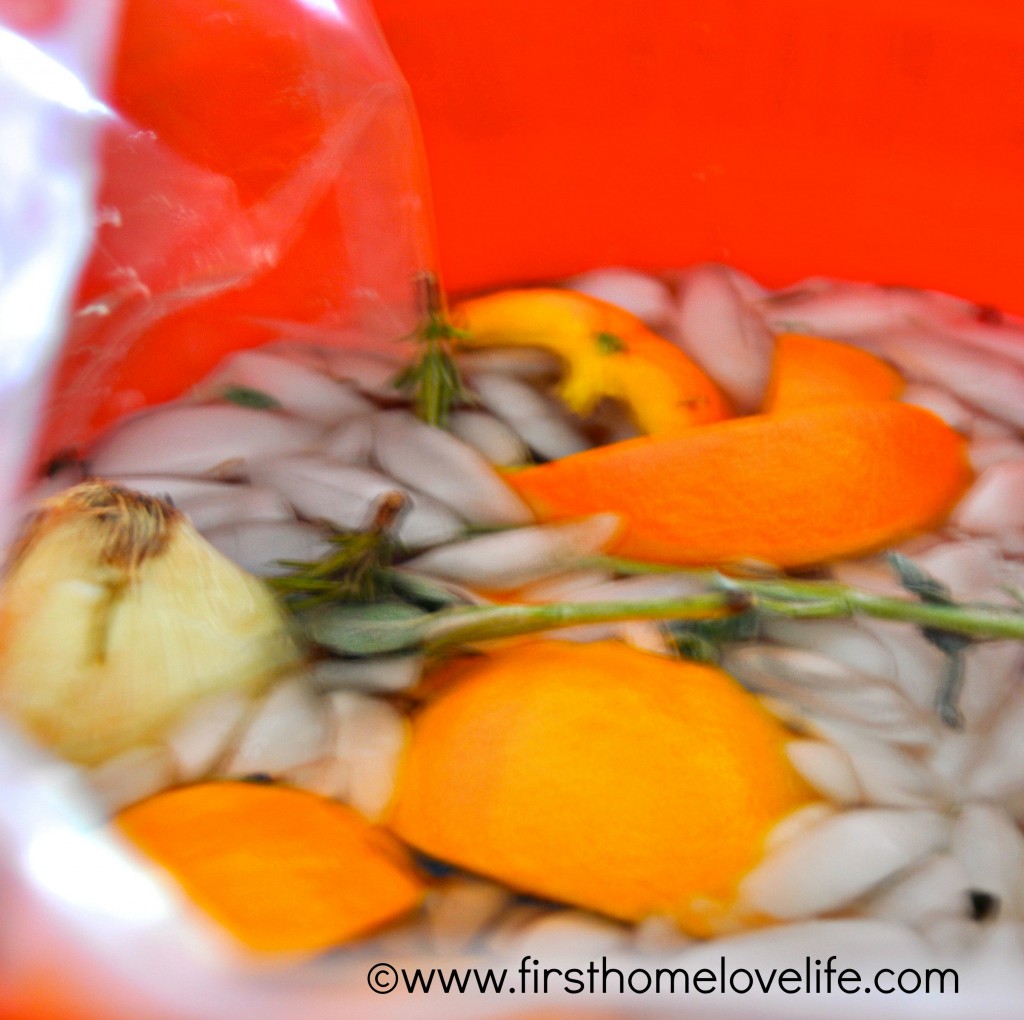 Give everything a mix, together around the turkey, seal up the bag inside the bucket, and pop it in your fridge overnight. Try not to leave your bird brining for longer than 10 hours. Over doing it can turn the bird tough and processed tasting like deli meat instead of moist and succulent which is the sole purpose of brining in the first place.
I bet my friends at The Home Depot will get a giggle out of this next picture…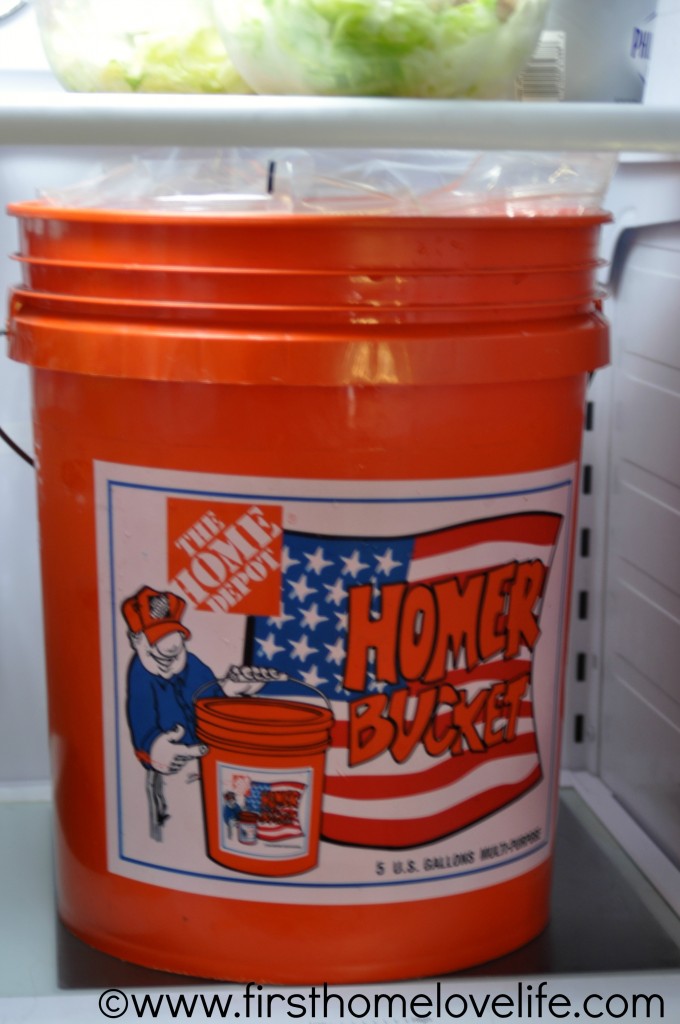 This is our designated "brining bucket." A five gallon orange HD bucket… It's amazing! I don't have to worry about messy leaks and it can easily hold up to a 24lb. turkey and all of the brine! I may just have pitched you a new marketing idea for those buckets Home Depot…write that down. 😉
STEP 2: DRY THE SKIN, NOT THE MEAT
There is nothing worse than dried out turkey meat, but in order to get deliciously crispy skin on your turkey you need to dry it off! So once your turkey comes out of the brine, give it a quick rinse off with water and place it onto your roasting pan, and grab of wad of paper towels and thoroughly pat the big boy down. At this point, you also want to tuck the tips of those wings under the breast, by pulling the wing out, and then under.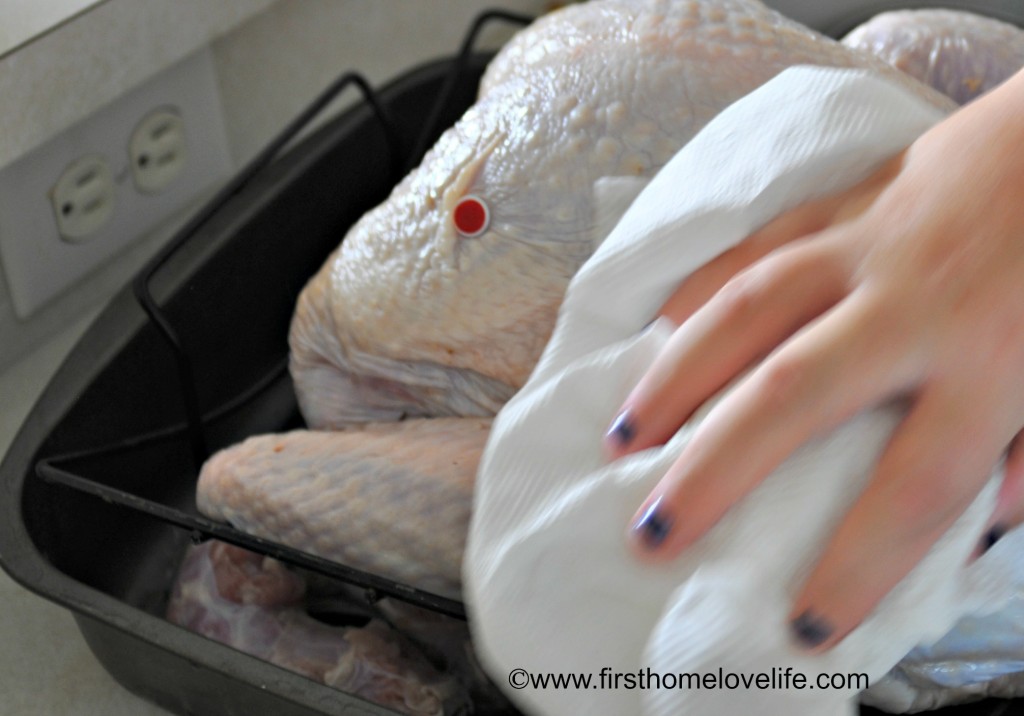 STEP 3: SKIP THE STUFFING
Not altogether, oh dear God, no! Just the stuffing inside the bird.
See here's the problem with stuffing inside the bird…Stuffing is primarily made up of some sort of bread, right? What happens when bread is placed in a cup of soup. It absorbs the liquid. You putting all that stuffing up into the cavity of the turkey is a sure guarantee you will dry out the meat. Why? Because stuffing inside the bird will make you have to cook the turkey for a longer period of time to make sure it gets fully cooked all while sucking the moisture out of your bird like an internal vampire, unless you know…you want to poison your guests with salmonella or something. 😉
What to do instead? Fill up the cavity with herbs, celery, carrots, onions, citrus, apples…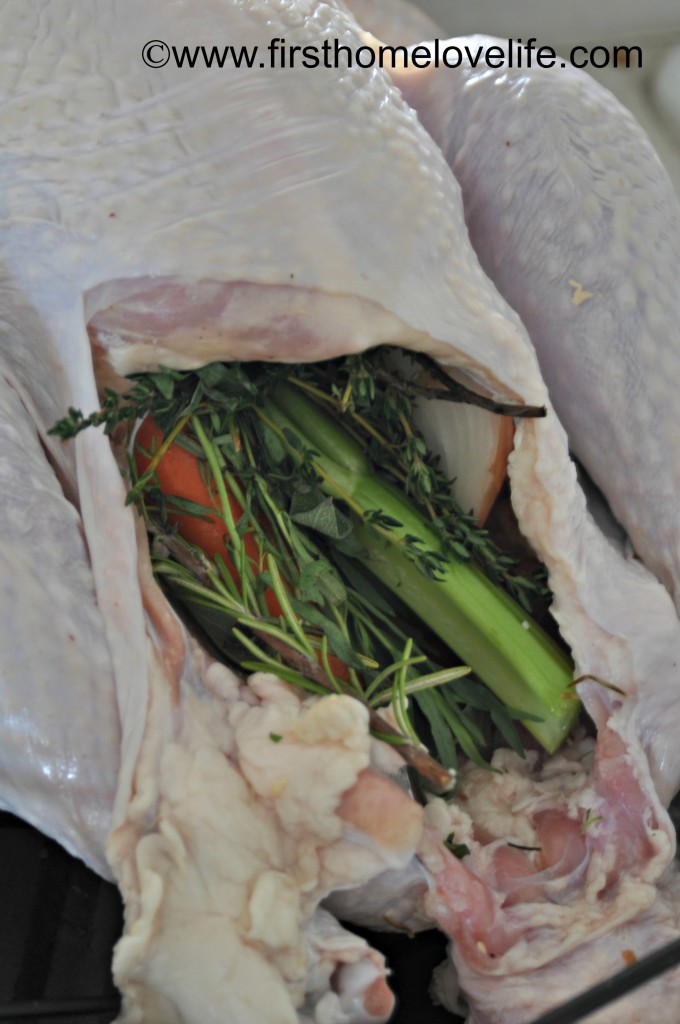 Mmmm…yummmmmay…
STEP 4: BUTTER ME UP
This ain't diet food people. Sure you can use olive oil, grape seed oil, whatever oil, or no oil. It's up to you. BUT if you want your turkey to have richness, and a stunningly vibrant brown color…butter is your friend…a whole softened stick of it, mixed with poultry seasoning, salt, pepper, and chopped up fresh herbs.
And this my friends is the single most important tip in this entire post,,,YOU MUST BUTTER UNDER THE SKIN.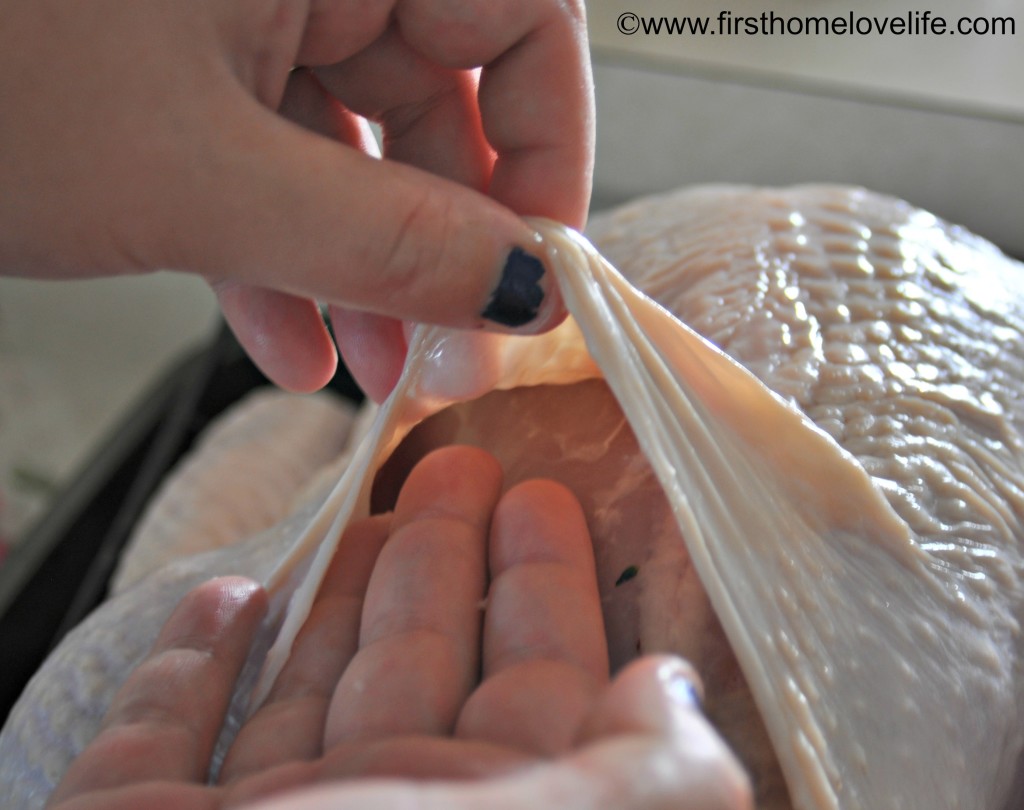 I mean…really, really…get under there. Chipped nail polish and all!
And your hands are most definitely the best tool for this job, so don't get squeamish on me. 😉 Take a nice scoop of herbed butter in the tips of your fingers and shove it in there and spread it around.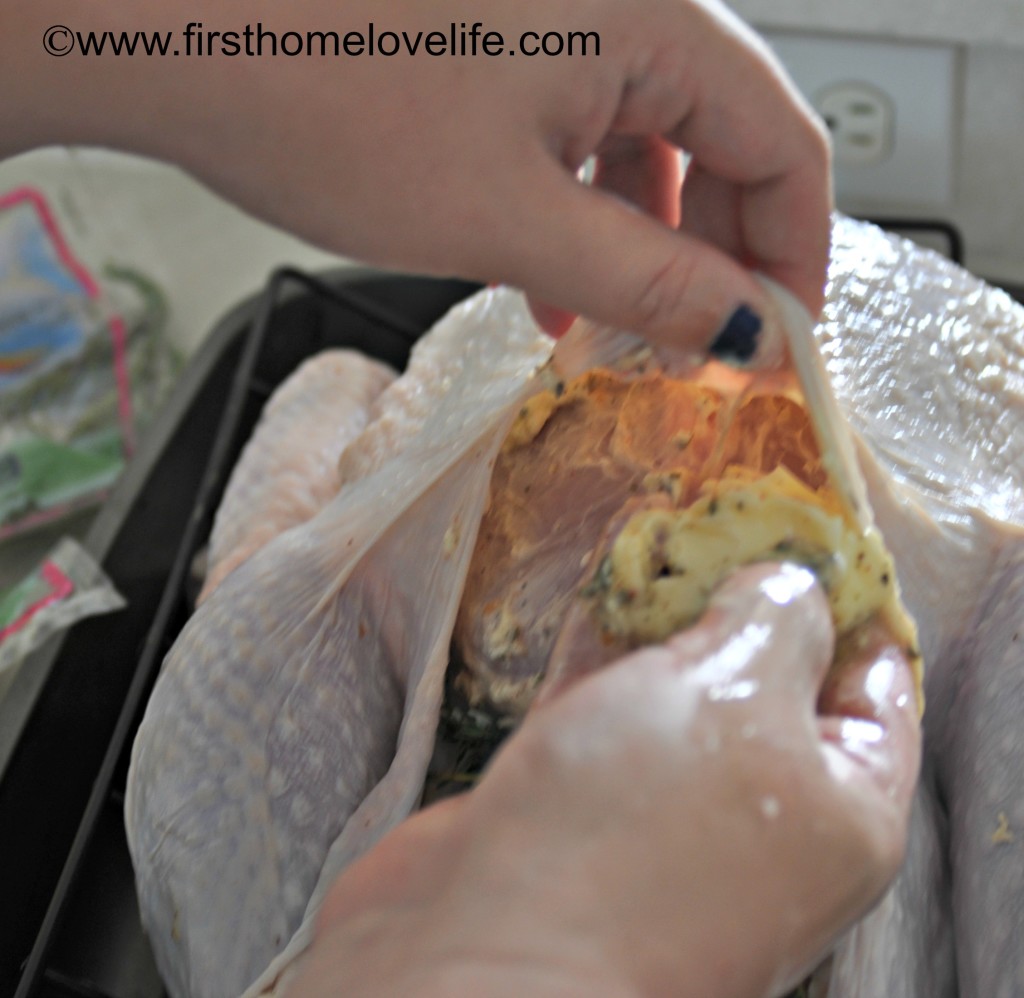 Make sure you spread it down into the pocket of the legs too. Just be very careful and delicate so you don't rip a hole in the skin or else all of the buttery goodness will leak out when it's cooking in the oven.
After you've thoroughly buttered under the skin, use the remaining butter to lather up the top of the skin.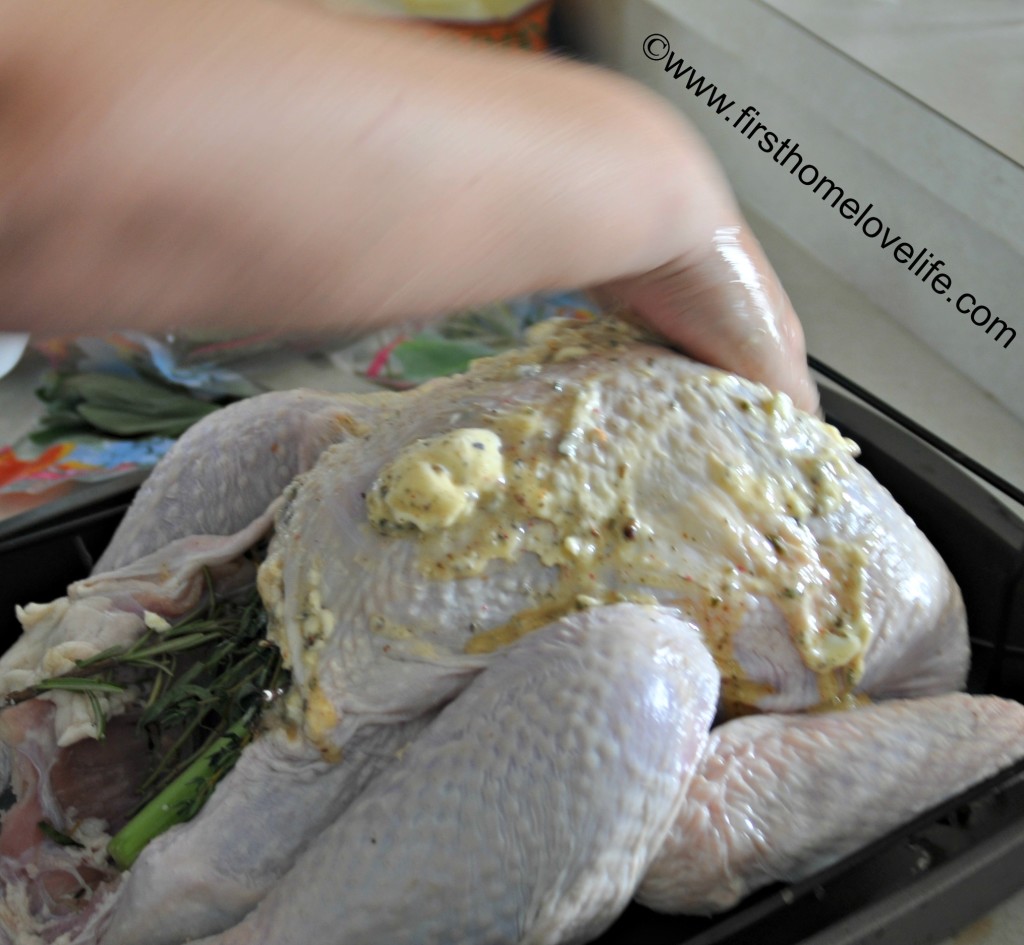 Are we having fun yet?! 🙂 It's like finger painting for grown ups! Once your lovely, buttery, brined turkey is greased up to your liking, you can truss it just by tying the legs together with a piece of twine. (I guess I ran out of twine, because I couldn't find it so I skipped over this step on this day, but I usually do this.) This keeps the legs closer to the body to ensure they don't over cook, and it just makes the finished, cooked turkey look pretty. We like pretty, don't we?! 😉
STEP 5: TINFOIL TENT & COOK TIMES
You may com across these tinfoil "turkey shield" contraptions that I've seen floating around on the web. It's not necessary. You can do it, if you want to but with everything else you're going to have going on on this day. SIMPLIFY my friends. One to two pieces of tinfoil, draped over your turkey will work just as well.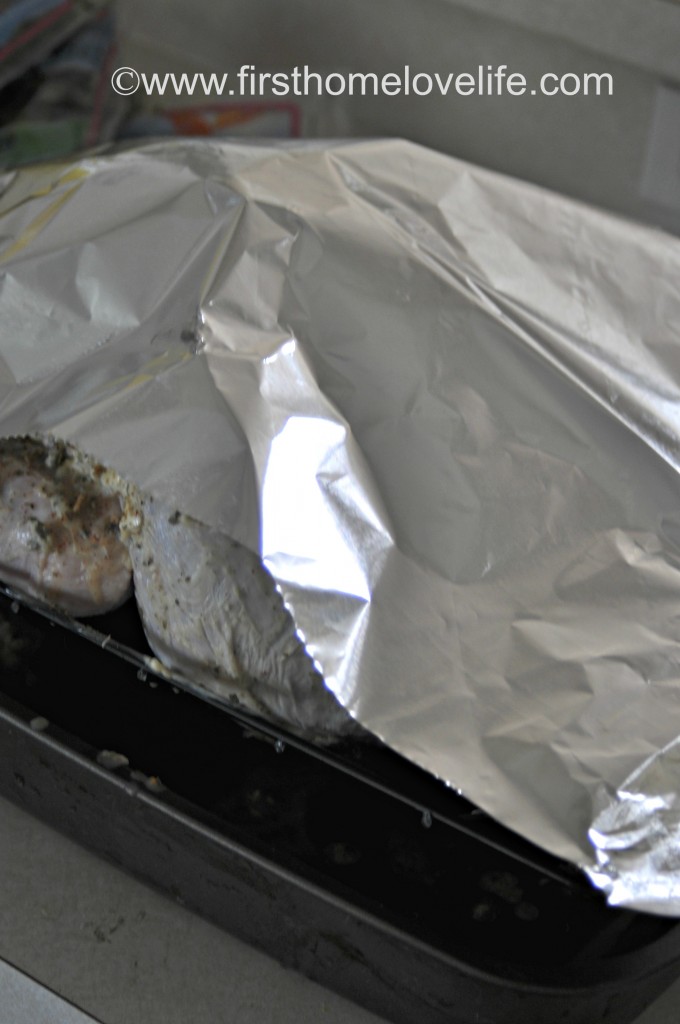 Now I live in Florida, so my cooking time and oven is different then say someone who lives in Utah at a higher altitude. For me, the magic number is setting the oven to 325, and cooking the turkey 25 minutes per pound. You may need longer, you may need a higher temp. This comes from experience, and knowing what works and doesn't for you. If this guessing game makes you feel uncomfortable, then I highly recommend investing in a meat thermometer. Your turkey will be perfectly cooked when the thermometer is placed in the fattest areas (thighs, breast) and gets a reading of 165 °F or slightly higher.
STEP 6: LET THERE BE REST
When you take that turkey out of the oven, you MUST LET IT REST! I talked about it in this post where I also showed you how to carve a turkey. So check that out when you're done here! Carving into a fresh out of the oven turkey is a guaranteed dry to the bone bird. SO JUST DON'T DO IT! Please? 🙂
Following these steps will provide you with the most glorious meal this Thanksgiving, or any holiday for that matter.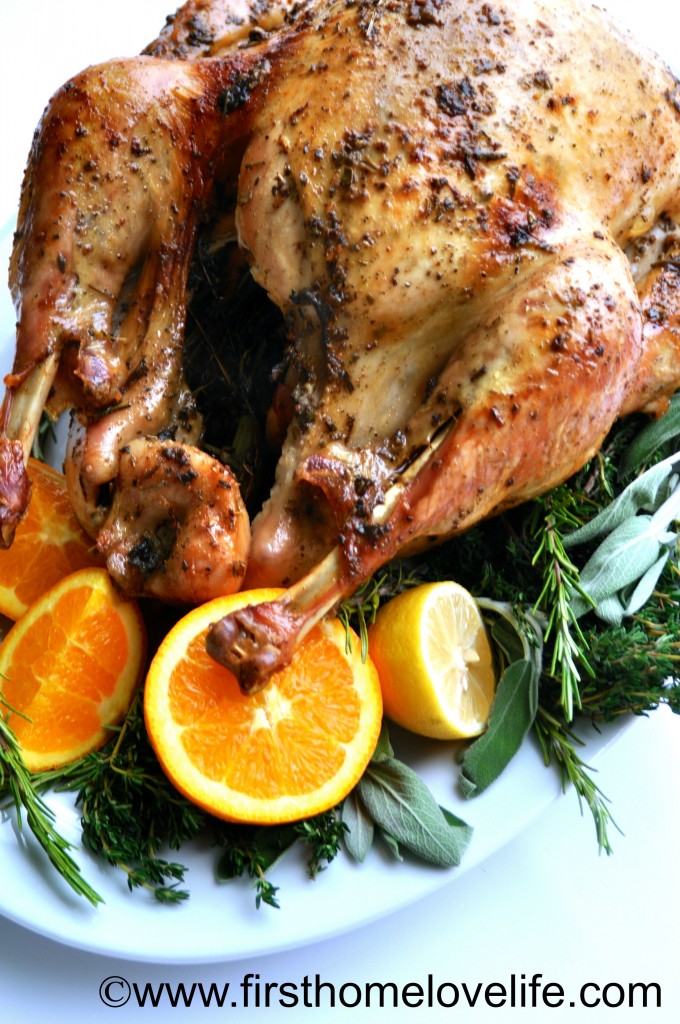 I hope you enjoyed this post, and while you're here…Check out my friends below who are also sharing their own tips and advice for all things Thanksgiving!
November Fourteenth: Printables: Worthing Court&Mom 4 Real | Decor – Just Paint It & Making Lemonade | Centerpieces: The Everyday Home&Designer's Sweet Spot | Table Decor and Ideas – Creating This Life My Soulful Home &Major Hoff Takes a Wife | Drinks – Southern Color &Deja Vue Designs | Appetizers – Our Southern Home &Sweet Pea
November Fifteenth: Soups –Town and Country Living&Just Us Four | Salads –Cedar Hill Farmhouse&Fresh Idea Studio | Main Dishes –Designed by BH&First Home Love Life | Side Dishes –All Things Heart and Home | Desserts – Domestically Speaking&Lilacs and Longhorns | Parting Gifts –House on the Way&Dukes and Duchesses
Talk to you soon friends, take care!
XO
Comments
comments