Earthy herbed mushrooms mixed with baby arugula, tossed in a light lemon vinaigrette, and topped with long paper thin shavings of salty Parmesan. This makes getting bored of eating salad almost impossible!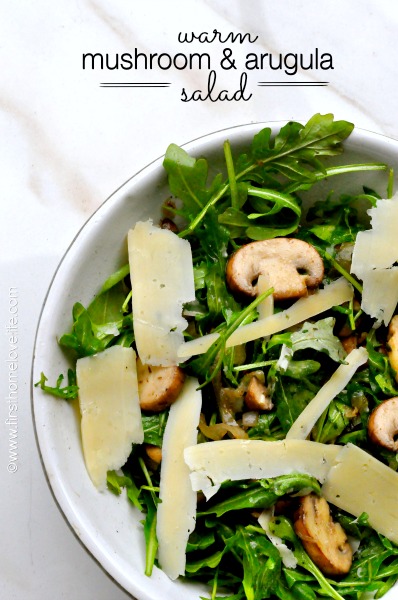 Caesar, Greek, blue cheese wedge…I'm always looking for new salads to make. I actually really love salad, but having the same old dressing coated lettuce all the time can give you a case of the salad blues real fast. That's why this warm mushroom and arugula salad is so great to throw into the mix! Even though it's technically a salad, because its served warm to room temp it really can double as a side dish. I'm head over heals with it when paired up with my lemon Dijon chicken, or a super delicious steak, but have eaten it many times on its own because, well….mmmm mushrooms…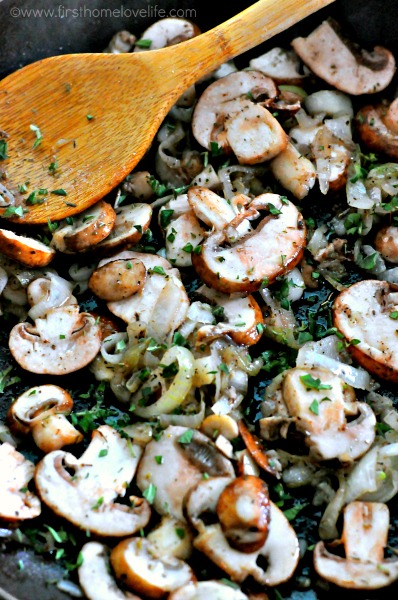 Here's what you'll need…(serves 2-3)
1/2 bag baby arugula- about 4 cups
1 box of sliced baby bella mushrooms (8 oz.)
2 shallots (sliced thin)
1 garlic clove (minced)
1 tablespoon (chopped) fresh oregano
1 tablespoon (chopped) fresh thyme
1 tablespoon light olive oil
1 tablespoon lemon juice
1 tablespoon red wine vinegar
salt and pepper to taste
shaved Parmesan cheese to taste
In a medium-large sauté pan, drizzle olive oil to heat up over medium-high heat.
Slice up your shallots and chop the garlic. Chop herbs finely.
Add your mushrooms to the pan and let them begin to cook, season with salt and pepper.
After 2-3 minutes add in your shallots and garlic and cook for an additional 4-5 minutes, tossing often, until the shallots have softened. Turn off heat.
In a large mixing bowl add in your lemon juice, red wine vinegar and fresh herbs.
Add your cooked mushrooms into the dressing and toss around until coated.
Add in your arugula and toss together, season with salt and pepper.
Serve warm with shavings of Parmesan on top.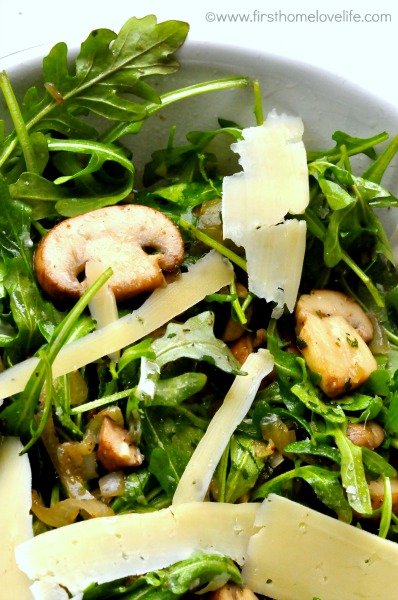 The warmth from the mushrooms and shallots begin to wilt the peppery baby arugula, giving them almost a cooked feel in your mouth without giving away the freshness.
If you love mushrooms, you will adore this salad!
Talk to you soon friends, take care!
XO
Comments
comments