Sometimes I joke around with my husband and tell him I only married him for his moms cooking. If you've ever had Greek or Mediterranean food than you'll understand…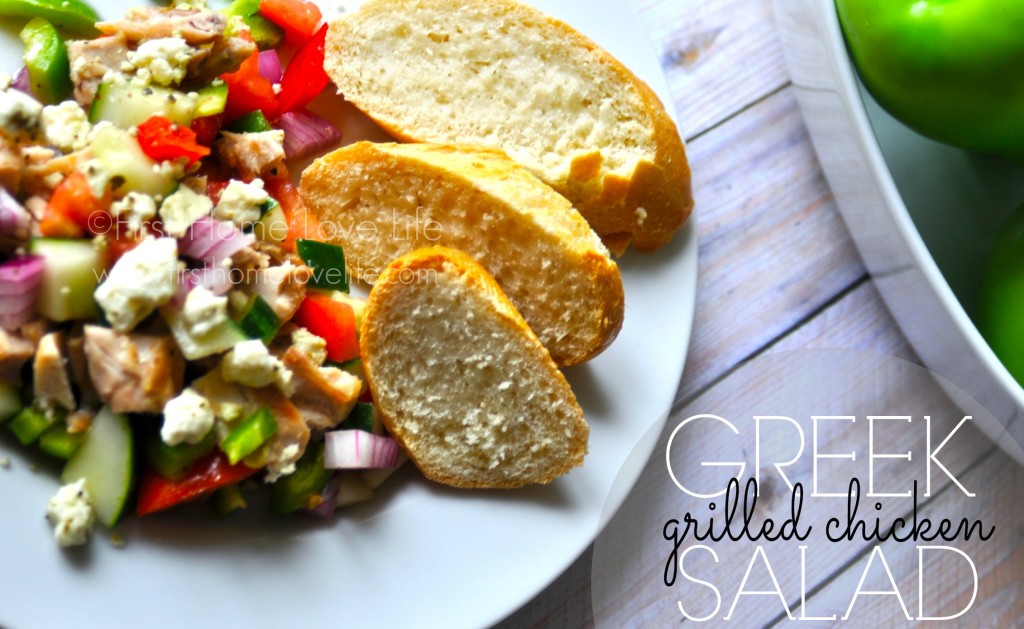 When my husband and I were dating he got a job as a DJ at this Greek restaurant called Taverna Opa in Ft.Lauderdale, I heard it's closed now but they do have other locations around the U.S. I would bring my friends there a few times a month while he worked, and we would dance on tables with the belly dancers, eat amazing food, and drink (sometimes one too many Ouzo shots.) Ahh the single days…
My absolute favorite meal to get there was a salad, and souvlaki (grilled skewered meat). It was fresh, light, and oh so satisfying.
To this day (it's been over 10 years) I still will get cravings for the food there, and when I do I make this Greek grilled chicken salad which regularly appears on our dinner menu. It's basically like taking the two and combining it into one dish. It's simple, clean, and out of this world with flavor! I know you're going to love it!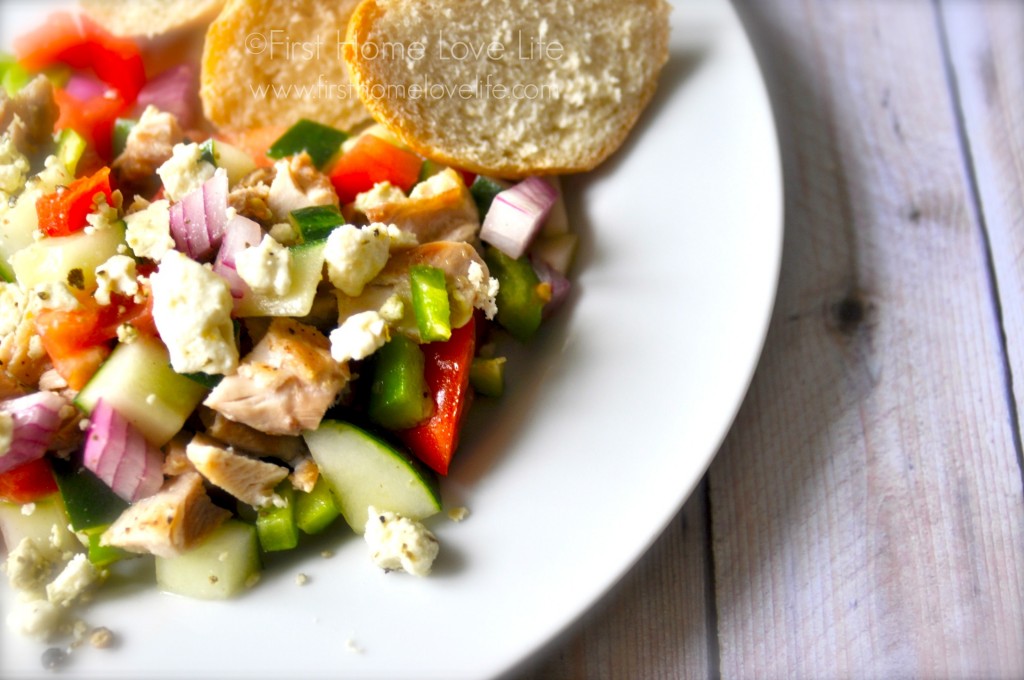 There's 3 components to this dish. The dressing, the chicken, and the salad, but they are all so easy to do, and only require a few ingredients each.
Let's start with the dressing…
4 tablespoons Champagne Vinegar
 1/4 cup Olive Oil
1/2 Lemon (juice)
1 teaspoon chopped fresh oregano
salt and pepper to taste
Mix everything in a bowl and set aside
Still with me?
That's the hardest part of this recipe…The rest is super easy!
Now the chicken…
1 lb. boneless and skinless chicken thighs (or breasts) I like thighs because they stay juicy on the grill.
olive oil
salt and pepper
1/2 lemon (juice)
1 teaspoon fresh oregano
Coat your chicken in olive oil, and salt and pepper
Cook completely on the grill
Remove the chicken from the grill, and squeeze lemon juice all over and sprinkle with fresh oregano
Phew…Almost done…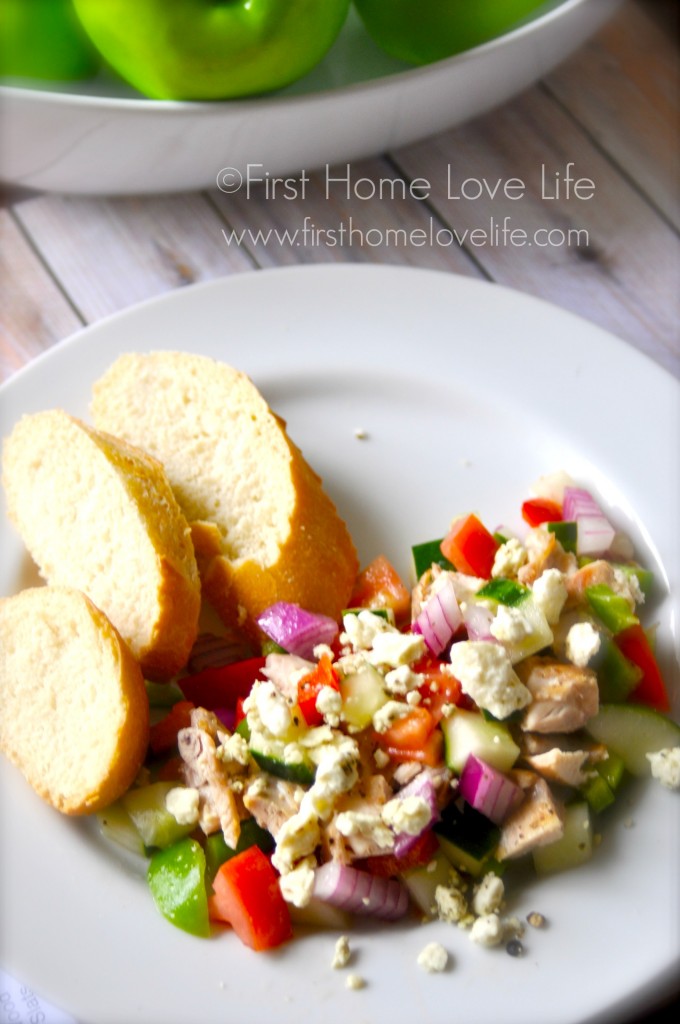 Now the salad…
1 english cucumber

1 smallish red onion
1 green pepper
1 red pepper
4 juicy plum tomatoes
pitted Kalamata olives
Feta cheese
NO LETTUCE!
DO NOT add lettuce or Yia-Yia will smack you on your head with a wooden spoon!
Chop all the veggies up into bite size pieces-put in big bowl

Now do the same with your chicken- add to bowl
Add your dressing
Toss everything together
sprinkle Feta cheese on top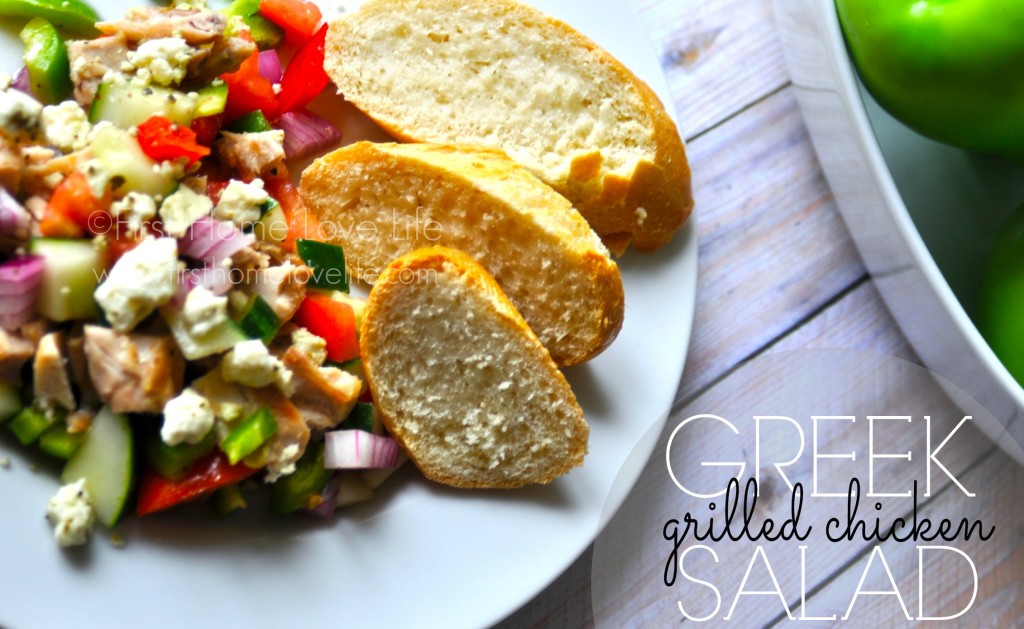 We love eating it with a crusty baguette and homemade hummus, but this would be equally as delicious stuffed into a pita with fresh tzatziki (cucumber yogurt sauce).
Enjoy guys, take care,  and talk to you soon!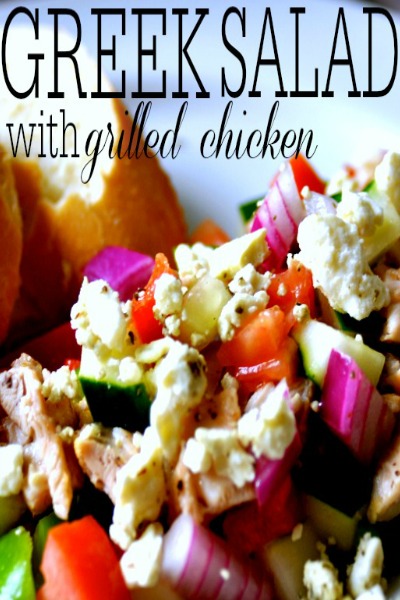 XO
Comments
comments