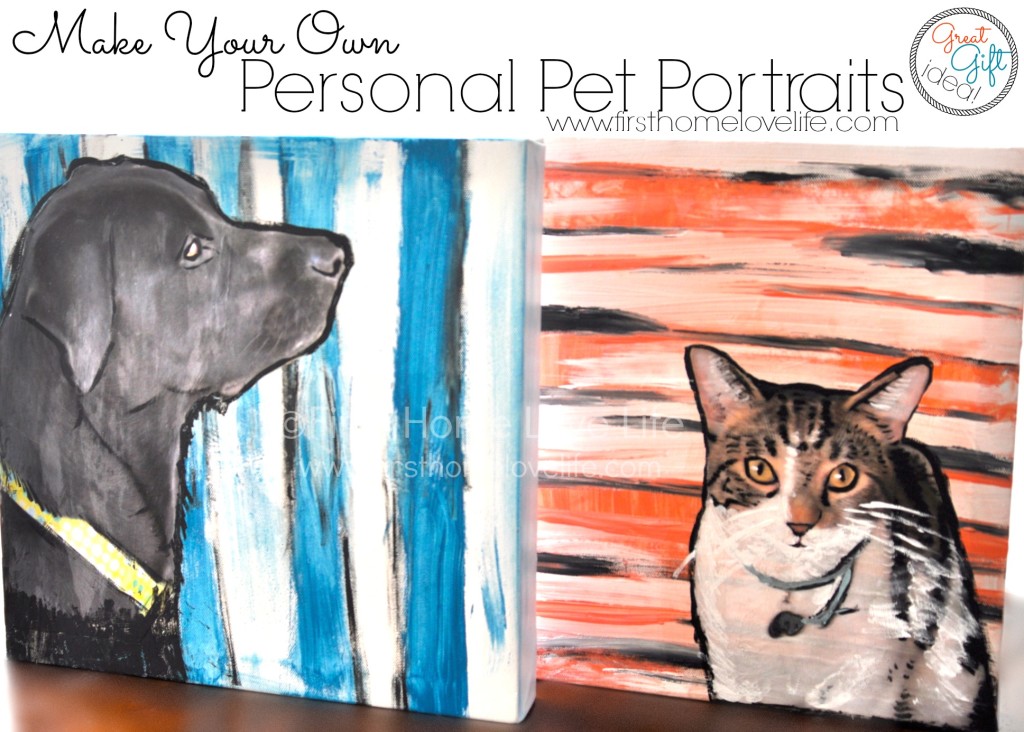 Guys, I'm going to let you all in on my little secret. That pet portrait I posted on Instagram and Facebook this afternoon is SO EASY to do. I whipped it up in 30 minutes (no joke!) And because I love you guys that much, I'm totally sharing with you how to make your own! Because I definitely don't want to give you the impression that I'm some Picasso or something (I'm so NOT!) All you need is a camera, printer, a few different paints, and Mod Podge and you too can paint your very own personalized pet portrait!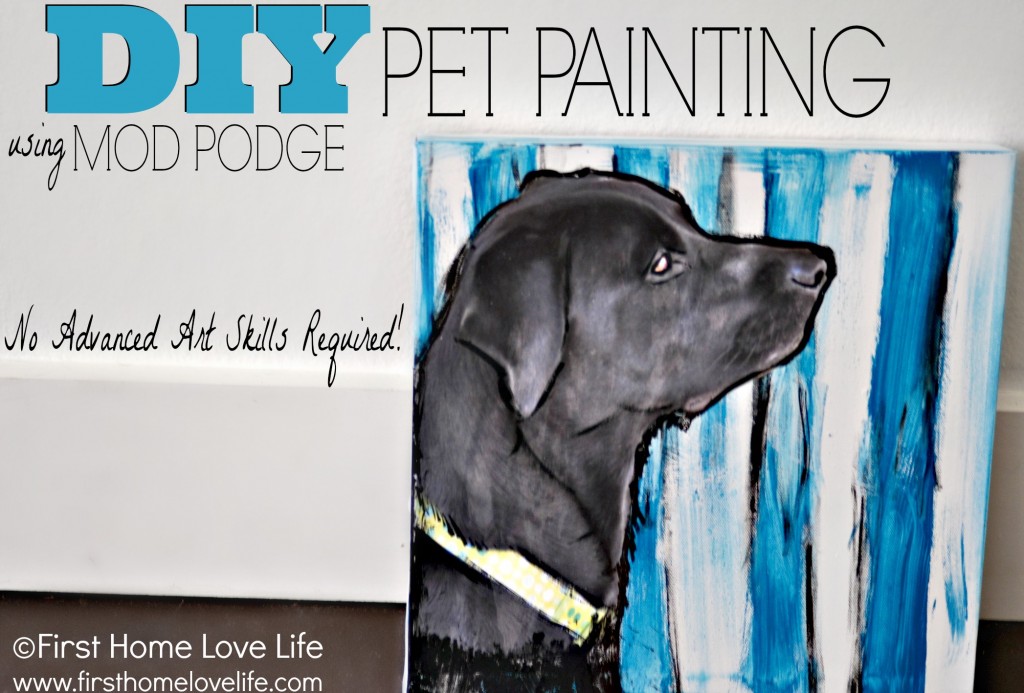 While cleaning out our garage…yes…can you believe another project has transpired from this dang garage purge! What. Is. Wrong. With. Me?!
See this post and this post to get a feel for just how ADHD or HDADHD I actually am!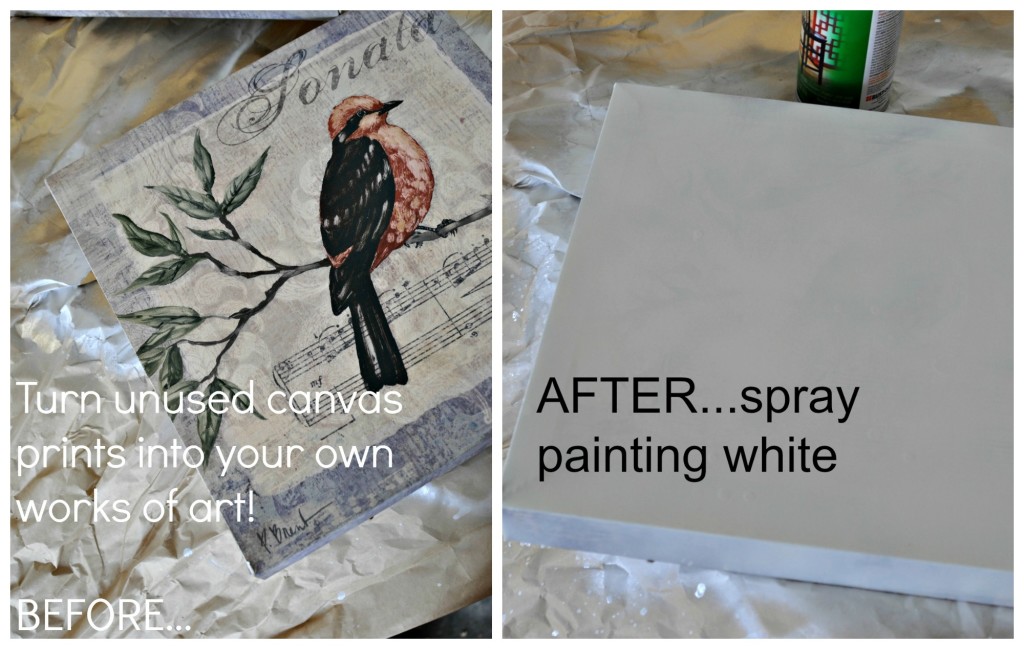 Anyway…I found three of these square paintings. I had these up in our master a few years ago in our other place, but there was nothing special or personal about them. At the time, it was about filling up wall space…have you ever bought anything like that? Hence, why they've been sitting and collecting dust in our garage for 2 years. As I tossed them into the donate pile I had an idea…dangerous…I know. Spray paint over them, and make my own art. I have 3, one for each pet. Perfect….
Once I gave it a coat of white and let it dry, I brought it inside and raided my acrylic paint drawer.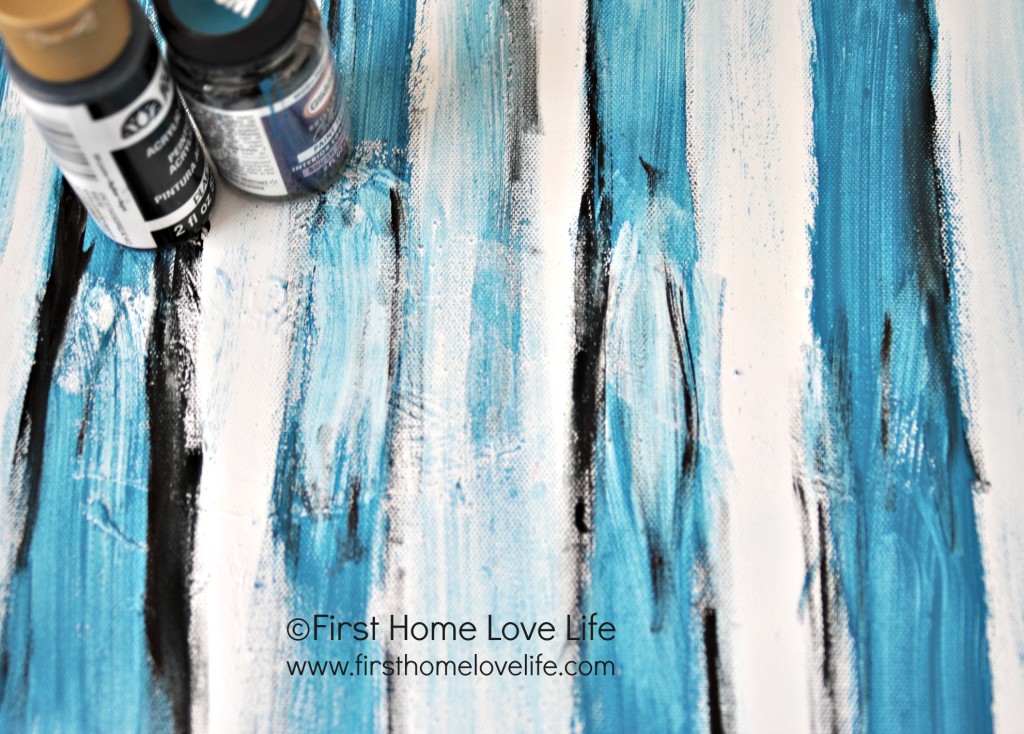 I painted bold peacock blue, and black stripes sloppily onto the canvas. Using my fingers and a paper towel to blend, smudge…etc. You can see the bird of the original painting trying to come through, but I wasn't worried about it. I knew once it was finished it wouldn't be noticeable, and I think it just added to the imperfection of the painting anyway (which I like).
Now here is where I totally cheat. Don't hate me…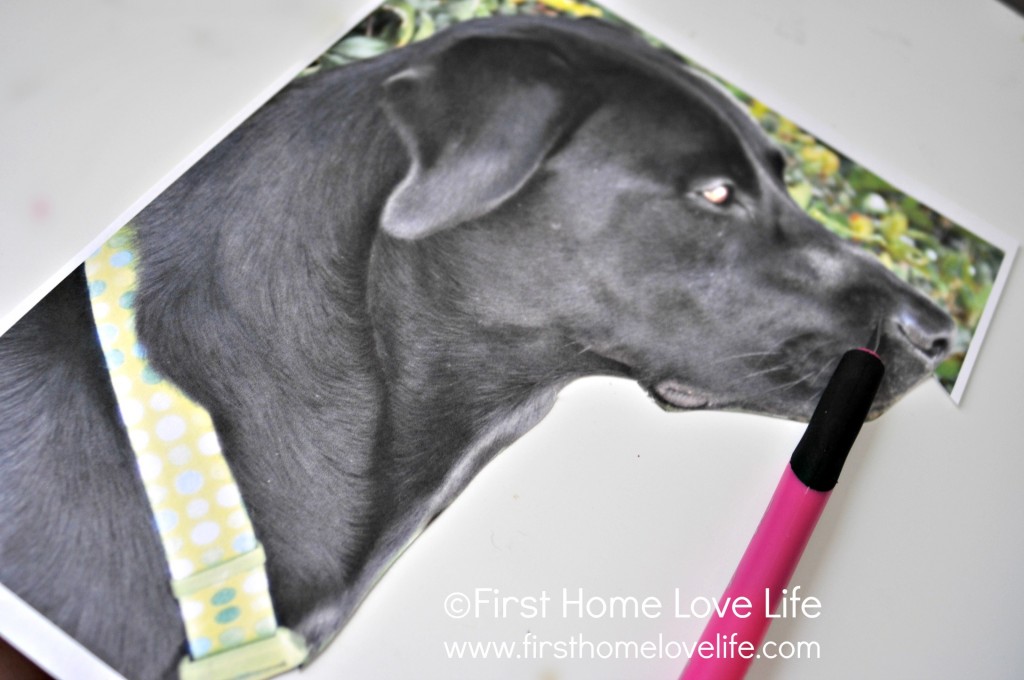 I took a quick profile shot of our dog Bentley, and enlarged it on my computer, printed it out on your standard printing paper, and then used an exact knife to cut him out.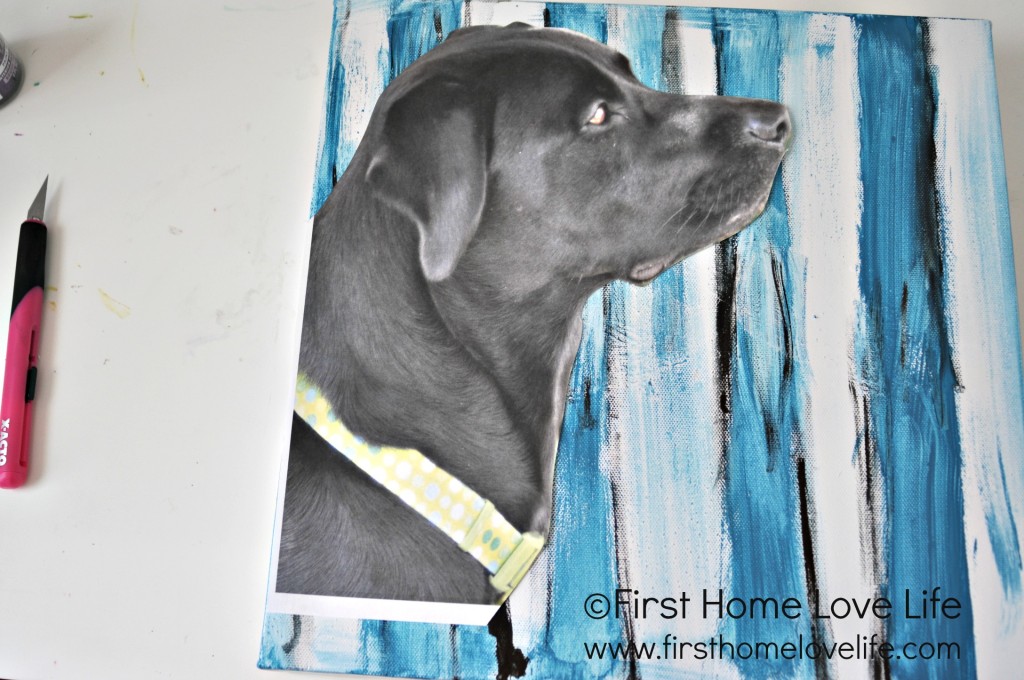 Then I placed his cut out profile onto the canvas where I wanted it and glued it on with Mod Podge.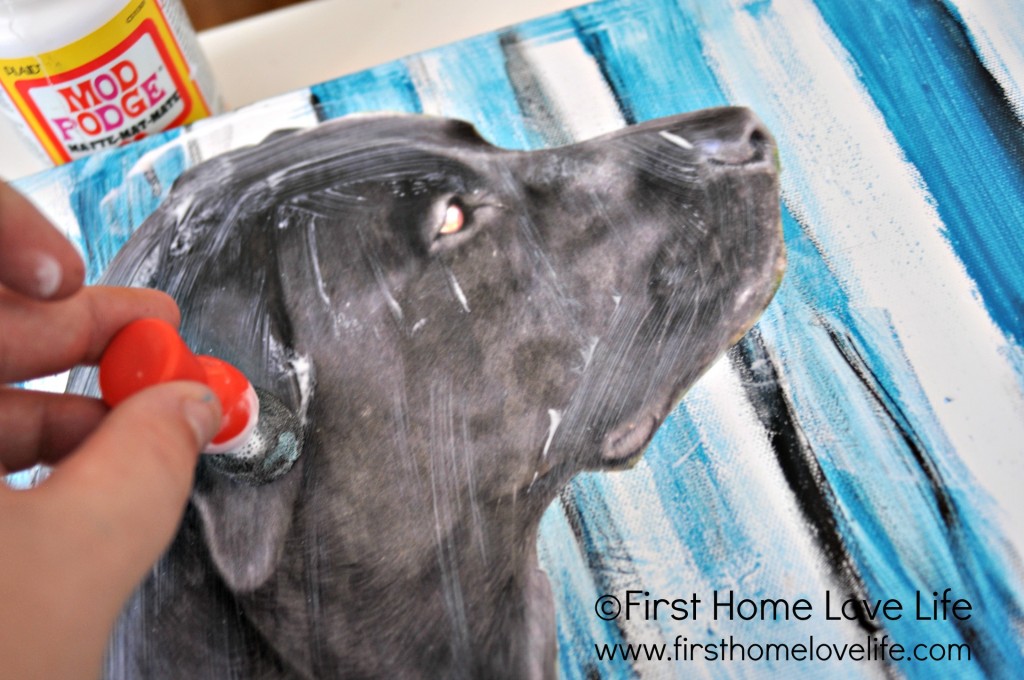 Then Mod Podged all over the picture to make sure it was sealed and blended the seams so you couldn't tell I'm a cheater.
Once the Mod Podge was dry…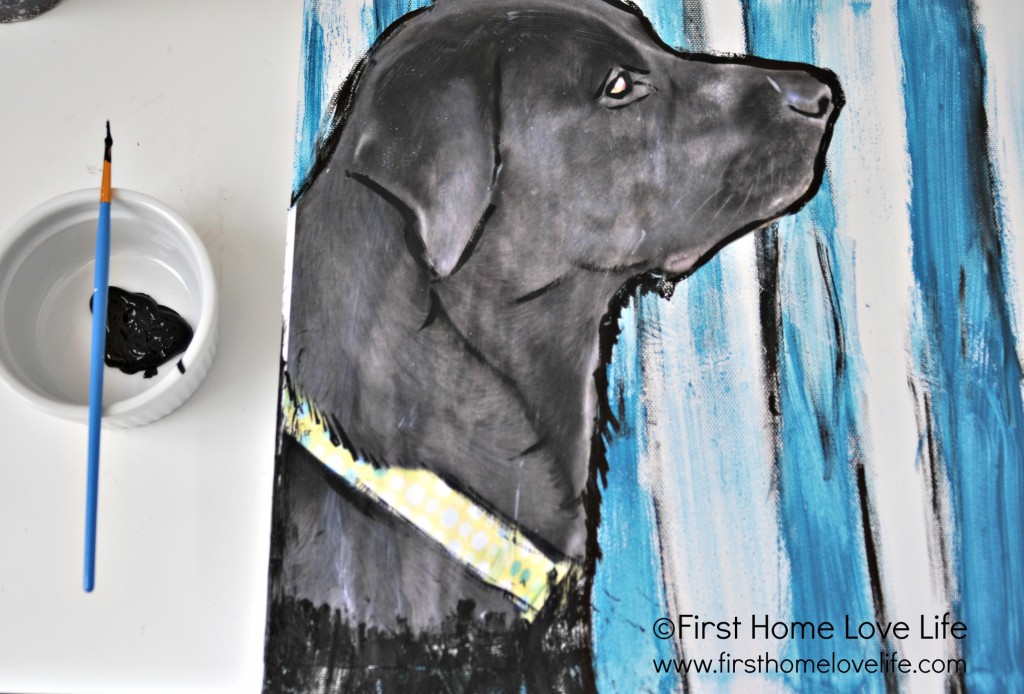 I used black acrylic paint to go back over the seams, and outline the picture. I even went in and outlined the natural shadows of the picture like around his eye, his ear, the wave in his neck. It really makes the picture appear more like a painting this way and again not worrying about being perfect…perfection is over rated.
Guys…would I ever share something with you if I didn't think you could do it yourselves? Absolutely not!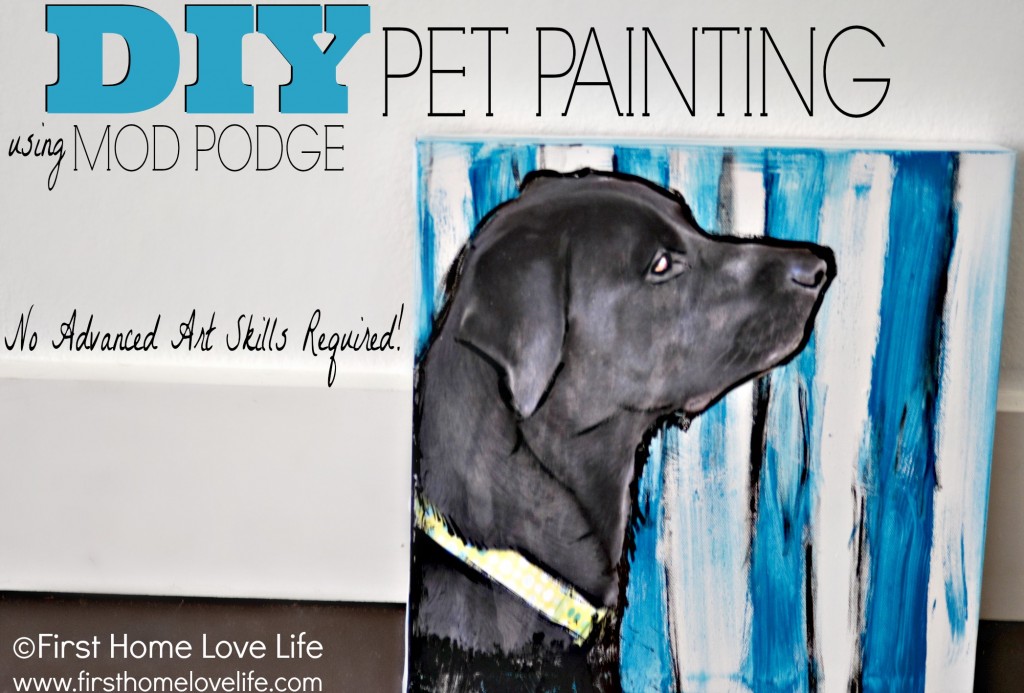 I'm thrilled with the way it turned out, and can't wait to finish the other two and hang them somewhere in our home. It's personal, beautiful, and one of a kind. I can't wait to see your own versions! Make sure to tag me either on Instagram, Twitter, or Facebook if you do your own!
Talk to you soon and take care!
XO
Linking up to: House of Rose, Setting for Four, Tatertots&Jello
Comments
comments