Create a cold and flu caddy in your home so you're prepared and the icky sickies don't catch you off guard!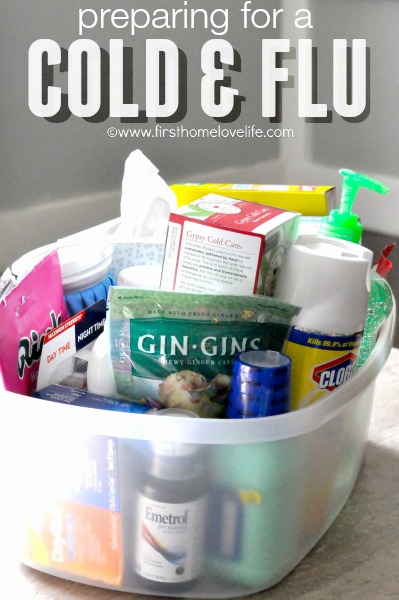 I was hoping to have something way more exciting to write about for my first post of 2015. Some smart organization, or a master bedroom makeover, heck… even a delicious solid food type recipe would do, but reality is life throws your curve balls (sometimes curve balls coated in nasty germs) and when that happens you're stopped right in your tracks!
I'm not sure what we've been battling since a few days before Christmas. What started as an annoying dry cough turned into something else, that turned into something else, and the best explanation our doctor could give was some 'mystery virus' that's been going around. Rest, lots of tea, soup, rest, tissues, rest…and repeat was basically our entire winter break in a nutshell, and now that school has started back up and we all seem to be over this thing, I thought I'd share with you the one thing that became an extension of my arm these past few weeks- my cold and flu caddy. EVERYONE should have one.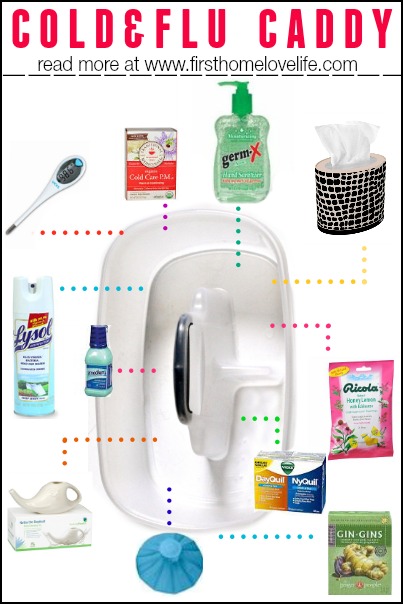 If you remember, normally meds are stored in my linen closet pharmacy, and they still are, but it's more for first aid and not as common ailment remedies. I began storing cold/flu meds in a portable caddy last year after a really bad virus that kept me in bed for days. I realized then that the what should be simple task of getting out of bed to get what I needed was like going to war with my body every few hours so keeping almost everything I needed nearby and neatly confined was an easy solution I wish I had thought of way sooner!
**Now let me just state the obvious and say I am NOT a doctor, nor claim to be. These products I'm showing you are what I personally keep in mine and my husbands cold&flu caddy. I made a separate one for my daughter but its under stocked at the moment and when I restock it, I'll update the post with what's in hers. Your caddy may look completely different with completely different products- that's okay! Choose only what you know works for you and your family, and please go to your doctor for a prescription if you need it. These products DID NOT cure me or the members in my family, they just relieved symptoms of a common cold, flu, or stomach virus.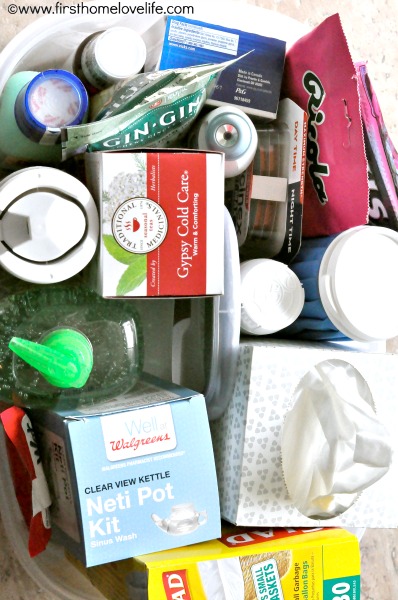 Common sense- kill the germs. Clean, sanitize, and wash your hands! You may not have the energy at first to get up and wash your hands every time you blow your nose or cough, so keep a bottle of hand sanitizer in your caddy, plus disinfectant wipes and/or spray.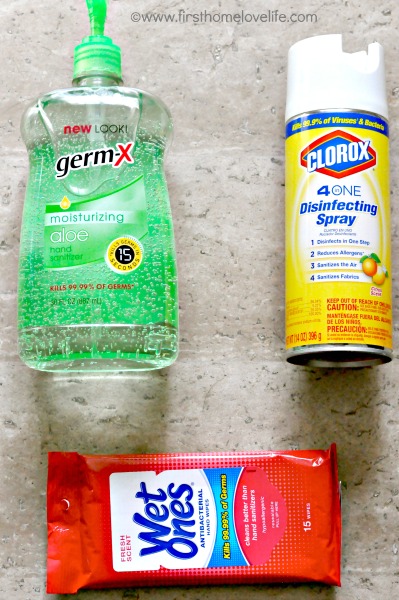 Stomach viruses are no joke, and letting them run their course is torture. Keeping an anti nausea, and anti diarrhea med in your caddy might be a smart idea. When it comes to nausea- two natural things that help me and my family are sucking on ginger candies and keeping an icepack on the back of our neck. That's why I include those in my caddy as well.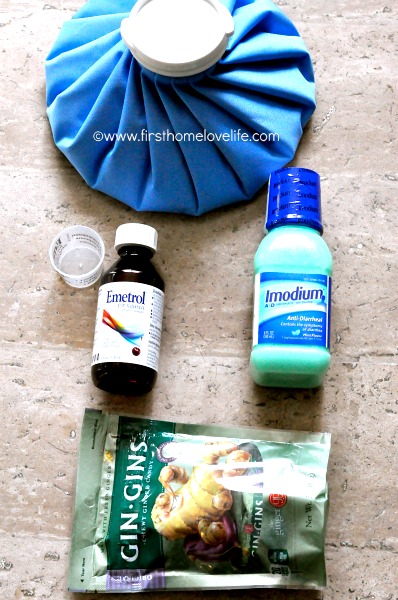 As for cold and flu, over the counter meds for symptom relief and pain should be stocked in the caddy. A thermometer, tissues, cough drops, a neti pot kit, tea bags, honey sticks, and small plastic bags to throw tissues in are other items I keep in mine.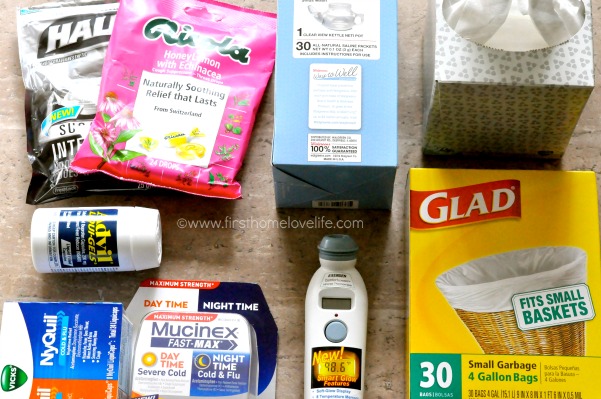 When your only form of movement is a slow pace between the couch and your bed every couple of hours you'll be very thankful you thought ahead and made up one of these cold and flu caddies. It was so much easier to pick up the handle and walk from room to room with this in hand then trying to hold individual items. This caddy either stayed on my nightstand next to my bed, or the coffee table in our family room during the duration of our down time and it was seriously a godsend!
I'm going to ease back into posting here over the next week or so since I don't want to risk relapsing by doing too much. Thanks for hanging in there with me! 🙂
Tell me, if you already have a cold and flu caddy, what's in yours?
Talk to you soon friends, take care!
XO
Comments
comments