Fire Cider- a fermented immunity boosting tonic filled with vitamin C, and powerful antioxidants to help you fight off colds and flu season.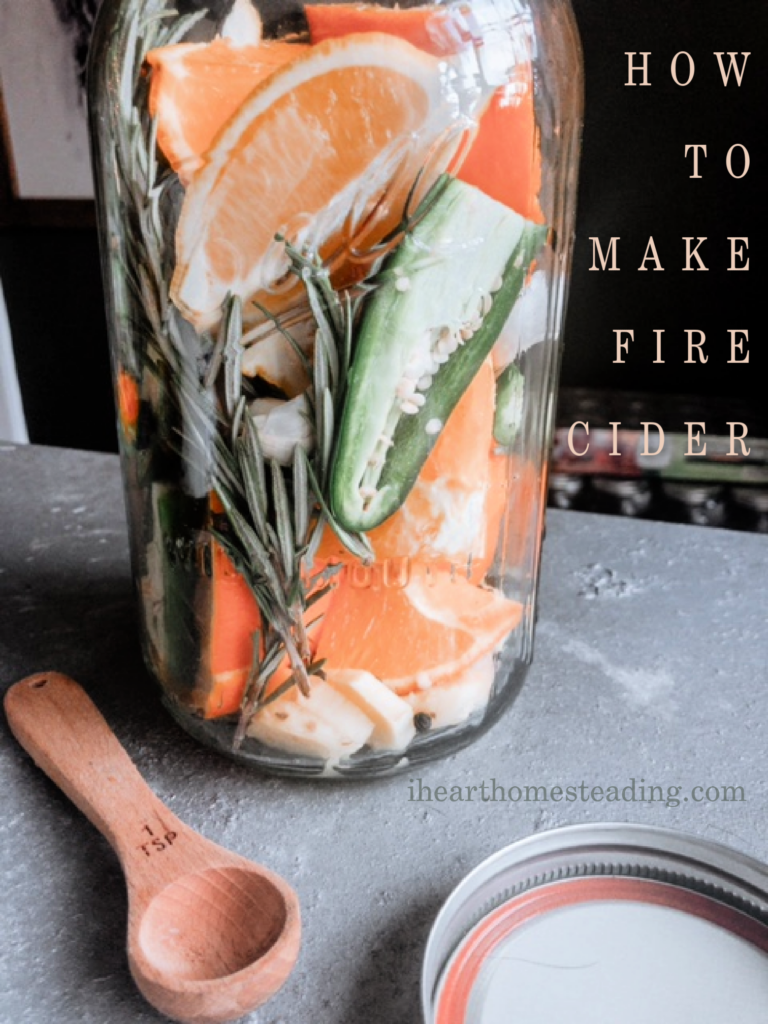 Fire cider is a tangy, spicy yet sweet vinegar that's fermented with vegetables, herbs, spices, and sometimes honey.
It's been around since about the 1970's. A popular herbal folk remedy discovered by renowned herbalist Rosemary Gladstar.
It is used as an anti-inflammatory and digestion-stimulating tonic, and to boost natural health processes, and I'm a big believer in it since it also helped us kick our mild case of Covid to the curb pretty quickly.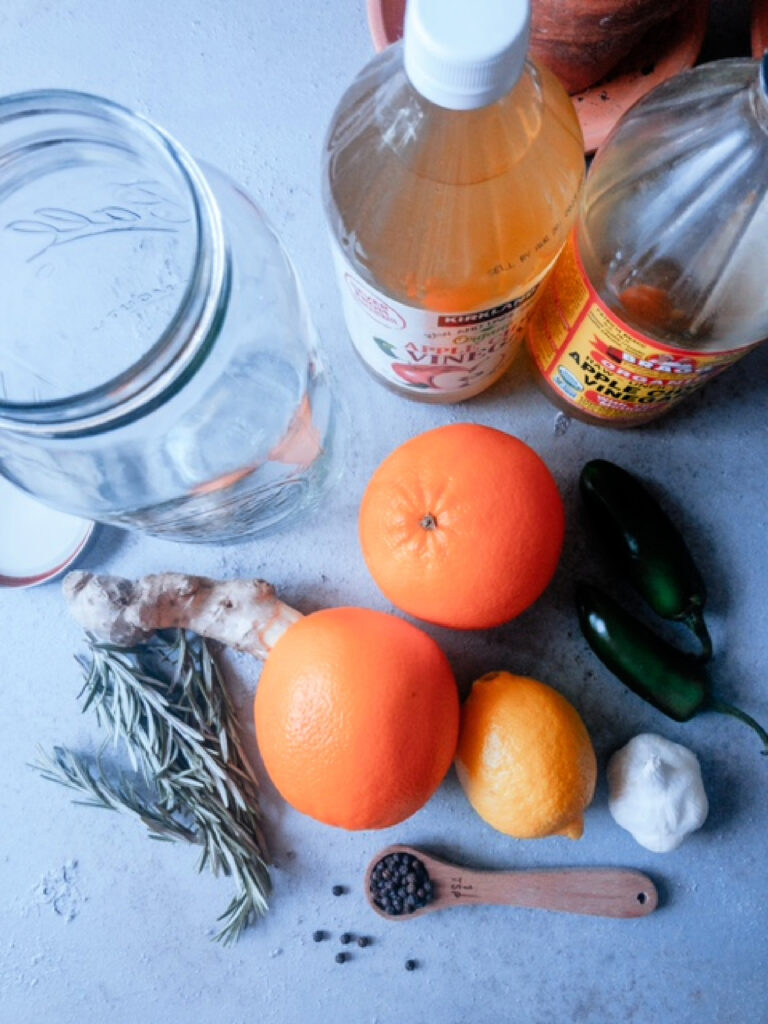 I'm not a doctor.
But I do have medical training and a deep passion and desire for finding holistic approaches when it comes to mine and my family's health. That doesn't mean modern Western medicine doesn't have purpose because it absolutely does, but our bodies and immune system do greatly benefit from Eastern medicine as well.
There's room for both in the world.
As always, check with your primary care provider to see if this is something you can do to help your immune system fight off cold and flu season.
Everyone's medical background and health is personal and without knowing your history or current state I don't want to advise you to take this without getting personal professional guidance. – speaking as a licensed health care provider.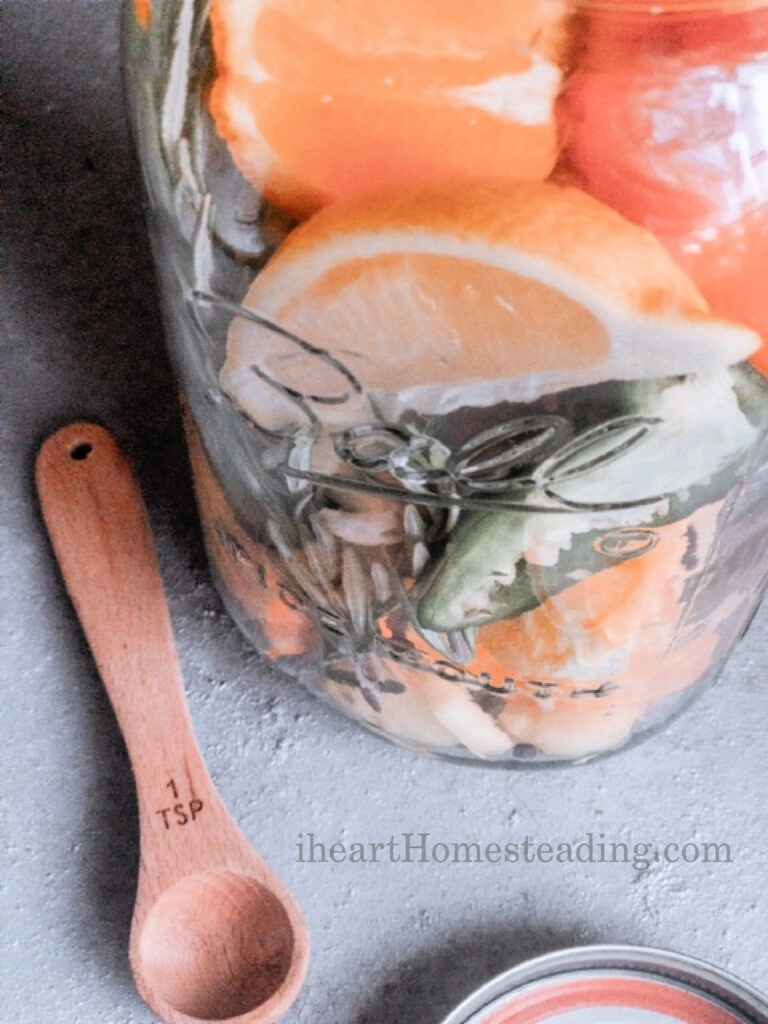 What do you need to make Fire Cider?
Oranges
Lemon
Onion
Garlic
Ginger
Rosemary
Peppercorns
Raw & Unfiltered Apple Cider Vinegar with the mother
Half Gallon Mason Jar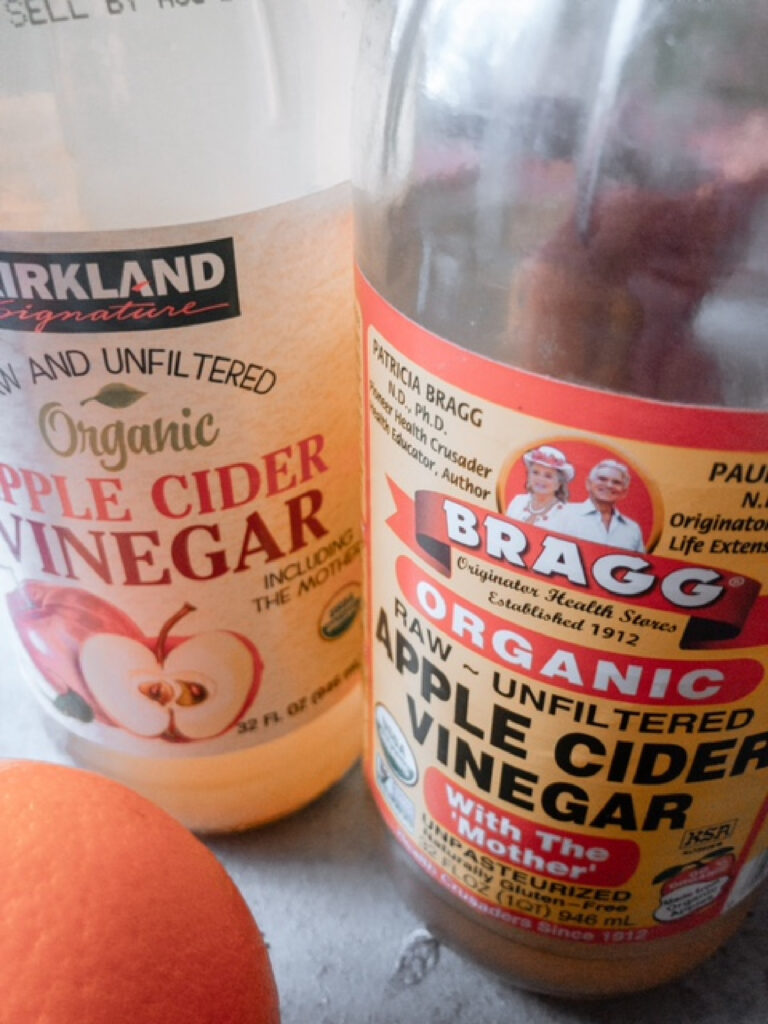 What does the mother mean?
Organic, unfiltered apple cider vinegar contains a substance called mother, which consists of strands of proteins, enzymes, and friendly bacteria that give the product a murky appearance. It usually settles on the bottom so give it a shake before pouring it in.
I've bought both Bragg ACV and Kirkland brand at Costco, and both are great to use for this recipe.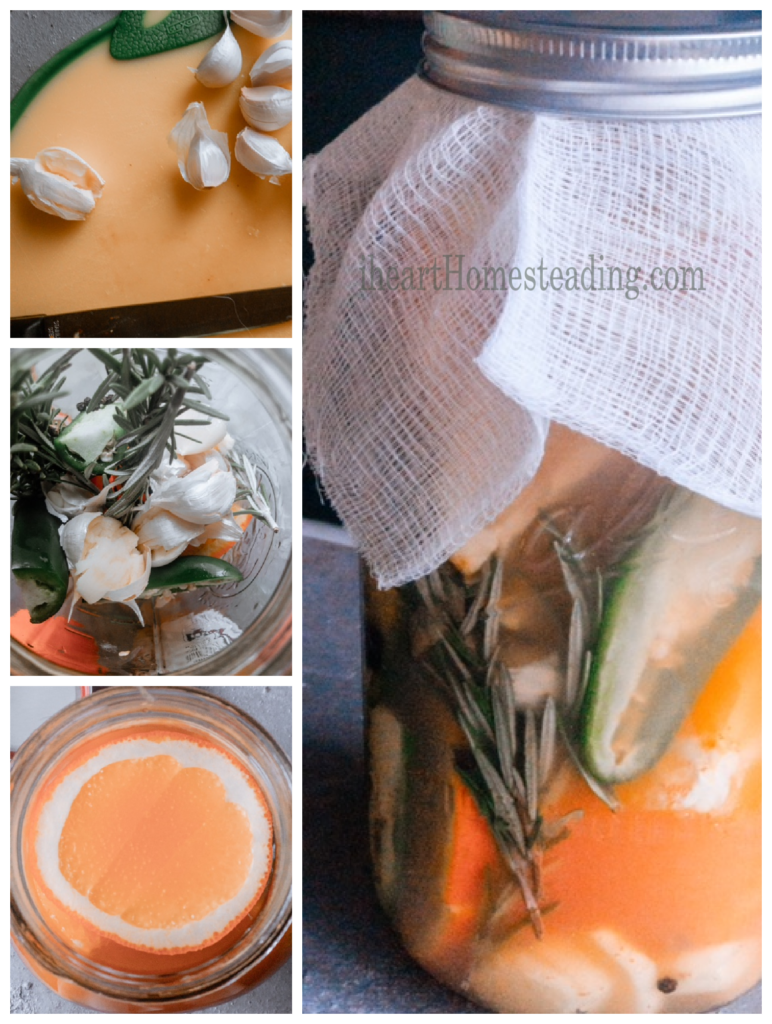 First, I chop everything to fit in the jar. You want to make sure you have it stuffed.
Then I fill the jar with apple cider vinegar.
Top it with a sliced orange wide enough to make sure everything stays submerged.
Then place a piece of cheese cloth over the opening and loosely twist the lid on.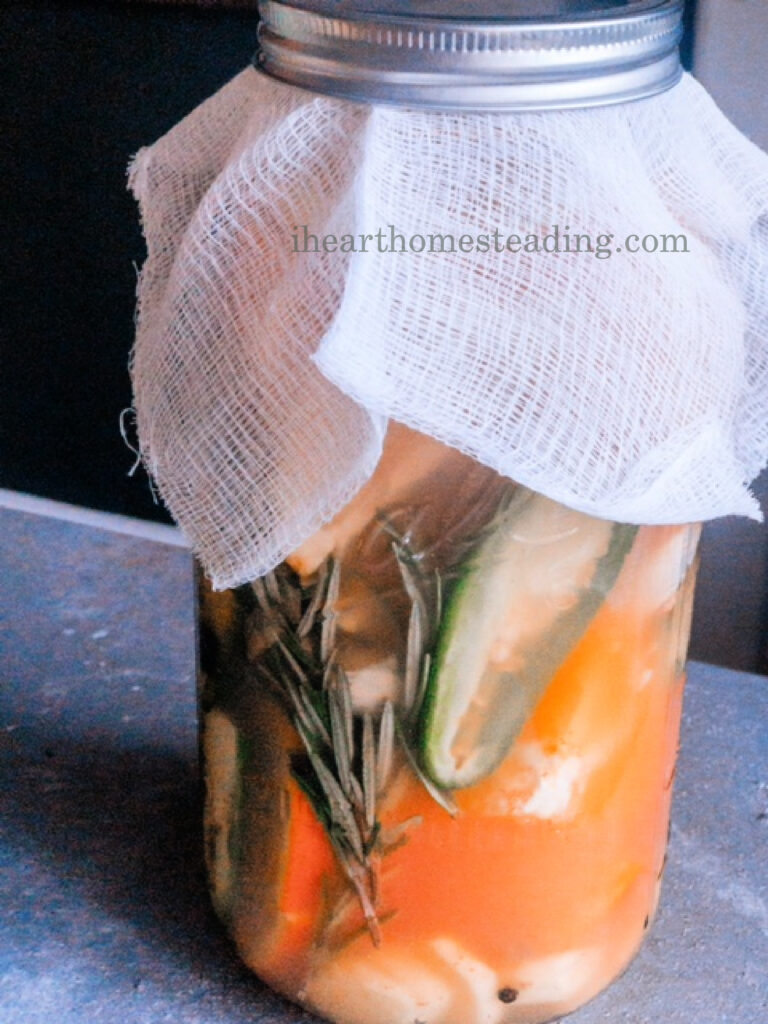 Here's the in depth printable recipe for Fire Cider-
Print
How to Make Fire Cider Tonic
---
Author:

Prep Time:

10

Cook Time:

3-4 weeks fermentation

Total Time:

12 minute

Yield:

1/2 gallon

1

x
Description
Fire Cider- a fermented immunity boosting tonic filled with vitamin C, and powerful antioxidants to help you fight off colds and flu season.
---
2

organic oranges

1

organic lemon

1

medium organic onion

2

organic jalapeños split in half with seeds still intact

1

head of organic garlic (at least

10

cloves)

3

–

4

stems of fresh organic rosemary

1/4 cup

fresh organic ginger root (chopped)
about

2 1/2 cups

organic raw unfiltered apple cider vinegar

1 teaspoon

of peppercorns
---
Instructions
Peel skin off ginger and slice into small chunks, and cut up onions, oranges and lemons into wedges.
Slice peppers in half leaving the seeds and membranes in tact, and smash you garlic cloves.
Start adding in everything into the jar and press down if needed. It doesn't matter how everything is layered but you may want to sandwich smaller things like the garlic and rosemary in between the heavier things so nothing floats.
Pour in your ACV until everything is submerged. I use a circle from the orange as a weight at top to keep everything in the liquid.
Place a piece of cheese cloth over the opening and leave the lid on loosely so gases can escape as fermentation begins.
Place jar on your kitchen counter away from direct sunlight for 3-4 weeks and **burp it daily.
After 3-4 weeks strain the liquid into a covered jar and keep in the fridge for daily use during cold and flu season.
Notes
**Burping- every day open your jar and use a wooden spoon to press down on the orange slice on top. You will see bubbles from the gasses being released from the fermentation process.
Do not seal your jar completely! The gases need to be able to escape and breath.
*You can also use fermentation lids for your jar
Once the fire cider is in the fridge the fermentation will slow down. Take a tablespoon every day or more if you feel a cold or flu coming on.
You can also use it as salad dressing if taking it on its own is too difficult.
Keywords: Fire Cider, immune system, immunity booster, all natural, organic, Covid, cold and flu, holistic medicine, fire cider recipe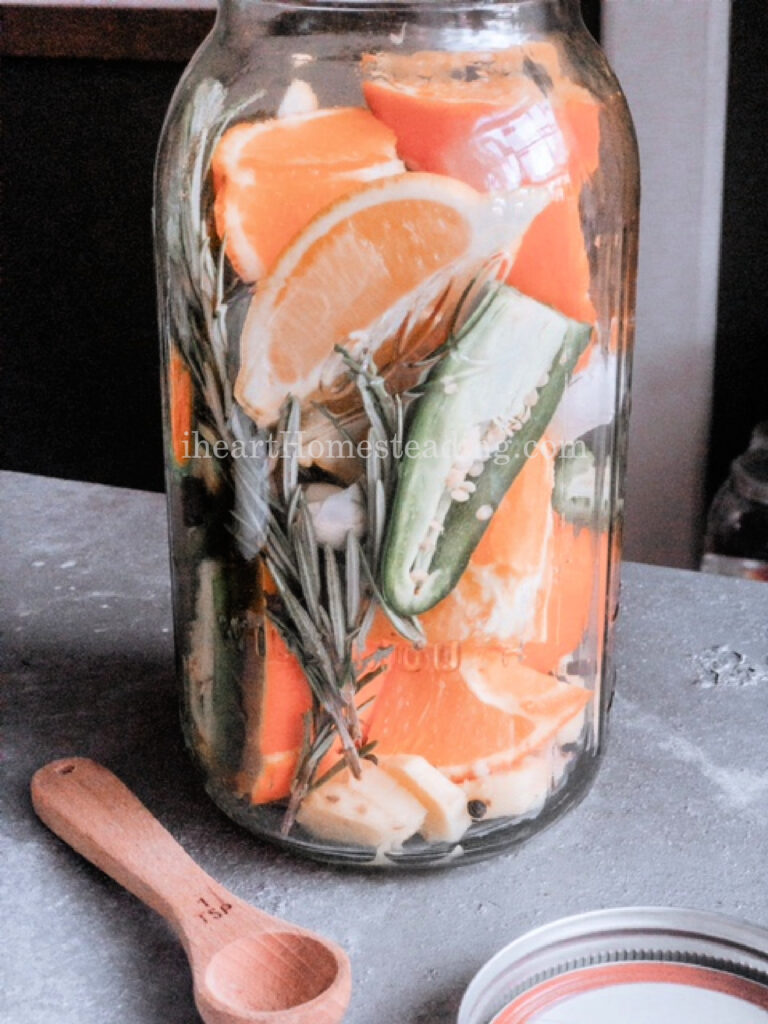 Take care!
XO
Comments
comments