The Fourth of July may have passed, but there still is plenty of summer shindigs to bring this deli-style pasta salad which is a crowd pleasing, easy to make, simply scrumptious dish!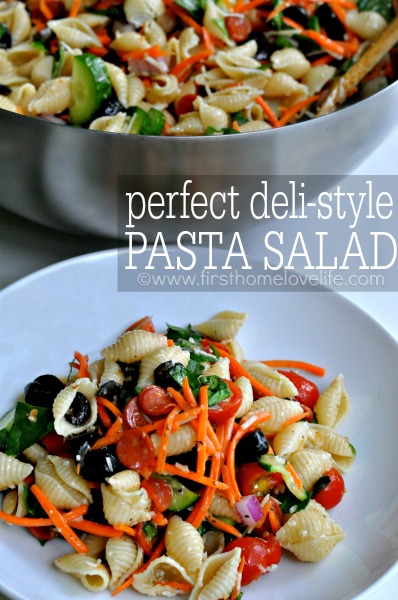 Summer is the perfect time to get together with friends for casual get togethers and no fuss parties. The laid back vibe is usually translated into the food too which is why having a few different pasta salad options in your recipe binder is always great to have! When all else fails though, gravitating to the classics is the smart thing to do… A hearty yet fresh veggie filled pasta mixed with a tangy vinaigrette is always going to be a hit with any crowd!
Here's what you'll need…(serves a small army)
1 box of shell shaped pasta
1 pint of grape tomatoes sliced in half
2 cups matchstick carrots
1/2 cup finely chopped red onion
1 can sliced black olives (drained)
about a cup of mini pepperoni's
1 english cucumber, quartered lengthwise and chopped
2 cups roughly chopped fresh spinach
1/4 cup shredded parmesan
1/2 cup zesty italian salad dressing
1/2 cup balsamic vinaigrette salad dressing
salt and pepper
Believe it or not, I think it's hard to pull off a great deli style pasta salad. Many of the ones I've tried in restaurants or the pre-made ones in the grocery deli are usually soggy and completely drenched in a very vinegary dressing that's almost too sour to eat. Maybe it's just my taste buds, but I like the combination of using the zesty italian and sweet balsamic to balance each other out.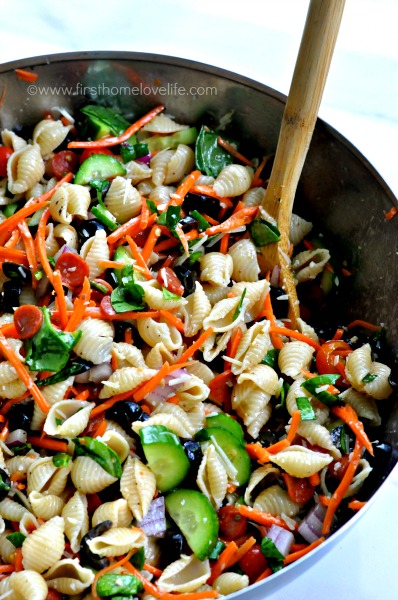 To make this all you'll need to do is boil some water in a pot. Salt the water and stir in your shells. I like using the shells because they're like little pockets that grab hold of the chopped veggies and give the dressing somewhere to sit instead of puddling down at the bottom of your bowl.
While the pasta is cooking, usually 6-7 minutes, chop everything up and toss it into a large mixing bowl.
Drain your pasta, and rinse it under cool water to stop the cooking and bring down the temp. Once the pasta is around room temp. Add it to the bowl and toss together with the dressing, cheese, pepperoni, veggies and salt and pepper.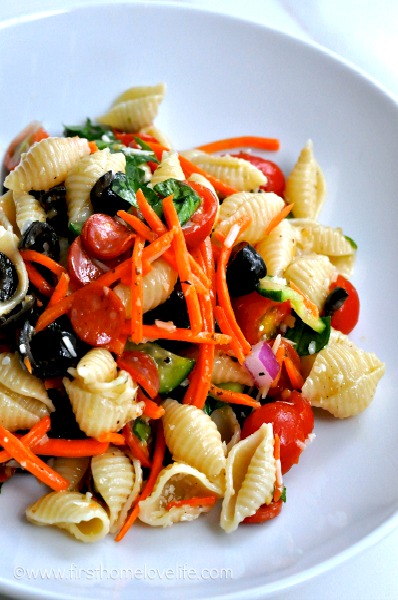 I love the colors, the flavors, pretty much everything about this classic deli side dish…If you eat with your eyes first then make sure to save room for your mouth, it's going to be jealous if it doesn't get a taste! 😉
I hope you loved this super simple pasta salad recipe…Check out my other pasta dishes while you're here 🙂
Talk to you soon friends, take care!
XO
Comments
comments