You don't have to spend a ton to have an organized space! Today I'm sharing a few simple, stylish, and very functional Dollar Tree bathroom organization ideas…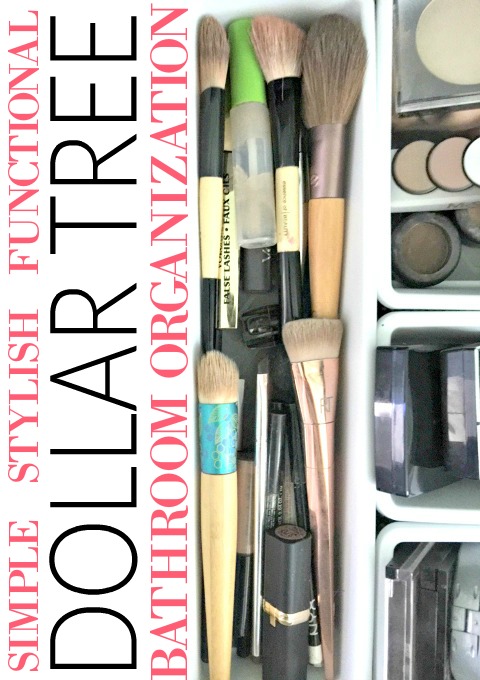 I've been wanting to reorganize my bathroom drawers for a while now, but just got around to it over the holiday weekend, and it was like breathing fresh new air into and old space. I had previously organized the drawers a couple of years ago using a pricey clear acrylic modular set that never really fit the drawer right and just really wasn't right for what I needed it to hold and eventually the drawers started looking like this…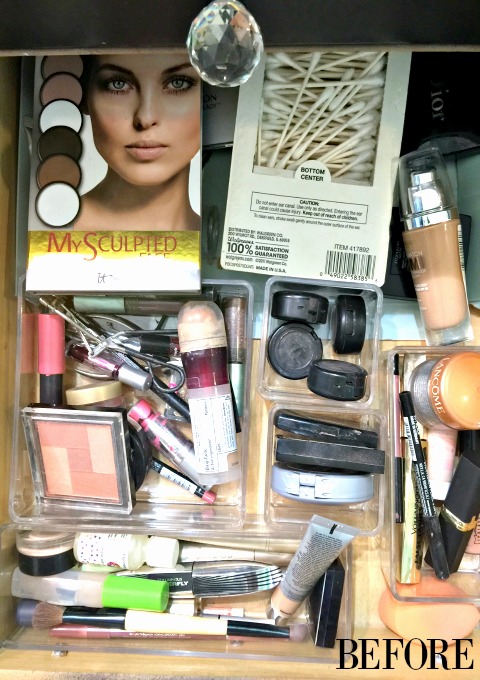 After searching a few different stores for a solution and having no luck, I decided to check the dollar store and was super impressed with the selection of organizing products they carry now! From now on it's going to be my first stop. Here's what I did and some ideas you can use in your own home…
To stop the items from shifting around every time I opened and closed the drawers I laid some simple silicone drawer liners inside after removing everything and giving it a good wipe down. Then I purged. Went through all my makeup and products and whatever I hadn't used in a while got tossed in the trash. I also limited myself to what I was putting back into the drawers, and only kept things I absolutely love and use on the regular. Don't just keep things for the sake of keeping them. If you don't use it then give it to someone who will or just throw it away.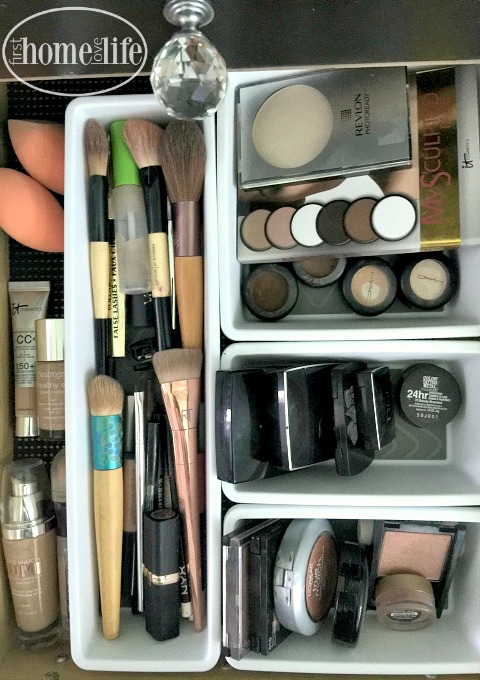 I used these white plastic modular containers from the Dollar Tree, and they fit the drawers SO MUCH BETTER than the acrylic ones I was using before. I also really love the fact that they have a non slip bottom so not only do they not move but they grip onto the things that you place in them so everything will stay neat and secure. And…hello!! Only $1 a piece…yes, please!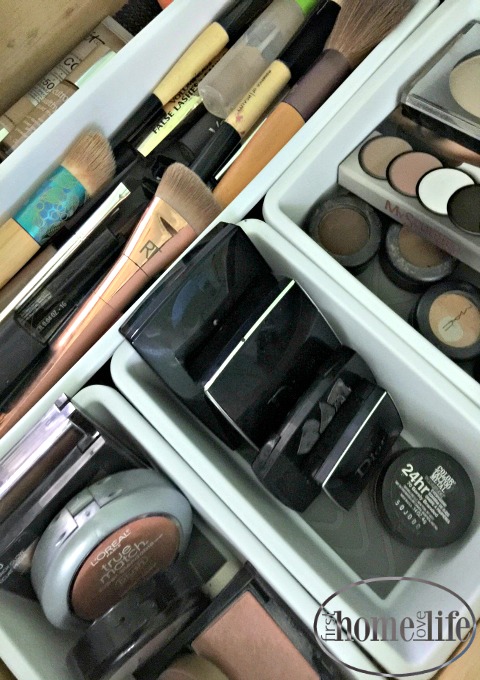 After I reorganized my drawers, I did a couple DIYs using things I picked up at the dollar store. Not only did they help me organize but they came out SO cute and were so easy to complete…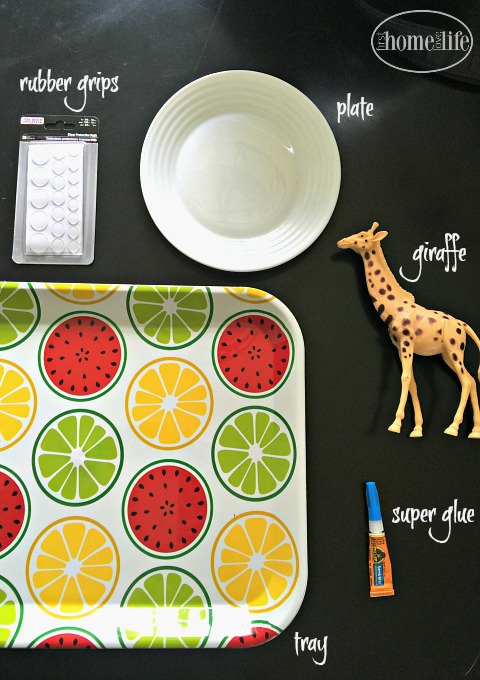 We'll start with the $1 tray. You could just spray paint it, even add a vinyl monogram to it after with your vinyl cutting machine if you have one, but I had some left over contact paper from another project that I did and decided to cover it in that. The result…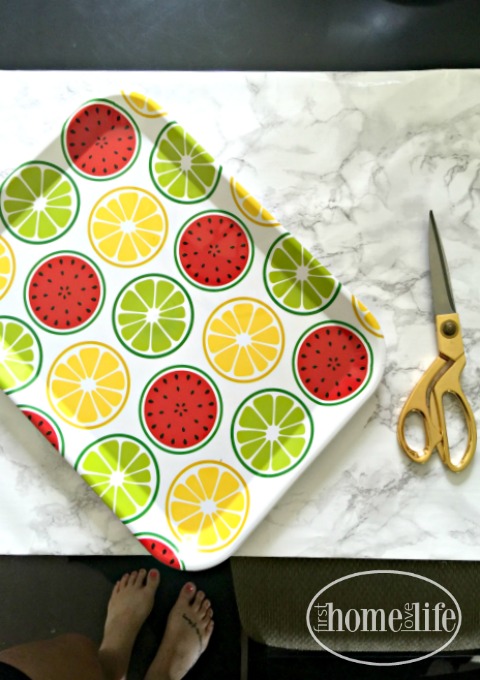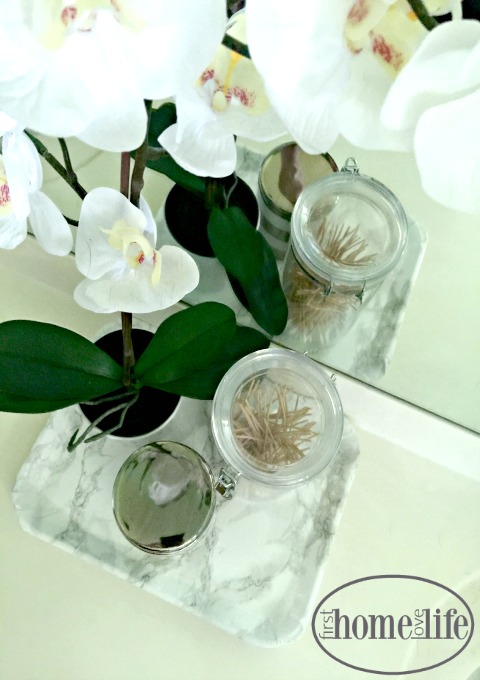 The perfect "marble" tray to hold all of the bathroom counter items. It really finished off the space so perfectly. 🙂
This next little DIY was a real budget buster too at a whopping $4 to make, and thats only because I needed super glue. If you have some adhesive already on hand you can make it for less…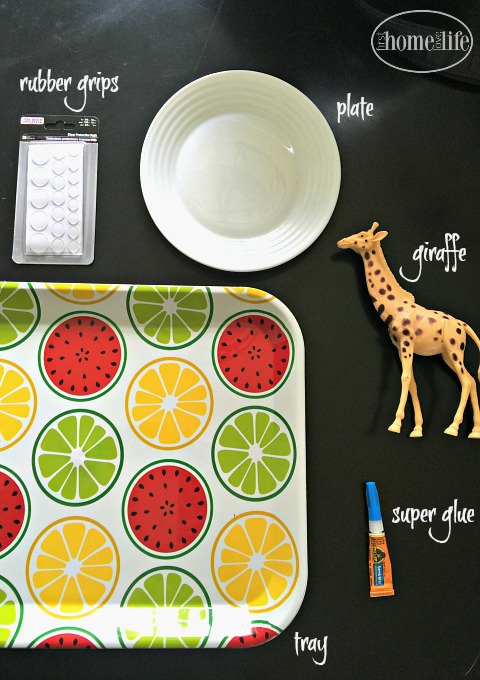 First spray paint your little animal friend. I chose a giraffe because of it's long neck and figured it would hold bigger bulkier items than some of his other safari friends…
Hold what? This…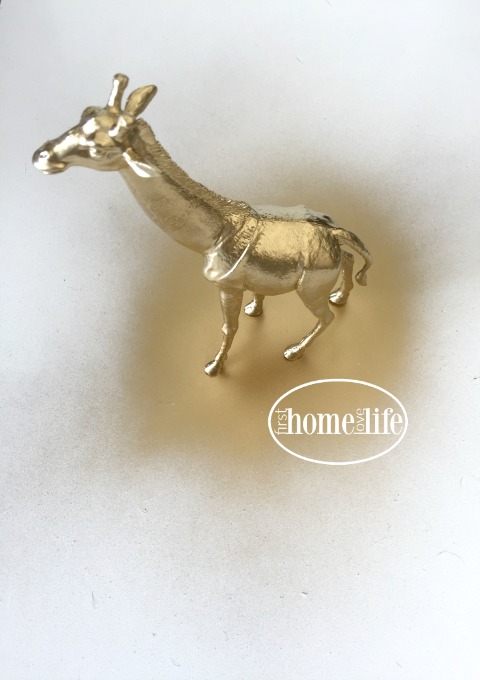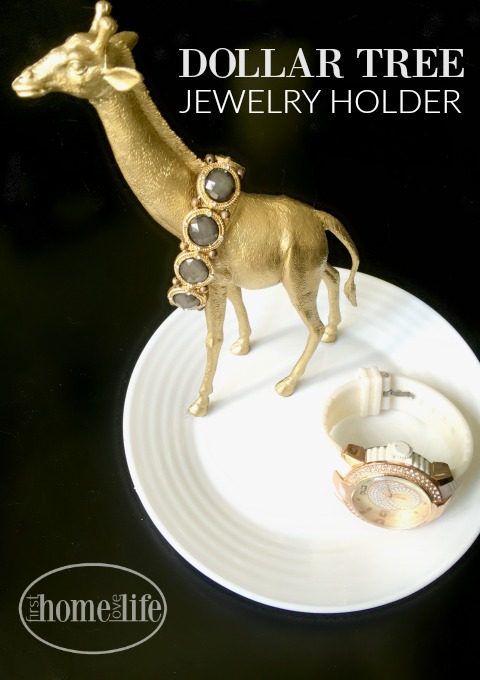 I purposely glued the giraffe off center thinking originally I was going to use it as a combo soap and jewelry dish to place near the bathroom sink, but I loved the result so much that I'm keeping this little guy on my night stand so I can see it more. There's plenty of space to hold watches, bracelets, rings..even my iPhone6 plus fit there to charge. I'm completely in love with it and it was so inexpensive to do!
I'm so in love with these easy to do, affordable and absolutely adorable Dollar Tree bathroom organization projects and hope you are too! Have you found anything great at the dollar store lately? I'm thinking I need to start going back more often and see what else I can find!
Talk to you soon friends, take care!
XO
Comments
comments