This crowd pleasing appetizer will be an instant hit on your holiday table! Sweet and Tangy Deviled Eggs- a must have for any gathering!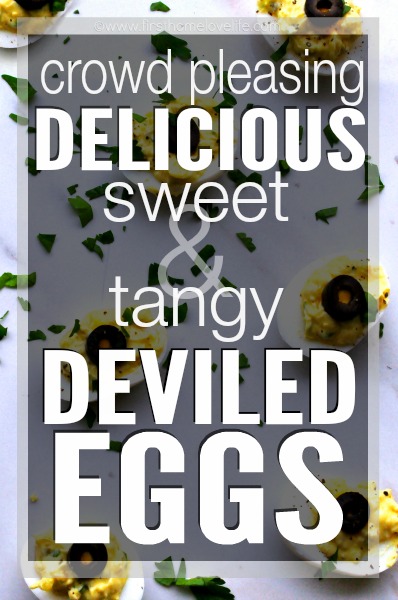 I think one of the things I love most about the holidays now is making the food that is reminiscent of what I remember seeing on the buffet table as a child.
I don't know about you, but for me certain things were only made a few times a year for special occasions and being able to look forward to those 'special foods' is one of the things I remember most about the holidays.
Deviled eggs seem like a funny thing to look forward to, but I was kind of an odd child. 😉
I never really had much of a sweet tooth and while most kids probably couldn't wait to dive into the cookies and treats that come along with the holidays, for me, the savory finger foods were what I got the most excited about (Well, that and being able to sneak a few sips of the spiked spiced rum punch!) 😉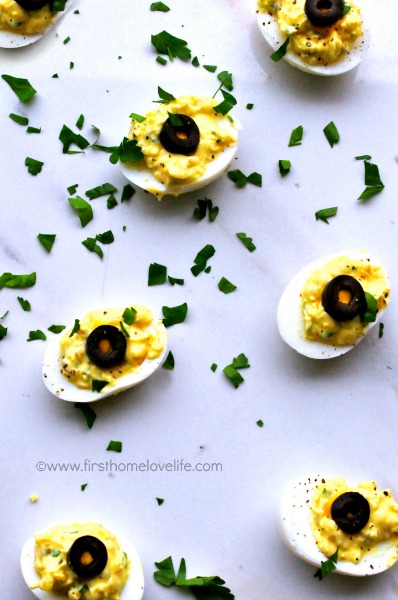 There's a million-zillion recipe's on the web for deviled eggs, and all are pretty similar for the most part. They can be super casual or be uber fancy dolloped with expensive caviar, but that's the beautiful thing about deviled eggs! They're so versatile and almost everyone loves them!
I know when Thanksgiving, Christmas, and New Years roll around they make repeat appearances on my table and they're almost always the very first thing gone…Here's how I make my version- sweet and tangy deviled eggs…
You'll need…
a dozen large eggs*
1/4 cup Miracle Whip (yep, that's my trick!)
2-3 Tablespoons yellow mustard
2-3 Tablespoons sweet pickle relish
salt and pepper
sliced black olives to top
* For a time saver- buy pre-hard boiled and peeled eggs at the grocery store.
Hard boil your eggs and peel off shell when cool, cut in half lengthwise and pop out the yolk into a medium sized bowl.
Using a fork, mash yolks into fine pieces.
Add in your Miracle Whip, relish, and mustard and salt and pepper to taste, stir together until creamy.
Add mixture into a plastic baggie and sip off the corner with scissors, then squeeze about a tablespoon of the creamy egg yolk mixture into each white half.
Top each egg half with a sliced black olive, and refrigerate 1-2 hours before serving.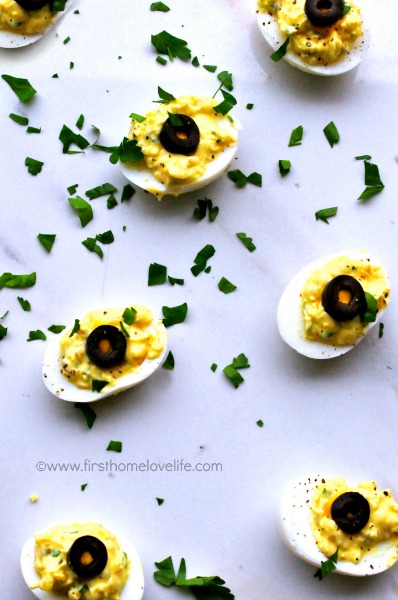 Of course you can get super creative with the garnishes if you like. In my experience making these no one really takes the time to appreciate the fancy toppings, they just pop them in their mouth and become instantly addicted, so a sliced black olive not only adds a nice salty aspect but is simple too. I'm all about simple, when it comes to entertaining! 😉
A sprinkle of chopped fresh parsley and some fresh cracked black pepper over the top of your serving platter and voila! Super simple crowd pleasing appetizer that your guests will adore! 🙂
I hope you love this recipe, and I'd love to know what's the one food thing you look forward to this time of year? 🙂
Talk to you soon friends, take care!
XO
Comments
comments