Making sourdough starter at home doesn't have to be complicated. These tried and true tips will help you become successful at sourdough starter making in no time!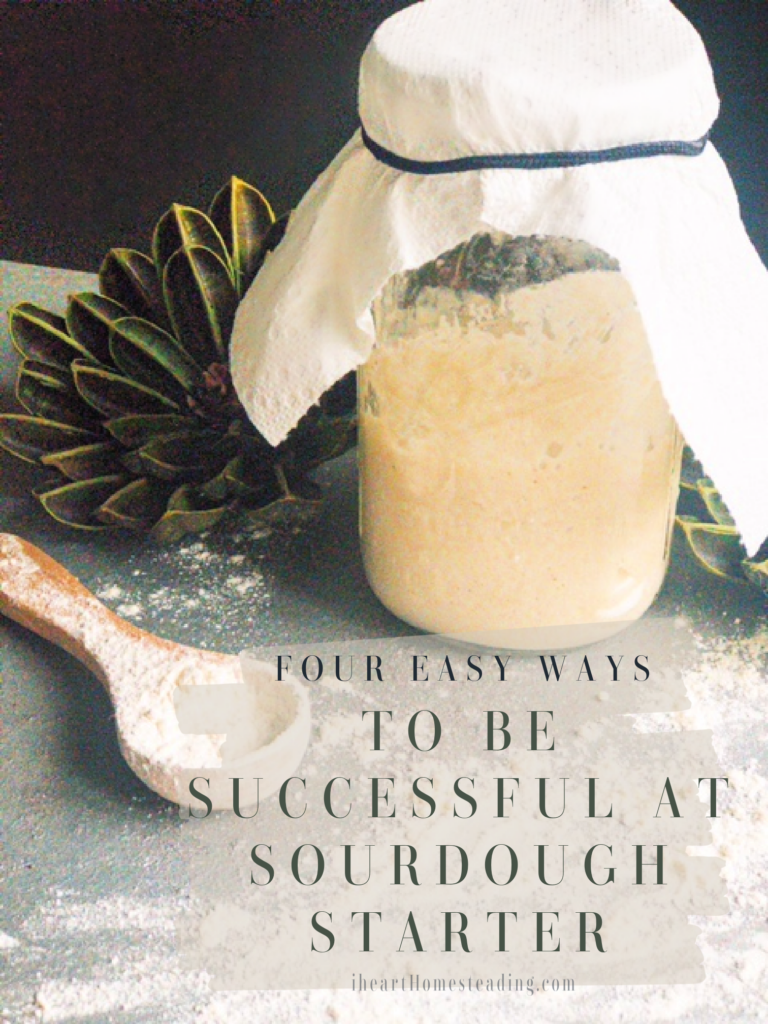 You're probably asking yourself- What is sourdough starter and why do I want to make it?
Sourdough is a healthier alternative to white or whole wheat bread. Although it has comparable nutrients, the lower phytate levels mean it is more digestible and nutritious. The prebiotics also help to keep your gut bacteria happy.
You can research online for more in depth details about what makes sourdough so great. That's not what today is about…
How to make sourdough starter:
If you've already looked into making it than you probably are following the more used method which is…
Mix 1 cup flour with 1 cup water, and leave it covered with a cloth somewhere for 2-3 days.
This method allows you to catch the wild yeast and good bacteria that are in the air and ferment it to create the sourness in the dough.
So think of sourdough starter as an active yeast you'd buy in the store.
Catching Wild Yeast:
When you try to catch wild yeast one of these things will happen-
It leavens and makes delicious bread (what we want!)
The mixture is light colored and foamy but tastes gross. Well, then you caught an effective yeast but one that doesn't taste good, so start over.
The mixture has a moldy, terrible smell- again, throw it out and start over.
Or nothing happened…
The above method is not the only way to make sourdough starter, so don't despair if you can't seem to get it right! Here's THREE additional ways to make it…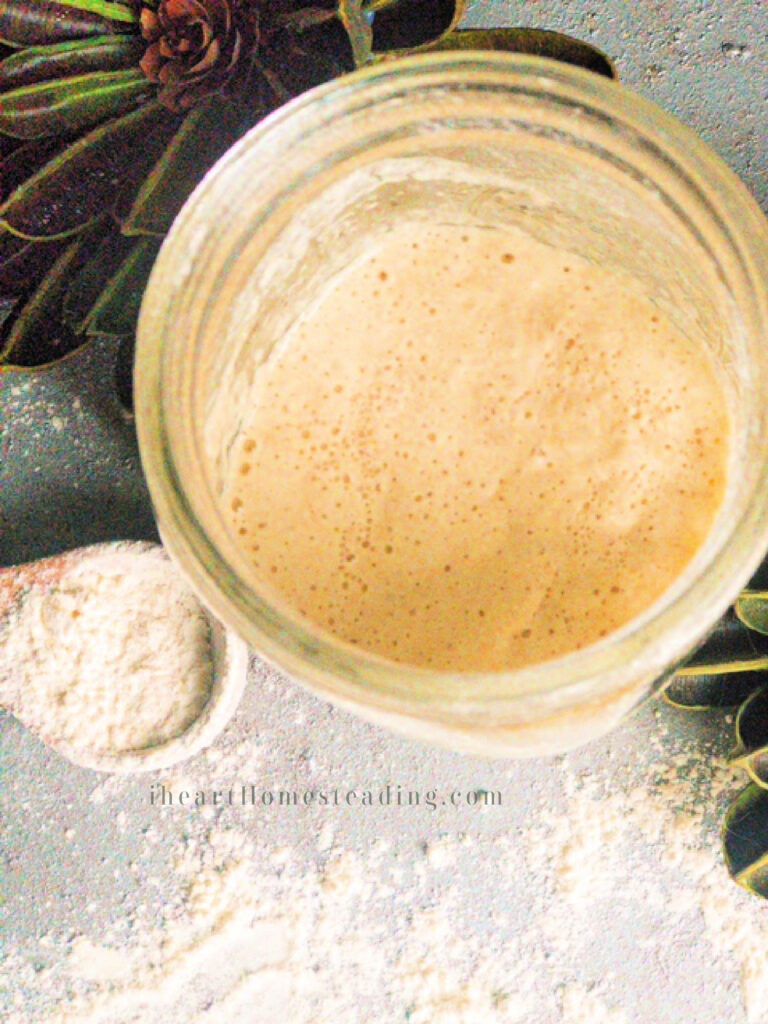 Milk method: Mix 1 cup flour with 1 cup unpasteurized milk (if pasteurized, let milk sit out for 24 hours first)
Commercial yeast method: Mix 1 cup flour, with 1 cup water, and 1 packet of dry yeast or =2 1/4 teaspoons of dry yeast.
Hazel's method: Mix 1 packet or 2 1/4 teaspoons dry yeast, into 1/2 cup warm water and let sit for 10 minutes. Then add in 2 more cups of warm water, 1 tablespoon sugar, 1 tablespoon salt, and 2 cups sifted flour. Mix well and let stand in a covered bowl for 3 days at room temp (78-80 degree F is ideal) The bowl should be big enough to allow the starter to expand 4x's its size. Stir it down every day.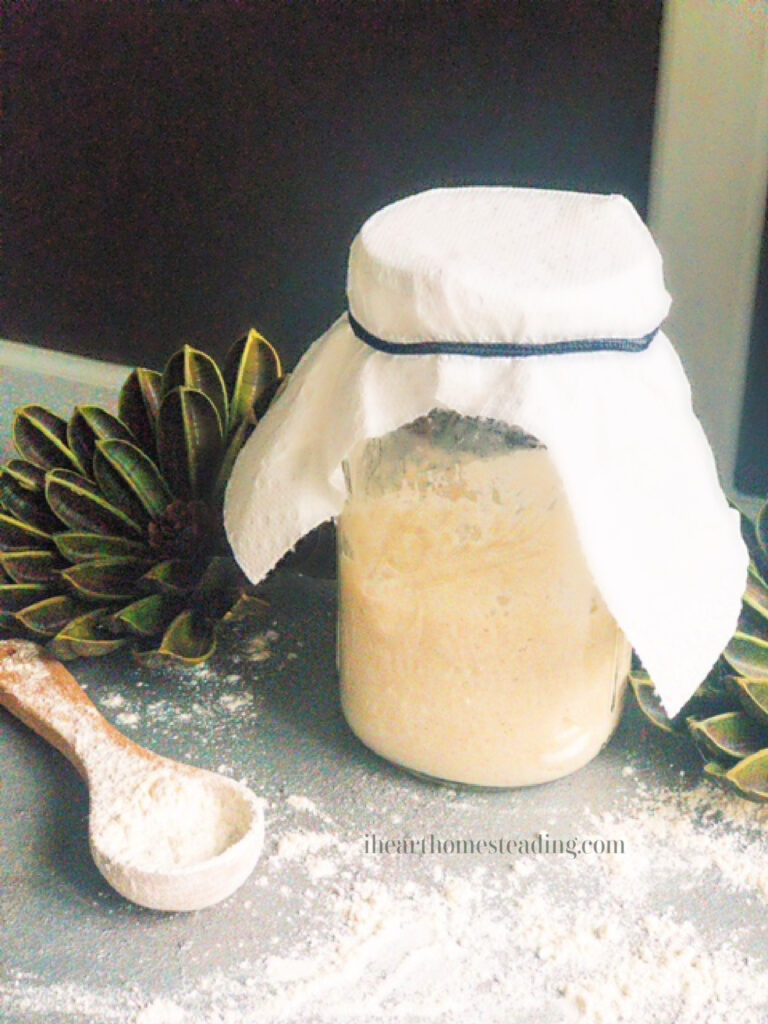 Secrets to Sourdough Starter:
Wild yeasts are found in the air, soil, and on containers
When making and storing sourdough starter DO NOT USE METAL
Never seal your starter in a tightly covered container- it needs air to live, and produces gas that could make the container explode.
Now here's where I see a lot of people get hung up…
Preserving the Starter:
Unless you plan on eating sourdough in some variety every day, you don't have to keep it going. The fermentation will slow down some if you keep it in the fridge until you want to use it again.
You can also dry your starter in a dehydrator and turn it into a powder. Dried starter can be kept dormant like this for about 5 months or so.
Purging and Feeding:
Every time you use the sourdough starter (purging) you will want to replace what you took out. You do this by adding more flour and water (feeding) in the amount that you took out.
Reviving Old Starter:
To revive an old starter is pretty easy too. Just stir it up, feed it with 1 cup lukewarm water, 1/2 cup flour, and 1 teaspoon sugar, and cover it up. Put it in a warm place until it foams and then it's ready to use again.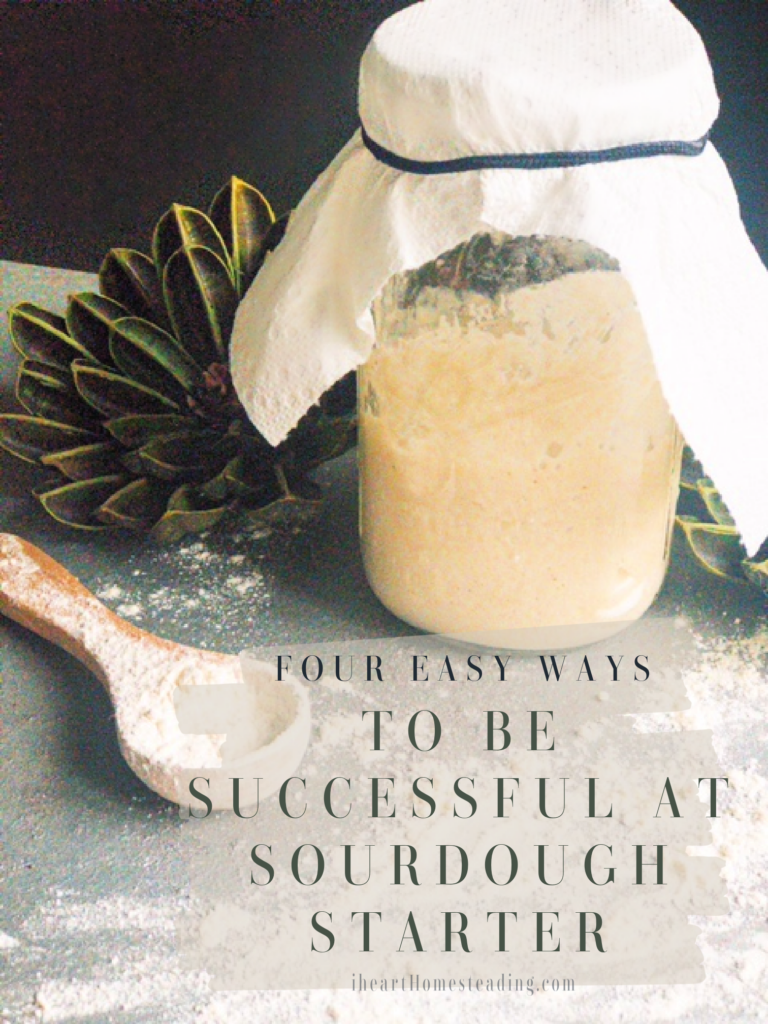 Hope this helps take away some of the fears and questions about making sourdough starter! It's really not hard, and i hope you'll try it and let me know what happens!
Talk to you soon.
XO
Comments
comments