Oh friends, do I have a treat for you today! Do you like Greek food? Perhaps, you've never had it… that's okay! Today I wanted to share with you a ridiculously tasty meal…Pastichio, or Pastitsio…There seems to be a few different ways of spelling it!
This Greek-Style Lasagna is one of those meals that is great to have on hand in your freezer! It's meaty, hearty and absolutely delicious with its layers of pasta, ground meat, and béchamel cheese sauce on top. It's not the easiest meal you'll ever make, but do it on a Saturday afternoon, while watching "My Big Fat Greek Wedding." 🙂 I only cook this when my husbands off work. We do it together and make enough for 3-4 trays. It's a fun afternoon and a cheap date 😉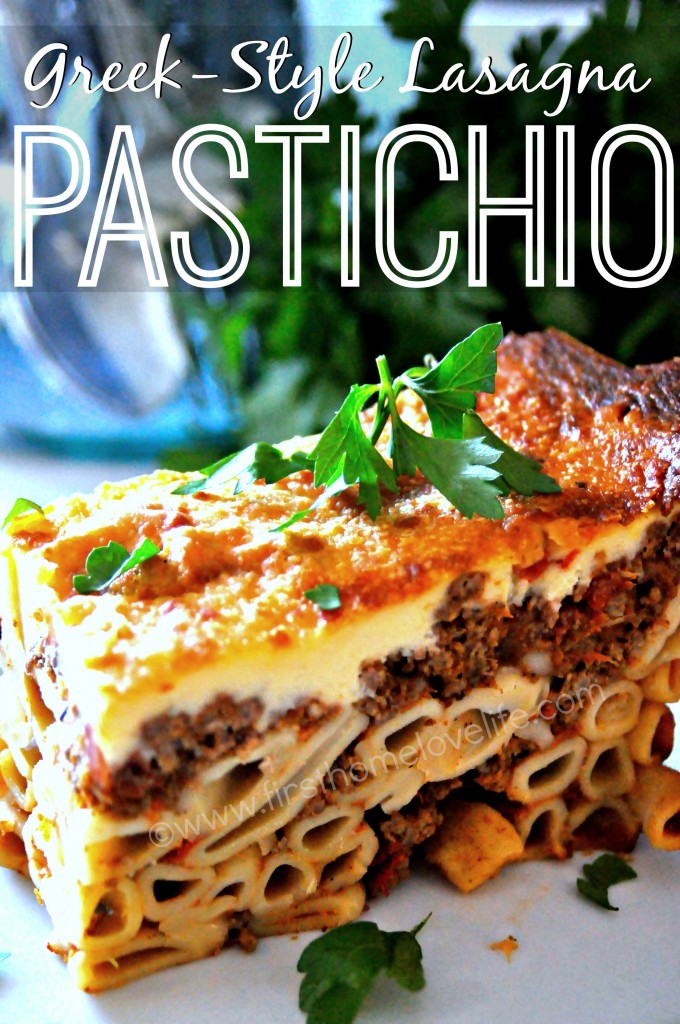 This recipe makes 2 large 9×11 pans and serves at least 10-12…If you only want to make 1 pan…split the measurements in half! 🙂 Enjoy!
Here's what you'll need…
2 lbs ziti noodles
2 9×11 lasagna pans
For the Meat Sauce:
6 tablespoons olive oil
2 large chopped yellow onions
4 stalks finely chopped celery
6 finely chopped carrots
6 minced garlic cloves
2 lbs. lean ground beef
1 cup chicken stock
3 tablespoons ground cinnamon
2 tablespoons dried oregano
2 tablespoons fresh thyme leaves
pinch of cumin
pinch of sugar
1 can (28 ounces) crushed tomatoes in puree
Kosher salt and freshly ground black pepper
For the Bechamel:
3 cups whole milk
1 cup heavy cream
1 stick of unsalted butter
1 cup all-purpose flour
1 teaspoon freshly grated nutmeg
Salt and freshly ground black pepper
1 1/2 cups grated Parmesan
4 extra-large eggs (beaten)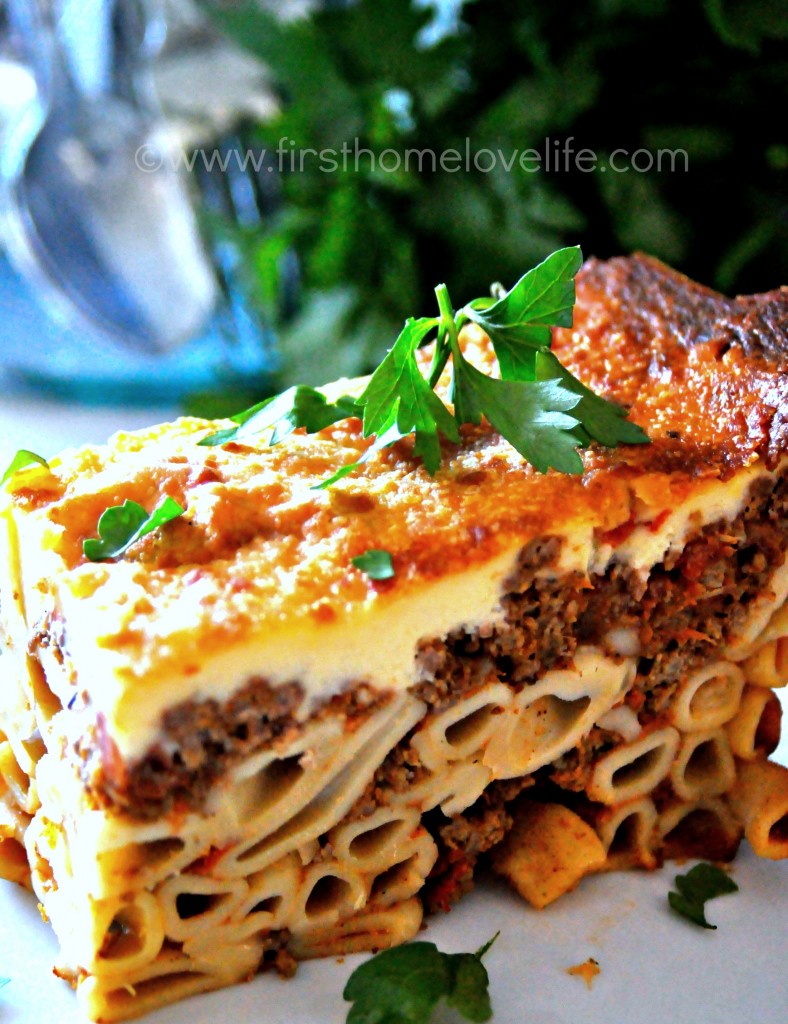 Okay, here's the step by steps…
Preheat your oven to 350.
Finely chop the carrots, celery, onion and garlic (I do it in the food processor)
In a medium-large saute pan on medium-high heat add a few tablespoons of olive oil and sweat your veggies (season with salt)
Once everything softens, add your ground beef and work it into small crumbles with a wooden spoon (season with salt and pepper)
Once the meat is cooked (8-10 minutes) add your chicken broth and continue to cook for another 5 minutes
Now add your cinnamon, cumin, salt pepper, oregano, thyme….mix together and cook for a few more minutes
Stir in your tomatoes and pinch of sugar, turn your stove down to simmer and let it cook for 30-45 minutes. Taste to see if it needs more salt and pepper. (Set aside when done)
Cook your ziti as directions state until it's "under cooked" about 5-6 minutes You want it to have a bite to it. It will continue to cook in the oven. (Drain and set aside)
Now for the cheesy cream sauce…
For the béchamel, heat the milk and cream together in a microwave safe measuring cup for about 1 1/2 minutes until it's warm
In a medium saucepan, melt the butter. Add the flour and cook over medium heat, whisking constantly for 2 minutes.
Pour the warm milk and cream mixture into the butter and flour mixture, whisking constantly. Continue cooking, stirring occasionally, over medium heat for 5 to 7 minutes, until smooth and thick.
Turn off the heat, and carefully stir in your beaten eggs (temper them first so they wont scramble)
Add the nutmeg, salt and pepper and stir in 3/4 cup of the Parmesan cheese
Now it's time to assemble our pastichios…
Add a big spoonful of meat sauce to your ziti and mix together
Now evenly distribute the ziti into your lasagna pans
Evenly distribute the meat sauce over the noodles
Now pour béchamel over everything in a thick layer until everything is covered
Sprinkle the remaining parmesan cheese on top
Bake uncovered in the oven for about an hour until everything is bubbly and golden brown.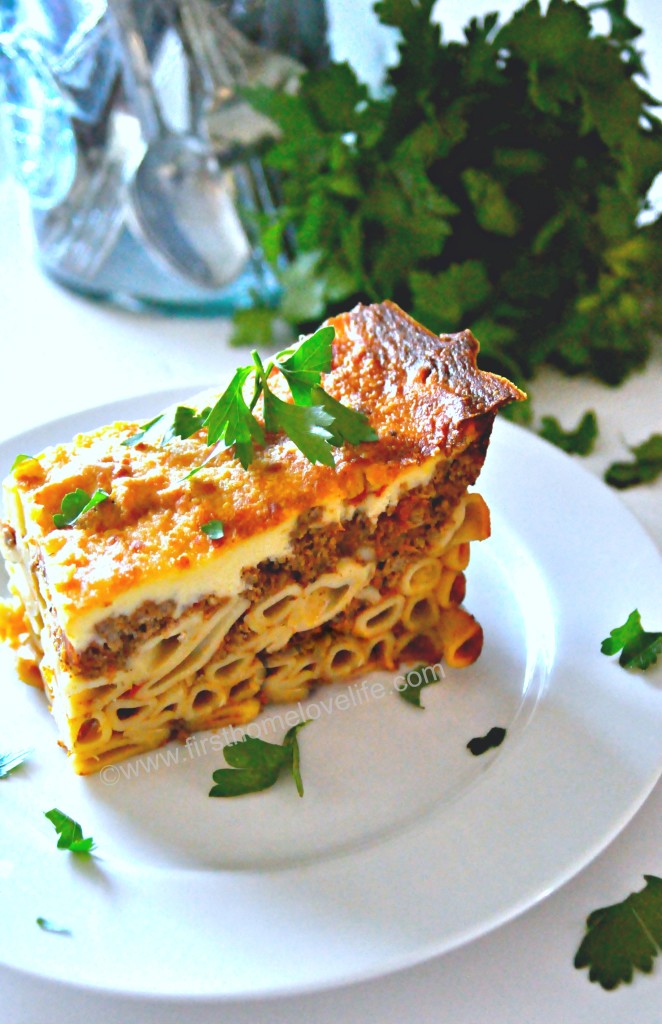 Making pastichio is truly a labor of love, but make it once and you'll totally be hooked! On a scale from 1-10 on the family favorite chart this one marks a 25! It's delicious, pretty cheap to make, and you'll feel like you're traveling the Mediterranean in your own kitchen!
I hope you love this recipe, check out all my other goodies while you're here! I'm sure you'll find a few more to try 🙂 I'd also LOVE it if you followed along on Facebook and Pinterest!
Talk to you soon friends, take care!
XO
Comments
comments