Bring a little freshness to your holiday table with this out of this world cranberry recipe! Even if you think you don't like cranberries- this fresh and fruity cranberry relish will convince you you're wrong…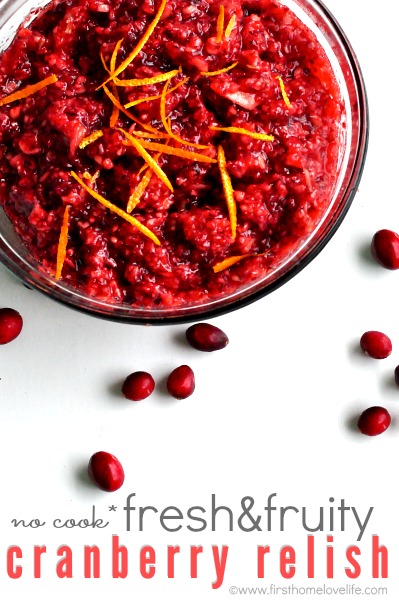 Happy *almost* Thanksgiving friends! I'm popping in real quick today in the midst of a cooking fest in my kitchen to bring you this super simple last minute cranberry recipe to add to your holiday spread…
I went years and years thinking I hated cranberries, because I was brought up with that stuff in the can. {bleh} No offense if you happen to like it- my mom LOVED canned cranberry sauce, but I wouldn't touch that stuff with a 10ft pole. 😉
Fast forward a few years…I met my husband's family…
And had my first Thanksgiving with them…
I remember looking at this vibrant red stuff in a bowl in the middle of the table and thinking how pretty it was but not really grasping what it was (yet). When it was time to dish everything onto my plate I took a small spoonful, because I wanted to make sure I tried a little of everything- not wanting to be rude, ya know? (I might marry this guy someday) 🙂
When I loaded my fork up with turkey, potatoes, stuffing, gravy and then every so slightly dipped my fork into "the red stuff" before shoveling it in my mouth I remember thinking wow that turkey is sweet! It's delicious! 😉 Ha…I eventually figured out that the sweetness was coming from "the red stuff" also known as the cranberry relish. It was sweet, fresh, and crunchy- SO different then the jiggly can shaped blob I was used to…
Needless to say I was hooked from that day on, and the holidays were not complete until "the red stuff" made an appearance on our table. 🙂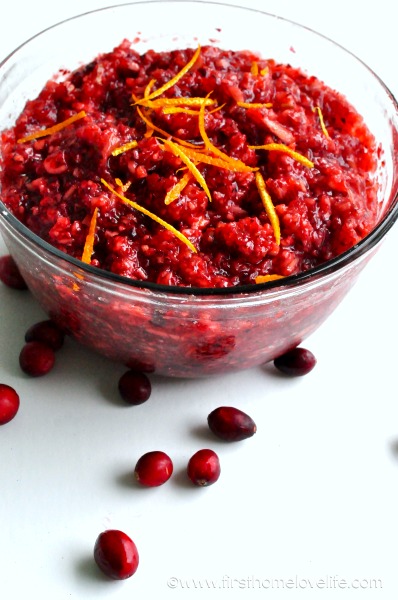 Of course over the years I've tweaked it. 😉
Here's how I make it…
Fresh and Fruity Cranberry Relish- serves about 6
1 bag fresh cranberries (about 3 cups)
1 Naval orange (zest and juice)
1 granny smith apple (peeled and cored)
1-2 stalks celery
1 cup cold water
1 cup hot water
1 package RASPBERRY Jello
1/4 cup sugar
Chop your apple and celery into about 1 inch chunks and add them into a food processor. Pulse until you get a fine 'relish' like chop. Add to mixing bowl
Add raw cranberries into food processor and again pulse until relish like, add to mixing bowl.
Squeeze about 2 tablespoons worth of orange juice over everything and add sugar, give everything a good mix together.
Heat up 1 cup of water and add Jello to it, when all the Jello has dissolved into the hot water, add in a cup of cold water and stir for about 2 minutes.
Pour Jello over cranberry mixture, toss until everything is coated then cover and refrigerate overnight up to a week before serving.
Now if you taste the mixture after 24 hours and find that it still tastes tart then add another tablespoon to it, and put back into the fridge. Keep doing that and tasting it until you get the desired sweetness. Sometimes batches of cranberries are less sweet than others so you may need to adjust it. It should not be overly sweet though. Just a nice balance. 🙂
I like to garnish with about a teaspoon of fresh orange zest over the top, and if your holiday is kid-free…Add a splash of Grand Marnier for a grown up version that will make your tastebuds dance! 😉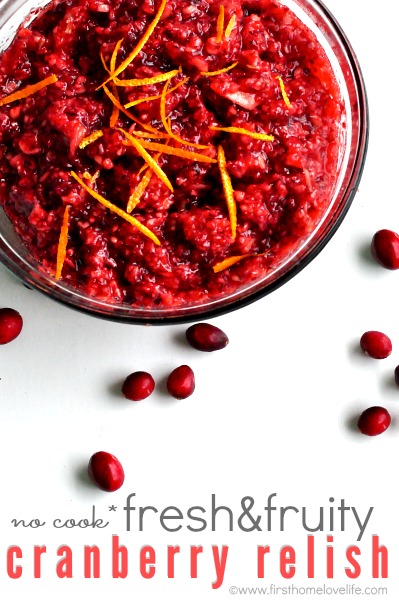 When Thanksgiving is over and you're ready to make the ultimate turkey sandwich. Take a tablespoon of this relish and mix it with some mayo for an out of this world turkey sandwich spread! You're welcome! 😉
I hope you have an ABSOLUTELY WONDERFUL Thanksgiving this year and always with friends, and family.
Talk to you soon friends, take care!
XO
Comments
comments