These Animal Trinket Jars are the cutest handmade gift that anyone on your list will adore, and better yet you can make them from items found at Dollar Tree…
You guys. Are these not that cutest things EVER?! 🙂
Placing plastic toys on jars and spray painting them is not a new idea.
But I thought it was such an adorable idea so I filed it away in my brain for later when I could get around to it.
And I finally did!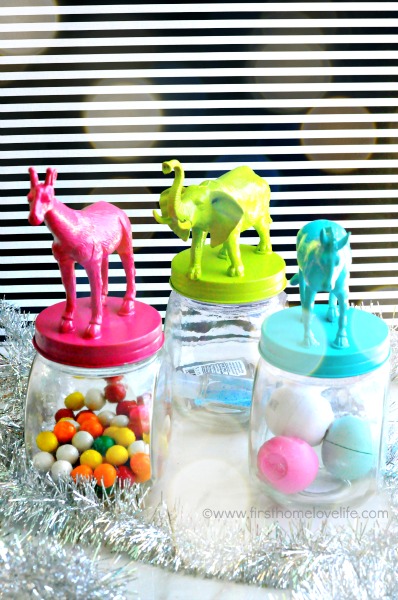 My daughter has been asking for more organization type things in her room ever since we got her a new dresser with drawer organizers.
Looking around her room, I realized she really needed something on her desk/vanity to corral the small things that were cluttering up that area.
I found these fat little jars at Dollar Tree thought they would be perfect to hold things in.
Luckily when we were there I remembered the cute bunny jars and was able to find a few safari animals in the toy section.
First, I stuck them to the lid with Krazy glue. First sanding the lid where the animal feet were touching it.
Every other glue I tried wouldn't work- by the way! 🙂
Second, I let the glue dry for about 12 hours…
Next, I took the lids outside and sprayed them in a super fun glossy hot pink, lime green, and aqua color.
I did about 3 coats and let them dry overnight.
And that's it…My daughter loved them!
Lastly, she filled them with things that were laying out on her desk- some lip balm, hand sanitizers, and of course bubble gum balls! 🙂
It really got me thinking that these Dollar Tree jars would be a perfect little gift to give for this upcoming holiday season!
What to put in these Animal Trinket Jars?
Just a few things right off the bat I thought that would be super cute to put in these Dollar Tree candy jars for an amazing little gift!
Christmas, Valentines Day, Easter or birthdays….
I hope I've inspired you to think outside the gift-giving box.
I'd love to know what you would put in your DIY animal jars? 🙂
Talk to you soon.
XO
Comments
comments