Chicken Tikka Masala- An Indian curry favorite that can easily be made at home…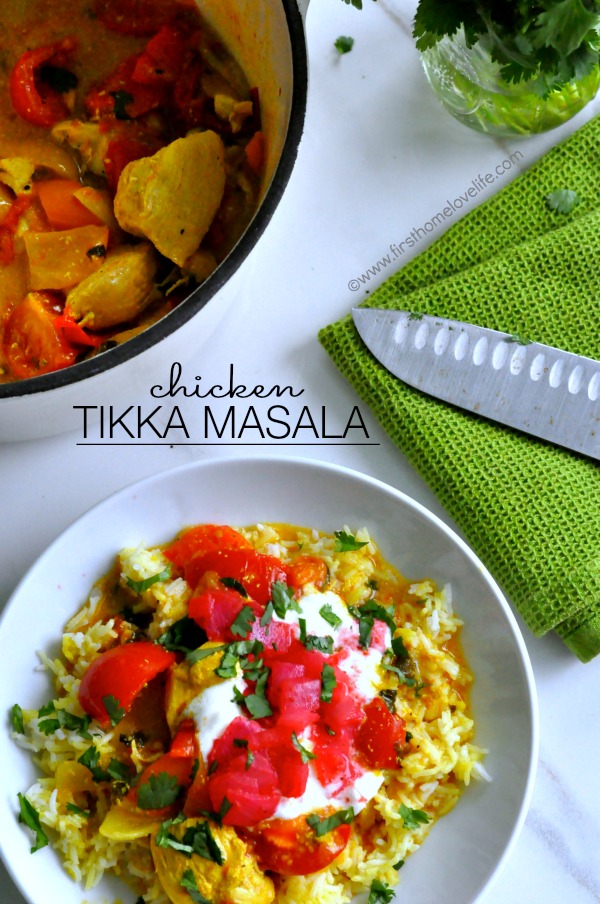 When we lived in south FL, we were about 5 minutes away from this amazing little Indian restaurant. Curry, in particular Chicken Tikka Masala was something I ate on a regular basis and it got to a point where I began making my own version at home.
Granted, I'm definitely not a pro when it comes to perfecting this type of cuisine with its complex flavor profile but my version is a pretty easy one pot recipe that will get you out of the dinner rut with something a little more exotic, and is sure to impress even the die hard curry lovers!
Oh and can we talk about the colors…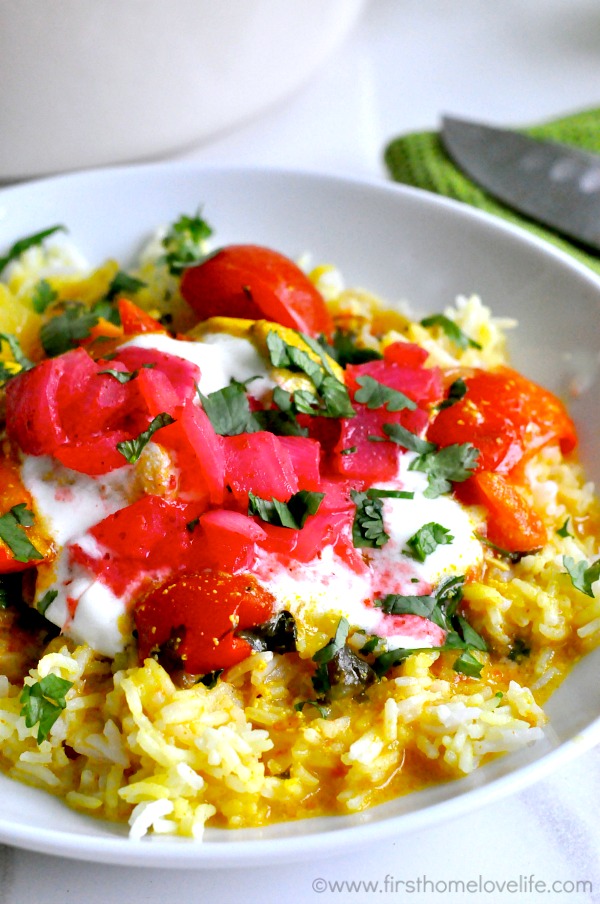 Hello lover…Come to mama… 😀
If that isn't what can only be described as a "foodgasm", I don't know what is… Vibrant yellow tomato cream sauce spiked with exotic spices, and dancing across a medley of melt in your mouth chicken, peppers, tomatoes and onions spooned over fruity Basmati rice and topped with a hearty spoonful of neon pink, spicy, sweet and tangy red onion chutney.
…Is it getting hot in here? 😉
I'm a freak when it comes to this stuff, it's just so dang good and I may or may not lick the bottom of the bowl every time.
Here's what you'll need to make it yourself…
Chicken Tikka Masala: Serves 4-6 comfortably
2 lbs chicken boneless skinless breasts cut into cubes (like for kabobs)
1 1/2 cups plain yogurt
6 tablespoons Indian curry spice mix (mix of turmeric,coriander, cumin…etc)
1 tablespoon red pepper flakes (this is really to taste, depending how spicy you want it)
1 large yellow pepper
1 large red pepper
1 large orange pepper
6 plum tomatoes
2 medium red onions
6 cloves garlic (chopped)
2 teaspoons grated fresh ginger
1/2 to 1 cup half and half
3 tablespoons tomato paste
about a cup of fresh chopped cilantro
about 2-3 tablespoons coconut oil (or olive oil)
salt and pepper to taste
Red Onion Chutney (optional)
2 red onions- chopped
1 garlic clove- minced
1/2 teaspoon cayenne pepper
2 tablespoons raw sugar
2 tablespoons grainy dijon mustard
1/4 cup red wine vinegar
2 tablespoons olive oil
salt and pepper to taste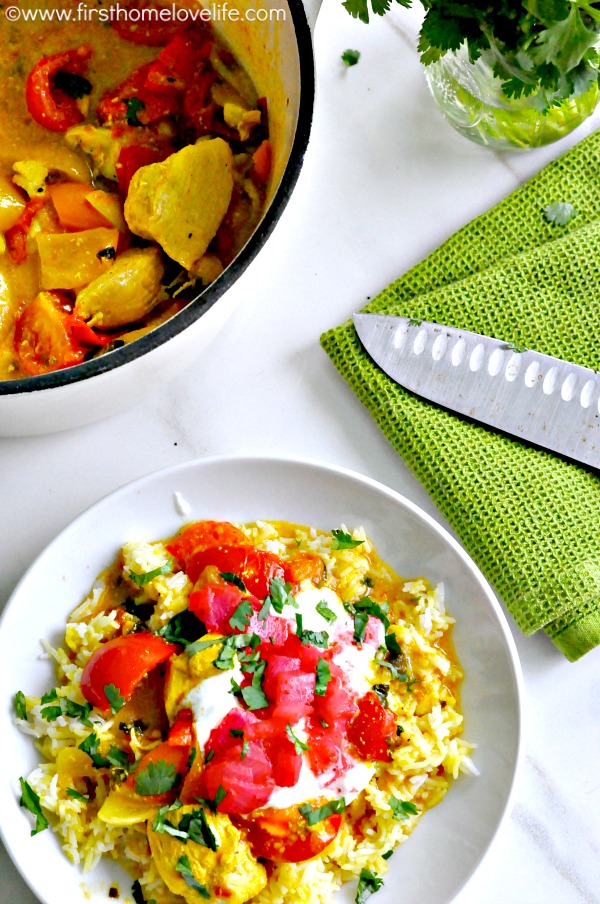 *If you plan to make the red onion chutney, I suggest doing it the night before. Just add all the ingredients into a small soup pot and let them simmer until almost all of the liquid has evaporated. Store in a covered container in the fridge.
**Chicken Tikka Masala is best served over Basmati rice cooked per package directions
In a large Ziploc bag, add in your raw chicken cubes, 2 tablespoons curry powder, and plain yogurt along with salt and pepper. Zip tightly and squish the chicken around in the bag to mix everything together. Let it marinate in the fridge for 4-6 hours.
Heat up a large cast iron pot, and add a few drizzles of coconut oil (or another oil) Add in your chicken and brown on all sides.
Now add in your chopped peppers, onions, and plum tomatoes (I leave everything chunky for a more rustic look)
Cover the lid, turn down the heat to medium and let everything cook down for about 15 minutes, giving it a stir in-between.
Uncover and you should see some liquid in the pot from the vegetables. Add in your chopped garlic, tomato paste, 4 tablespoons curry powder, red pepper flakes, ginger, and salt and pepper. Stir together and cook for about 10 minutes uncovered.
Add in your cream and chopped cilantro. Taste and adjust for seasonings. Use a wooden spoon to scrape up bits from the bottom of the pot and let everything simmer for 30 minutes uncovered.
Serve hot over rice (optional: add onion chutney and plain yogurt to top- garnish with fresh chopped cilantro)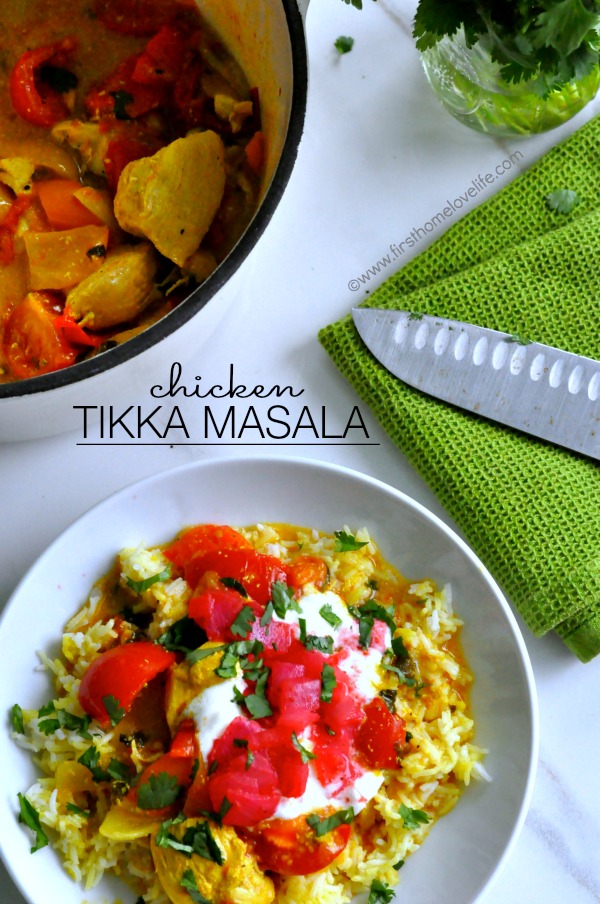 I could seriously eat this by the bucket full, but I get that curry is an acquired taste that you either love or hate. If you're feeling adventurous, give it a try. I personally adore the flavors and smells that come from cooking this kind of cuisine. 🙂
I hope you enjoy this recipe!
Talk to you soon friends, take care!
XO
Comments
comments