Yummo! A Chinese take out family favorite easily made at home! You're going to love this super easy Chinese beef and broccoli recipe!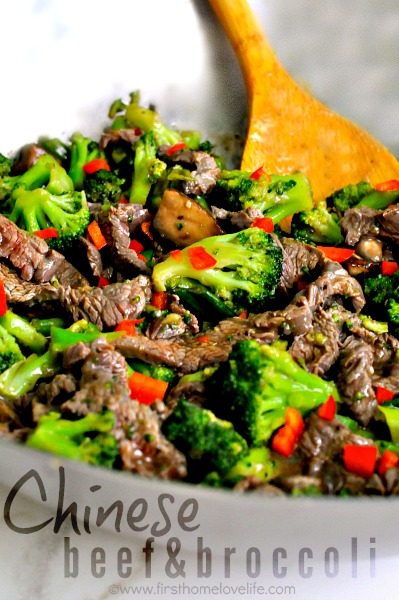 Remember the other day when I shared a simple shrimp stir fry dish with you? And I told you how much I had missed having a wok in the house…Well I wasn't kidding. I think we've eaten some sort of Asian fare at least 3 times a week the past few weeks! 😀
But this.
This beef and broccoli has been on repeat request! It's just so dang good and hits all the right notes!
I've actually had this recipe tucked in one of the pages of my culinary school notebook for years. It came from a guy who helped his parents run their Chinese restaurant somewhere in New Jersey. He had moved to FL to start a career down here and when I asked him to share some recipes with me due to the lack of good 'real deal' Chinese joints in our area, he did! Lucky for us, huhh?
Of course I can't leave well enough alone so I tweaked the recipe here and there, like adding in chopped mushroom (because I can) even though it's not traditional, but still super delish!  🙂 Oh and did I forget to mention how EASY it is to make?! SO simple!
Here's how to make it…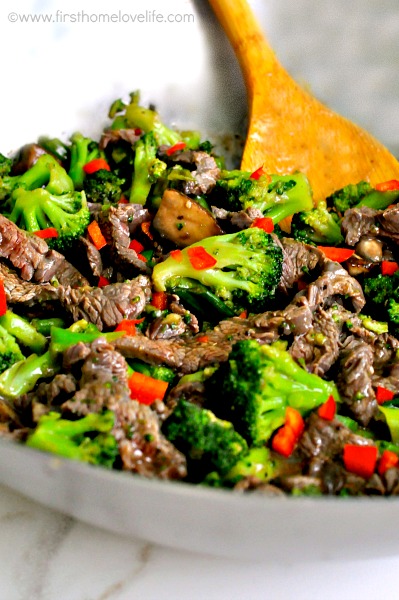 Here's what you'll need…(serves 4 comfortably)
1 lb. sirloin steak, thinly sliced
1 bag of frozen broccoli florets (thawed) Or use fresh
1 portobello mushroom cap, chopped (totally can omit this if you want)
1 medium yellow onion, chopped
2 garlic cloves, minced
1 teaspoon fresh grated ginger
2 teaspoons sesame oil
1 tablespoon cornstarch
1/3 cup oyster sauce (Asian)
1/3 cup Sherry (wine)
2 tablespoons reduced sodium soy sauce
1 tablespoon brown sugar
1/2 teaspoon red pepper flakes
3 tablespoon coconut oil (or high heat oil)
*No Sherry? No problem! You can just use 1/3 cup water instead.
**Garnished with chopped fresh red pepper just for picture purposes, does not effect flavor 🙂
In a medium sized mixing bowl- mix together your oyster sauce, Sherry wine, soy sauce, sesame oil, cornstarch, ginger, garlic, brown sugar and red pepper flakes.
Toss you sliced sirloin and onions into the mixture and toss everything around to get coated, let it marinate in the fridge for as long as possible (I like around 2-3 hours)
When it's time to make dinner, get your wok or skillet onto the stove on a medium-high heat. Add in a few tablespoons of coconut oil or any high heat oil you have.
Add in your broccoli, stirring around for about 3 minutes then put aside onto a dish.
Add more oil if needed to your pan, and add in your beef and sauce, cook for about 5-7 minutes, tossing with a spoon.
Add back in your broccoli for another 2-3 minutes to warm through and make sure all beef is cooked through- serve hot over rice or eat on its own.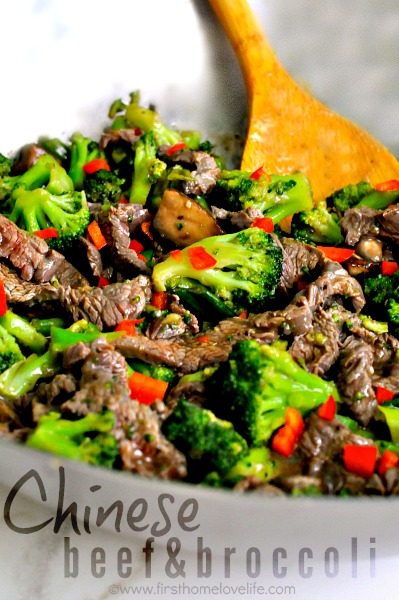 It's SO yummy, guys! Who needs to keep the Chinese takeout place on speed dial when you can whip up your own batch of homemade deliciousness!? 😉
I hope you loved this recipe as much as we do!
Talk to you soon friends, take care!
XO
Comments
comments