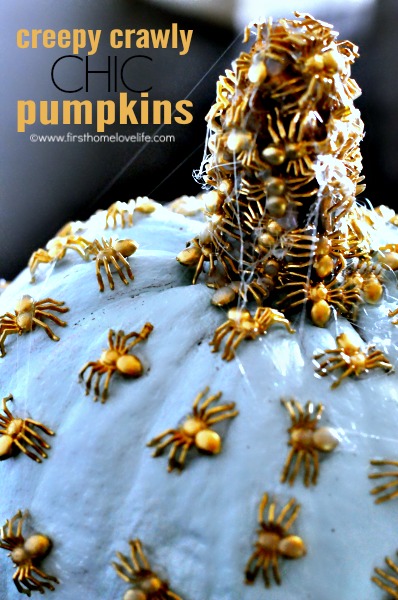 The temps finally dropped a bit this week and it's beginning to feel more fall-ish- mid 80s vs. high 90s- I'll take what I can get!
I mentioned on my Facebook page a few weeks ago that I'm not really a seasonal decorator but for Halloween and Christmas our house gets decked out. I LOVE HALLOWEEN. It's been my favorite holiday for a long, long time, and I usually start decorating for it on the early side. My daughter's birthday is also in October and this year she wants to have a party at the house so it feels natural to host a Halloween themed party like we did a couple of years ago, and that means this momma is already digging through the boxes of decor to get ready. 🙂
Every year I try to think of a simple and fun pumpkin craft to kick off our decorating and this year's creepy crawly chic pumpkins are just that! 🙂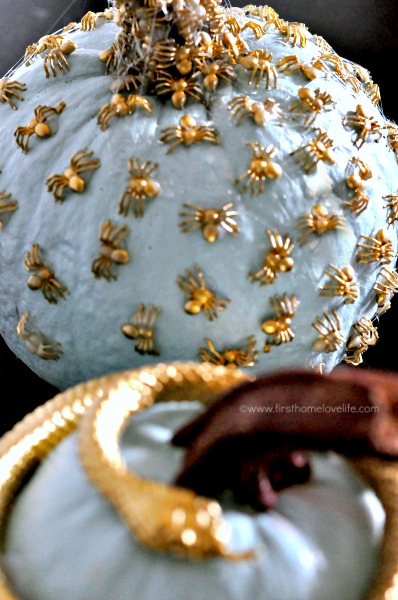 I am always drawn to the blue Heirloom pumpkins, but at $11 a pop I decided to just spray paint some small orange ones to keep this simple craft not only time friendly but budget friendly as well. Here's the supplies you'll need to make your own creepy crawly chic pumpkins…
small pumpkins
robins egg blue spray paint
gold spray paint
creepy crawly bugs/reptiles (I found the snake and a bag of 100 spiders for $1 each at the Dollar Tree)
hot glue and a glue gun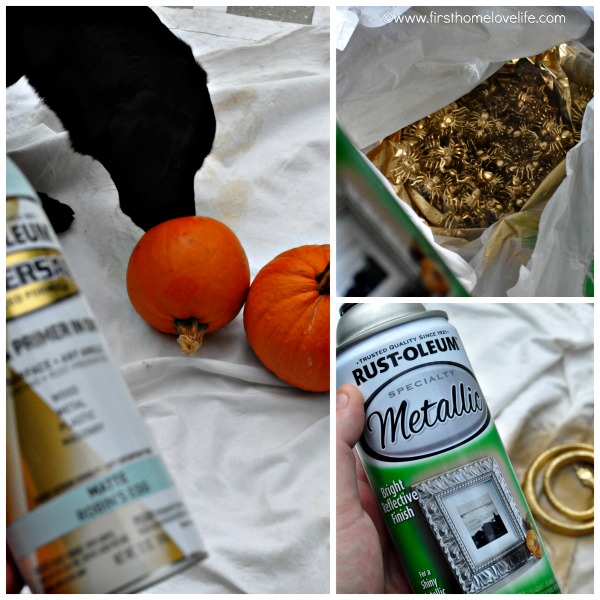 I spray painted the pumpkins, spiders and snake and let them dry completely then brought them inside to be glued together.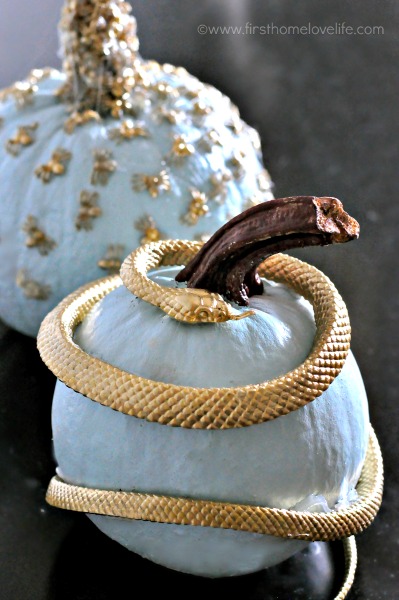 I wrapped the snake around the first pumpkin and glued him into place. I love the way it turned out! It kind of has a jewelry look to it like it should be an arm band or something 😉
The gold spider pumpkin is my favorite out of the two though…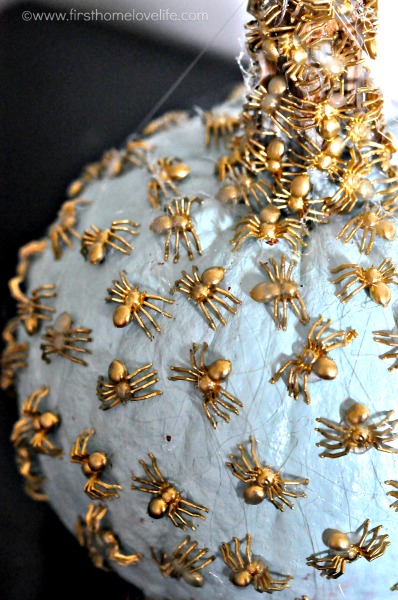 Unintentionally the hot glue stick created these strings all over the pumpkin making it look like these gold spiders are wrapping it up in a web. It looks even cooler in person although you can kind of see it in the photo too. 🙂
I just love the little bit of glamor these gold spiders and snake bring to the pumpkins and it's the perfect 'early' Halloween decoration to get me started for this year's festivities. 🙂
I hope you loved this super simple craft. 🙂
Talk to you soon, friends. Take care!
XO
Comments
comments