Whether you call it Johnny Marzetti or American Chop Suey, this is a comfort pasta food known by all! Mine has a smokey twist that includes bacon! It's a family favorite and I know you will love it too! 
I have been making it for years, and it has never failed me. This is one of our all time favorite family recipes that I have made for pot lucks, parties, or just a quick I don't know what to make dinner. It's one of those comfort foods. Ya know…the kind of food that as it cooks the aromas bring back flashes of your childhood and make you feel warm inside.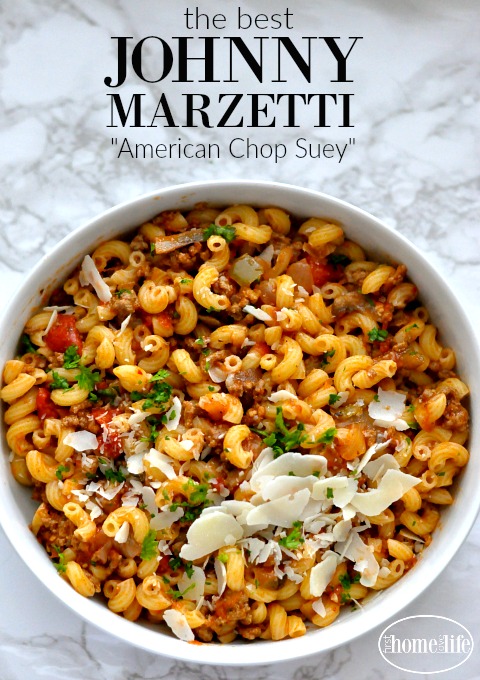 1 lb. ground turkey
1 lb. elbow noodles (or similar shape and size)
1 jar of your favorite marinara sauce
1 large green pepper
1 large yellow onion
2 cloves garlic
3 slices bacon
1 box of button mushrooms
olive oil, kosher salt, red pepper flakes
First, you want to chop all of your ingredients and put them to the side. Heat up a large skillet with 2-3 tablespoons olive oil on the stove and a large pot filled with water (for your pasta.)
Next, add your chopped bacon, onions, and garlic to the saute pan (make sure it's not too hot) You don't want to burn your garlic, and you want to sweat the onion slowly, and extract as much bacon fat as you can. Add a tiny bit of salt-just a pinch, and as much red pepper flakes as you want. I like it a bit spicy so I add half a tablespoon.
Once your bacon is cooked, and your onion is translucent…add your ground turkey.
When the turkey is cooked, add your mushrooms.
When the mushrooms are almost cooked through, add your green peppers and sauce.
Mix, let it simmer on medium-low for 8-10 minutes (just enough time to cook your pasta al dente) If the sauce gets too thick add some starchy pasta water to it.
Strain your elbows and toss into sauce, let cook for an additional 1-2 minutes. Then serve with grated Parmesan cheese.
I really hope you love this recipe as much as I do. Just be forewarned, if you happen to make this for someone once, they will ask you again and again for that "Johnny pasta stuff."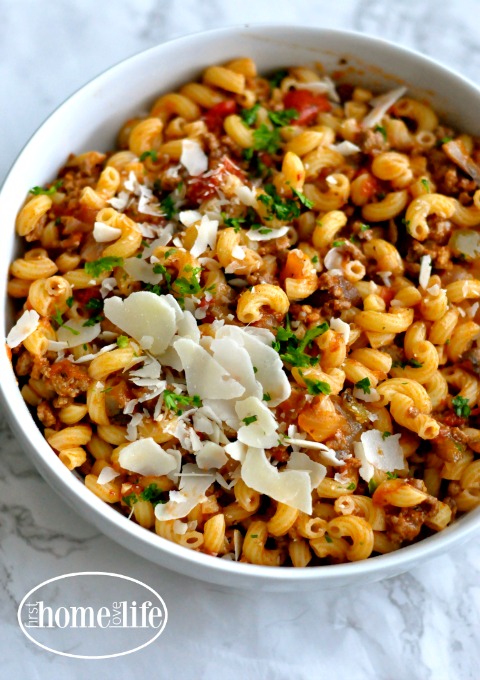 Hope you love this recipe!
Enjoy!

Comments
comments