Probably the most ridiculously easy chicken marinade known to mankind, but so good you'll be making it over and over again! Grilled Lemon Dijon Chicken- Fast, Easy, Delicious…Mouthwateringly perfect in every way!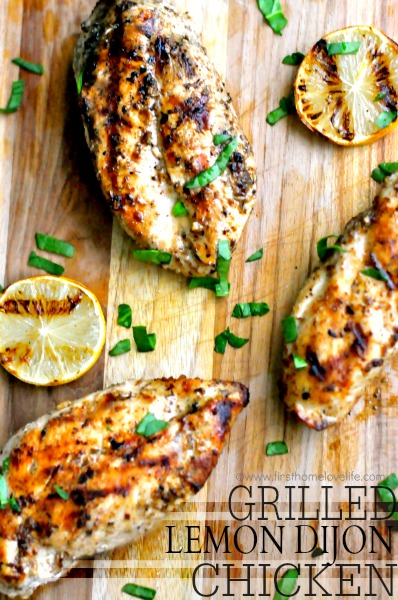 Grilling season never really ends here, and for that I'm super grateful because I adore grilled food! The beautiful thing about this recipe though is it's really all about the marinade, so even though grilling is highly encouraged, it's not completely necessary 🙂
You should know by now that I love simple recipes.
Using ingredients that we all probably have laying around in the kitchen are the ones that usually can create the most deliciously flavored foods!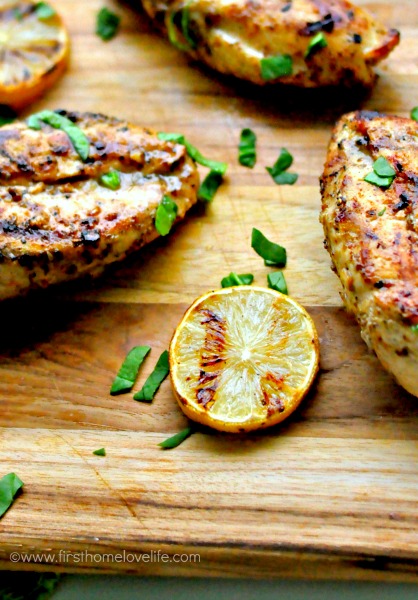 Here's what you'll need…Serves 4
Chicken (I'm using boneless, skinless chicken breast here)
Qt sized or larger Ziploc bag
1-2 lemons (about a 1/4 cup of juice)
about 1/4 cup olive oil
1 shallot (chopped)
2 cloves garlic (chopped)
2 tablespoons grainy Dijon Mustard
1 tablespoon herbs de Provence
1 teaspoon dried thyme
Kosher salt and fresh ground black pepper to taste
*Garnished with fresh sliced basil, but this is completely optional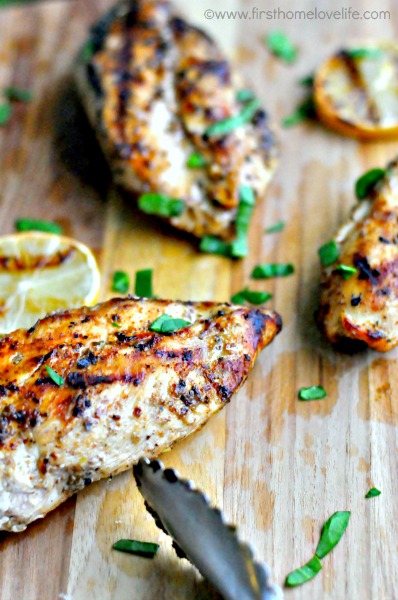 Rinse off chicken, pat dry, and put into Ziploc bag.
Add remaining ingredients into bag, massaging everything together with your hands, seal bag- remove the air, and place it in a dish in your fridge for as long as possible (a couple hours- overnight)
Heat up your grill to high heat, cook about 6-7 minutes on each side depending on how thick your chicken breasts are or until your internal temp on the thermometer reads 165-170.
That's it.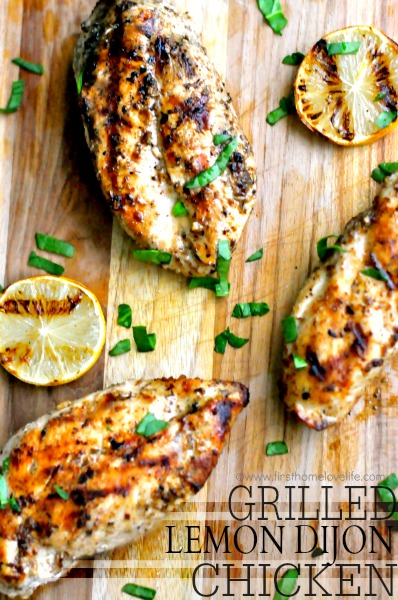 It's juicy, succulent, savory, tender…Everything you could possibly want out of chicken!
A super quick weeknight meal for us is this lemon Dijon chicken paired with plain buttered linguine. Easy as pie. Hey! Mom might even have time to make a pie, because it's so easy 😉
Well…your mom…not this mom…#notabaker
So if you're getting tired of the same ol' chicken dinners week after week, give this super simple, fresh and tasty chicken a try! I promise you won't regret it 🙂
Talk to you soon friends, take care!
XO
Comments
comments