Who doesn't love a quick stir fry that comes together in minutes?! A perfect busy weeknight meal that is crazy easy and packed full of delicious asian flavor- This simple shrimp and snow pea stir fry is just that!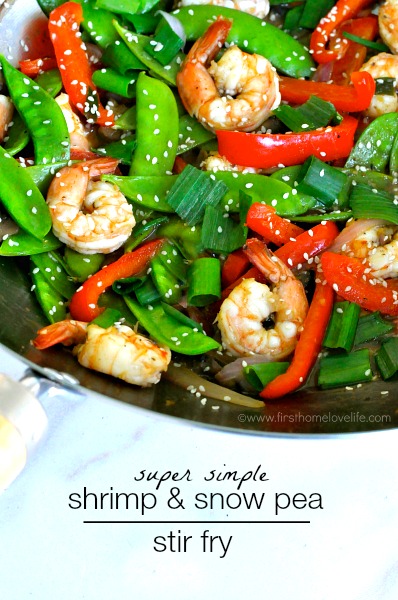 I've been meaning to buy a wok for a long time now. It was one of the first things we sold in our yard sale right before we moved and I've regretted it ever since. I finally repurchased one a few weeks ago, and it's been getting a ton of action since! You never realize how badly you miss something until it's gone, ya know? 🙂
I love making Asian cuisine at home. There's something therapeutic about it for me. Maybe it's the vibrant colors or the mixture of smells from the herbs and sauces. I'm not quite sure what it is, but it's one of my favorite kind of cuisines to make!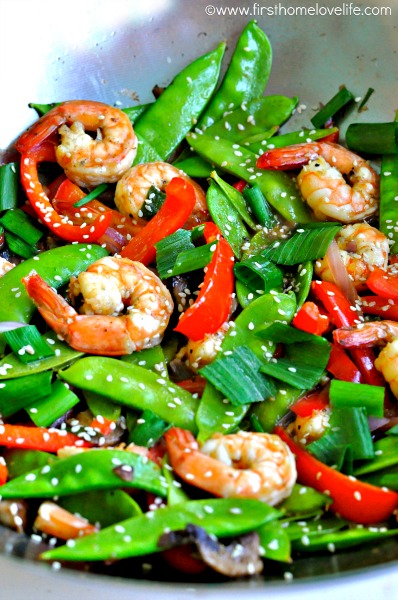 Since school has started, I've really been trying to come up with fast, simple and healthy meals. Stir fry's are great because you can basically just throw whatever veggies you have in one pan, add some protein if you want, and then mix up a yummy sauce and boom… Dinner is served!
My daughter loves vegetables (I know I'm lucky) so a stir fry is a great way to serve them instead of in a pasta or in a salad.
Here's one of our favorite variations- Shrimp and snow pea stir fry…
Here's what you'll need (serves 2-3)
about 12 raw jumbo sized shrimp (peeled and cleaned)
2 cups snow peas
1 red bell pepper -sliced
1 portobello mushroom cap- cubed into bite sized pieces
1/2 red onion-sliced
1/4 cup scallions
2 tablespoons ginger (I use the stuff in the tube in the produce section)
2 tablespoons minced garlic
2 tablespoons coconut oil (or similar)
1 teaspoon sesame oil
2 tablespoons low sodium soy sauce
2 tablespoons honey
2 tablespoons seasoned rice wine vinager
salt, pepper, and a pinch of raw sugar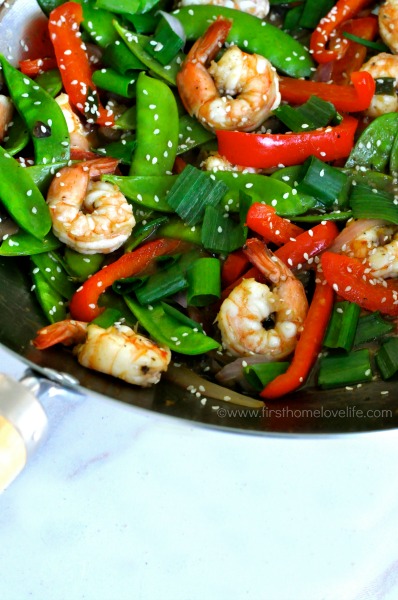 In a bowl combine garlic, ginger, soy sauce, sesame oil, honey, and- mix well with a fork.
Place your wok (or skillet) onto the stove on medium-high heat. Add 2 tablespoons coconut oil (or any high heat oil)
Add peppers, red onion, mushrooms, and snow peas to pan for 2 minutes tossing with wooden spoon
Now add shrimp and continue to toss around for 2 minutes.
Pour in sauce, season with salt and pepper to taste, and add a pinch of sugar
Continue to stir everything together for another 3 minutes until shrimp are bright pink and curled.
Turn off the heat and add in scallions, one final toss together.
Garnish with sesame seeds if you have them and serve hot over rice, noodles, or eat on its own.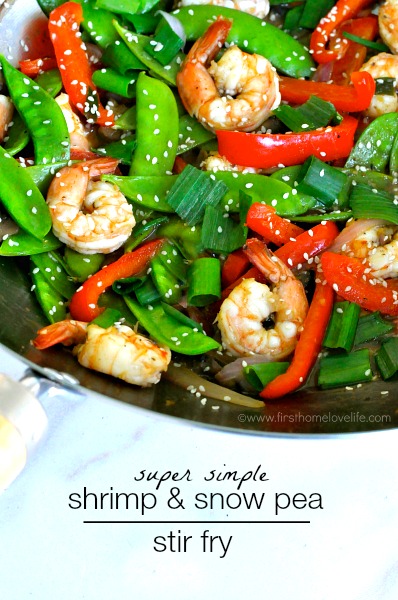 I know a lot of people tend to be intimidated by cooking with Asian flavors, but I promise you it's super easy! To get certain ingredients at first might be a little costly but you will be using them over and over again so it's worth it in the long run!
It's so much fun to throw things together in a stir fry. And bonus- Kids always love any excuse to use chop sticks, right? 🙂
I hope you loved this super simple recipe!
Talk to you soon friends, take care!
XO
Comments
comments