A super easy and flavorful dinner that can be served in about 20 minutes or less! This grilled chicken caprese recipe is going to be your new family favorite!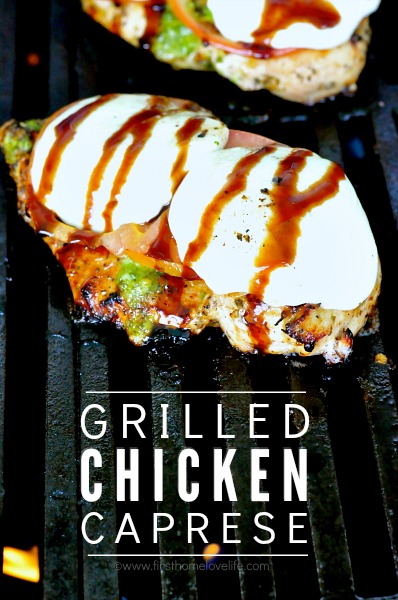 Temps are finally warming up, spring is here, and we're getting ready to start our weekly tradition of long days in the pool combined with lots of yummy grilled food!
I barely use my stove in the spring in summer. I find any reason I can to only use our grill, and especially now more than ever because we just upgraded to a newer (BIGGER) one with lots of fun bells and whistles. I've already started playing around with different recipes here and there, but keep going back to classics like this grilled chicken caprese!
This is such an easy dinner and SO flavorful! It's always a hit when we serve it up to anyone, so I know it will be great to entertain with too!
Also, I recently shared my variation on pesto which uses walnuts instead of pine nuts. You can find that recipe here, and I promise you will want to make a bucket full to put it on any and everything. Here I've slathered it atop juicy marinated boneless chicken breasts, and topped it with sweet ripe tomatoes and creamy mozzarella.
Is your mouth watering yet? Mine is! 🙂
Here's how you make it…
You'll need…
4-6 boneless skinless chicken breasts
about a cup- 1 1/2 cups zesty italian salad dressing
1/4 cup balsamic vinegar + a few tablespoons to drizzle later
large ziploc bag
about 4-6 tablespoons of pesto
1-2 ripe tomatoes (sliced)
8-12 slices of mozzarella cheese
salt and pepper to taste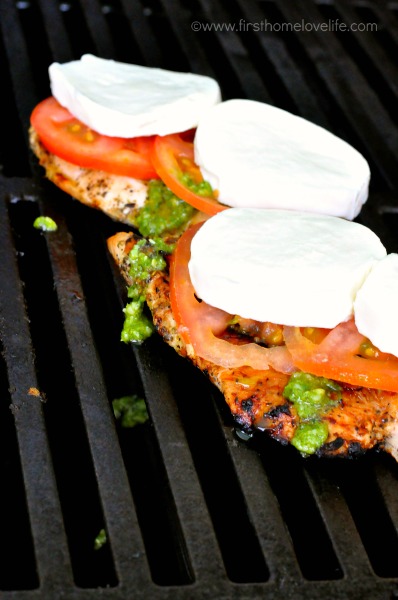 The first thing you're going to want to do is let your chicken breasts marinate for a few hours before putting them on the grill. I add my chicken into a large ziploc, pour in some italian dressing, and balsamic vinegar, add salt and pepper, seal up the bag, give everything a squish together and pop it in the fridge for a few hours.
Heat up your grill to medium-high and throw the marinated chicken onto the grill for about 6 minutes (depending on the thickness of your chicken) on each side, getting those delicious grill marks and caramelization from the balsamic.
When the chicken is cooked almost all the way through, add a hefty spoonful of pesto onto each breast, followed by 1-2 slices of tomatoes, and 2 slices of mozzarella. Lower the heat on your grill to low, close the lid and let them cook for another 4-5 minutes or until the cheese has melted a bit.
Drizzle more balsamic over top and remove from the grill. Serve hot or at room temp. We usually have it with crusty ciabatta bread and caesar salad. It's so easy and yummy!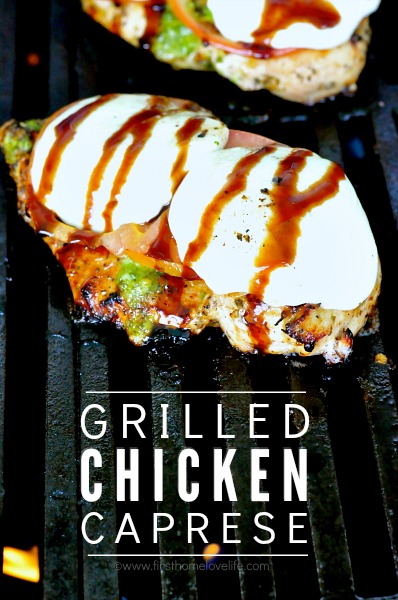 I absolutely adore this recipe, and hope you do to!
Talk to you soon, friends! Take care!
XO
Comments
comments