Hi everyone! It's Karissa from Sweet as a Cookie. I'm here again to share with you a recipe for Patriotic Cupcakes.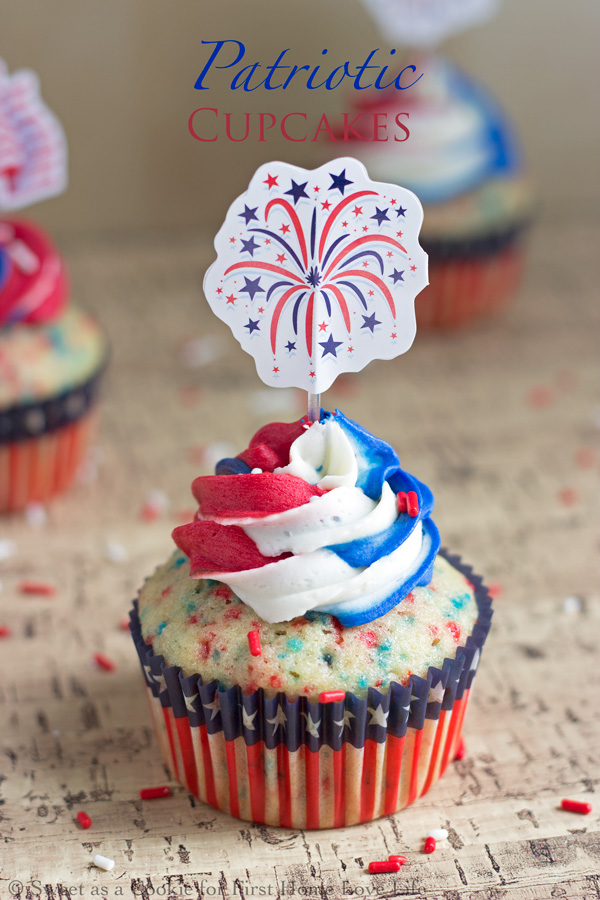 I love holidays. There's just something about having a "theme" when baking and cooking that just excites me. The 4th of July is right around the corner and I cannot wait. We live 2 miles from lake Erie and every year they take out a big boat in the middle of the water and light off the fireworks. The first year we went my boyfriend and I packed a picnic. It was amazing seeing the reflection of the fireworks on the water. It's almost like we're on vacation every time we go up to the lake. I have attached an image link to the park/lake to help you get a better understanding of our little slice of paradise.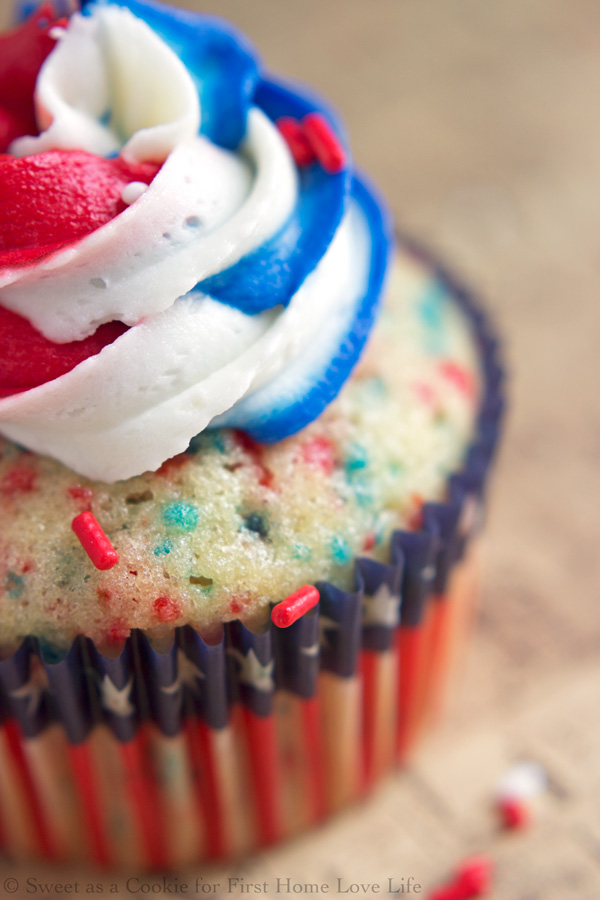 This year I think our parents are coming up to watch the firework show with us. Since we live so close it will be nice to be able to have a cook out before we head up and then after we can sit around a fire. I will be making these cupcakes again when the time comes. The combination of flavors in the frosting make these cupcakes all the better. What are your plans for the 4th? 🙂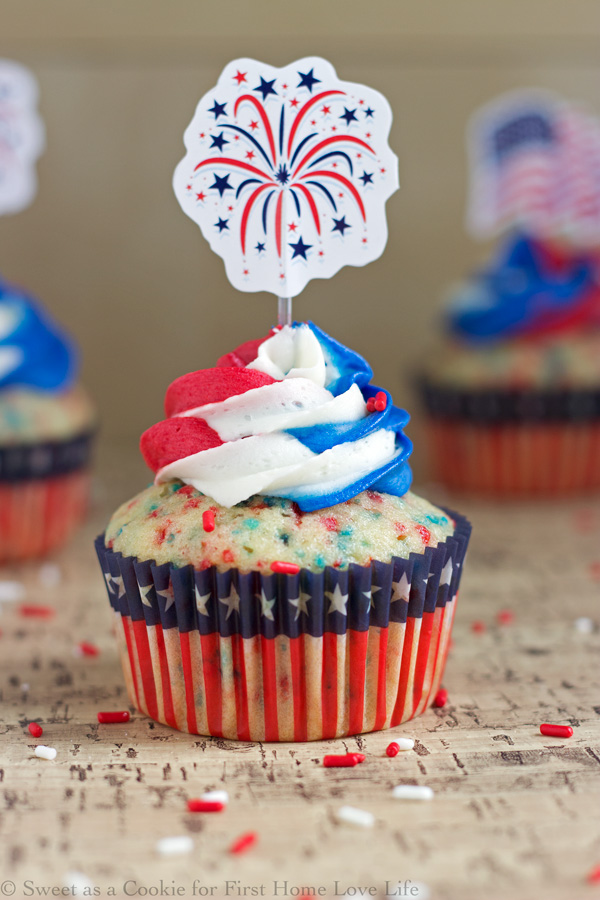 Ingredients: (Yields 12 Cupcakes)
1/2 cup butter, softened
2/3 cup granulated sugar
3 large eggs
2 tsp. clear vanilla extract
1 1/2 cups all purpose flour
1 1/2 tsp. baking powder
1/4 tsp. salt
1/4 cup 2% milk
1/4 cup red Wilton Batter Bits or red sprinkles
1/4 cup blue Wilton Batter Bits or blue sprinkles
Frosting
1/2 cup butter, softened
2 cups powdered sugar, sifted
2 tsp. heavy whipping cream or milk
1 tsp. clear vanilla extract
1/4 tsp. strawberry extract
red gel food coloring
1/4 tsp. raspberry extract
blue gel food coloring
Directions
Preheat oven to 350°F.
In the bowl of your stand mixer combine butter and sugar until fluffy.
Once fluffy mix in eggs one at a time.
Mix in vanilla.
In a separate bowl sift together flour, baking powder and salt.
With the mixer on low add in 1/3 of the flour mixture, 1/8 cup of milk, another 1/3 of the flour mixture, the rest of the milk, and the rest of the flour mixture.
Fold in the batter bits or sprinkles by hand.
Fill cupcake liners 2/3 of the way full with the prepared batter.
Bake for approximately 20 minutes.
Allow to cool before frosting.
For the frosting; In another large bowl cream together butter, vanilla and heavy whipping cream.
Once combined slowly mix in sifted powdered sugar.
Mix until frosting is light and fluffy.
Divide the frosting evenly between 3 small bowls.
In one of the bowls mix in the strawberry extract and the red food coloring (this can be done by hand).
In another bowl mix in the raspberry extract and the blue food coloring.
Leave the 3rd bowl alone.
To get the colors to pipe out in a swirl place each color into 3 smaller piping bags (I used 12 inch bags) and cut a small tip off of each.
Cut the top off of a larger piping bag (I used a 16 inch bag) and attach a star tip.
Stick the three smaller bags into the larger one, making sure all three tips made their way into the larger bags tip.
Pipe how you normally would and enjoy!

You can find Karissa from Sweet as a Cookie Here:
Blog | Facebook | Twitter | Pinterest | Google+ | Instagram
If you enjoyed this recipe you might also enjoy these: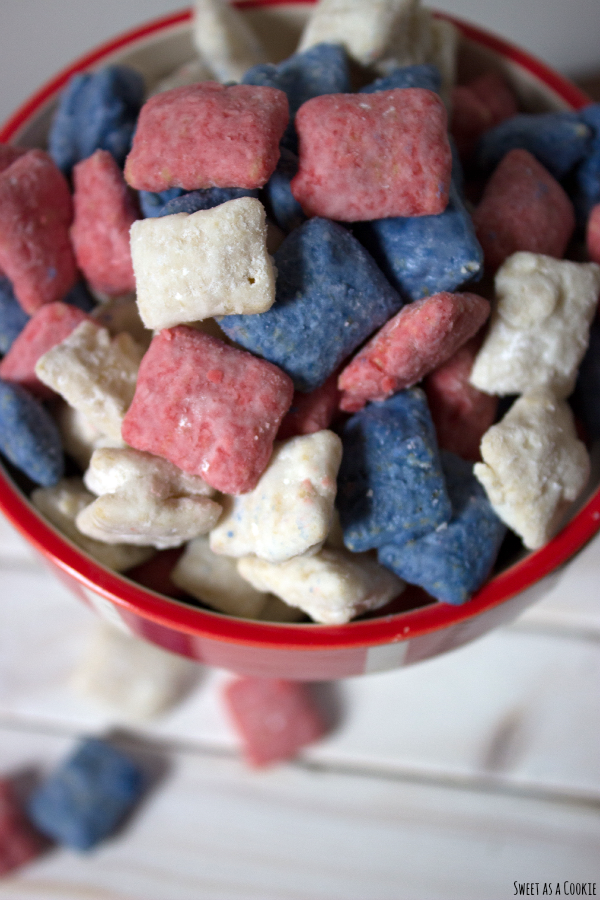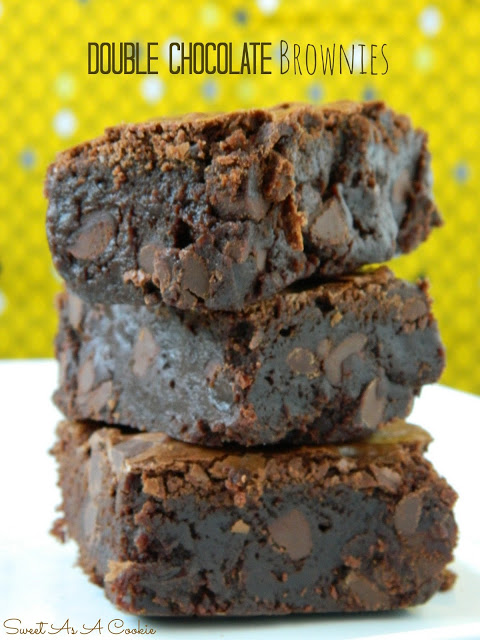 Lemon Supreme Rice Krispies Treats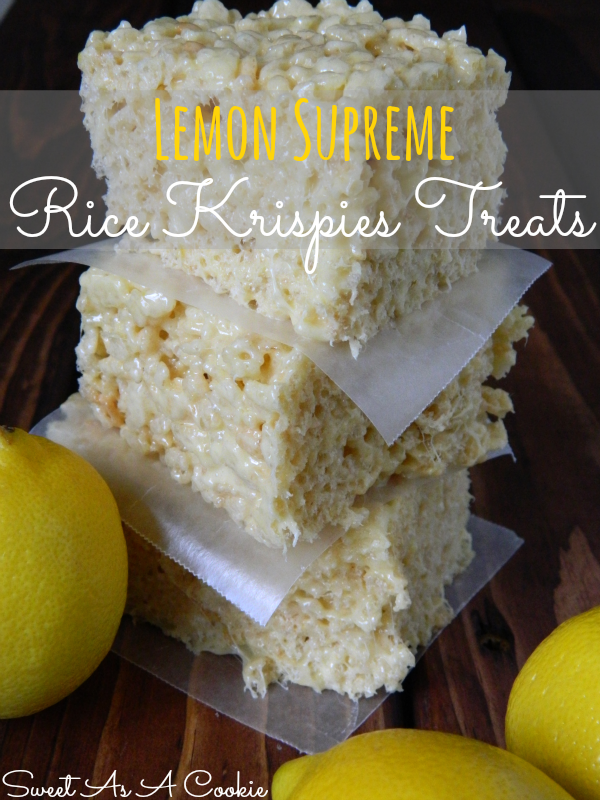 Comments
comments