Melt in your mouth pork tenderloin marinated in a citrusy mojo marinade is great on its own, but top it off with sweet and fresh mango and jicama salsa for a match made in tastebud heaven! Your family will go crazy for this Mojo Pork Tenderloin with Mango Salsa recipe…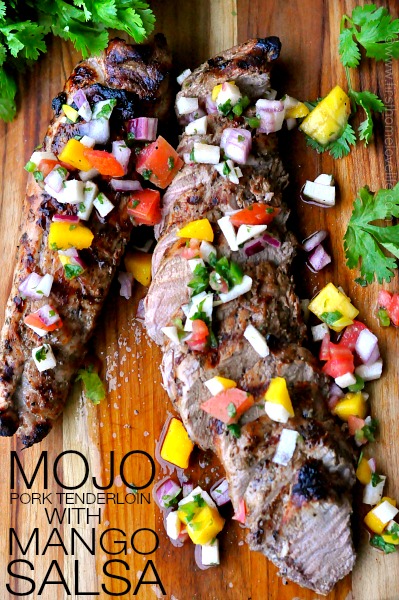 Don't you just want to lick the screen? Go ahead…I won't tell… 😉
Even though I don't really believe in the whole "New Year's resolution" thing, I did make a promise to myself this year and that was to lose weight. No number, just make a serious effort to take better care of myself and watch what I put into my body, eat more fruit (I already love and eat a lot of veggies), drink more water and for the love of yoga pants….move my butt!
Ugh. Let me be honest, I hate exercising. I just want to be able to eat what I love (mmm carbs) without having to do a million hours of cardio afterwards, is that too much to ask?! 😀
Yeah, yeah apparently it is…So I bought a few DVDs (TurboJam, anyone?), and some equipment like a big ball, mat, and light weights. So far so good, but I have a LONG, LOOOOOONG way to go to get rid of this dreaded blogger butt and gut combo. 😉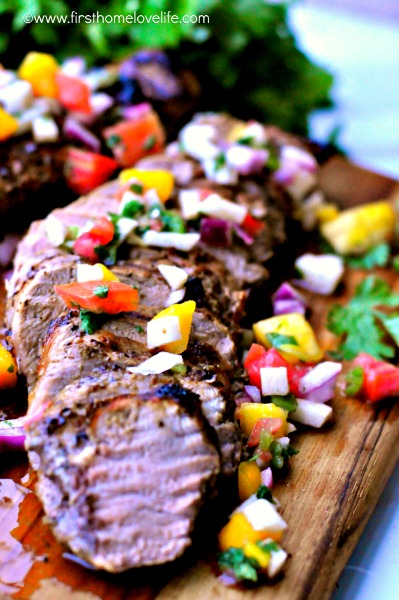 Lean meats are my go-to protein of choice right now, but when chicken and fish start to get boring I reach for the pork. Pork tenderloin  to be exact, infused with a delicious citrus marinade known as 'Mojo,' and a fresh, bright, clean, sweet and spicy salsa. Here's how to make it…
For the Mojo marinaded pork tenderloin…
2 pork tenderloins (about 2-3 lbs.)
 2 cups Badia brand Mojo marinade (yes, you can make your own…but WHY?! It's a dollar and change for a big bottle and it's delicious!)
1/2 lime
3 garlic cloves (smashed)
about a tablespoon each of salt and pepper
large plastic bag to marinade in
Add in your pork, 1/2 lime  (squeeze to juice and then throw the half in too), smashed garlic cloves, salt and pepper, and Mojo marinade to the plastic bag. Seal and squish around to mix everything together and refrigerate 6-8 hours.
Take tenderloins out of the fridge for about an hour before cooking.
Heat outdoor grill/grill pan on medium high
Remove tenderloins from marinade and place on hot grill, cover the lid and let them cook for about 15 minutes, turning them every 2 minutes or so to get grill marks on all sides. *If using a grill pan it might take slightly longer since you can't cover. Pork will be ready when it reaches an internal temp of 140-145.
Remove tenderloins from grill and wrap in aluminum foil to rest for 10 minutes before slicing.
For the mango-jicama salsa…
1 mango (diced)
1 jicama (diced)
2 plum tomatoes (diced)
1/4 cup red onion (diced)
1 jalepeno (seeded and finely diced)
1/2 lime juice
1 tablespoon of white wine vinegar
1 tablespoon Agave nectar or 1 teaspoon of sugar
about 1-2 tablespoons fresh chopped cilantro
salt and pepper to taste
Add everything into a bowl, mix together well, cover and refrigerate until ready to use.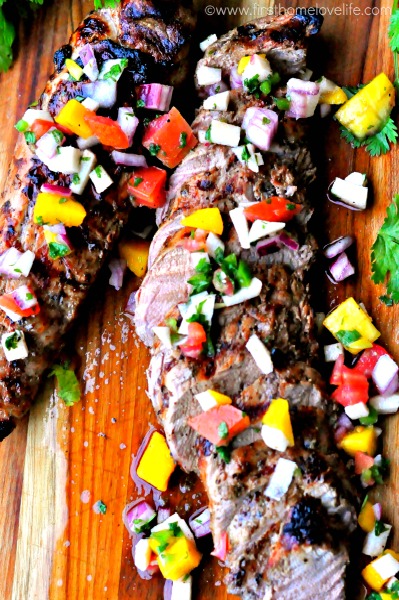 Delicioso.
I hope you enjoy this recipe, and even if grilling weather isn't in the near future whoever you are, file this recipe away as a MUST TRY for later. It's out of this world. 🙂
Talk to you soon friends, take care!
XO
Comments
comments