Whether you do all the house cleaning yourself or have hired help, keeping all of your cleaning supplies easily accessible and neatly (and pretty!) in this cleaning command center will ease normally daunting everyday tasks. 🙂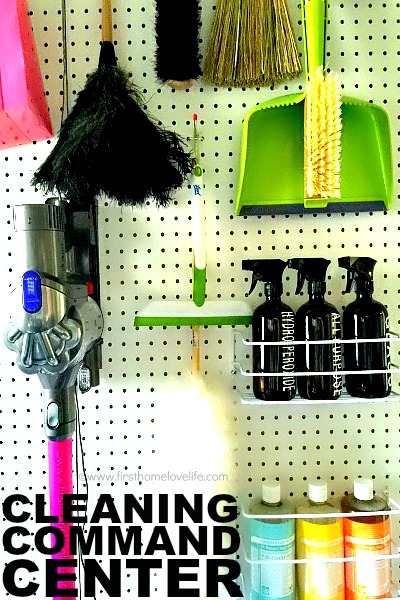 Yesterday I shared my laundry room refresh, and I just have to say that it feels so good to finally have an organized and WELL FUNCTIONING space to do laundry again. The smallest spaces in our homes always seem to be the hardest to keep clean and organized, don't they? I think for me it's mainly because a lot of the smaller spaces in our home have multiple purposes, and I'm sure a lot of you share that same dilemma.
Our laundry room not only houses our washer and dryer, but it also serves as a spare pantry/snack center, holds pet food and supplies, and now it's also serving as our central 'cleaning command center.'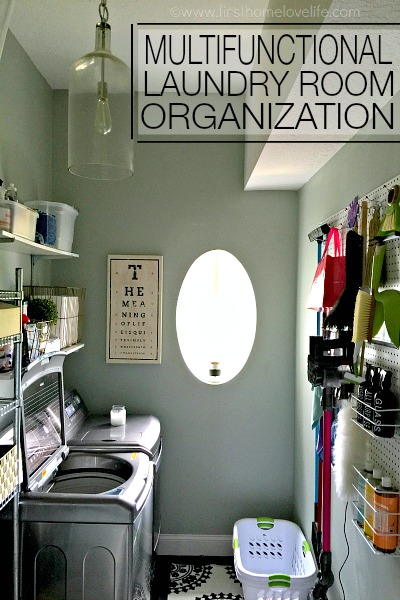 Our Dyson handheld has always been docked in the laundry room since there was an outlet right there, but other items like our mop and dusters and brooms were spread out all over the house. It was super annoying and stressful when I would try to find something quickly due to a spill or something breaking and not know where it was placed last.
I don't have a cleaning cabinet built into our kitchen, and I didn't want to give up linen closet space so I knew I needed to find room in the laundry room somewhere and that's when I realized I had a big empty wall that I could take advantage of the vertical space.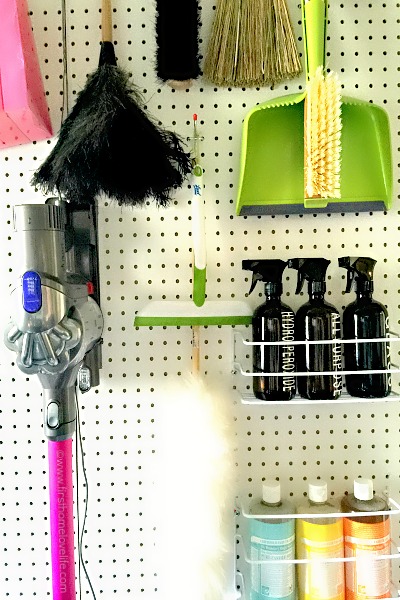 Pegboard is super inexpensive too! Like under eight bucks for a 5 ft x 3 ft piece. I bought 2 and hung them up using anchors and screws. And used an assortment of pegboard hooks to hang everything up . Since we already have pegboard in the garage, I had a few packs of hooks leftover, and those wire baskets holding the bottles are actually made for inside cabinet doors but work great on the pegboard by being hung with screws and anchors too. I'm not sure where I got those. Target? Walmart? Somewhere like that would have something similar…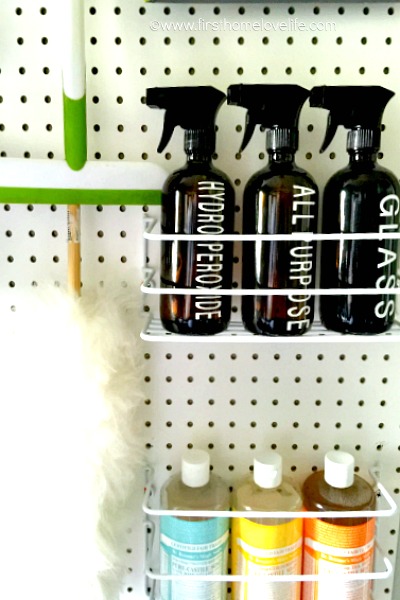 I recently read somewhere that if you make cleaning products, dog shampoo, or anything else with essential oils that you should only store them in amber bottles. It makes so much sense, since that's how essential oils come anyway. I found these Amber Glass Spray Bottle and used my Silhouette Cameo to cut out vinyl for the labels. Dare I say they make me actually want to clean now?! 😉
I also keep some good ol' hydrogen peroxide in an amber bottle too. I've been dabbling at cleaning some things with that. Just an FYI though-I'm not a die hard homemade cleaning product only person. I still find myself reaching for my favorite store bought cleaners with their delicious scents when I'm doing a deep scrub down, but I do like to keep it as green and natural as I can for daily wipe downs. 😀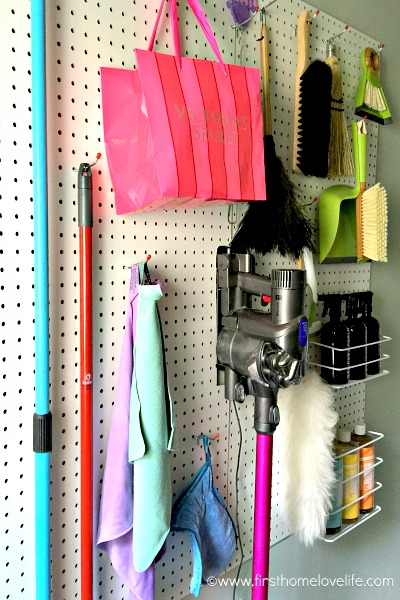 The main cleaning tools I like to keep handy…
microfiber mops (for the wood laminate floors)
rubber rake (amazing for getting dog hair off rugs!)
microfiber cloths
assorted dusters
assorted hand brooms
fly swatter
glass squeegee
my handheld vacuum
mop (I have stained concrete so a steamer doesn't work that great, plus I need a mop for polishing)
Oh! And of course lingerie…ha! Just kidding. The VS bag holds the Dyson attachments. 😉
I think that's about it, and all I can say is AHHHH.
I'm a big believer in making things functional and pretty, especially when it's stuff like cleaning items that most people can't stand to look at. Making a special space for them and displaying them in this way almost tricks me and makes me feel like I'm shopping in a high end cleaning boutique and makes it kind of fun 😉
I hope I've inspired you to find a way to organize your cleaning supplies.
Talk to you soon friends, take care!
XO
**This post contains affiliate links for easy online shopping. Thank you for your continued support! 🙂
Comments
comments