Don't forget the sides at your next summer party!
This crowd pleasing, easy summer macaroni salad recipe will soon become your favorite go-to. It will pair perfectly with anything you throw on the grill, or eat it all by itself for a quick weeknight meal.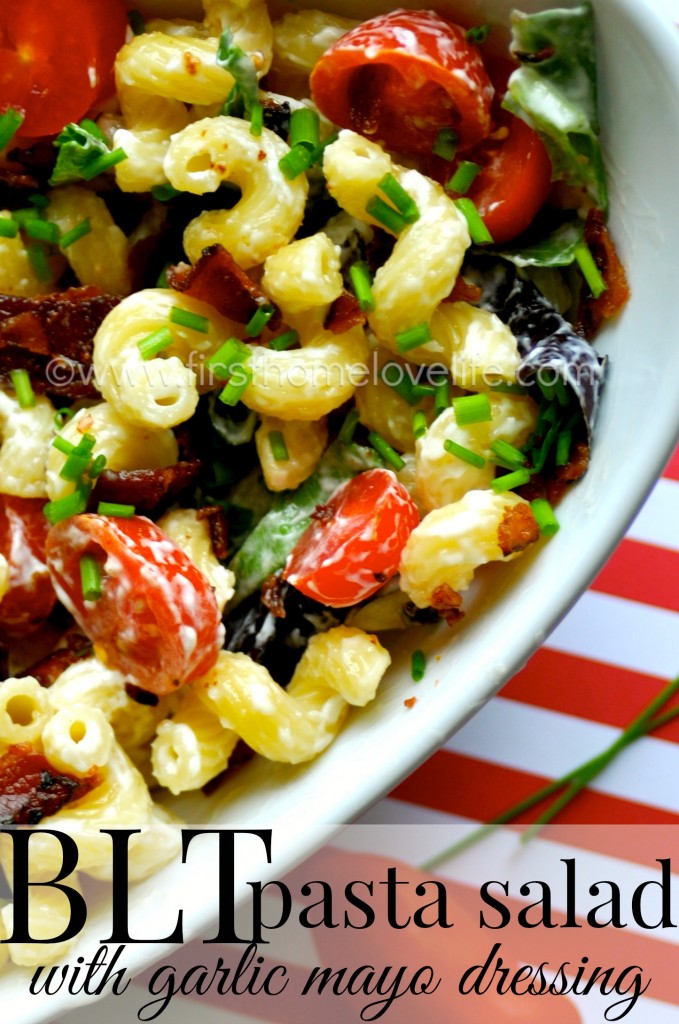 This is by far my family's favorite macaroni salad to make for summer pot lucks and BBQ's, people always go crazy for it, and it's one of the first things gone!
It's super easy to make, and ridiculously tasty…I mean, come on…who doesn't like garlic and bacon together…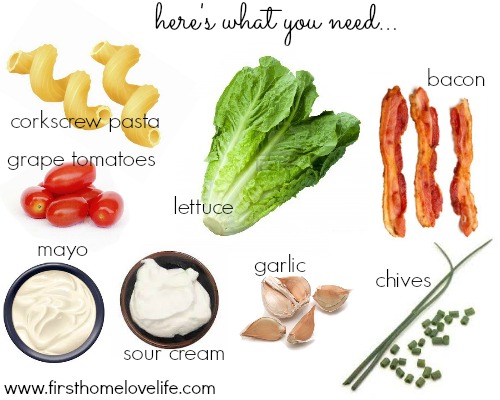 I put together the recipe below for you (it's even printable…I know…fancy shmancy!) Add more to it, add less. That's the beautiful thing about macaroni salads- you can't really mess them up! I've thrown olives, carrots, and red cabbage into the mix to shake things up. So be creative!
And just in case you're looking for a vegetarian option, omit the bacon…and it will be just as tasty. Promise!
Ingredients:
1 box corkscrew-shaped pasta
8 pieces good thick cut bacon
4 cups sliced grape tomatoes
5 cups sliced thin lettuce
1 clove garlic, minced
Kosher salt and freshly ground pepper
1/2 cup mayonnaise
1/4 cup sour cream
4 tablespoons chopped chives
drizzle of olive oil
Cook the bacon in a large baking sheet in the oven at 350 for 15-16 minutes. Drain on paper towels. Let cool, and chop into bite size pieces.
Cook pasta according to box, drain, set aside in large serving bowl and toss with a drizzle of olive oil.
Chop lettuce, tomato, and chives…set aside.
Mince garlic. In small bowl combine mayo, sour cream, and garlic, add drizzle of olive oil if too thick. Add pinch of salt and pepper, and 1/2 of the chives to mixture and stir.
Add mayo mixture and tomatoes to pasta…toss well.
Add bacon, lettuce…toss gently and garnish with the rest of the chives.
Serve at room temperature.
I hope you enjoy this recipe, and if you're looking for more tasty dishes check out my Recipe Page for more ideas!
Talk to you soon guys, take care!
XO
Comments
comments