This post brought to you by Bahama Breeze . The content and opinions expressed below are that of First Home Love Life.
Shake off the winter blues and dive right into summer with this blackberry margarita and a chance to win $100 gift card to Bahama Breeze Viva La Rita!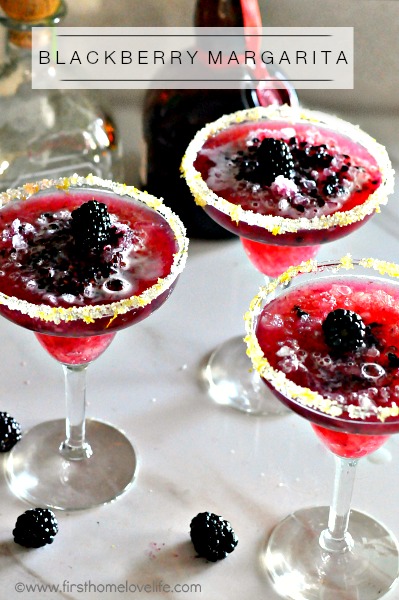 I love a great cocktail recipe, don't you? Since National Margarita Day is on February 22, I asked my husband (who just so happens to be a pro-mixologist) to step in and mix up one of my favorites. Not only are these margaritas absolutely stunning to look at and serve up at a party. They're down right dangerously delicious! Here's my husband, Tony, to tell you how to mix these babies up!
… … … … … … … … … … …
Hello there, as my wife mentioned I am a professional mixologist of 10+ years and have mixed a lot of drinks in my time. Everything from cosmopolitans to old fashioned, but the most popular and most ordered drink I have made is the classic Margarita. I have always enjoyed making classic cocktails, but the more I learn about flavors and how to mix different cocktails together, it's all the combinations you can do that makes the job exciting for me.
Today, I'm going to share with you my recipe for this Blackberry Margarita and hope you enjoy this next time your have a pool party in the summer months.
First step is to create the sweet and sour mix.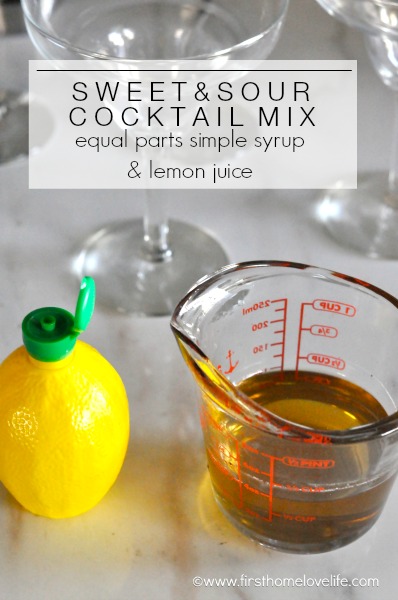 I'm not a fan of the pre-made mix you buy at the liquor store, for the best flavors in any cocktail you're better off making the mixers yourself. This step is very easy…
Create your simple syrup by mixing equal parts sugar and water. Combine both ingredients in boiling water and then let it cool down
Use fresh lemon juice and mix the simple syrup and juice together (equal parts of both). For example, if you use 1/2 cup of simple syrup, use 1/2 cup of lemon juice.
What is the most common rim garnish on a margarita? Salt, right?
I'm not using salt here, instead I'm using a lemon zest sugar rim. To make this, take a lemon and zest it over a plate of white sugar. The key here is that you have enough sugar vs. the lemon zest. If you have too much zest, the moisture will make the sugar to mushy and it will not stick to the glass very well.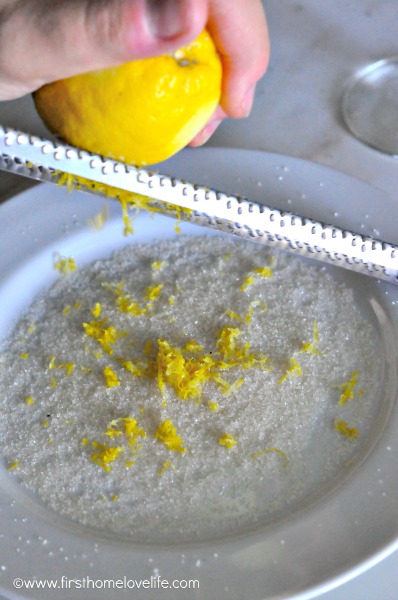 To rim the glass, pour some left over simple syrup on a flat plate, and dip the rim of your glass onto the plate and then into the lemon sugar zest garnish. Keep dipping the glass into the garnish until the rim is fully coated.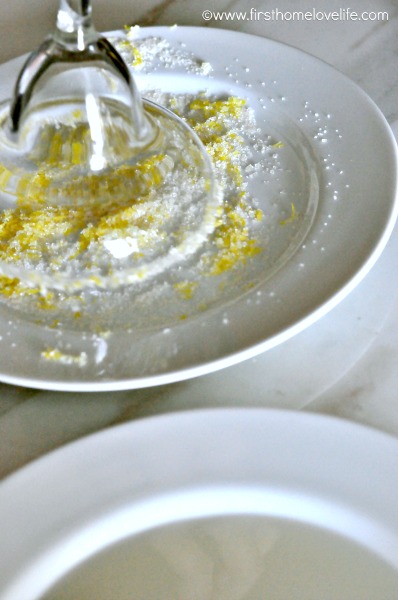 Now it's time to start mixing those margaritas! (Chrissy's favorite part- besides drinking them) 😀
*Recipe contains alcohol- must be 21 an older to enjoy responsibly*
For the ingredients you will need:
Your favorite tequila (Patron or Jose Cuervo)
Orange liqueur (Cointreau, Triple Sec or Grand Marnier)
Your homemade sweet and sour mix
Fresh blackberries
Agave syrup
Crushed ice
Now here's my step by step mixing recipe:
Take 3-5 blackberry's and muddle in a mixing glass.
Fill mixing glass with ice.
Pour 1 1/2oz of tequila (I'm using Patron Silver).
Pour 1/2oz  orange liqueur (I'm using Grand Marnier).
Pour 3/4oz of sweet and sour mix.
Pour 1/4 oz of agave syrup.
Shake vigorously until all ingredients are mixed together.
Take your crushed ice (you can make this in a blender) and fill your beautiful rimmed glass to the top.
When straining your margaritas, you must use a small strainer to keep most of the blackberry pulp out of your glass.
**Optional– Garnish with a fresh blackberry floating in the cocktail.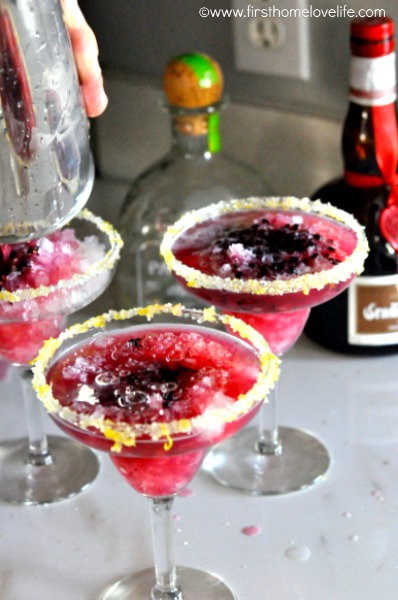 Wasn't he great?! I think he should start his own blog! 😉
From February 22nd (National Margarita Day) through May 5th (Cinco de Mayo) Bahama Breeze will be celebrating #VivaLaRita with their new margaritas, Friday night parties, giveaways and live music! My husband and I frequented Bahama Breeze when we were dating, and its still one of our favorite restaurants to date over a decade later, so imagine my excitement when they offered to give one of you $100 gift card to come in and celebrate with them!
Just follow the rafflecoptor prompts below to enter!
—
Talk to you soon friends, good luck and cheers!
XO
Comments
comments