A twist on a favorite sauce that can be used with SO MANY different things. Pasta, chicken, seafood, or just smeared on a toasty piece of bread…Make big batches of this walnut basil pesto, because it won't last long once your family tastes it!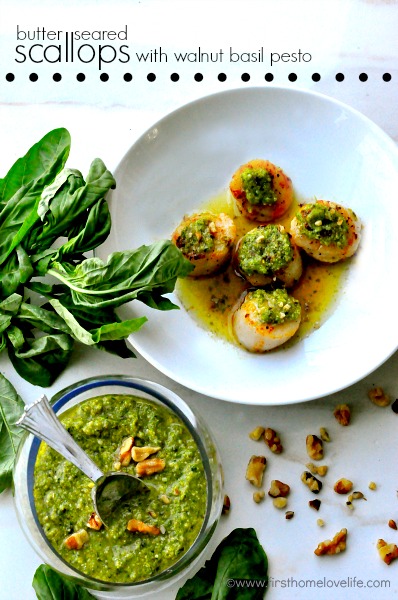 Whenever I think about scallops I think of my mom. She loved scallops, but would never make them for herself at home. I've never particularly been a fan of them myself, but like I mentioned in this post, I'm trying hard to eat healthier this year without getting in a chicken rut so I'm venturing out and trying to come up with easy, quick and healthy dinners that will keep me on track.
Pesto, while not exactly ''no fat,'' does have a ton of flavor and you don't need to add much to turn a boring bland meal into something spectacular. I've switched out traditional pine nuts for walnuts in my variation for a super healthy and satisfying nuttier flavor and texture. Here's how to make it…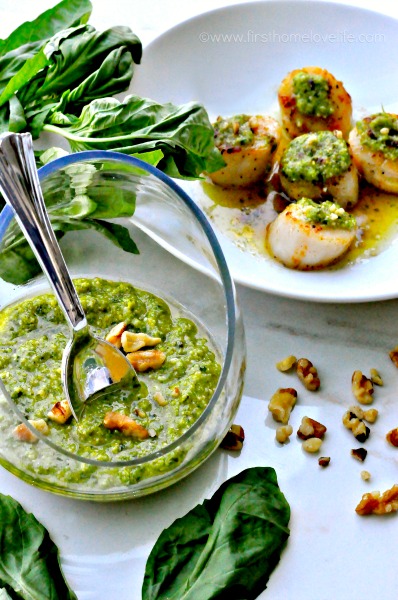 For the walnut basil pesto…
about 4-5 cups of fresh basil leaves
about 1/2 cup of walnuts
about 4-5 large garlic cloves (roughly 2-3 tablespoons worth)
about 3/4 cup grated Pecorino Romano
about 1-1 1/2 cups olive oil (depending on how wet you want your pesto)
Kosher salt and black pepper to taste
Add your walnuts into a food processor and pulse to begin to get them into smaller pieces. Add in your garlic, and pulse a few times more. Now add in your basil and cheese pulse until roughly chopped. Turn your food processor on and let it keep going as you slowly drizzle in your olive oil until everything is thoroughly combined. Pour into bowl, taste, and adjust with salt and pepper if needed. It will keep in your fridge for about 5 days in a covered container.
*I say "about" for each ingredient because everyone will have different tastes. Some like super garlicky pestos, others like the sweet basil to be the shining star. Don't be afraid to adjust the measurements to your liking. 🙂
As for the scallops…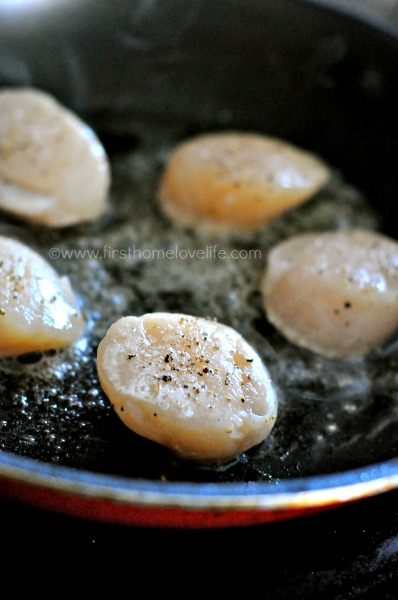 If you happen to find fresh ones in your area (lucky duck!) then they'll most likely come with the muscle attached. Remove that first, then rinse your muscles under cold water and thoroughly pat dry.
Sprinkle both sides with Kosher salt and pepper and set aside for a minute.
Heat up about 1 tablespoon each of butter and olive oil in a sauté pan set to high. When you see the pan begin to smoke a bit, add in your scallops on their flat side to build a crust. 1 1/2 minutes on each side should do the trick, with a nice golden crust on each side and a translucent center. They'll be buttery and delicious. 🙂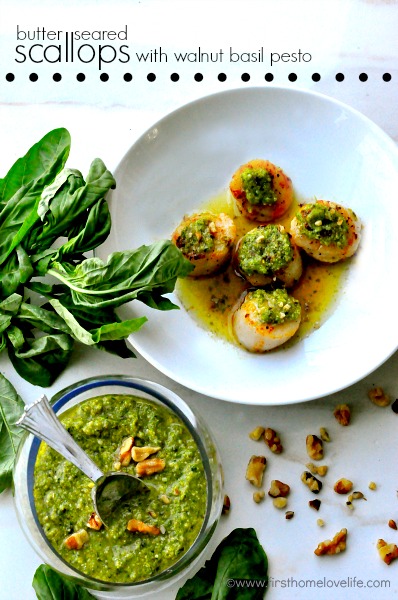 Yum yum yum. Whether you eat these two together or make the pesto on it's own, I just know your family will be happy if you do.
Talk to you soon, friends. Take care!
XO
Comments
comments