Smokey bacon and ham mixed in a decadent herbed chowder with chunky potatoes and sweet, juicy corn…Don't be surprised if you're licking the bottom of the bowl after trying this smokey ham, potato, and corn chowder!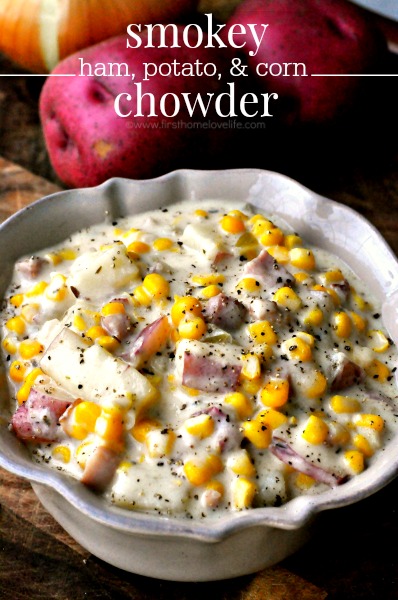 A few months ago we went to have dinner at our neighbor's house and one of the things served was a creamy corn and potato soup with bits of ham mixed in. It was a flavor combination I wouldn't have normally thought to put together but it was SO DELICIOUS and inspired me to make my own version at home.
After a few attempts and not getting the taste right the first couple of times, I finally came close enough on the third try, have made it a few times since, and it's quickly become one of our favorites now that the weather has turned chilly! 🙂
Why didn't I just ask for the recipe from him? Well, I did. But he's just like me in the sense that this was one of those soups that was a 'throw it all in the pot' type of dish that he concocted one night and didn't even really remember what he did or what he put in it. Lucky for me (and you) I am able to pick out ingredients in most things by taste and smell so even though my version isn't exactly the same as what his was, it's still pretty damn tasty and super comforting for this time of year! Here's what you'll need…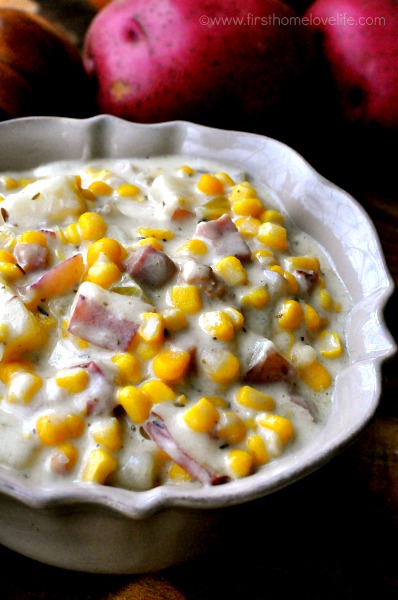 Smokey Ham, Potato, and Corn Chowder: Serves 6-8 comfortably
3 thick cut slices of bacon (chopped)
1 ham steak (cubed)
1 medium yellow onion (chopped fine)
2 garlic cloves (minced)
about 6 large red skin potatoes (diced into bite sized pieces)
(3) 10 oz. cans of sweet corn (drained)
8 oz. original cream cheese (room temp)
1 can condensed cream of celery soup
1/2 cup white wine
4 cups water
2 tablespoons Herbs de Provence (dry spice)
2-3 chicken bouillon cubes
3 bay leaves
salt and pepper to taste
about 2 tablespoons of butter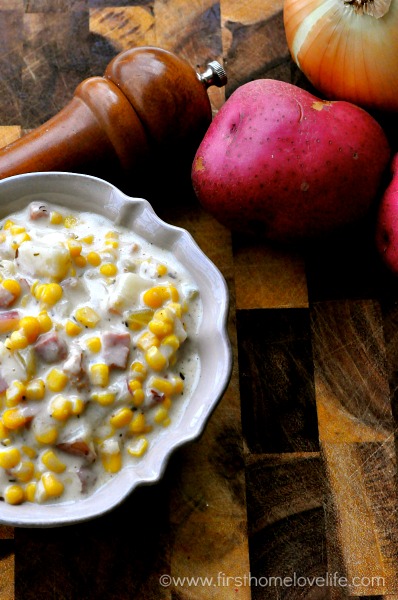 In a large cast iron soup pot, melt about two tablespoons butter on medium-high heat. Add in you chopped bacon and render the fat from the bacon, stirring often with a wooden spoon.
Once the bacon looks cooked through and crispy, and you have a good amount of bacon fat in your pot, add in the white wine to scrape up the bits from the bottom of the pot. Add your chopped onion and garlic, and cook for 2-3 minutes. Stir often.
Now add in your ham and corn and cook for another 2-3 minutes. Stir often.
Add in your chopped potatoes, cream cheese, cream of celery soup, and give everything a stir.
Lower heat to low setting, add in your Herb de Provence, bay leaves, chicken bouillon cubes, about a teaspoon of salt, and fresh ground pepper, and 4 cups of water.
Cover and cook for about an hour on low (**about half way through, remove lid and taste for seasonings. Since the bacon and ham are salty we don't want to add too much salt, but you may need more, so taste and adjust salt and pepper if needed)
*Now here's a tip!
While this soup is wonderful right out of the pot after an hour of cooking…The real magic happens if it's served the next day! So I recommend letting the soup cool completely and storing it in the fridge overnight. Not only will it be a thicker consistency the next day but the flavors will marry together more and it will be out of this world delicious, especially served with mounds of crusty Sourdough bread and butter to dip. 😉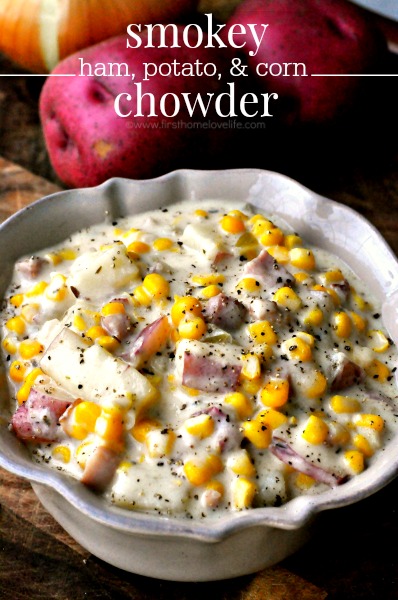 This Smokey Ham, Potato, and Corn Chowder is like a big warm hug for your body during a cold wintery day. I know your whole family will love it!
Talk to you soon friends, take care!
XO
Comments
comments