Buttery shrimp nestled in a bed of garlicky linguine sprinkled with sweet peas…15 minutes is all it takes to prepare this simple yet crazy flavorful meal! Hey…That gives you just enough time to pour yourself another glass of wine! 😀
As a half Italian, I'm committing one of the biggest food law faux pas'. Cheese over seafood….gasp!
I know. I'm ashamed, but it's just so dang tasty! Don't throw stuff at me…Unless it's this linguine…
…In that case, fire away…My mouth is open 😉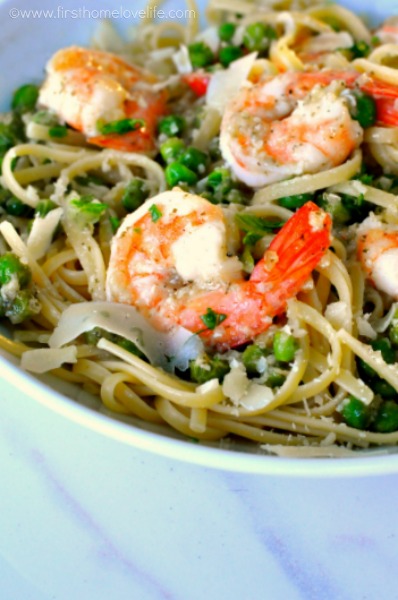 There are two things that I always keep stocked in my freezer. Frozen vegetables and frozen raw shrimp. Both of these things are so easy to throw into whatever you feel like making and they cook up super fast!
I always grab a bag of raw large or jumbo sized shrimp (whatever is on special or cheaper) and I get the ones that are already cleaned, but have the tail still on. It's great to have them all ready to go in the freezer and to be able to cook up a batch fast to eat on their own or throw into a pasta like this easy and super yummy shrimp scampi with peas.
Here's what you'll need…(serves 2)
1/2 pound linguini
drizzle of olive oil
4 tablespoons butter
2 shallots- finely diced
4 cloves garlic- minced
1/2 pound peeled and deveined raw frozen shrimp
1/2 cup Pinot Grigio or any dry white wine you like to drink
1 lemon (juice)
1/2 bag of frozen peas
salt (Kosher) and pepper
about a tablespoon chopped fresh parsley
**optional- shaved Parmesan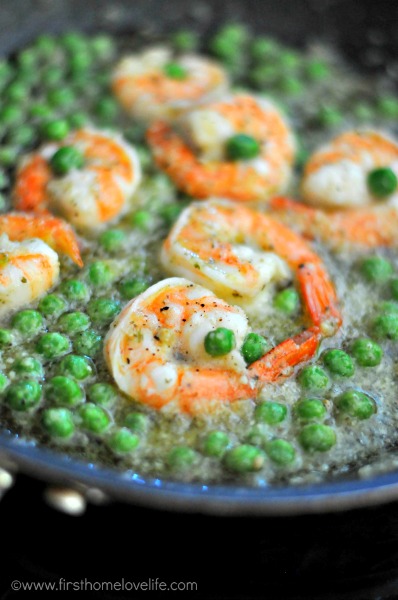 In a large pot, bring salted water to a boil and cook your linguine to Al Dente via package instructions.
In a large skillet (with lid) add 2 tablespoons of butter and a drizzle of olive oil, add shallots and cook for about 2-3 minutes
Add in shrimp and cover with lid for about 5 minutes, add garlic and cook for another 2-3 minutes or until all the shrimp are pink and curled and no longer translucent.
Season well with salt and pepper, and then take the shrimp out and put them onto a plate (this is so they won't over cook)
Add your peas, white wine, lemon juice, parsley and the rest of the butter to the pan-bring to a simmer. Taste and adjust seasoning if needed.
When the butter has melted and peas are bright green, add shrimp back into the pan, along with drained linguine and toss everything together.
Serve hot, and shave Parmesan all over if your heart desires. Go ahead, be a rebel 😉
Nom, nom, nom…
Sometimes the most spectacular dishes are the easiest to make with the least amount of ingredients, and this simple shrimp scampi with peas is just that!
I hope you enjoy this super simple recipe!
Talk to you soon friends, take care!
XO
Comments
comments