Sweet, savory with a hint of spice, these Thai Chicken Lettuce Wraps are the perfect meal when you're looking for something a little lighter…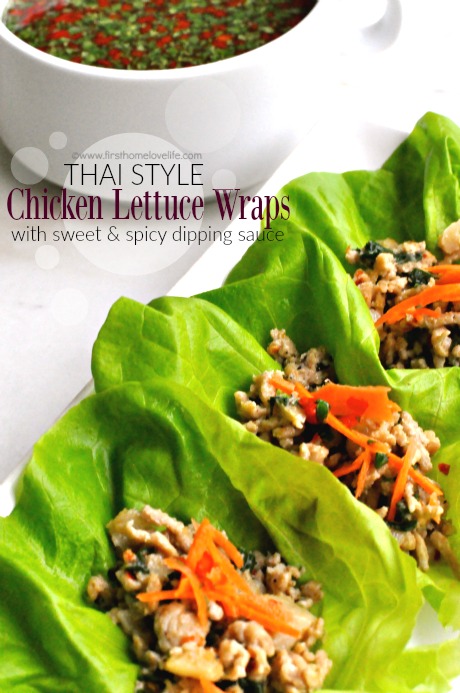 So good.
So, so very good.
That's the only way to describe these buttery lettuce cups filled with savory ground chicken with Thai flavors. Ginger, garlic, thai herbs and sauces…Making these is like traveling the globe in your own kitchen.
I've always loved lettuce wraps. It was something I ordered regularly when I would go out to eat at restaurants, but making them at home is actually super simple and doesn't require a lot of ingredients even though the flavor seems complex. Here's how to make them…
You'll need: (serves 2)
2 tablespoons oil (I used coconut)
2 teaspoons minced garlic
2 teaspoons mined ginger
1 tablespoon chopped cilantro
1 tablespoon minced lemongrass (get the one in the tube-easier)
1 tablespoon chopped green onions
1/2 lb. ground chicken (or ground turkey)
1/2 cup chopped water chestnuts
1 tablespoon premium Thai fish sauce
1 teaspoon chili flakes
salt and pepper to taste
8 large washed butter lettuce leaves
For the sweet and spicy dipping sauce you'll need:
1 cup sugar
1 cup water
1/4 cup lime juice
1 teaspoon rice vinegar
2 teaspoons fish sauce
1 red serrano pepper, seeded and finely diced
1 teaspoon fresh cilantro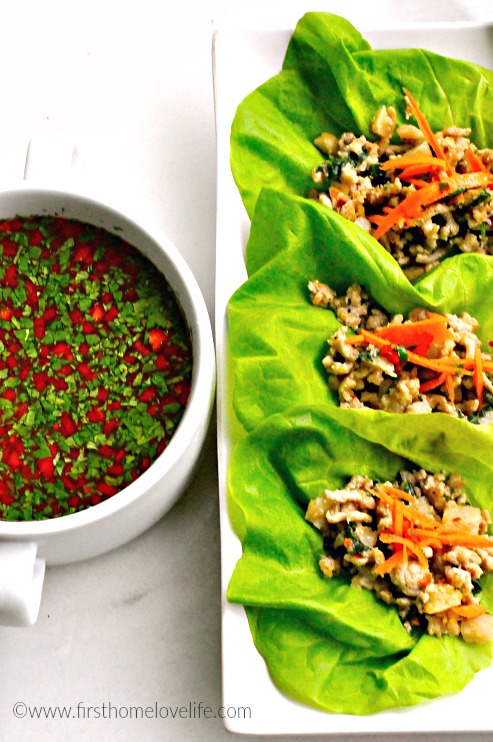 These could not be simpler to make. Here's how…
For the dipping sauce just throw all the ingredients into a blender and blend together. Pour it into a dish and pop it in the fridge so the flavors can marry together for a bit.
For the ground chicken mixture…
Heat oil in a sauté pan or wok, add in the ginger and garlic just for a minute so they don't burn.
Add in your ground chicken, and break it apart as it cooks.
After about 5 minutes add in your water chestnuts and continue to cook for another 2 minutes.
Add in the remaining ingredients, give everything a good those together and let it cook for another minute or two or until the ground chicken is completely cooked through.
Pour the mixture into a bowl and set aside until it comes to room temp and serve with your lettuce leaves and toppings.
I added shredded carrots just for some extra sweetness and crunch, but your can add whatever you like. Sliced radishes, fresh cilantro leaves, even some crunchy asian noodles on top for extra texture would be awesome.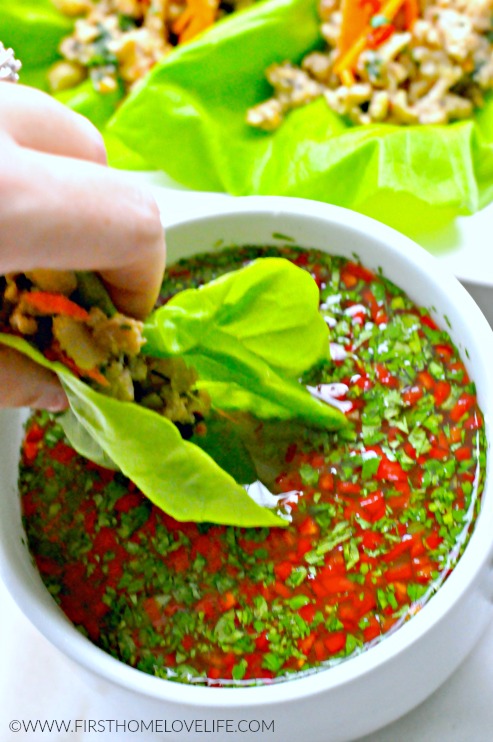 I'm pretty obsessed with these, and I hope you love them just as much!
Talk to you soon friends, take care!
XO
Comments
comments