Rigatoni tossed with a sauce made from fresh tomatoes and red wine, spicy Italian turkey sausage, shallots and garlic…lots of garlic 😉 Then topped with Provolone and Mozzarella and baked to bubbly cheesy perfection…yeah… This Rigatoni Sausage Bake is the perfect choice any night of the week!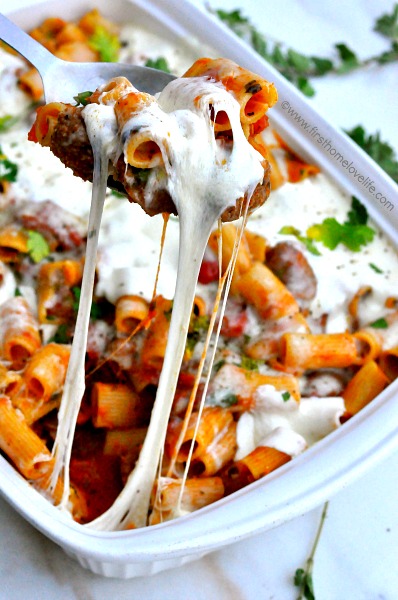 Things have been hectic to say the least around here. If you didn't already know by following me on Instagram, our lab babies had babies…11 of them to be exact! My heart is so full of joy right now! There's nothing better than puppy love and I get to experience it all day times e l e v e n!
But, of course my house is a disaster and will be for another 6 weeks or so before these babies head off into their new wonderful, loving homes. I also have been trying to cook meals in large quantities since we do get a lot of guests popping over to see them. That's why this baked rigatoni with sausage has come in so handy! Not only is it super delicious and filling, but it's so easy to make! Here's how…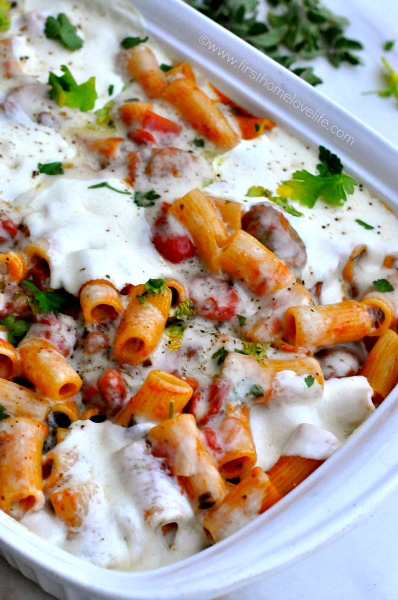 You'll need-
1 lb. spicy turkey sausage
1 lb. rigatoni
About 4-5 vine ripe tomatoes or Roma. Really whatever looks juicy will work.
2 shallots
3-4 cloves fresh garlic
3 tablespoons tomato paste
1/2 cup good red wine
2 tablespoons raw sugar
1 tablespoon each fresh basil, parsley, and oregano
1/2 teaspoon red pepper flakes
1 tablespoon dry italian seasoning
1 teaspoon garlic salt
Kosher salt and pepper to taste
6 slices of Provolone cheese
fresh mozzarella (sliced)
a few tablespoons of olive oil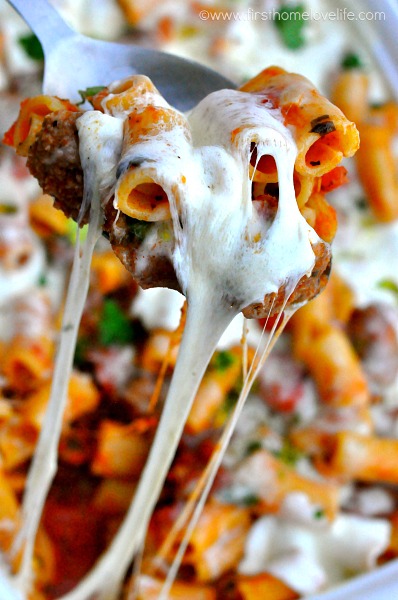 1. In a large sauté pan or similar add in a few drizzles of olive oil to heat up and add your sausage links to brown on all sides. While they're cooking go ahead and chop everything that needs to be added in.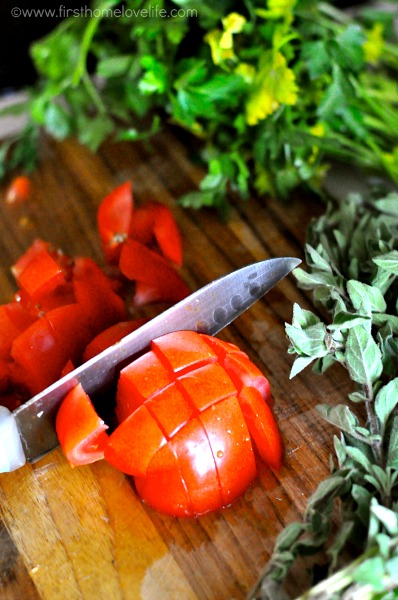 2. When the sausage is fully cooked, remove it from the pan and set aside. Add in a few more drizzles of olive oil and throw in your chopped shallots, garlic and tomatoes. Lower your heat to medium and toss everything around in the pan.
3. When the tomatoes begin to release their juice, add in the red wine and scrape up the bits on the bottom of the pan. Add in your tomato paste, sugar, and spices now too and give everything a good mix together.
4. Chop your sausage into bite size pieces and add them back into the pan. Stir everything together, lower the heat to low and cover for about 10 minutes or so.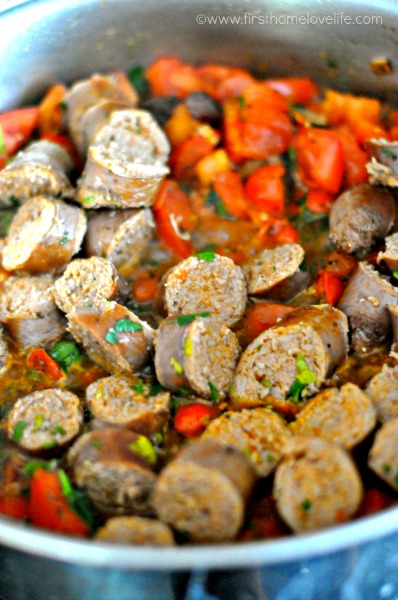 5. While that's cooking preheat your oven to 350. Also, bring a pot of water to a boil for the Rigatoni. You only want to cook the pasta for about 5 minutes. It will only be a little soft when you drain it, because it will finish cooking in the oven.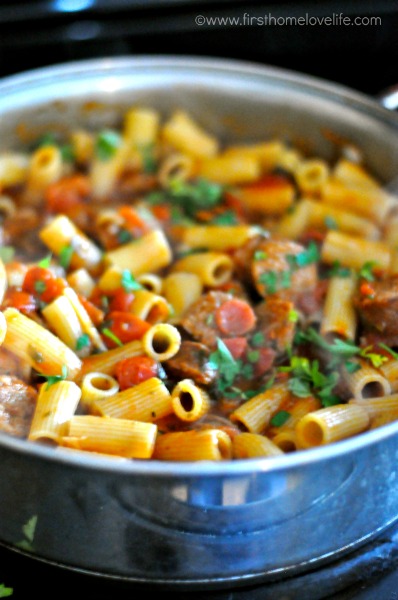 6. Add in your pasta to your sausage and sauce mixture. Toss everything together and then pour it into a 9×13 baking dish.
7. Top your pasta with slices of provolone and mozzarella cheese and drizzle with a bit of olive oil.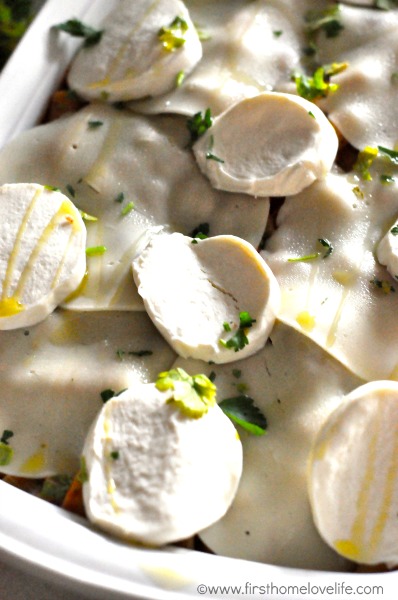 8. Pop it in the oven for about 15-20 minutes until the cheese has melted together and begins to bubble. Serve hot- room temp. It's even better heated up the next day. 😉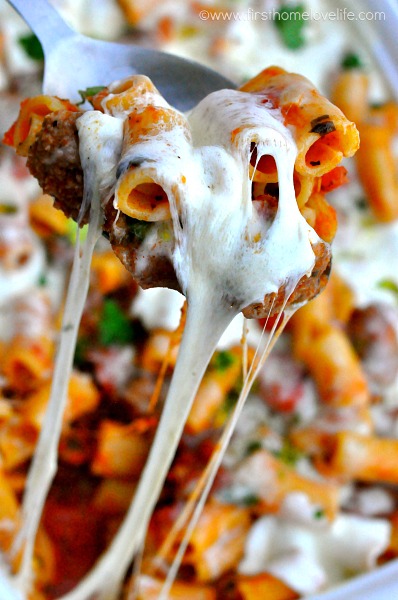 Could not be simpler 🙂
I hope you enjoy this super easy and tasty recipe!
Talk to you soon friends, take care!
XO
Comments
comments