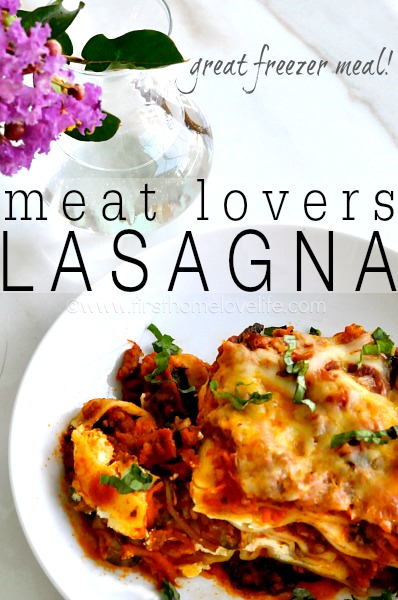 My husband has been dying for me to make lasagna for months now. Poor guy.
Of course, he marries a girl who happens to be half italian and doesn't care for lasagna…I know, I'm a freak. 😉 
Who doesn't love a great lasagna? One that is so creamy and filled with layers and layers of cheese, meat and sheets of pasta. Something must be wrong with me, right? I think it's a texture thing for me. It's too soft- does that even make sense?  I like my pasta super al dente, and it's just not possible to do that with lasagna. However, on occasion, I will give in and make him a pan so he can indulge and stuff himself silly with lasagna until I find him passed out on the sofa with a tomato sauce stained t-shirt and fork still in his hand.
I'm exaggerating, of course…He knows to put the fork in the sink before passing out 😉
In all realness though, I needed to make some freezer meals for a friend who has been under the weather lately so hubs got lucky since there was enough to make one for us too. Lasagna freezes great, especially this one. I swear it tastes better the longer it sits…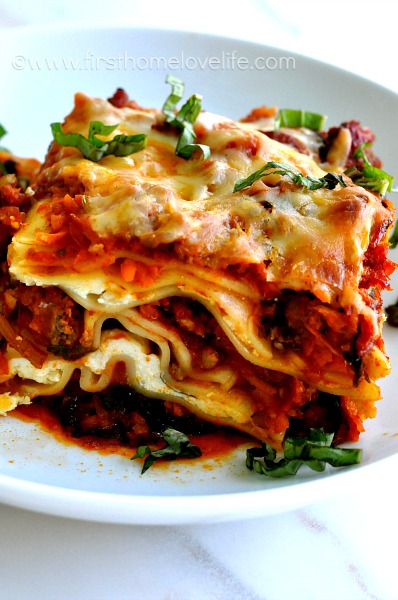 When it comes to any type of pasta dish, I'm known to stuff as many vegetables into it as possible. This lasagna? No different! Believe it or not it's filled with not only meat and cheese, but carrots, celery, spinach, chard, kale…
You could totally leave that out, but why? Get your greens while indulging, I say 😉
Here's what you'll need…(makes about 2 standard size lasagnas-serves many!)
1 pound ground sweet/mild italian sausage
1 pound lean ground beef (grass fed preferably)
3 large carrots (shredded)
1 celery stalk (shredded)
2 medium yellow onions (chopped)
4 cloves garlic (chopped)
**1 box "Organic Girl" Super Food mix (optional)
1 28 oz. can crushed tomatoes
1 28 oz. can diced tomatoes with italian herbs
1 12 oz. can tomato paste
1 12 oz. can tomato sauce
2 tablespoons raw sugar
1 1/2 teaspoons fennel seeds
1 tablespoon Italian seasoning
1 teaspoon red pep flakes
1 1/2 cups fresh sliced basil
about 4 tablespoons chopped fresh parsley
24 lasagna noodles
2 16 oz containers of ricotta cheese
2 eggs
about 1 1/2 pounds mozzarella cheese, sliced thin
about 1 1/2 cups grated Parmesan cheese
olive oil
salt and pepper
By the way…Do you know how hard it is to photograph lasagna? I'm talking real, actually cooked not set up and staged. It's almost impossible to make it look good.
::sigh::
I promise it tastes great though! 🙂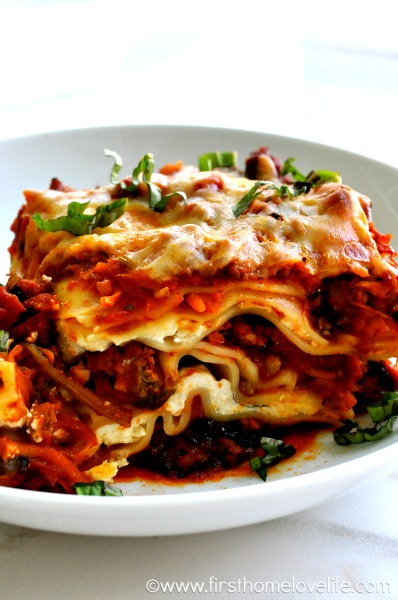 In a large dutch oven or similar pot, drizzle olive oil and brown your ground sausage and beef, breaking it apart into small crumbles. Season meat with salt and pepper.
While the meat is browning, chop your onions and garlic, and shred your carrots and celery (I did mine in the food processor)
Once the meat is cooked, add in your vegetables to the pot, lower the heat a bit to a medium low and cover for a few minutes to let the liquids come out of the veg.
Open lid and stir, add some more salt and pepper, and your dried spices, let cook for about 5 minutes uncovered.
Now add in your canned tomatoes, mix slowly, lower your heat if you have to, to prevent splattering
Taste sauce to see if it needs more seasoning, adjust if it needs it.
Lower heat to low and let cook covered for 30 minutes
After 30 minutes is up, turn off the heat and add in your fresh herbs, and the Organic Girl greens if you're using them. Set the sauce aside to cool a bit.
Get out a mixing bowl and add your Ricotta and 2 beaten eggs to it, sprinkle the mixture with salt and pepper and any herbs you would like to add (I put basil in it) mix together.
Preheat oven to 375. Get out your lasagna dishes and ladle some sauce in the bottom of them, now add a layer of your lasagna noodles (I used the kind that don't require pre-cooking, but if yours do follow the package instructions) add a layer of the ricotta, then some of the mozzarella cheese slices (I tear mine in halves to fit) and sprinkle with some of the Parmesan cheese, Repeat layers and top with the remaining cheese.
Cover lasagna with tinfoil and put in the oven for 30 minutes.
Open oven and carefully remove tinfoil, cook uncovered for an additional 15 minutes or until cheese melts and brown a bit.
Let the lasagna sit for about 20 minutes before serving if you plan to eat this right away, but if you plan to keep it as a freezer meal then let it cool completely then wrap in tinfoil and stick in the freezer. You will just have to pop it in a 350 degree oven for an hour when your ready to eat it.
I haven't tried to store it in the freezer without cooking first, but if you do and it works out, I'd love to know the details 🙂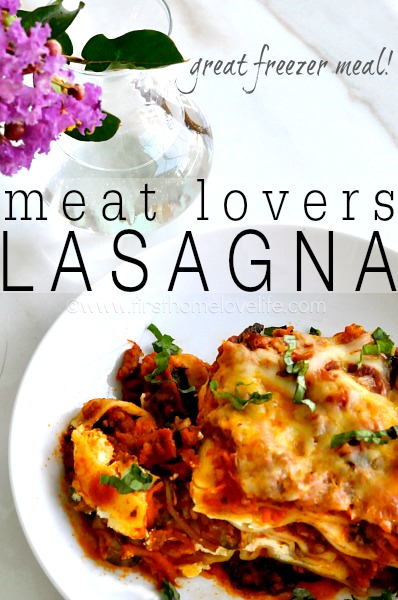 I hope you enjoy this recipe!
Talk to you soon friends, take care!
XO
Comments
comments