When we bought this foreclosure in 2011 there was a list of things we knew we were going to need to tackle within 5 years. Painting our home's exterior was one of those things. At first glance it looked okay, but within about a year of living here we began to notice the signs that we were losing time and this major expense was going to have to happen whether we were ready for it or not!
I had originally thought it was something we could DIY to save some money, but after much thought and weighing in a lot of different factors, my husband and I decided that it would be well worth the extra $$$ to call in the pros.
Here's what our sad, sad little foreclosure looked like a few months after we moved in three years ago…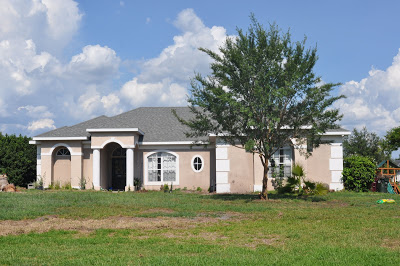 And some might argue that it doesn't look all that bad. Trust me when I tell you…It was pretty bad! 
At the point this photo was taken, we had already pulled out about 25-30 over grown and weed infested hedges that were planted too close to the house. Had the trees trimmed, and some were removed. The grass was…well…non existent, and the poor quality paint job that the bank did to sell the house was already showing signs of distress.
Want to talk about a money pit? This was starting to feel like one, and we were literally bleeding money to get the house up to the HOA's liking. We really worked on the landscaping and re-sodding of our house for the first year and half since that was what our HOA had the most complaints about. Looking back I don't blame them, but at the time it was infuriating getting notifications about our poor looking property that we had just moved into. Where were they when the house was sitting here abandoned. ya know!?
Here's how it looked mid-2012; a full year after we moved in…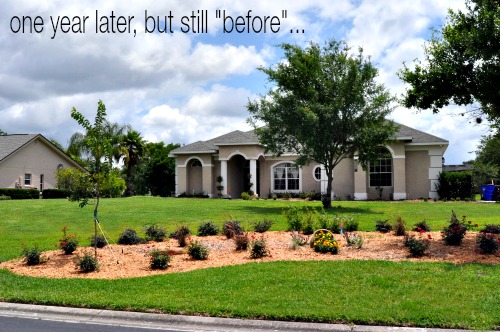 Lots of hard days filled with blood, sweat and tears went into getting it from point A to B, but we knew that the landscaping was just a bandaid really, and that the HOA was going to all too soon notice the growing amount of settlement cracks and fading paint on our house.
Right before Christmas last year we received the notification we were dreading. It was time to paint the house. I knew it was coming, and I knew it needed to be done. The cracks were really starting to show, and they seemed to be multiplying every day. We even started noticing small chunks of stucco were beginning to fall off in some places. The summer storms had really taken a beating on the paint and you could see where the run off from the roof was streaked all over our walls.
We asked for an extension from our HOA, we hadn't even thought about colors (the dirty salmon color had to go) and we needed to get quotes from every painter within a 50 mile radius…okay…maybe just 10…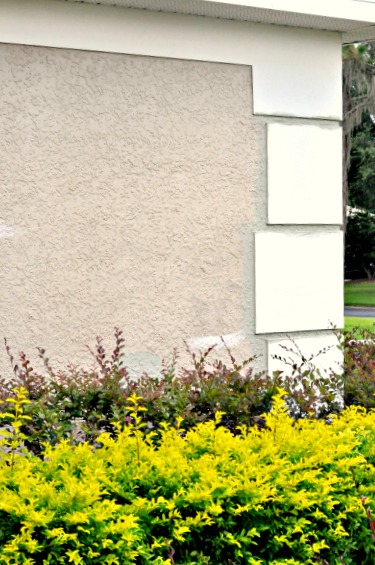 After months of interviewing different painters, and painting close to a bazillion different color swatches on the wall, our house finally got it's much needed facelift a couple of weeks ago, and all I keep thinking is…Thank God that's over!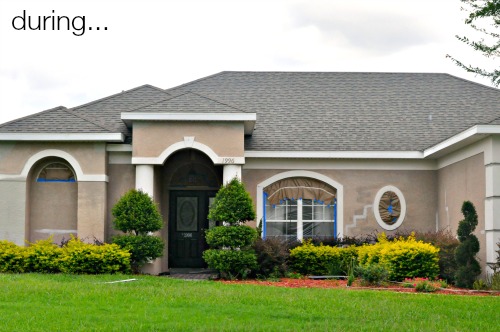 Currently…(It's hard to believe that this is the same house from the same angle)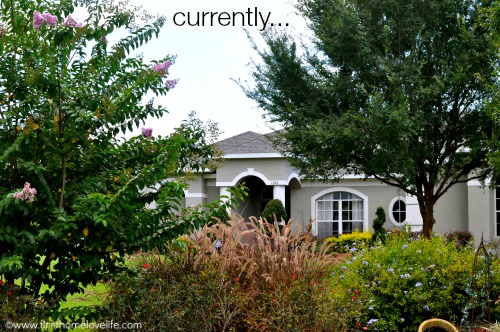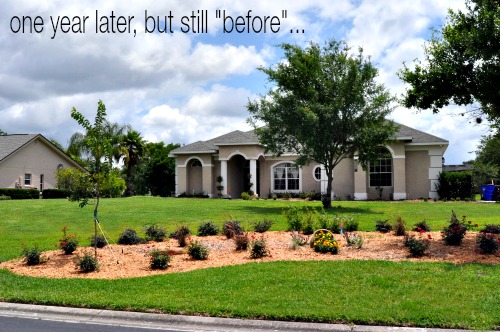 A better shot so you can see the color…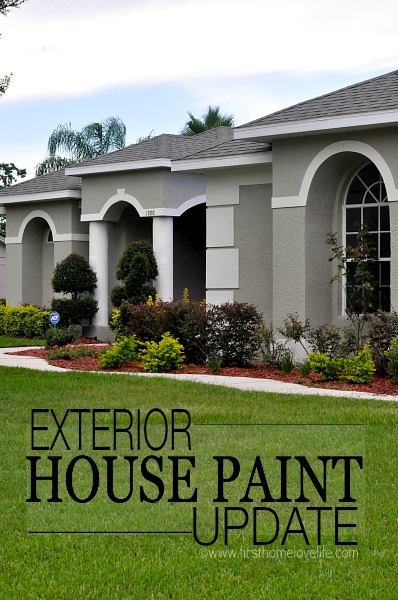 I'll share with you all the nitty gritty details tomorrow. A lot of lessons were learned through this whole process, but I'm so happy that this huge weight has been lifted from our home owning shoulders!
Are you planning to paint your exterior soon? Don't miss out on tomorrows post then!
Talk to you soon friends, take care!
XO
Comments
comments