If you missed yesterday's post, I showed you some before and after shots of our house's exterior. To say we've come a long way is an understatement! To fill you in on today's post though, let me just put this out there that this is NOT a DIY post. We decided after months of thinking about all the costs and factors involved that this project would be best left up to the professionals. I'm not against DIYing your exterior, but for me the main thought that kept haunting me was the fact that this was a long term investment…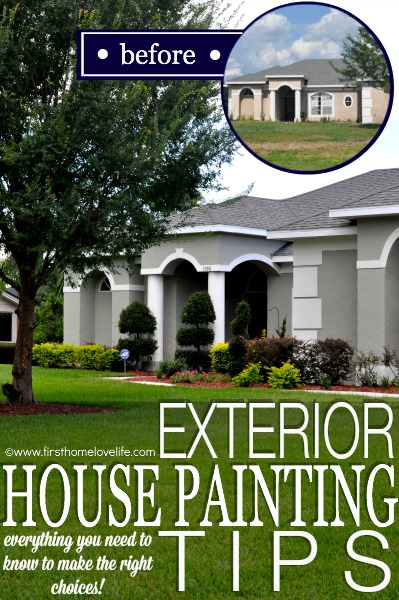 Exterior paint, done right with high quality materials and the proper preparations should last you 10-15 years. It's not a cheap project, and it's not something that can be easily changed unless you're willing to fork over a good chunk of money. I'd compare it to getting a new roof. Is that something you would DIY if you didn't own a roofing company or have the right equipment and know how? Probably not. With those thoughts in mind…Hiring professional painters was the route we decided to take.
With that said though… I decided to document and share everything I've learned about our journey so I could share it with you. If you're planning to have the exterior of your house painted in the next few years, I hope this post will help you in some way!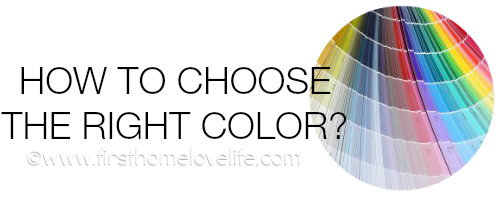 Oh, you guys. This is such a loaded question because there are SO MANY FACTORS INVOLVED! It took me a good 3-4 months and countless color samples painted to find the right color for our house, so I am definitely not a pro in this department! Originally, I wanted to be BOLD. I fell absolutely head over heels in love with dark charcoal almost black houses like this…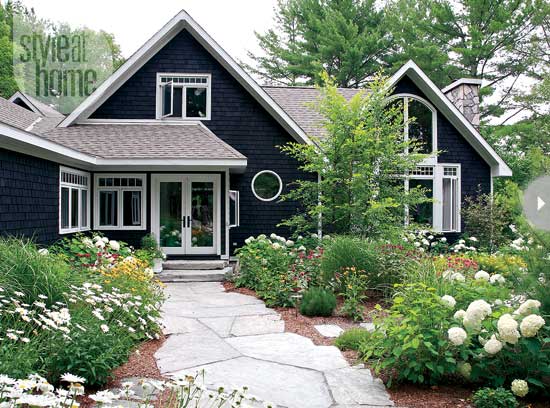 Notice something? It's not stucco, and it looks to be in a very shaded wooded lot somewhere north. Three things our home wasn't. I had to be realistic in my expectations and search for the 'perfect' color. After a while, and searching different color options on the web I started noticing that I was drawn to the greenish-grays on stucco. When I figured that out, that's when I started buying samples and painting HUGE squares all over the back of our house, but I kept getting it wrong. Every color I liked on a swatch looked totally too green on my house, which is NOT what I wanted. I wanted a more muted green, primarily gray. So that's when I decided to get dirty!  I stopped picking up they clearly-gray-on-swatch-green-on-house colors and started picking out their murkier sister colors. Bingo-We finally were getting somewhere!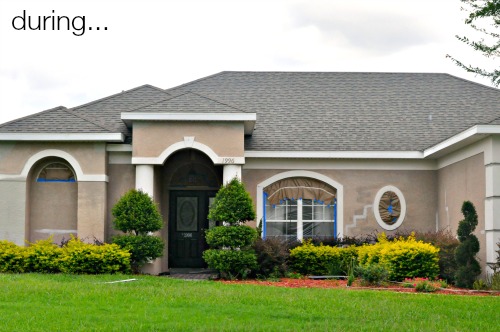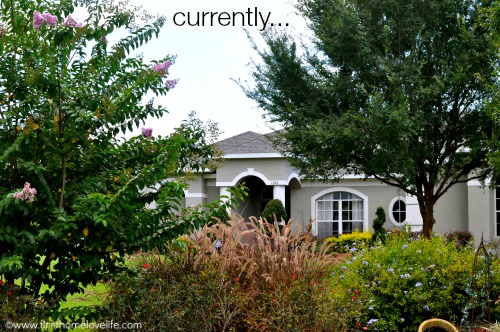 Our house color is Sherwin Williams Chatroom Gray, and our trim is Modern White. They're both on the same swatch card so that should make it easy on you if you're interested in testing it out on your own home. 🙂
So to recap and break down my tips for choosing an exterior house color…
Search the web for inspiration
Look for similarities on your house to inspiration photos
You won't go wrong with neutral earth tones on your exterior
Murkier colors for the win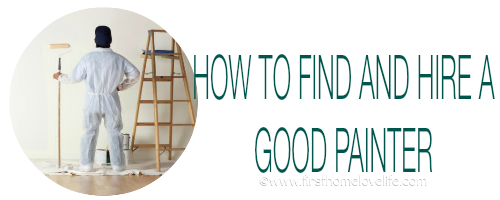 This is a big one. You've made the decision to spend the extra money and hire a pro…okay, now what?
Start searching- The best way to find a great painter is to ask around. We have a neighborhood website that we asked our neighbors who they recommended and we got quite a few different responses.
Social Media- Ask around local Facebook groups you're part of, or just do a shout out on your personal page…Usually one of your friends' friend's Jimmy's uncle's neighbor is a painter or knows a good one 😉
Another great place to ask is your local paint/ hardware store. They usually have a stash of business cards to choose from.
Start calling them for rough estimates (ball park price)- I probably called at least 25 painters. Some I immediately was able to X out because of the way they talked to me on the phone…FYI painting pros, if you're short and rude on the phone, you're probably losing business…just saying! 🙂
Once you've selected at least 3-5, set up a date and time for them to come by and interview them…yes, seriously.

Treat each painter that comes to give you an estimate like a candidate for a job. Create a list of questions ahead of time to ask them and print out enough for each individual. Clip it onto a clip board with a pen, and when they arrive, begin to ask your questions as you walk with them around your property. Make sure to write down their answers. One thing I also took note of on my sheet was if they arrived early, on time, or late for our interview. I also would add a little star at the corner of my notes, which was my symbol to let me know I liked him (professional, courteous, answered all my questions without an attitude, seemed legit…etc) Take note of those behaviors and traits, somehow. First impressions are everything, ya know?
After interviewing everyone, I was glad I had those written notes to look back on because after the first couple of guys I was already getting confused and forgetting who said what. Examples of some questions I asked when I was interviewing painters…
How long have you been in business?
Are you licensed? Do you have insurance?
What kind of paint/products do you use?
Do you subcontract out your work or do it yourself?
Can you provide references?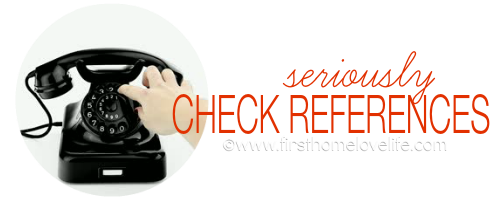 I think this is even more important if you get the name of this painter from a friend who knows the painter. Yes, the friend should have your best interest at heart, but he/she is also friends with the painter…who you are hiring and paying to do a job. Don't let personal relationships get involved in this. It's NOT personal, it's business.
Call a few of the references, and ask them what the painter did for them. Anything they liked or disliked about the experience working with them? Would it be okay for you to come by and check out what they did?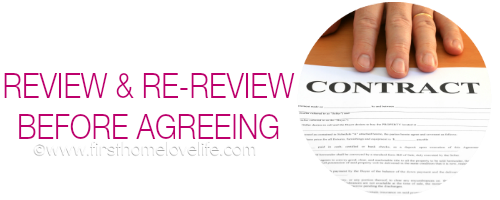 Once you've looked through your notes and compared the written estimates, don't be afraid to call them out on something. Originally I thought we were going with a certain painter, I liked him, liked the references, liked everything but noticed his price was a little lower then my second choice. Something didn't sit right with me so I called and asked why.
His quote didn't specify WHAT kind of paint was going to be used, just the brand/exterior formula, and when I asked about it I found out it was actually a cheaper formula than he originally said. So I asked him to re-quote me with the brand and formula paint I really wanted and that my second choice guy was going to use- Guess what?  His price skyrocketed. He didn't get the job.
Some painters have 'deals' set up with paint companies to use certain products. Double check everything. The more places these guys can cut corners, the more money that's left in their pocket. I would rather pay a little more and know I'm getting a great quality job with great quality products than to be left with something that's not going to last as long because I saved a few bucks. It's not worth in the long run.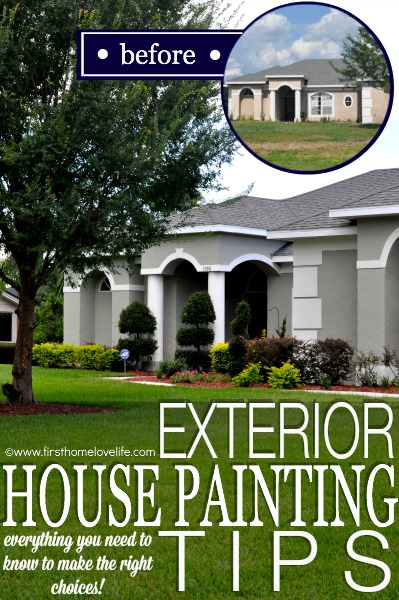 I can't believe it's over, done, finished, finito…
And I'm also relieved.
Having the exterior of our house painted was definitely stressful at times. It was a big decision, one I had to be content with for a very long time, and that's super hard for this change loving blogger! Ultimately though, both me and my husband are super happy with the finished result!
I hope you found this post helpful! As always, I'd love to hear if you would add anything to the mix, so drop me a line either by commenting below, on Facebook, or even an email! I'd love to know any advice you would give when it comes to painting a home's exterior!
Talk to you soon friends, take care!
XO
Comments
comments