Decadent, creamy, super satisfying. This out of this world ,creamy chicken noodle soup is the perfect, easy, and inexpensive meal on a chilly fall night!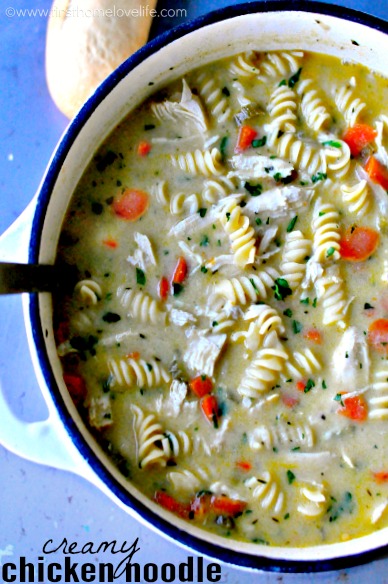 Ahhh fall officially arrived the other day…Well for a mere 24 hours, at least.
It was a glorious, crisp 70 degree day filled with windows wide open, kids playing outside, long dog walks, and soup making…Yes, soup. Because when it dips below the 80 degree mark, soup is needed to go along with my leggings and over sized sweatshirt even though I'm still sporting flip flops on my feet. Humor this poor Floridian, okay? 😉
My daughter was asking for chicken noodle soup all day, but I was craving something a little more creamy and decadent. I decided to thicken the chicken noodle soup broth so we could both be satisfied and well…It was simply spectacular. I don't think I'll ever be able to make just plain ol' chicken noodle soup again…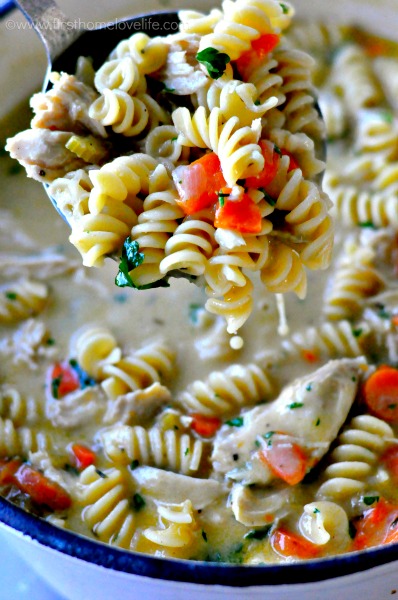 Here's what you'll need… Serves 6-8
2 medium-large boneless skinless chicken breasts
3 cups cooked rotini pasta (or whichever noodle you prefer)
1 large yellow onion (diced)
5 large carrots (diced)
4 stalks celery (diced)
2 cloves garlic (chopped)
1 1/2 teaspoons poultry seasoning (dry spice)
1/2 teaspoon celery seed (dry spice)
2 bay leaves
sprig of fresh thyme
2 tablespoons fresh parsley (chopped)
6 cups low sodium chicken stock
about 3/4 cup butter + 2 tablespoons
about 1 cup of flour
3 cups milk
1 cup cream
salt and pepper to taste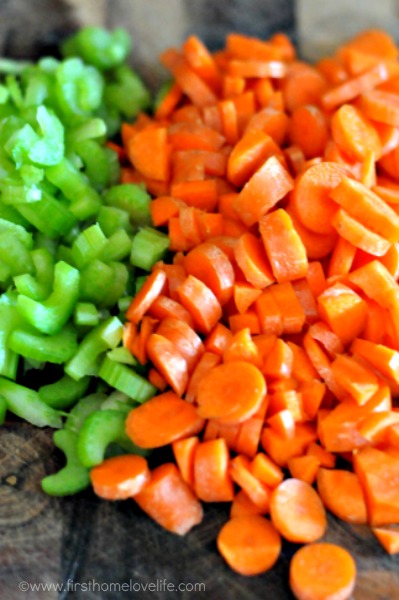 *Prepare your noodles according to package instructions, drain when just short of al dente, and set aside.
First chop up all your vegetables roughly about the same size so they can cook evenly. Add 2 tablespoons butter to your soup pot on medium-high heat, let it melt and add your carrots and celery to cook for 3-4 minutes. Then add your onions and garlic and let it continue to cook for another 3. Season with salt and pepper.
Once your vegetables have softened, add you bay leaves and sprig of thyme, poultry seasoning, celery seed and your chicken stock. Turn the heat down to medium. When the broth begins to simmer add in your raw chicken breasts cook for about 15 minutes. Season with salt and pepper.
While the chicken is cooking, put another pot on the stove and melt down 3/4 cup butter, add in your flour and mix together until it turns to a dough. Now whisk in your milk slowly and then more vigorously as the sauce begins to thicken. Add in your cream and bring to a slow boil then remove from the heat and set aside for a minute.
Shred chicken with two forks to desired size, add back into creamy soup, and add cooked noodles and chopped parsley. Stir everything together and adjust for seasoning if needed.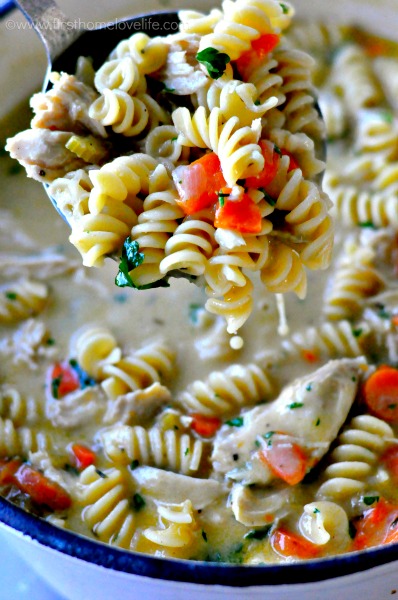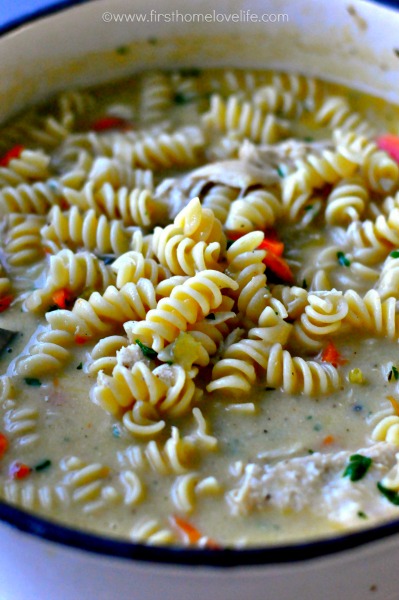 Perfection. Really there's no other word to describe it.
Creamy, and oh so satisfying. My only disappointment is that the weather is not currently cooperating as it's climbing back into the mid 80's this week so I'll have to wait to make it again. But, if you're one of the lucky ones that get to experience crisp sweater weather and breezy autumn nights then make this…
Like, now. 🙂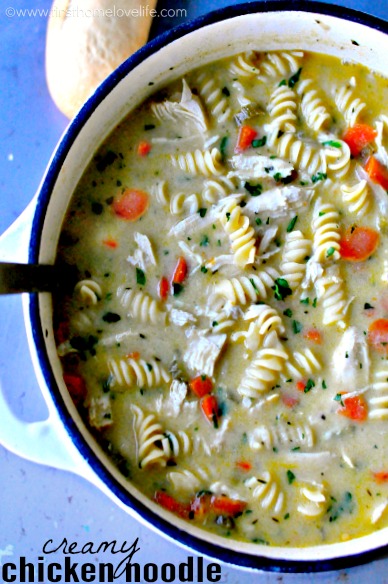 I'll live vicariously through your tastebuds until I can make it again. 😉
I hope you enjoy this soup recipe! Check out my other soup/stew recipes while you're here.
Talk to you soon friends, take care!
XO
Comments
comments