This delicious and hearty beef stew recipe will warm you up on those cold winter nights!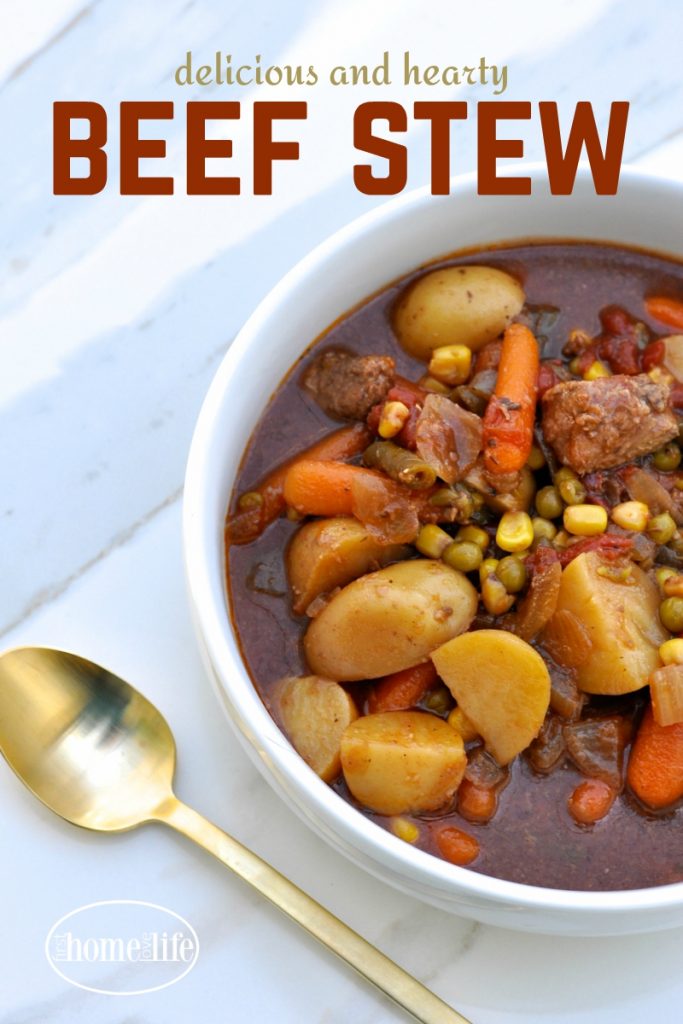 Here's what you'll need to make the best beef stew…
Ingredients-
2 lbs. of stew meat (cut in half if the pieces are too big to fit on a spoon)
2 lbs. of red potatoes (skin on, cut into quarters)
2 large yellow onions, sliced
4-5 cloves garlic, chopped
4 large carrots, peeled, chopped into rounds
1 lb. of button mushrooms, quartered
1 bag of frozen green beans
1 bag of frozen corn
1 bag of frozen peas
1 28oz can crushed tomatoes
1 28oz can peeled plum tomatoes
4 tablespoons of "better than bouillon" beef flavor
flour
salt and pepper
3 large bay leaves
2 tablespoons of dried thyme
water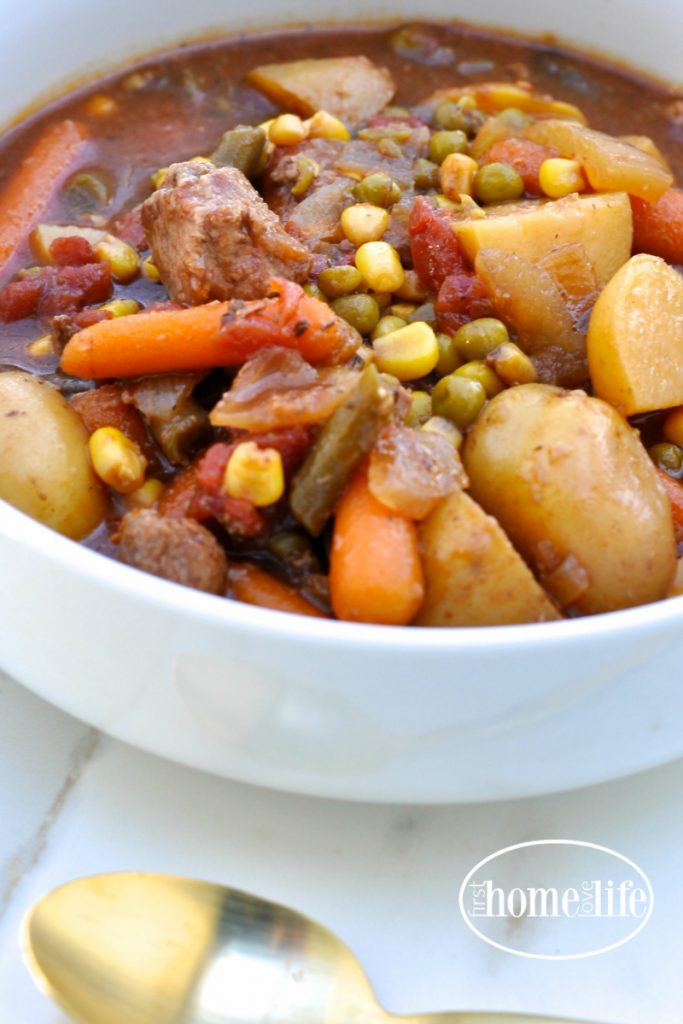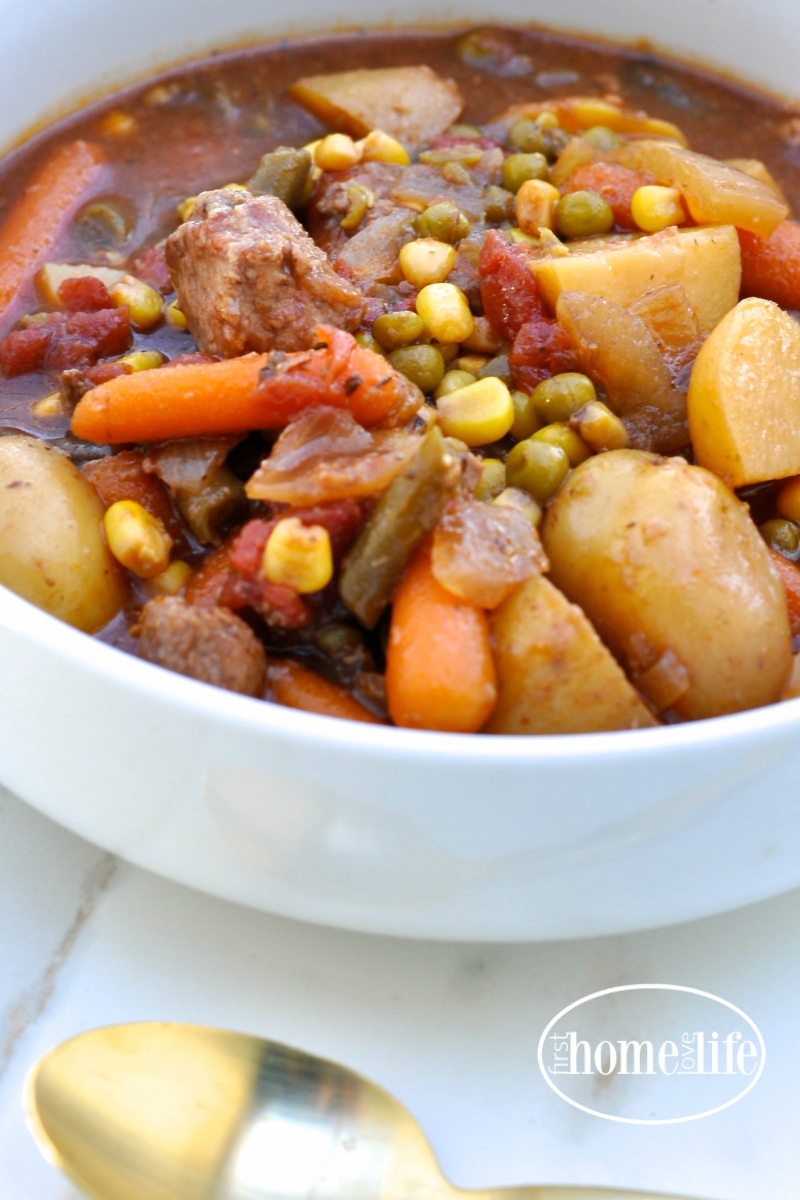 The first thing you need to do is brown your stew meat to make a crust on it. This just brings out the flavor in the beef. Give you stew meat a good sprinkle of salt and pepper and then a light dusting of flour. (now here's the thing, if you want to make this stew in a crock pot, you will need to do this step in a sauté pan, and then move the browned meat to the crock pot. If you're doing this in a large cast iron soup pot-perfect! )
Once all the meat is browned nicely, add your potatoes, onions, garlic, mushrooms and carrots to the pot the stew is cooking in with the meat. (Lower the stove to medium-low) (crockpot peeps: set your dial to cook for 8 hours)
Give everything a big pinch of salt and pepper and a stir.
Now add your two cans of tomatoes, and with your spoon, give the whole plum tomatoes a squish.
Mix everything up, toss in your bay leaves and thyme and pour in water until everything is covered.
Now stir in your beef base, cover the pot and let it simmer slowly for about 4 hours. (crockpot peeps: set it and forget it for 6 hours)
Just before it's ready to serve toss in the frozen green beans, corn, and peas and mix it in. Also give it another stir and taste to see if it needs more salt and pepper. (crockpot peeps: toss in your frozen veggies and continue to cook for 2 more hours)
After that you'll have a delicious, hot and satisfying bowl of beef stew with melt in your mouth beef, soft potatoes and carrots, and green beans and corn that still have some texture and crispness to them. It's seriously lick the bottom of the bowl clean good!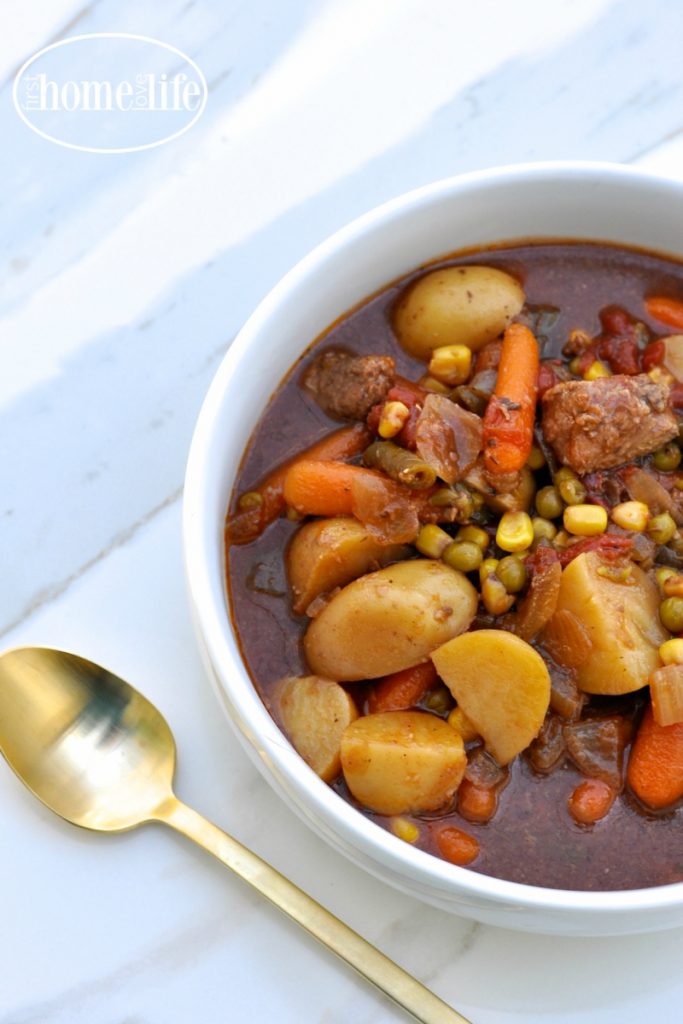 This recipe makes a TON of beef stew. Seriously, enough for a week in our house! But no worries because it freezes beautifully! So make the big batch and then you'll have hearty beef stew to warm your bones on the cold winter nights!
I hope you enjoyed this recipe. It's definitely a family favorite in our house, and if you do make it-please leave me a comment either here or on my Facebook page letting me know how much you loved it!
Looking for more soup and stew recipes? Take a peek at my soups/and stews page for more delicious ideas!
Talk to you soon guys, take care!
XO
Comments
comments