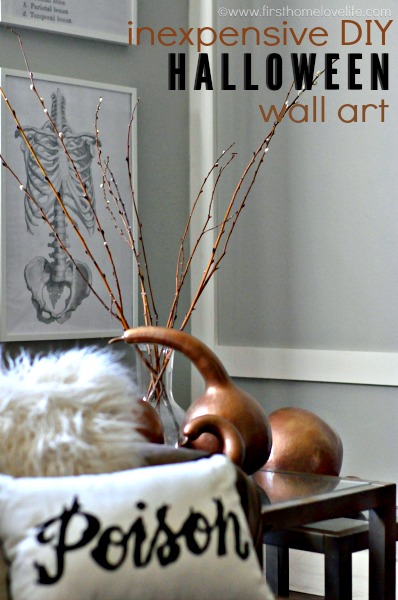 Can I speak from my heart for minute? I'm really trying to stay true to myself this year and keep holiday decorating as simple as possible. It's so easy to get swept up in the seasons as a blogger and want to craft and decorate to my hearts content, but every year I've done that I've felt kind of disappointed with myself and the end result. The only way I can explain it is like watching a fireworks display only to find out there's no finale at the end.
The seasons become blurred in this online world and I've really struggled over the past few years to find my footing.
Yes, I absolutely love to create blog posts to give you all ideas and tips and recipes…
But, I really despise doing it just for the sake of 'creating content.' It's a rat race of who can put out the most stuff first, and I somehow got swept up in it.
I've really changed gears this year and only blog about what I really love. What I really am doing in our house. What I'm currently organizing… Cleaning… Cooking… Decorating…
…And I've been so happy.
So while it might seem like I'm not doing a lot of crafting or decorating…It's because in reality, I'm not that person. I'm not really a crafter who makes the 100 trick-or-treaters Pinteresting treat bags, or bake my daughter's class a cupcake cemetery with lifelike wiggly worms.
Most of my Halloween decor is store bought, not handmade…and you know what? I'm SO okay with that and hope you are too. 🙂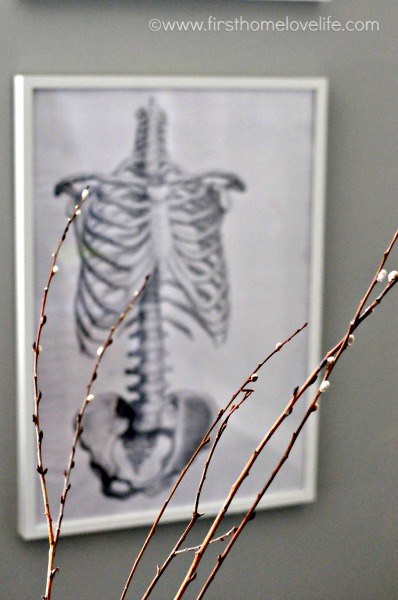 Because if I do post something I made, it's going to be so incredibly easy to do. No crazy crafty skills required 🙂
Like today's post…Super cool, creepy, and inexpensive DIY Halloween wall art that ANYONE can do!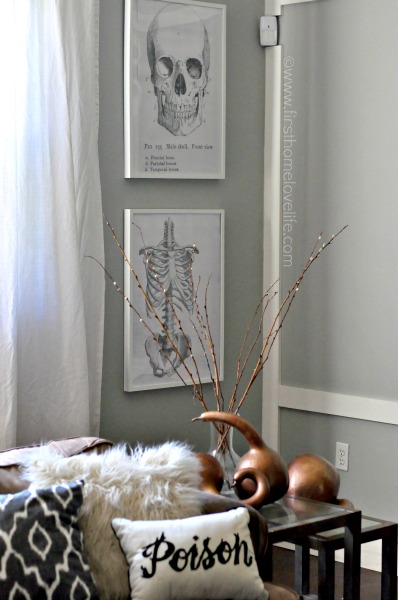 Engineering prints have been around blogs for a while. I showed you last year how I made a FREE custom Christmas printable with one, and this year I'm getting spooky with it 😉
I love engineering prints because 1. They're crazy inexpensive-like a dollar and change. 2. Because they're HUGE! and 3. Because they're HUGE AND CRAZY INEXPENSIVE so why not think of creative ways to use them?!
So I ended up Googling 'old anatomy charts' and picked out the ones I liked. Then went to Staples.com and ordered them in 18×24 Engineering Prints. They were available in a few hours for pickup.
Still with me? I told you this was super easy! 🙂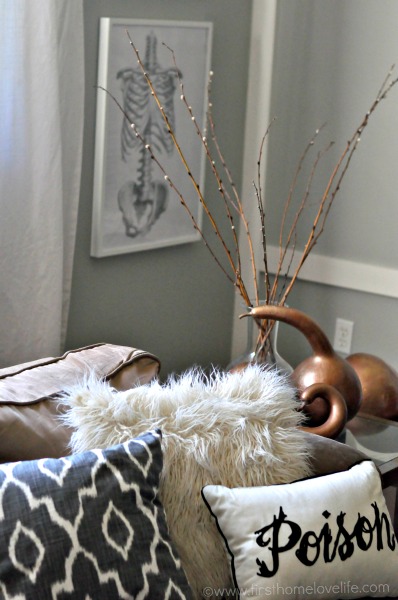 Then I just removed the Agate Watercolors I painted from their Ikea frames and replaced them with the engineering prints. Ta da!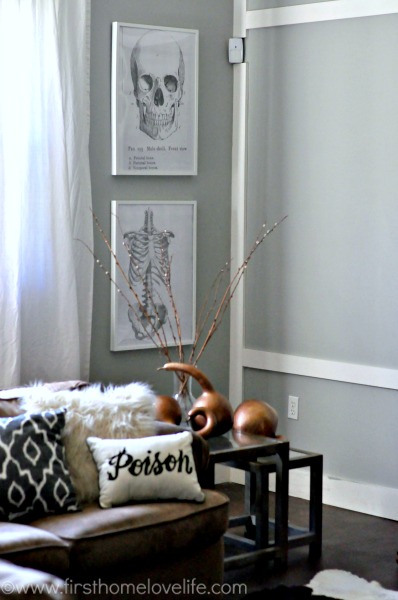 I love that they're creepy in a sophisticated kind of way. Not your normal witches and ghouls type of decor, but still makes your skin crawl in the best kind of way 😉
I think a lot of people forget or don't think to switch out the wall art for holidays, but it makes such a BIG difference in the feel of a room, and using engineering prints is such an inexpensive and fun way to do it, don't you think?!
I'm seriously crazy in love with them! So much so that I'm considering leaving them up well past Halloween…Would that be weird? 😉
For more fun Halloween projects, you can check out my Halloween page here.
Talk to you soon friends, take care!
XO
Comments
comments