Yes. Yes you can, and today I'm sharing my tips on how to get professional looking spray painted cabinets for less than $20!
::COLLECTIVE GASP::
I know… 😉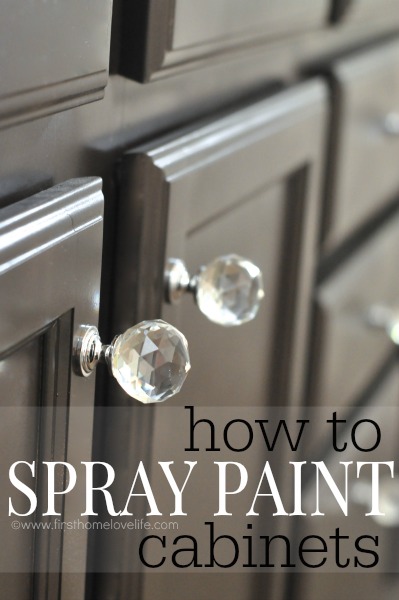 I've been super sick for the past two weeks with allergy-sinusinfection-headcoldfromyouknowwhere-atosis.
My husband can tell you when I'm sick, it's a very bad thing. Not because I whine and moan about not feeling good…oh no…when I'm sick it gives me time to rest…
…and when I rest, I think about things…
……things like our master bathroom could really use a fresh coat of paint……
…….and while we're at it, let's give everything a facelift including the vanity and shower…..
……….oh yeah…and let's finally put some flooring down, because not even kidding…we've had concrete sub flooring for going on 3 years now… #reallifeyo
So the minute I was able to somewhat breathe without feeling like my brain was leaking through from my nose—was that TMI? Sorry…
I hopped in the car, drove to get my supplies, and got to work for an on the whim master bathroom makeover that came out of left field!
Sorry, sweetie! #loveyou 😉
So here's the thing…I've spray painted these cabinets before.
When we moved into this house in 2011, I decided one day to just take whatever leftover white spray paint I had and spray over the orangey-oak-builders delights in our master bath.
At that time I was thinking this would be a very temporary thing (so I didn't blog about it)…that we would be gutting out the bathroom entirely within a few months…
That was THREE years ago.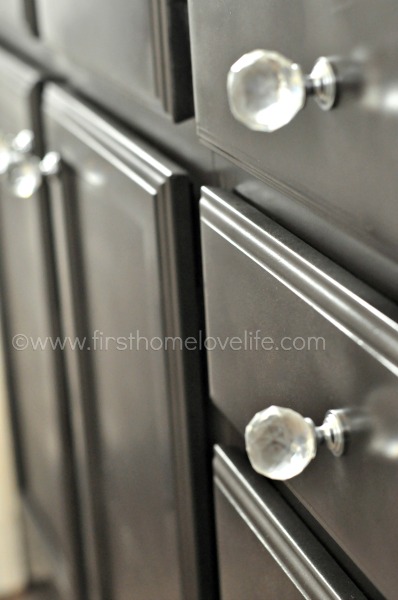 So if you've ever wondered about how cabinets would hold up if they were spray painted…I can tell you from experience that in 3 years they looked just the same as the day I did them!
Three years worth of pretty heavy use including door slams, drawer bangs, makeup spills, and toothpaste spits gone horribly wrong…
So it's safe to say that I think spray paint is a pretty good competitor in the world of cabinetry painting AS LONG AS THE PREP WORK IS DONE!
STEP 1-
Remove doors and drawer fronts from the cabinet base, move them to a well-ventilated area and place on top of an old sheet or newspaper. Tape off any areas of the object not to be painted (like the counters) and protect the surrounding area with newspaper or a drop cloth.
Here's the thing…spray paint is MESSY!
If you don't take the time to cover any and everything that you don't want covered in over spray, it's going to look like a mess.
Now because I knew we would be painting the walls and installing floor after this was done I wasn't so concerned with getting a mist of paint on those things. But I took the time to really cover the vanity top well and tape along the edge for a clean line.
STEP 2-
Sand with a sanding block or electric sander. You don't need to completely hit raw wood, but you do need to give the paint something to stick to, so roughing up the surface will make sure you get a good bond.
STEP 3-
Wipe off the dust from sanding and make sure your surface is clean and free of any debris. I usually will use a lint free cloth- first dry to dust, and then damp to clean off anything else. Let the cabinets dry completely before priming.
STEP 4-
Prime. You've made it this far so don't start to slack! This is the easy part now! A coat of spray primer is going to give even more staying power to your spray paint. You can even use the primer and paint in one like I did to make it easier. This is the same kind of spray paint I used before and it held up fine, so I decided to give it a go again!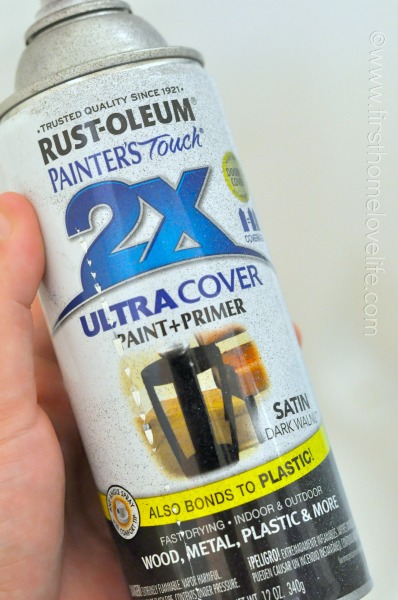 STEP 5-
Paint. Multiple long flowing and light strokes, back and forth and then up and down while holding the can about 8-10 inches away will give you the professional no brush stroke finish that will make the cabinets look more like a custom order then a painted pick me up.
STEP 6–
Seal. This is especially necessary if you plan to be using harsh cleaning chemicals when wiping down your cabinets. You still might get the occasional chip (just like you could using latex paint to paint a cabinet) but think of this as an extra layer of protective skin for your cabinet.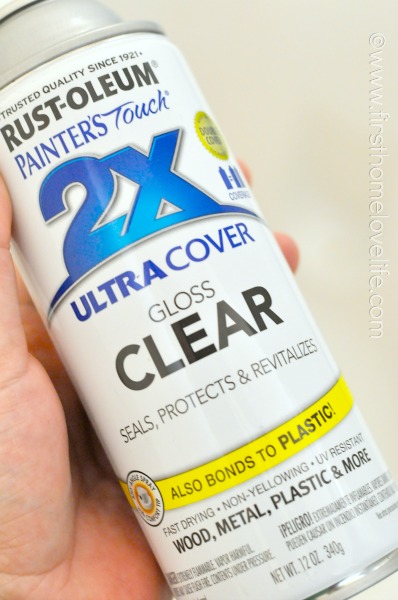 Then let the cabinets dry and cure for the necessary time and add some hardware to really spruce them up!
I picked these gorgeous glass knobs. I think they're the perfect touch to my newly, more sophisticated dark walnut cabinets 😉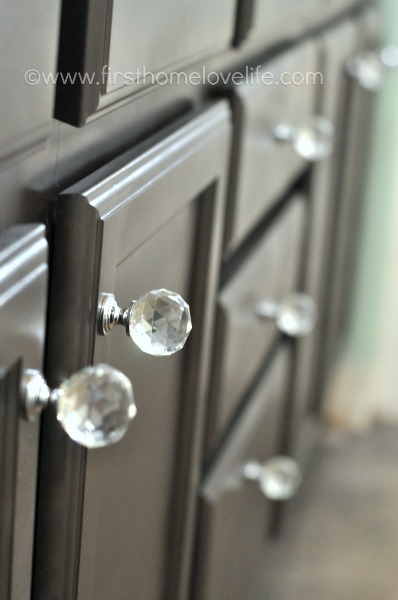 And I can't wait to show you what I'm spray painting next! 🙂
Have you used spray paint on cabinets in your own home? How are they holding up?
Talk to you soon friends, take care!
XO
Comments
comments