So remember the other day when I shared with you all how to easily clean soap scum and hard water stains without scrubbing? Well…I kept a secret from you….
That shower…that shower you see in the picture with it's oil rubbed bronze surround. It didn't always look like that…
It used to be old dull chrome, looked dated and didn't match my pretty shower head…SO I SPRAY PAINTED IT!
I know, can you even believe it?! 🙂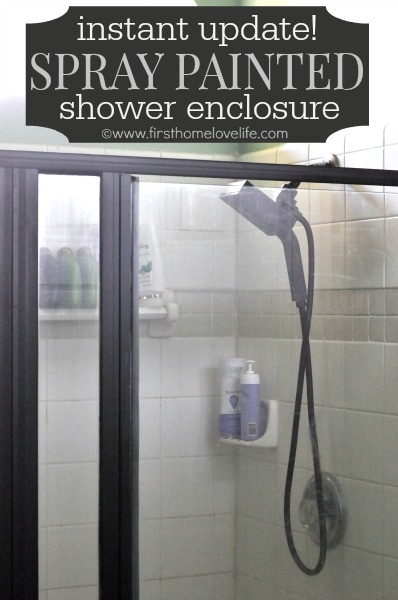 If you follow me on Instagram then you probably already saw this coming… Last week I decided to get down and dirty and do the unthinkable! My husband thought I was insane…my friends were intrigued…I was a woman on a mission! My house wreaked of spray paint for a few days and clean up was a beast, but if you want to know if I would do it again the answer is ABSO-FRIGGIN-LUTELY, AND I SHOULD HAVE DONE IT SOONER!
Here's how it looked before…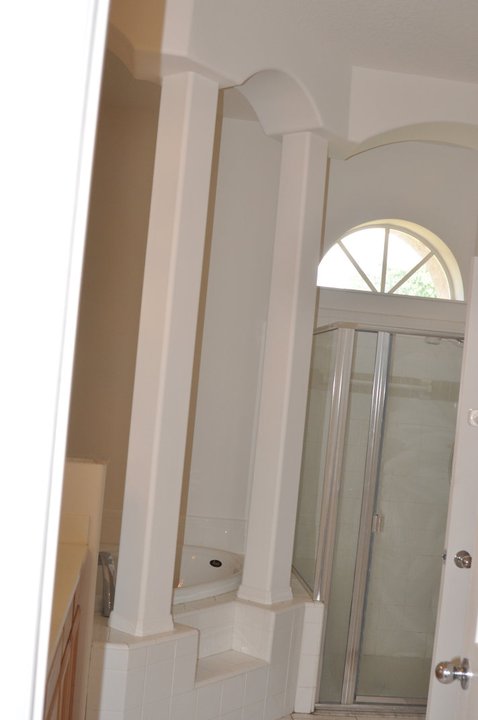 This is actually before before…like on the day of our house inspection 3 years ago. I was so wrapped up in getting this project underway I never snapped a before photo. I think deep down I thought this was going to turn into a catastrophe that would never make it onto my blog, but to my shock and delight it turned out so incredible that it's making me wish I had done this from the start!
I'm going to attempt to cover any questions you would have below…If I miss something…Leave a comment, and I'll try and answer!
Is this project for everyone? NO.
See…In our case I felt we had nothing to lose. We don't have flooring in this bathroom yet, I hadn't even painted the walls yet. This bathroom will eventually be a gut job once we save all of our pennies, but I was tired of living with it in its current state and since a seamless surround is not in my near foreseeable future I figured I would give this a shot.
SPRAY PAINT IS MESSY! You've been warned…
I covered everything in plastic drop cloths! Taped over everything! Somehow that misty overspray was able to float its way under the plastic in some spots. Luckily, it wipes up pretty easily on the tile…the grout…not so much. I plan to refinish the grout in a few more days after some more scrubbing! I'm not giving up on trying to find a way to get it off without refinishing it.
So if you think this project is something you want to take on…here's what you need to know from my experience…
Many sheets of plastic drop cloths, fabric drop cloths…whatever you need to cover EVERYTHING not being painted
Face mask and goggles
Spray paint… I used Rust-Oleum Universal spray paint in oil-rubbed bronze
Painters Tape (I personally prefer FrogTape but didn't have any leftover so I just used the blue painters tape)
I didn't prime…I'm not sure if it's completely necessary since the surround is metal and I've spray painted metal before without priming and it's held up fine. We have taken about 20 showers so far and I've cleaned the shower with some chemicals and haven't had any bleeding, scratching, or fading…I guess only time will tell for sure though…
Can I just use paint instead of spray paint?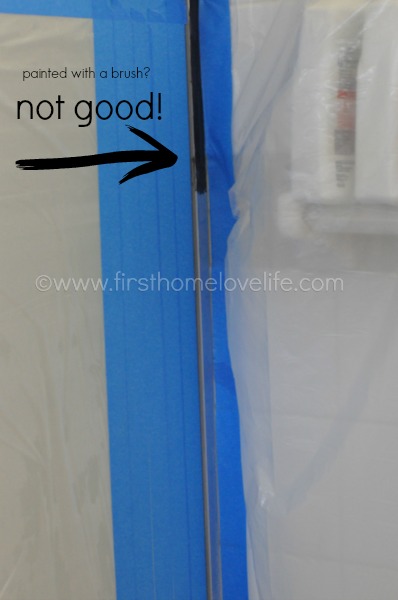 Ummm I wouldn't. I'll admit it…I was super freaked out to use spray paint, and attempted to first use a small paint brush and oil based oil rubbed bronze paint. It looked painted. Which is not what you want your shower frame to look like. It wasn't pretty, just trust me…spray is the way!
Start with a clean and dry shower surround, and take the time to do all the prep (taping) It's time to get painting…
Light coats. back and forth letting them dry in between each coat. You don't want the paint to drip. So light even coats is the only way. I did three coats to get full coverage.
I started on the inside of the shower, and then did the outside frame.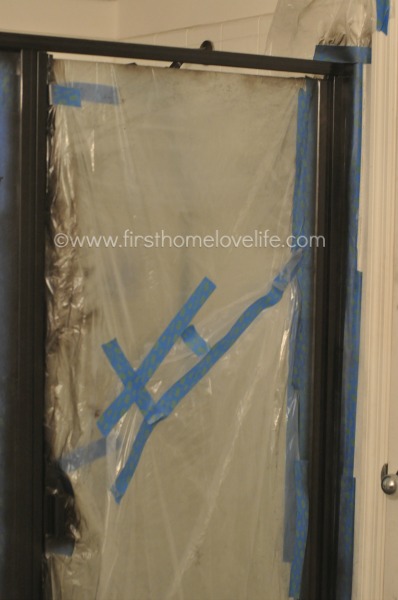 I know it looks scary…You bathroom will look like a mix of a horror film and a crime scene for a few days, it's part of the process!
I left everything taped up and covered for a full 24 hours after I was done, to make sure all that spray paint dust had settled.
Then I carefully peeled everything away…
Just a tip–if I did it over I would have scored the tape line first with a blade to ensure a clean crisp line. Even peeling it very carefully I had a few oops spots (pictured below) Luckily, it's not noticeable from far away.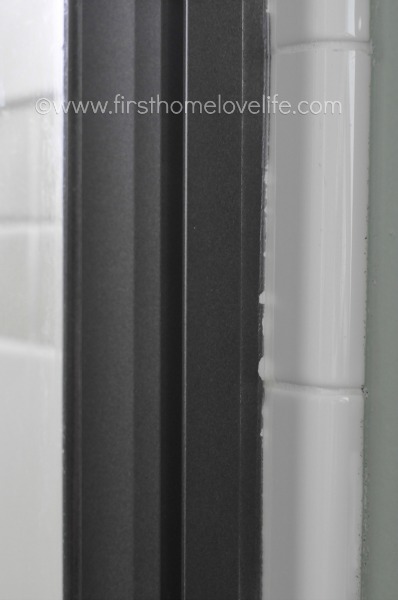 I waited another 24 hours before letting anyone use this shower, and then left it up to fate that everything would hold up okay…That first shower was a nail biter…
But it held up great, and has continued to so far…Worth it? Totally!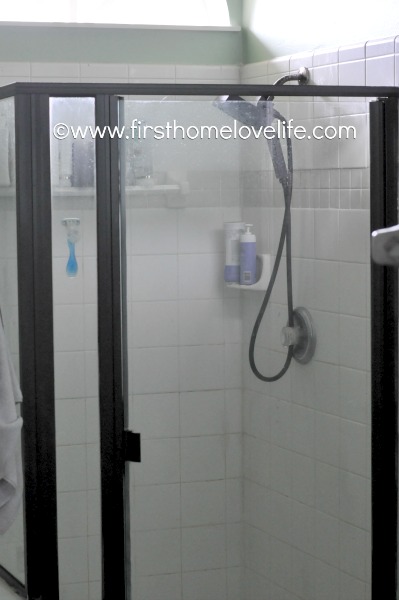 What do you think? Would you ever consider spray painting YOUR shower enclosure? I'd love to hear your thoughts!
Talk to you soon friends, take care!
XO
Comments
comments