Hey friends!
Yesterday I shared with you how we did on our 2013 home goals, and we didn't do all that bad! For the most part we stayed on track and worked on the areas that I felt needed the most love last year. This next year is already shaping up to be a big one and a lot of these spaces are already getting worked on daily for future upcoming posts!
2014's goals are ambitious to say the least! Ready to hear what I've got planned for First Home Love Life?! Here we go…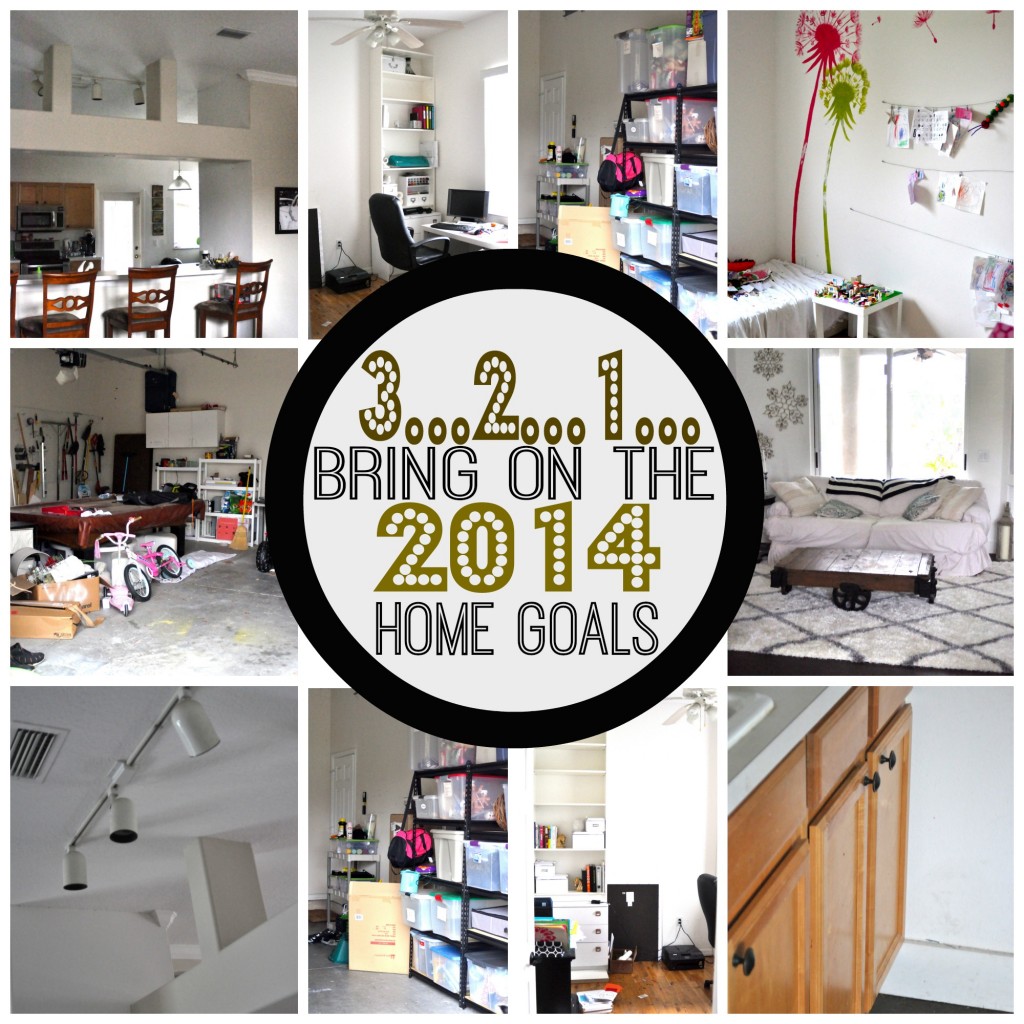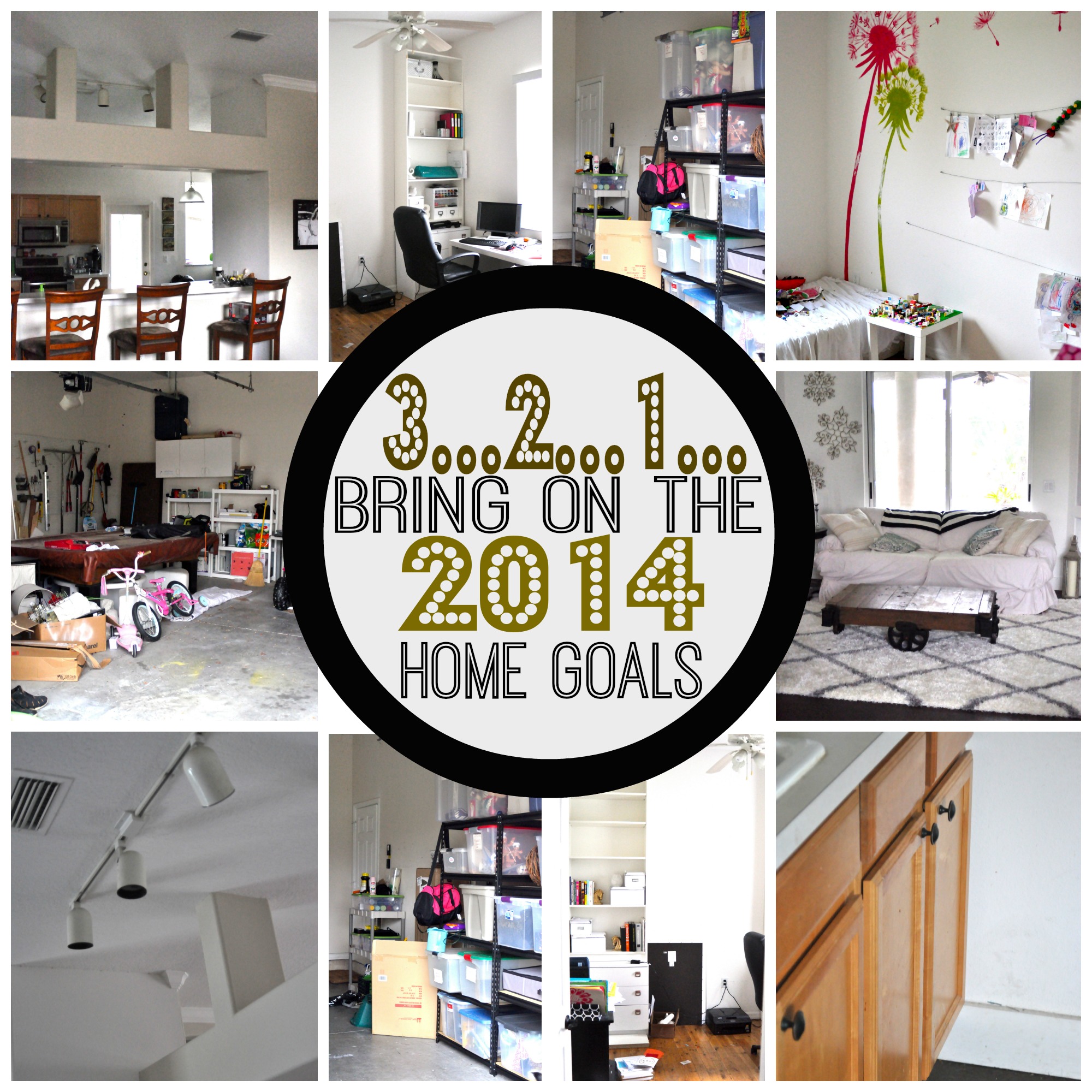 Goal #1: The Office/Craft Space
I shared a little sneak peak on yesterday's post but they were pictures from my phone so here's a couple more…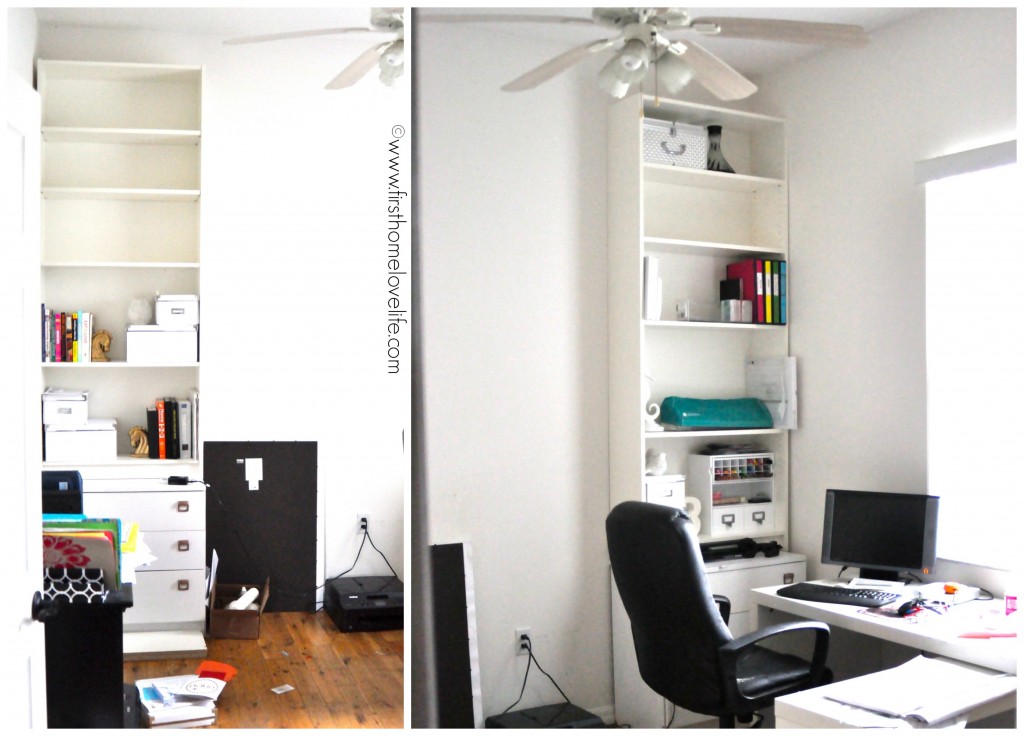 This room is teeny…like a 10×10 box so figuring out how to utilize every nook and cranny has been a challenge. I finally realized that instead of trying to buy furniture to fill the space and help organize it that I should take advantage of our high ceilings and plenty of vertical space! So a quick trip to Ikea for two Billy bookcases and voila we instantly have "custom" built ins…sort of! There's so much more to be done, but I'm so happy with how it's turning out so far!
Goals for 2014: paint, create a workspace between the bookcases for crafting, organize craft supplies, change outdated fan, change window treatment, add area rug, buy a new desk chair, utilize closet better and organize it.
Goal #2: Playroom>> Guest room
My daughter's playroom has been a fun space for just her and her little friends to go and play for the past couple of years. It never really got finished to my liking though because once the kids started playing…well it never made sense to take that room back so we could continue on.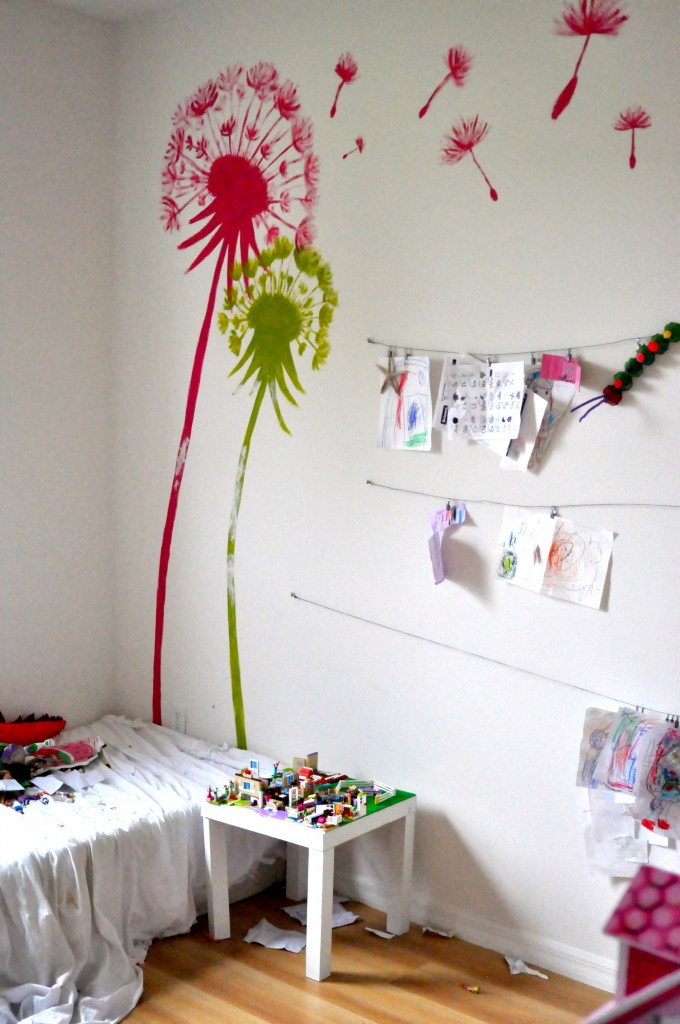 Unfortunately…As much as my daughter loves having two designated rooms just for her and her stuff. We realized this year how badly we needed a guest room for when people come and visit. Moving around our family room to blow up an airbed is just silly when you have an extra actual room!
2014 Goals: Paint room, create a multi functional space that can double duty as a playroom and guest room, get the bed off the floor, change outdated fan, add window treatments, organize and decorate.
Goal #3: The Living Room
Did you know we had a "formal" living room? You would never guess this was it…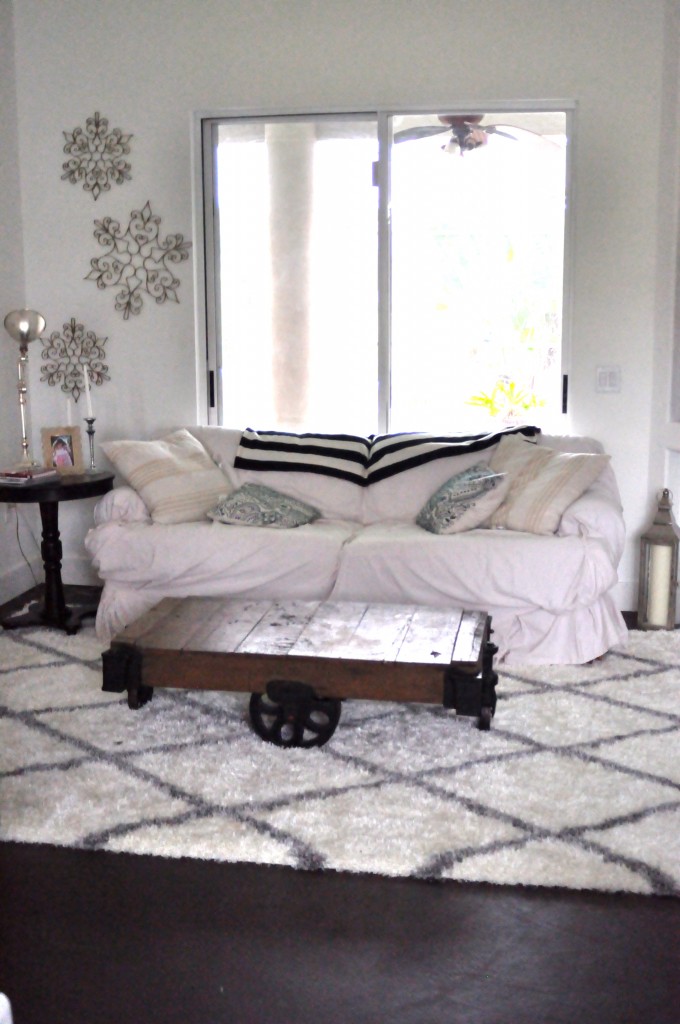 This is the hodgepodge room. Furniture we had in other house that never really fit correctly here. The only thing that's new is the rug which marks the beginning of this room's transformation! I have everything already picked out so it's just a matter of buying a little at a time! 🙂
2014 Goals: sell sofa and side table, move train table to covered patio, add window treatments, add wainscoting to walls, buy love seat and side chairs, buy new coffee table, buy side tables and sofa tables, add big impact accessories
Goal #4: The Garage
This is a BIG ONE. Our Garage was something we started working on this year. We purged, then purged some more and started to organize it, but it still needs work. So I'm setting a goal to finish it up before summer when it's too hot to work out there!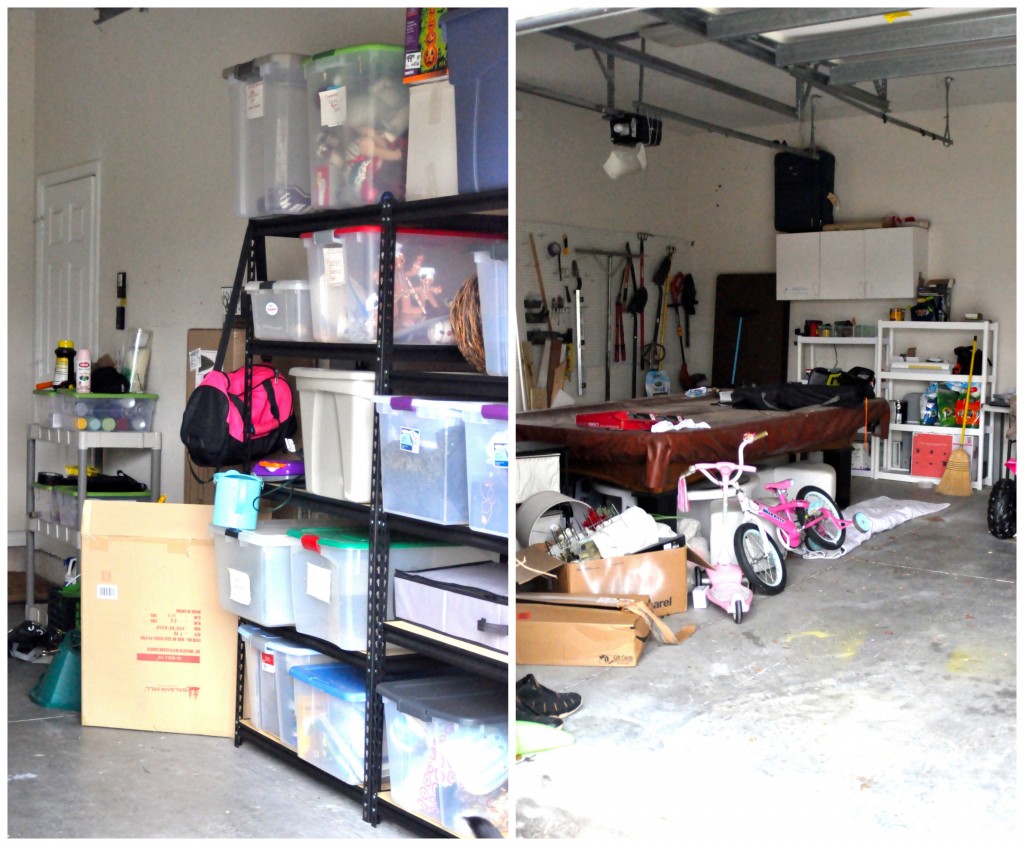 2014 Goals: Paint, fix cracks in wall and floor, buy more storage racks, create "zones" for specific items, organize tools and outdoor toys
Goal #5: The Kitchen
There's a reason why this room doesn't regularly appear in my blog posts…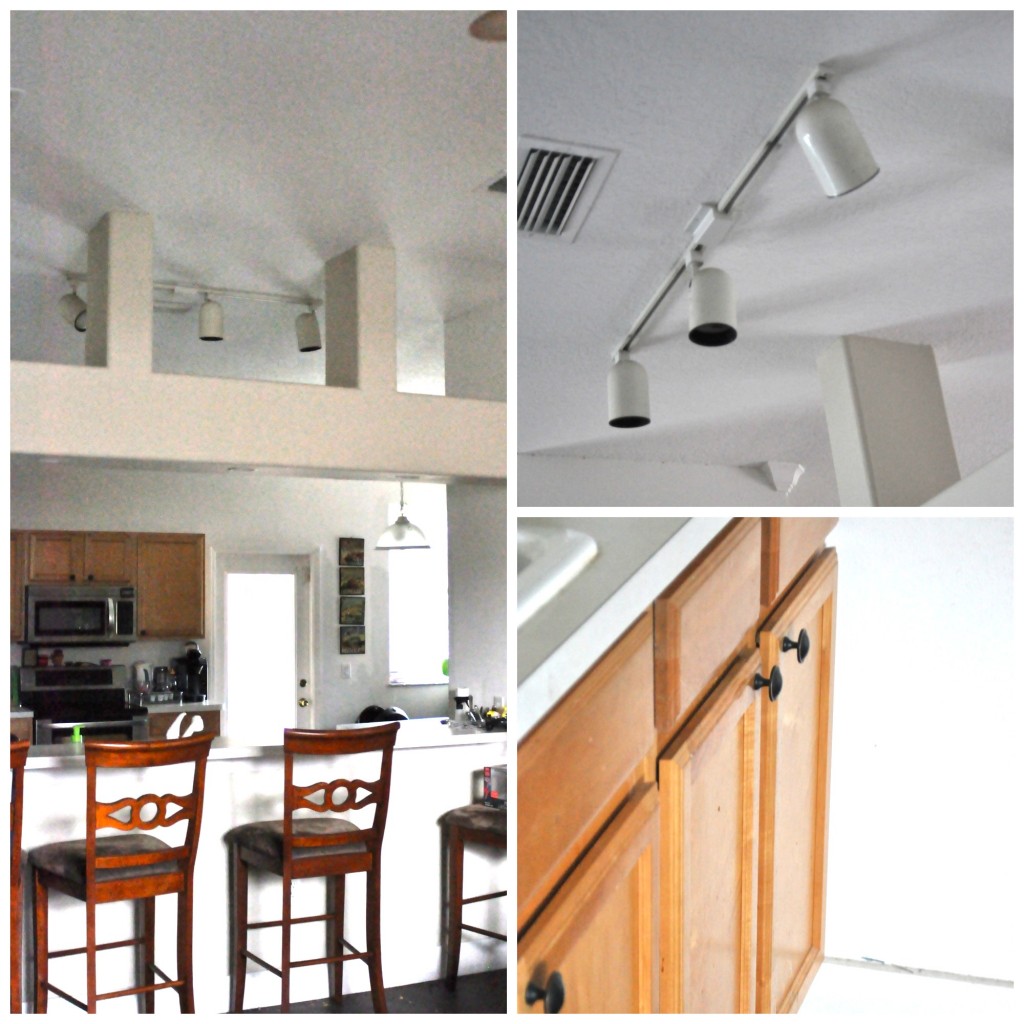 The kitchen, the heart of the home and in our case that's literal because it's smack dab in the middle of our house, unavoidable to anyone who stops by. This room has virtually been untouched since the moment we closed on the house, and as much as I'd love to just gut it to the bones, it's not going to happen, at least this year…
2014 Goals: Paint the walls, paint the cabinets, add cabinet hardware, possibly and HOPEFULLY knock down that silly wall over the breakfast bar, get rid of the broken can lights and add recessed lighting, organize the drawers and cabinets to make them more functional and organized.
And if that all wasn't enough…there's some misc. things we are going to HAVE TO DO. Like pressure washing and painting the exterior of our home, replacing a few outdoor security lights, possibly adding a fence (if we can get the HOA to approve it) and working on the curb appeal by adding bushes and flowers to the sides of our house.
Yep…I told you 2014 was going to be an ambitious and VERY BUSY year, but I can't wait to get started and actually already have on the smaller things like organizing under our kitchen sink and spice drawer! those posts will be up soon, so look out for them. 🙂
I hope you'll stick around for this crazy whirlwind of organization projects, decor and DIY goodness, so follow me on Facebook and Pinterest so you don't miss a thing!
Talk to you soon friends, take care!
XO
Comments
comments